A nice relaxing weekend back home in Paris – here's what I was up to!
1) Paris Roller
For some three years now I've seen the Friday night festivus that is Paris Roller.  It's when every Friday evening hundreds to thousands of folks on inline skates go out for a tour of the city.  The event even has its own police escort, as well as a route that is published for each week.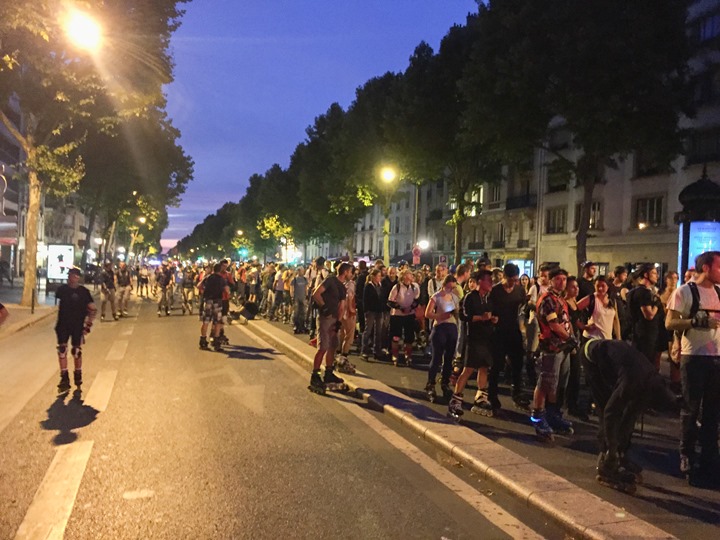 The route varies each week, but somewhat often goes by our apartment, as well as occasionally by the CupCakery.  It usually contains two parts, with a break in the middle.
While it's been at least 11 years since I've last strapped on a pair of skates, I figured I'd give it a go.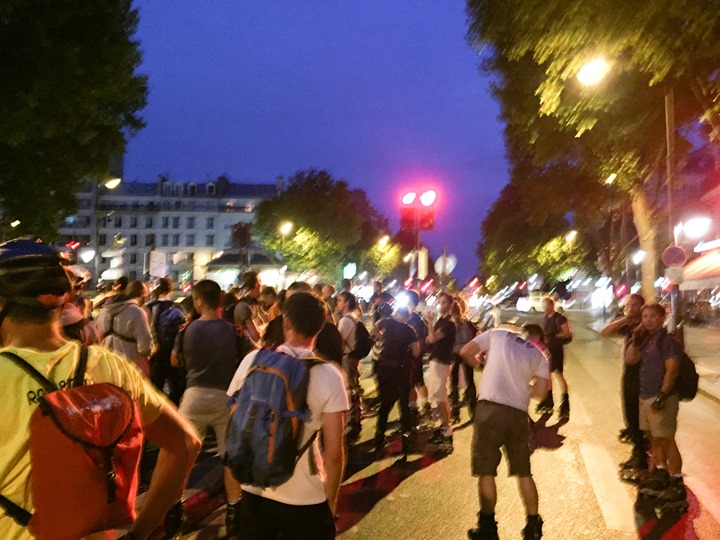 The route and its thousands of people (at the start anyway) made its way across many major sights in Paris over the course of what would be three hours (ok, that was a bit longer than I expected).  For example, Opera: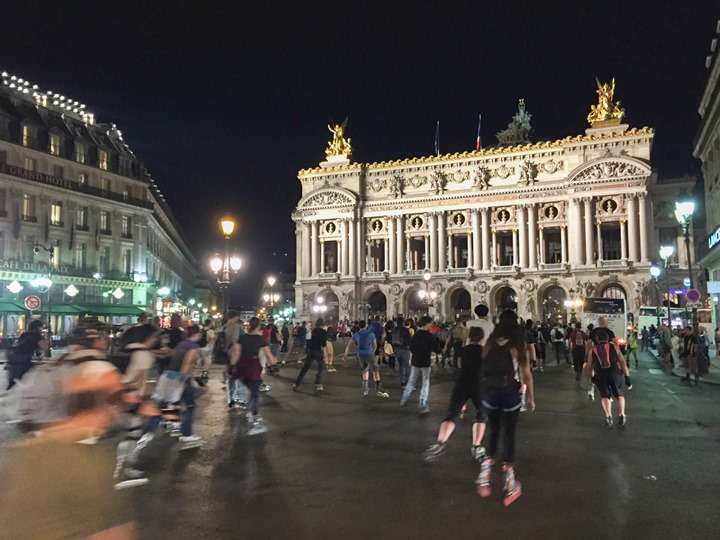 It stops approximately every 5-8 minutes though to let everyone else catch-up, otherwise it'd be just like a giant marathon race around the city.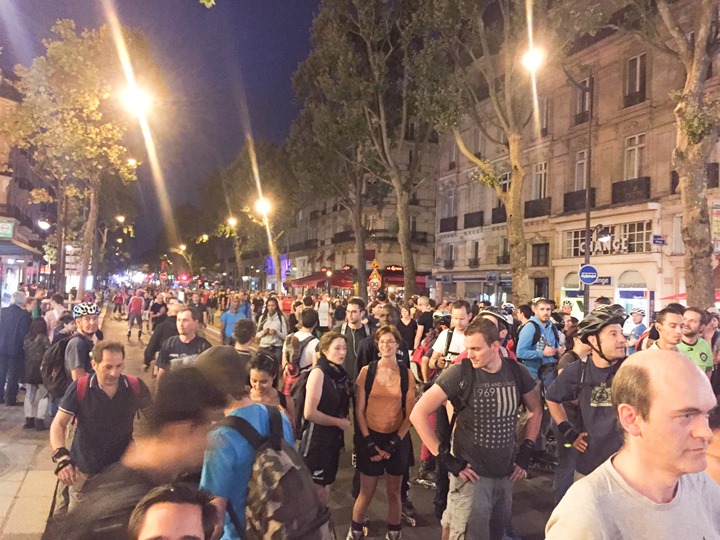 And then there's the 15 minute or so break at the half-way marker to replenish your nutrition.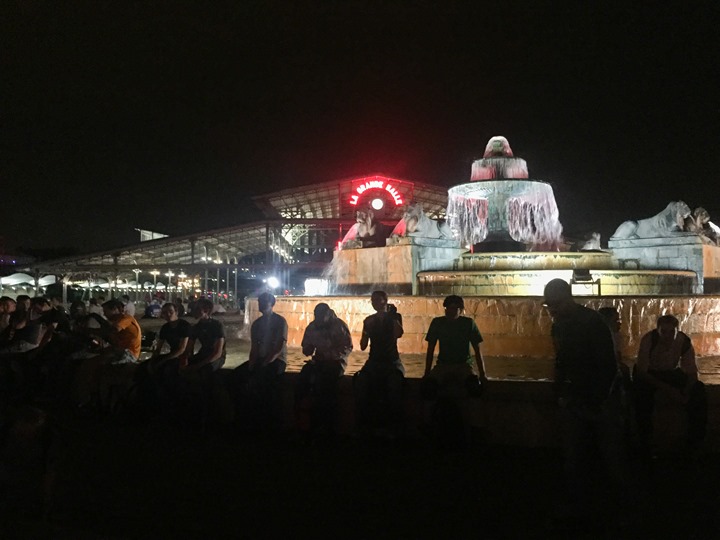 The only bad part? Cobbles (and all of their cobble-like cousins).  These suck on inline skates.  Well actually, you know what sucks more than cobbles? Cobbled speedbumps on a downhill section of beautiful pavement.  Yup, that sucks more.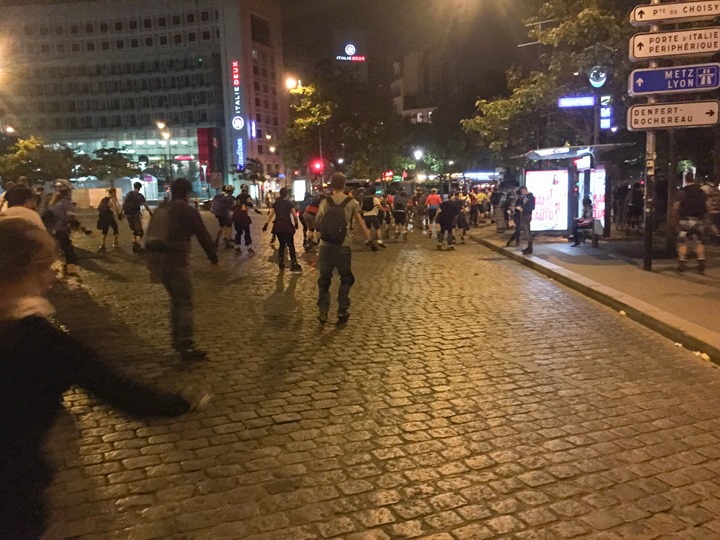 But – otherwise, outside of that it was quite a bit of fun.  I even popped on Periscope for about 8-10 minutes and did a section live there.  Cool stuff!
2) All nighter baking at the studio
It's definitely great when one of the biggest fashion labels in the industry wants to order thousands of cupcakes for a series of special events. But…that also means it's all hands on deck, and those hands would also include mine.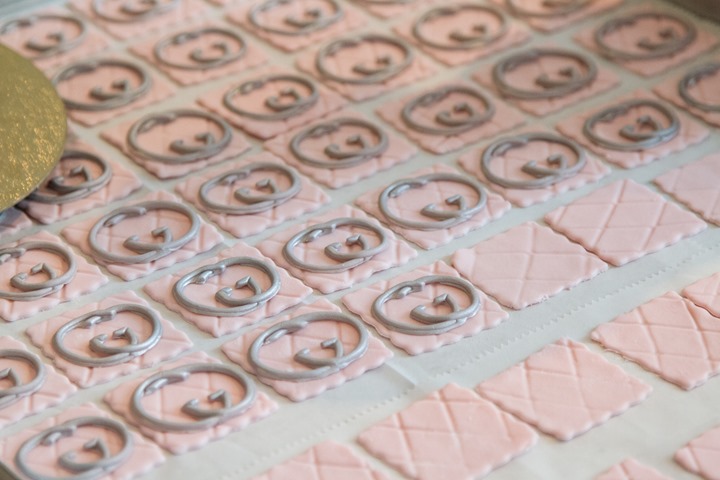 When I got back from Paris Roller at 1:15AM, the girls were well underway in baking for the early morning delivery.  Actually, they were baking for not just the early morning fashion delivery, but eventually another separate set for that day's worth of cupcakes at the CupCakery, plus some wedding cakes.  Now normally all of the cupcakes are baked in the tiny CupCakery location daily, versus baking them over in the Cake Studio.  Simply because it's easier to do all the baking in one place, versus moving the cupcakes each day the approximately 650m between the two locales.  No matter where they're baked though, everything is fresh each morning.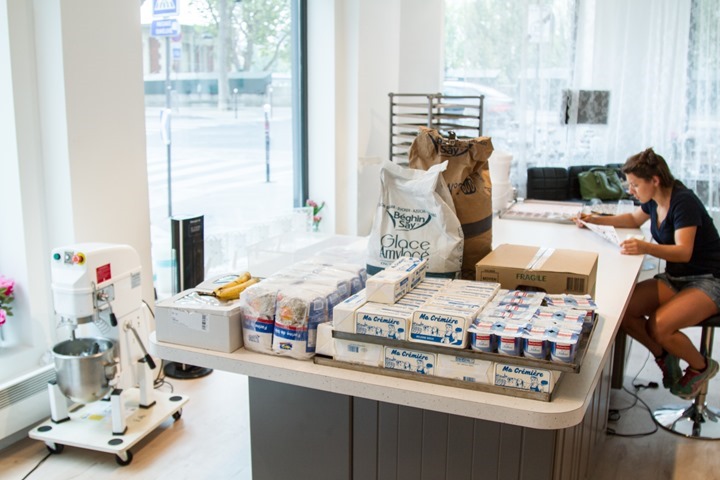 But each location is otherwise equipped identically to handle orders as we see fit.  That said, we don't typically have on-hand all of the daily cupcake toppings/ingredients at the Studio that we do at the CupCakery (inversely, we don't stock most of the custom cake-specific stuff at the CupCakery, since we create those at the Cake Studio).  Thus my job for the night was mostly that of a gofer.
Meanwhile, they just cooked away into the night.  I think they wrapped up around 4AM or so.  I had hoped to capture the entire thing on a time-lapse and speed it up, but alas, the VIRB XE randomly crapped out on that front a few hours into the night (an annoyingly common theme at this point).  Thus, I've only got some still shots from the video before it died.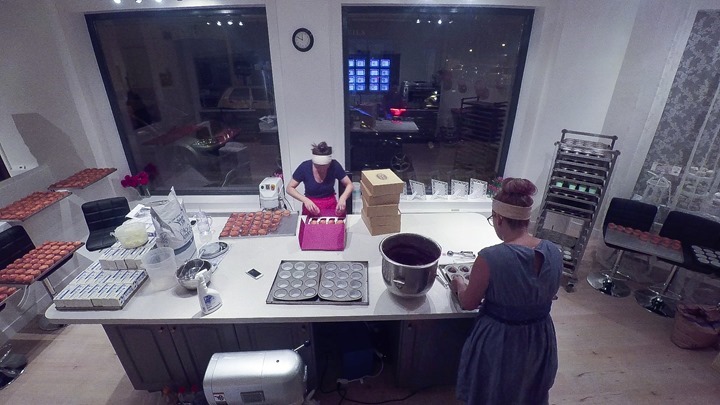 Thankfully, the ladies were pretty good when it came to all the prep work, so eventually my job just dwindled down to getting the Autolib at 6AM or so for our delivery.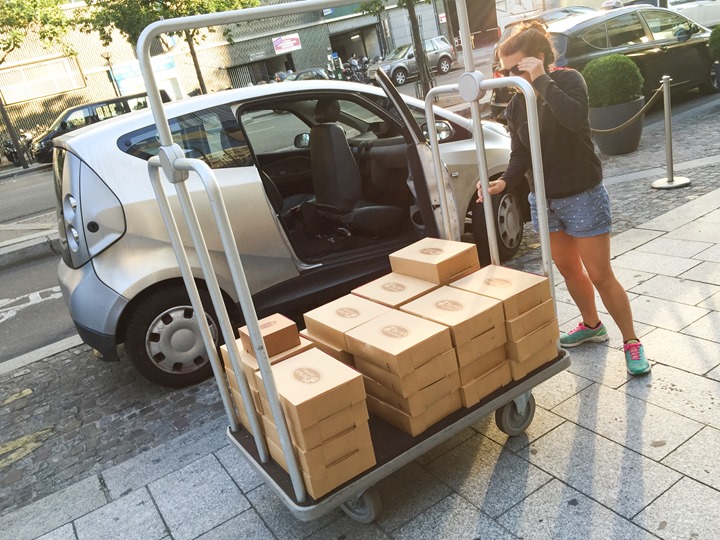 Also thankfully, we'd done this same dance three days earlier, and the locale we were delivering to was super-easy from a delivery standpoint in terms of unloading and being all on the same level with easy dedicated delivery parking spots.  Some places we deliver to are a nightmare without delivery spots or up multiple flights of stairs.  In any case…we'll do it all over again tomorrow.  Fun times!
3) Sunset run around Paris
After The Girl and I finished delivery that morning of the order (and made sure the aforementioned wedding cake was on its way as well), we went to bed for a number of hours – arising sometime early afternoon.  While I'm not entirely sure where the time went between mid-afternoon and evening, we eventually ended up going for a bit of a sunset run together: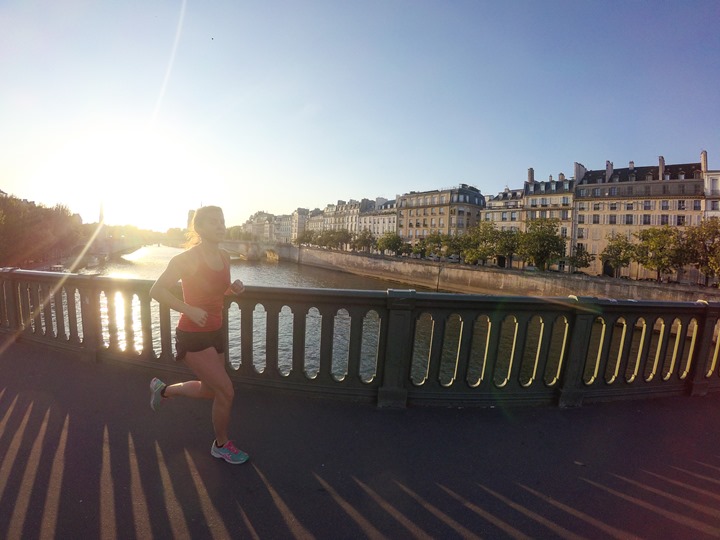 We'd wander through the Paris beaches, then the Louvre, before heading back.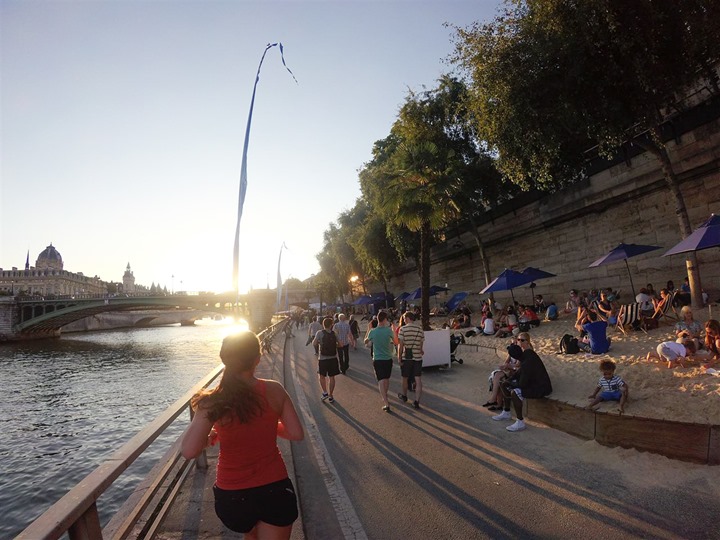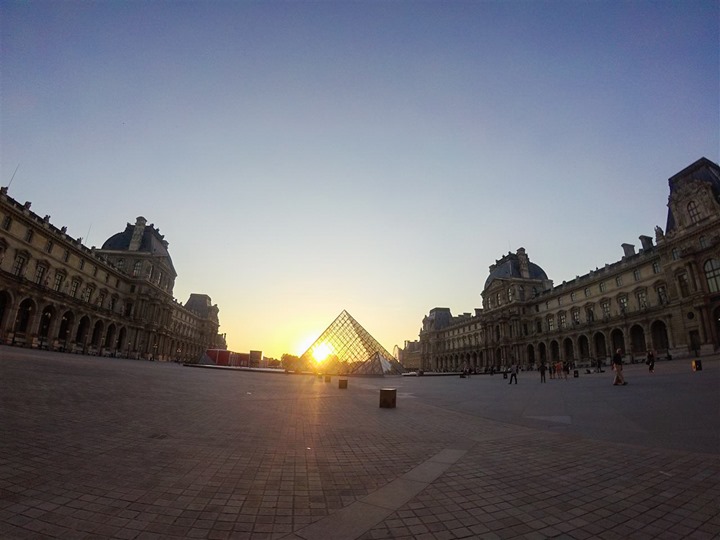 Afterwards we hit up Leon's of Brussels.  We've seen it numerous times around Paris, but have never been.  Their specialty is mussels, and their prices are quite good.  Obviously given it's a huge chain restaurant our expectations were low, but since it's only a 10 minute walk from us – we figured we'd just see how they were.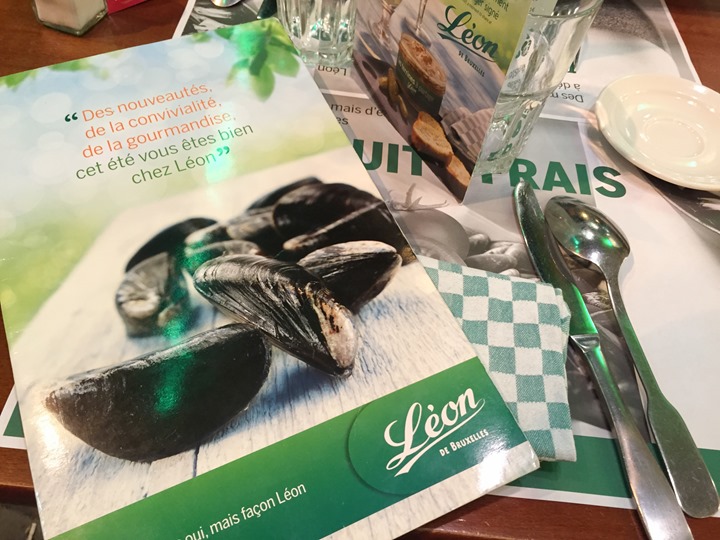 Overall, I'd give them middle of the road marks.  Probably more ideal on a late winter night when it's raining sideways and you have a hankering for mussels.  The mussels themselves were good, though there were a few more broken shells than I'd like to see typically (meaning there wasn't as much 'care' given when cooking them in what were likely large vats).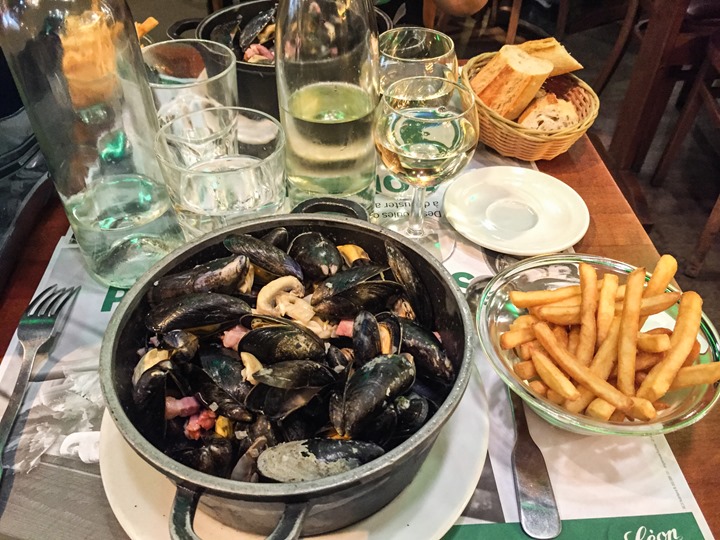 Still, not bad.  Not something I'd recommend to a tourist who only has a finite number of meals in town (for that, see my recommendations).  But for those living here, a very reasonable option.
4) New Power Meter Sunday
Sunday morning I headed down to the Cave to do some power meter swapping.  I'd finished up with data collection on the PowerTap P1 pedals (you'll see that review in a few hours later today), while I had also installed the PowerTap C1 the night before during the bake-a-thon.  That was super-easy since the bottom brackets were the same as what I already had on there: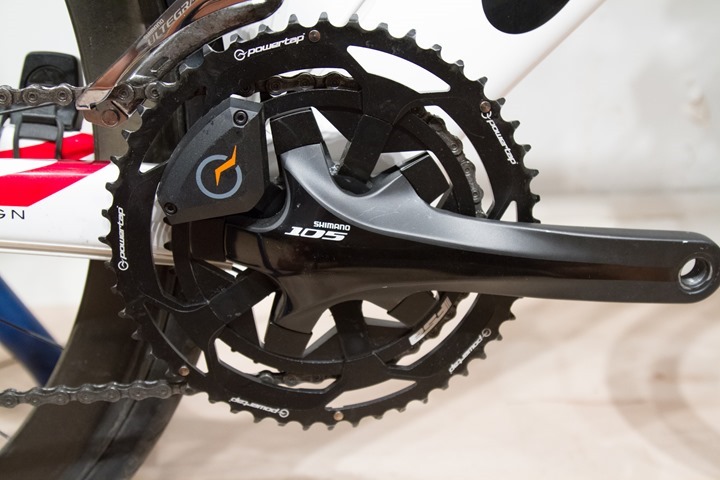 Next up was installing the bePRO power meter.  I didn't really know if this would be a 20-minute thing, or a 2-hour thing.  Given the number of parts in the box, I was a bit worried: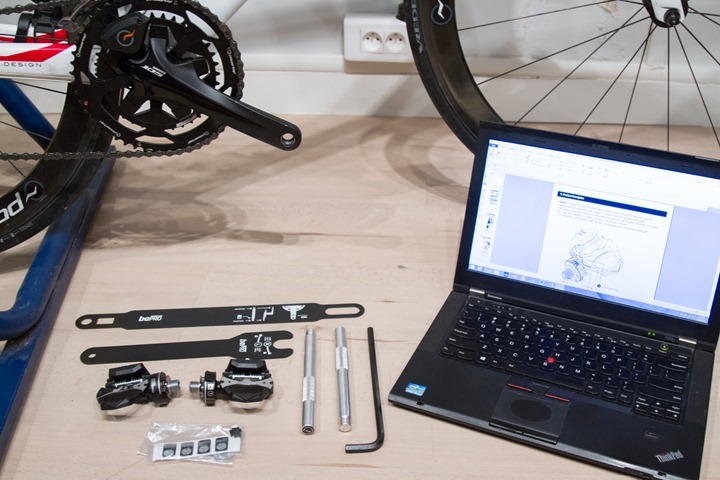 But, it's actually easier than it looks, and it took about 30 minutes in total.  With some minor improvements in clarity (and if not taking photos as well), my guess is you'd be looking at closer to 20-minutes for a first time, and perhaps 10-15 minutes for a regular change between bikes (though I'm not convinced you'd want to do that regularly with the bePRO units).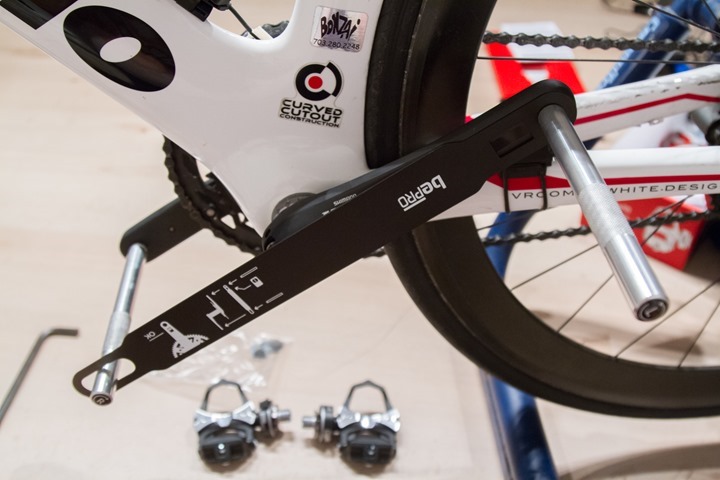 After that, I did some testing on the trainer to ensure everything was locked in, including a bunch of hard sprints.  Then some more calibration (zero offset, and a rather interesting dynamic calibration option I've never seen before by a power meter company).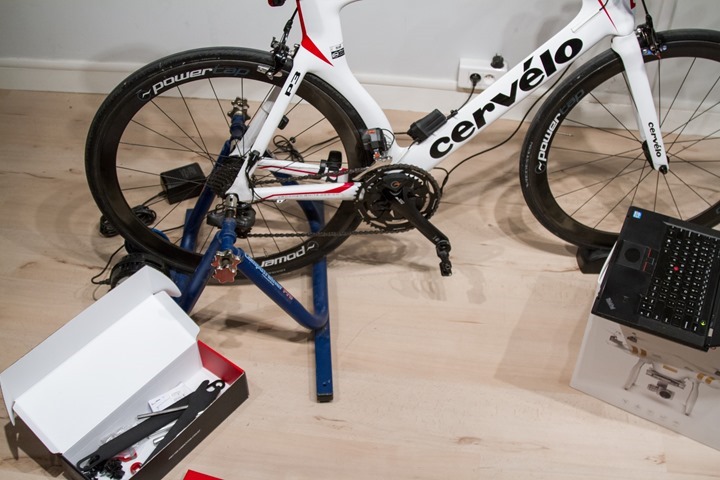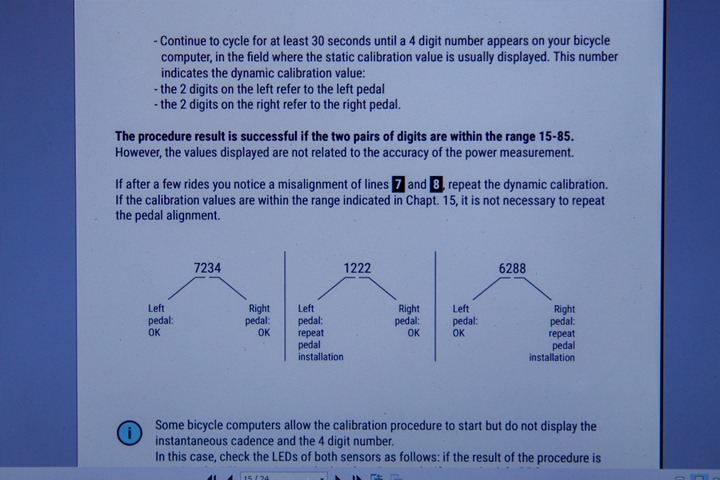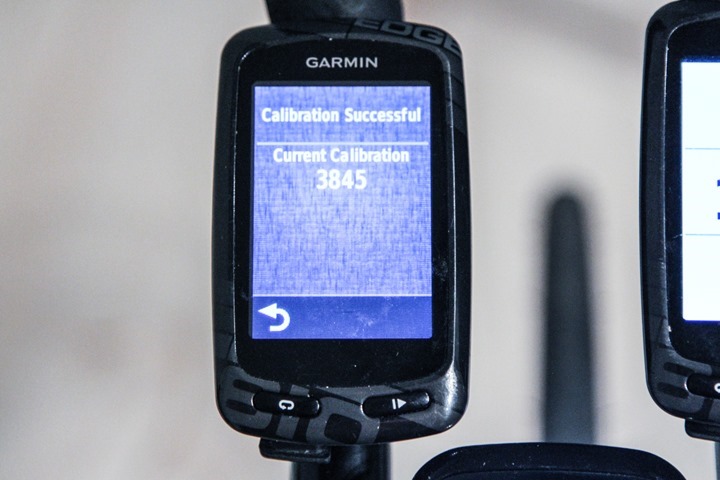 With that set and things looking good – it was out into the great outdoors for a first ride: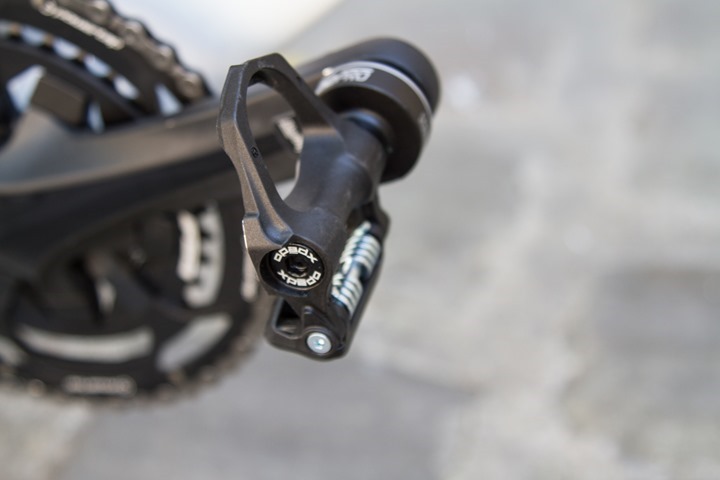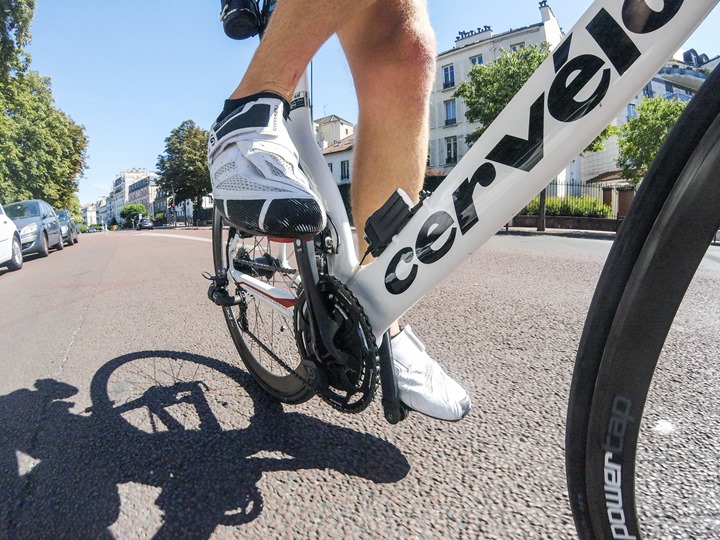 I'd head up to Bois de Vincennes to do loops for a while.  It was fairly warm out, but otherwise nice and quiet: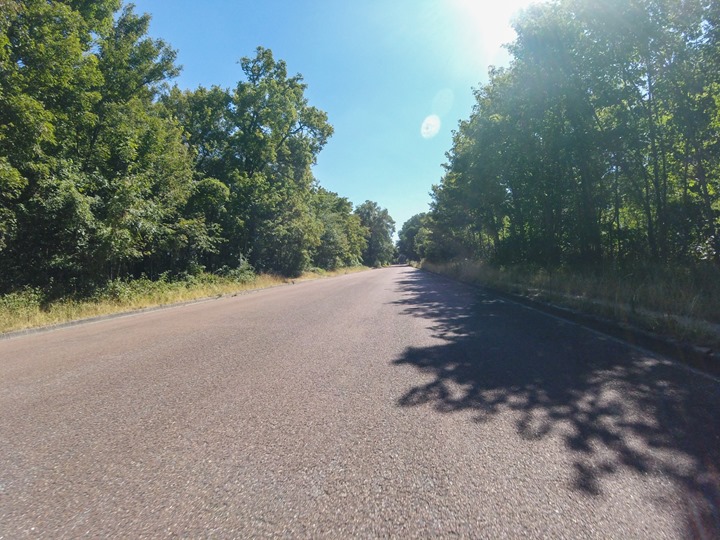 Following that it was back into cave to check out the data.  I loaded up the files (all three recorded on Garmin Edge devices concurrently) and took a look:

The PowerTap C1 (Chainring) and PowerTap G3 (wheel hub) aligned spot-on, really well.  But the bePRO was showing a really weird offset of about 38-seconds delay.  I had seen delays while on the trainer doing some spot-tests, but wasn't quite sure what to make of it at the time.  Now, I'm still not sure what to make of it.  More testing is definitely in order.  I'll mix around the head units a bit for fun, and do some testing with the WASP as well to see if I can figure out why the delay of game on showing power numbers.  On the bright side, the PowerTap C1 was spot-on with the trusty PowerTap G3 wheel hub.
(Update: I think I know what's going on here.  In looking at the files it appears the Edge 810 that the bePRO was being recorded on had an offset of 38s from the GPS time.  Why it was off on GPS time on an outdoor ride is beyond me at the moment, but that would account for things.  I'll update accordingly.  At this point – that's definitely a good sign!)
5) Openwater swim bricknic
After getting back to the DCR Cave/Studio and transferring all my files off (it's a bit of a routine, if I don't do it immediately it all goes to hell in a hand basket), it was off to the market to pickup items for our bricknic.  In this case, it'd be grabbing two bikes and heading about 5 or so miles away, outside of the city limits of Paris, to a favorite spot of mine along the river (not the Seine).
It's here that I've often gone for shorter openwater swims (usually 20-30 minutes), but also just to enjoy basking in the sun on the steps down to the river.  It's also favored by an older generation of locals, given it's a somewhat hard to reach location (only on foot or by bike).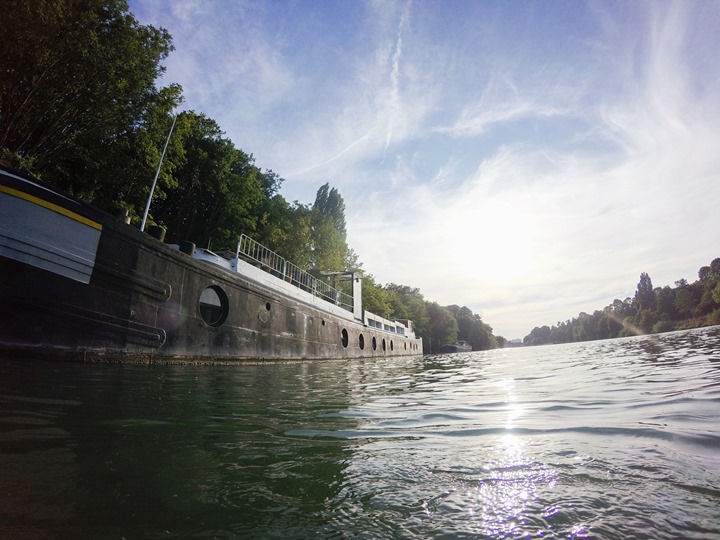 For today, I'd head out for a 20-minute openwater swim.  Not so much as a workout, but more just because it was hot out, and this seemed like a fun thing to do.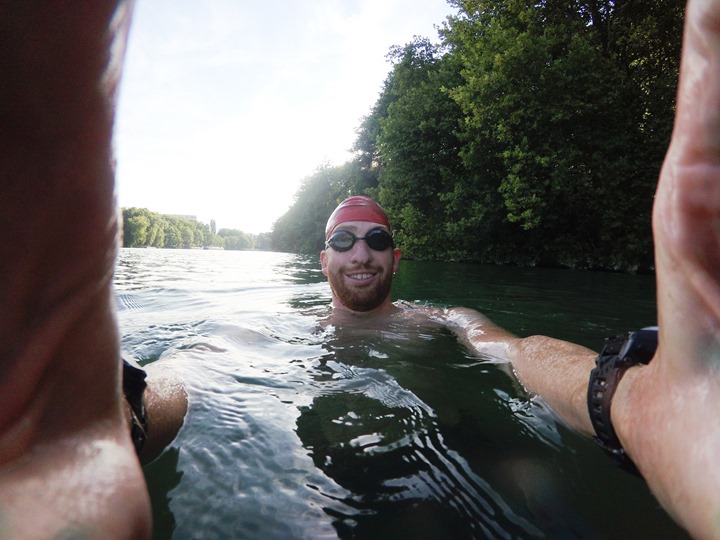 Of course, I had a bunch of devices on me.  As is more often than not the case, the Garmin Epix gave a swim track that looked drunk, but still gave roughly the same distance as the Ambit3 (other wrist) and Polar V800 (in my swimcap).  I had meant to use the 920XT in my swimcap and the V800 on my wrist, but forgot the 920XT on the charger.
Post-swim we setup our little picnic and stayed a number of hours – drinking into the sunset: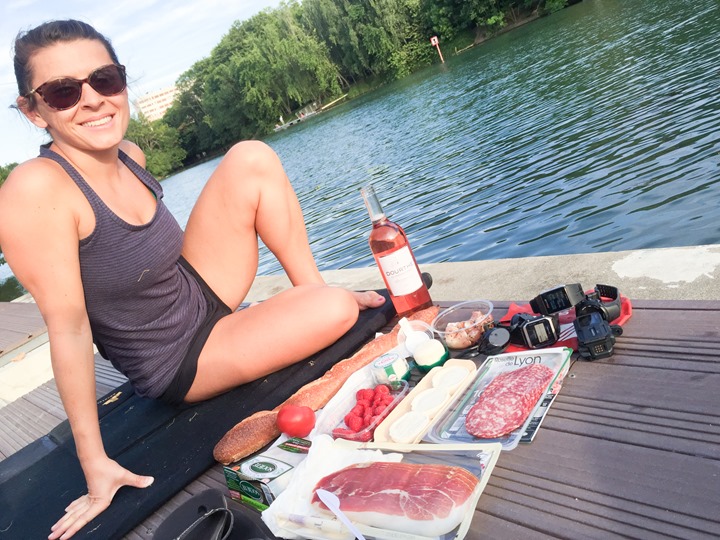 Yup, that's how we roll.
With that – thanks for reading!  And don't forget tomorrow is the Giveaway Extravaganza!  Starting at midnight US Eastern Time, or 6AM Central European time!  Every 2 hours a new giveaway, only lasting two hours each!