Here's what I was up to over the last few days as summer slowly starts to wind down (and finally cool down!).
1) A bit of playing with the Garmin Varia radar & Edge 1000 update
Sometimes I have all the parts for things, and sometimes not.  In this case, I'd borrowed a Varia bike radar unit to play with for a few days while everyone is on vacation.  You'll remember my previous write-up on it from last month.  As for not quite having all the parts, I didn't grab the aero seatpost mount.  So instead I made my own.  I grabbed a pile of Garmin quarter-turn mount rubber bands, along with a simple quarter-turn mount itself.  Then I wrapped it around my toolkit water bottle and shoved it into the bottle cage.  Presto!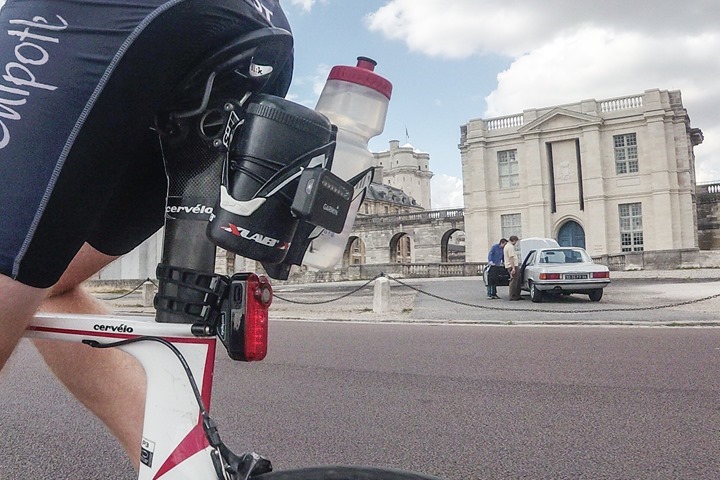 (Note: the radar is the piece above attached to the bottle, the lower red thing is the Fly6)
The Varia uses a common quarter-turn mount, which is great for the ability of 3rd party companies to add support easily.
Garmin also released the Edge 1000 firmware update that added support for it on Thursday, which I hadn't been able to test previously with Varia directly.  Essentially this lights up the side of the Edge display when cars approach, giving you a heads up on impending vehicles.  This definitely worked a lot better than the little standalone display unit.  They also added support for the tiny Edge 25 last week, but I haven't paired the two yet.
You can see below how the edges of the display are a faint red (bad photo while riding), which warns me that a car is approaching.  Meanwhile the right edge had little dots/balls on it, one for each car.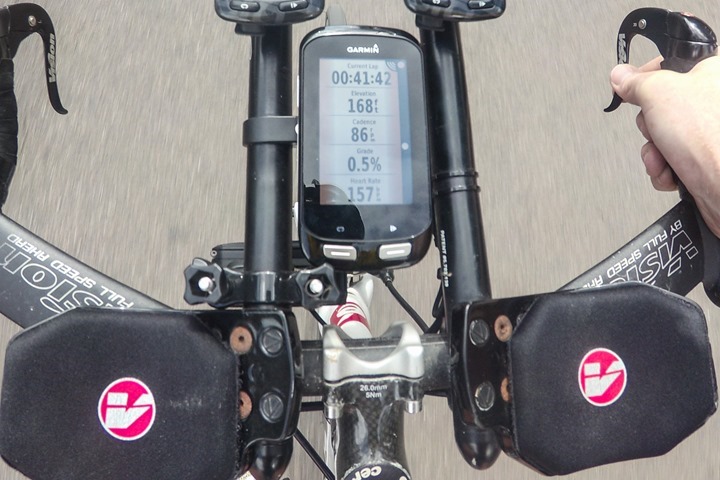 The whole thing continues to work fairly well for me across a wide range of city and forest/park quiet road riding.  But I'll wait for final hardware though to lay down final judgment.
In the meantime, here's a short video I shot on it explaining how it works (using the VIRB XE – I'm doubling down on getting product review stuff done this week).
I know some have asked for some details on how it works riding in a pack of other cyclists.  I didn't have the chance to go out on a group ride this weekend, but perhaps if there's a few Paris-based DCR readers that want to have some fun doing some tests on Wednesday or Thursday night (7PM or so) we can head to Longchamp or Bois de Vincennes and test out stuff there together doing loops.  Just drop a note in the comments.
2) A pre-run procession…err…march.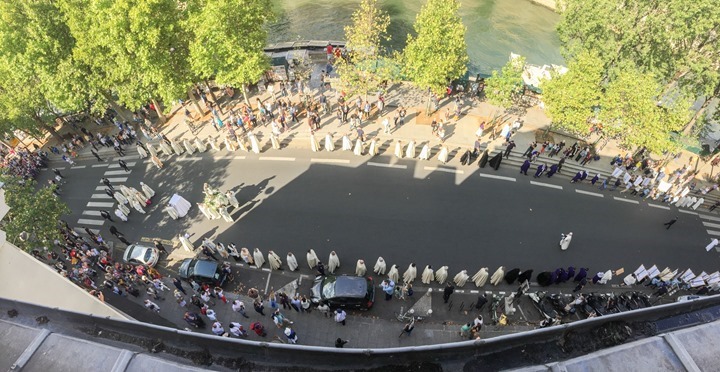 Saturday was Assumption day (a church holiday), which is also a state holiday here in France (though, falling on Saturday this year means we don't really get the day off).  Albeit most of the country is on vacation right now anyway.  It also means that the church of Notre Dame does a bit of a ceremony and looped march/parade around our neighborhood, including down the street in front of us.  I'm sure there's a more technical church term for this than parade (Update: Procession!).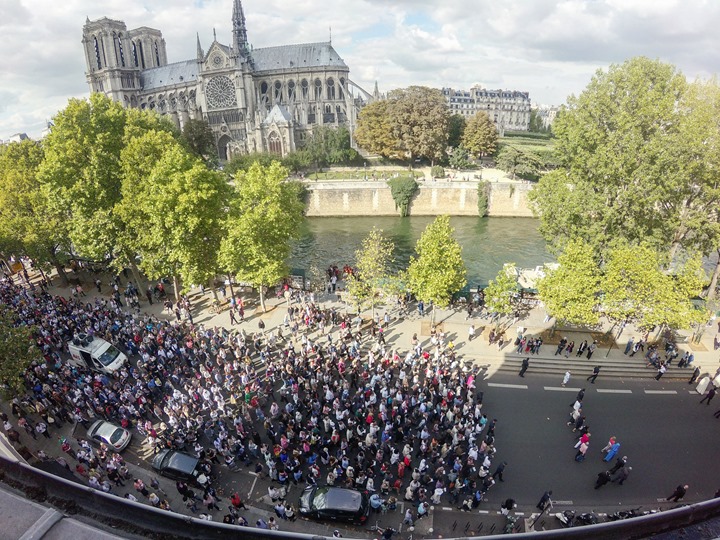 This happened right as I was about to head out for my long run.  The route (of the march) differs slightly each year, though it's generally no more than about a mile.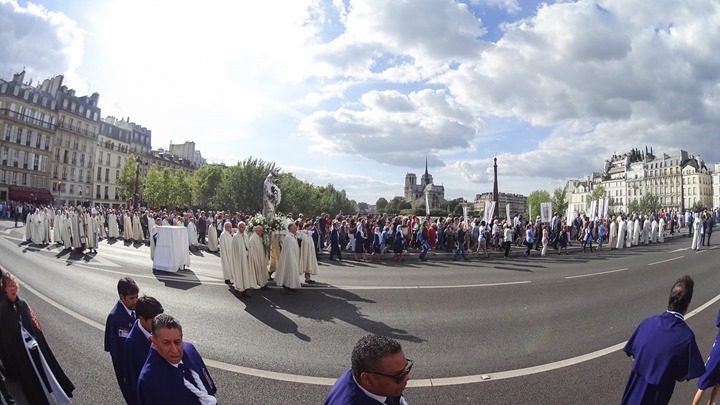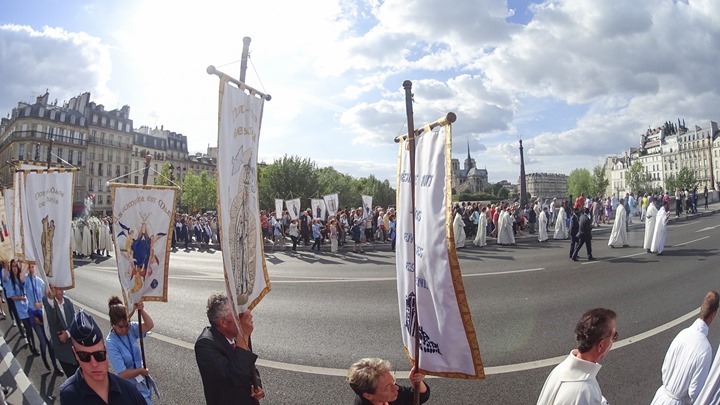 The front is led by folks from within the church, and then followed by parishioners (and some wandering tourists as well).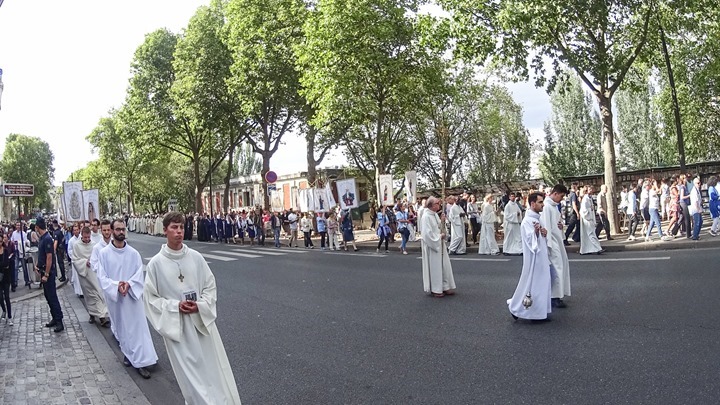 Meanwhile each year Avis supplies a healthy number of rental vans to broadcast the audio down the street (a mix of what I presume to be a sermon, and music).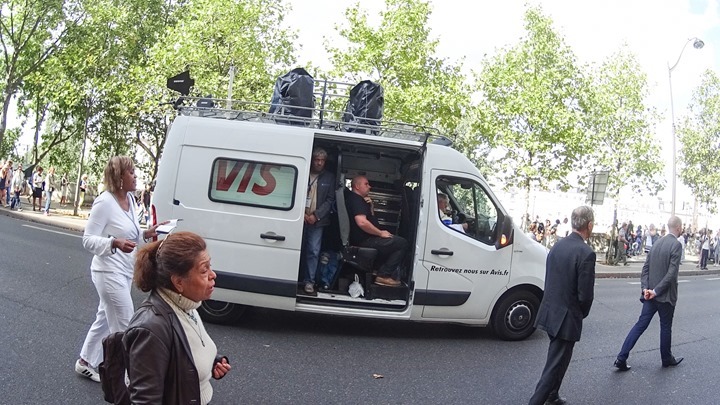 I watched for about 10-15 minutes as it moved and stopped repeatedly going down the street, then I headed out for my long run.
3) A long run…through a refugee camp
It's interesting that in many ways despite how connected the world is, you still can't get a complete picture of which issues are truly talked about in other countries beyond the one you reside in.  For example, I read a number of US papers and news sites daily, but sometimes those skew towards various national or local issues – but they might often skip over different cultural/entertainment/local items that one might discuss more at the water cooler at work, or hear on the radio, etc…
Similarly, there are news items here (in France/Europe) that are major front page stories that may not even be visible or discussed in the US.  For example, the current refugee/migrant show-down that's occurring in Calais on the UK/French border (it's complex, you can read about it here at a high level, or this video is pretty good too).  While it may seem a world away to many tourists, it actually can often impact the Eurostar train operations, as well as ferries and other means of transport – so it's not something so easily brushed aside as non-relevant.  Note that I'm providing this snippet here for backstory, but not to start a French vs UK vs migrant political discussion (there are plenty of other places on the interwebs to do that).
The point of all that as it relates to this post is that it's not just an issue happening a few hundred miles away from me, but rather now present on one of my main running routes along the Seine, just one mile away from our home. Directly across the street from the beautiful gardens of the Jardin des Plantes, the crazy dinosour and bones museum (Galeries d'Anatomie comparée et de Paléontologie), and even the little zoo.  So off in the woods this is not.
Earlier this spring we noticed an increase from what used to be precisely two (very friendly) long-term homeless gentleman on this route, to what can only be described as a sea of tents stretching a few hundred meters.  Albeit impressively nice camping tents (we're not talking about homemade tarps here).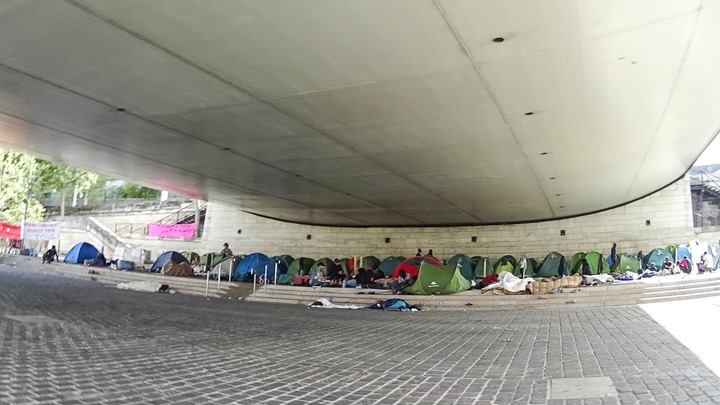 It wasn't until the last few weeks that I noticed they'd put up (self-made) signs declaring it a refugee camp, named after the train station above it.  What's interesting to me is that while many might assume there is danger wandering around here, in reality this area is swarming with activity.  Even in the camps themselves – for example, here they are learning French: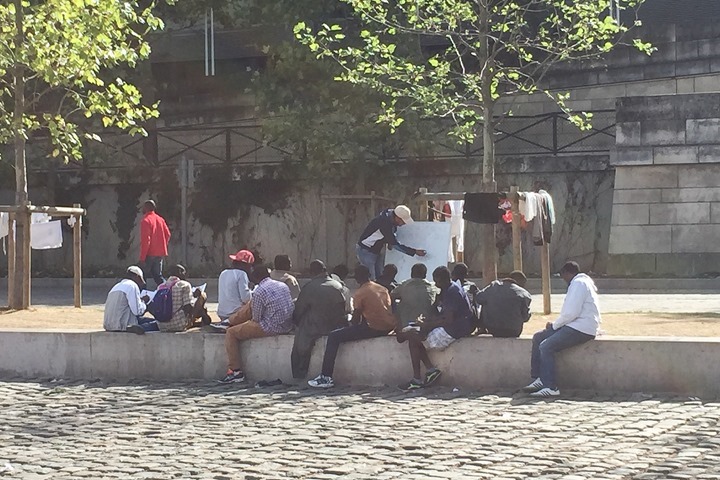 And later I'd see local French folks (not city officials) doing a large drop-off of clothes for them.  Most of these refugees are from either North African or Middle Eastern countries.
But beyond activity in the camp itself, it's buzzing outside as well.  For example, this cross-fit session occurs directly in front of it (and there are many of these each day/week).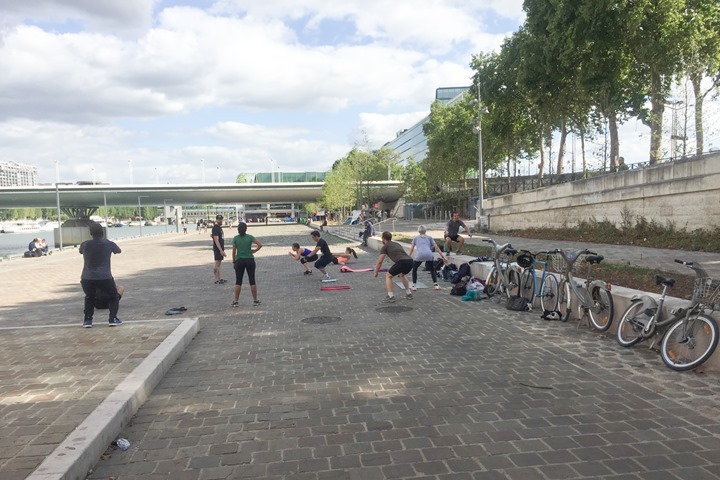 Same goes for the numerous restaurants and bars that form a bit of a perimeter around it.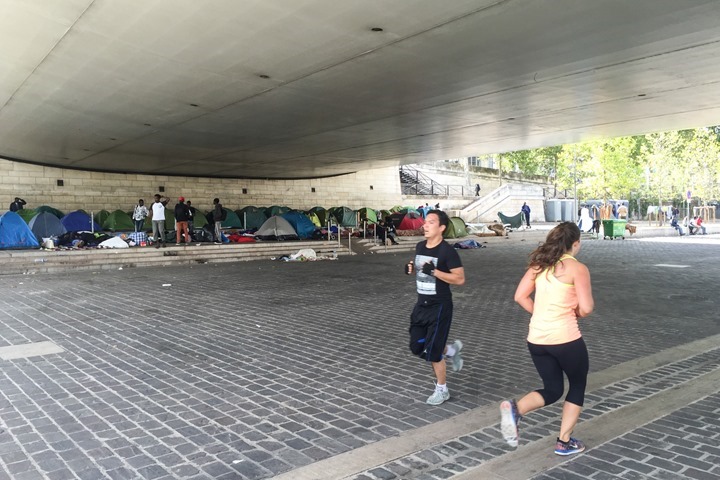 And then of course, being on a running/cycling path – there's a gazillion more people just roaming by.  Which isn't to say it's the absolute safest area of Paris, but at the same time – it's also not something to really avoid either.
Oh, as for my run – after passing by the camp I kept going for a total of roughly a dozen miles, just cruising along through the parks and enjoying a sunny Saturday evening run.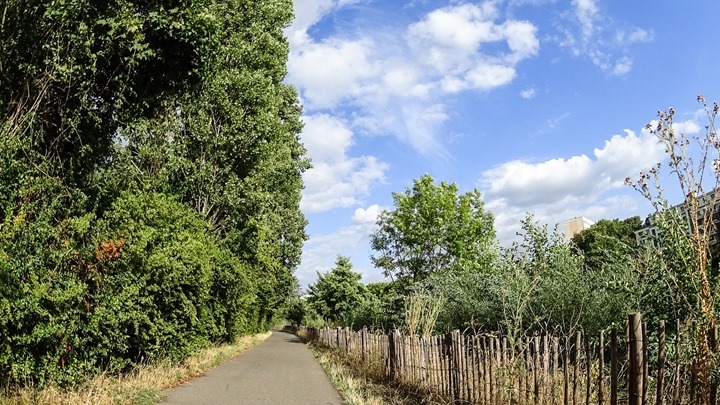 Gotta love quiet weekend long runs once you get out of the hum of the city.
4) Heading to the beach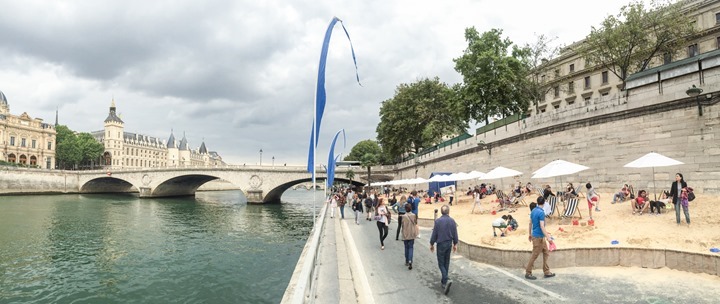 Sadly, this weekend is the final weekend of the beaches here in Paris.  You'll remember a past post I did on them a few years ago.
We've run past it on some nights, but Sunday afternoon we headed over to get one last relaxation session just hanging out.  Given the temperatures were a bit cooler this weekend, it wasn't quite as crowded.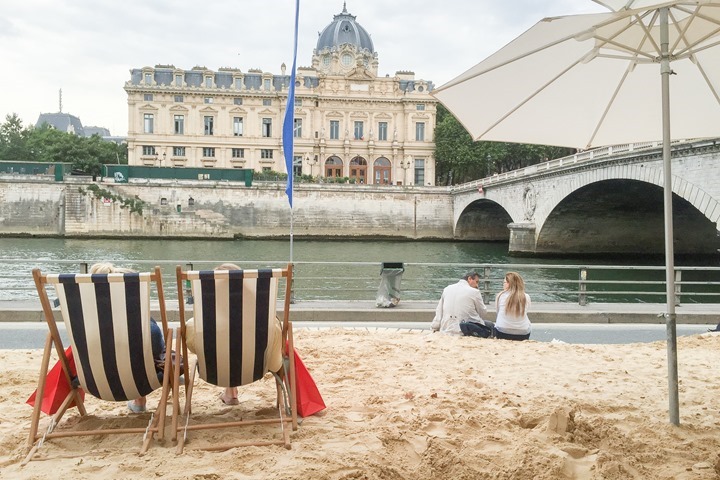 It'll be interesting to see in future years once they close down that highway permanently next year, if they extend the beach season.  Given it's only 'alive' for 4 weeks, seems awfully short given the amount of time and money they put into it.
5) The Bontrager ANT+ Lights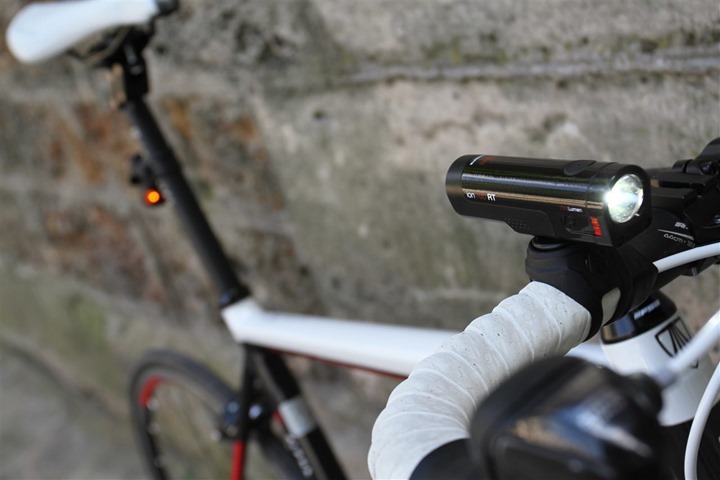 Currently in the 'Holy crap it's been there a long time' pile in the queue (along with plenty others I suppose) is the Bontrager lights.  These ANT+ enabled lights came out this spring and in many ways work similar to the Garmin lights that were announced in July.  With the Bontrager lights they also have a handy little remote-control up front though too.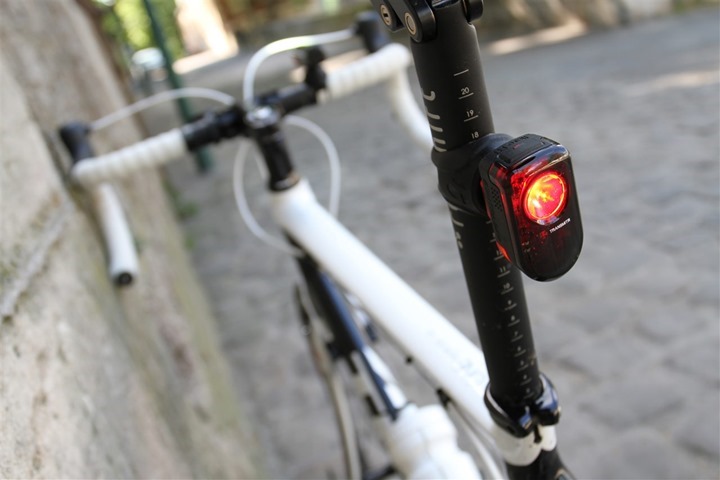 Anyway, the purpose of my curiosity testing this weekend was whether the Bontrager lights would work with the Edge 1000, given the new update supporting the Varia radar/lights.  My testing puts this in the category of 'sorta'.  They pair, yes.  But that's kinda where things end.  You can't seem to pair more than one of them at a time (despite creating a light network), and when you do a test, it only half-responds.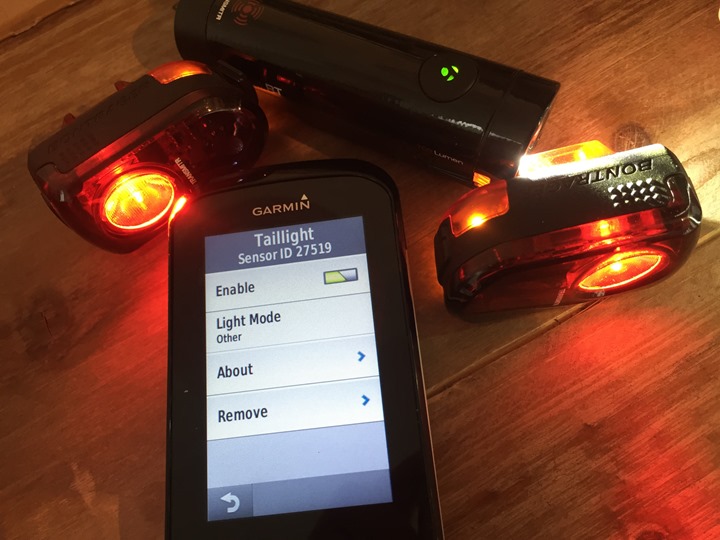 To be fair, I'm not entirely certain it should work (yet or ever) with the Garmin Edge 1000.  I'm also not entirely sure the Edge 1000 software is finished yet enough to work with it.  Finally, I'm not sure that the Edge is or will be using the standard ANT+ light controls for controlling Varia lights.  All things I hope will work in time, but we'll see.  It'd be great to see more of this integration across other products.  For example, adding it into the Fly6 and Fly12 units would be pretty sweet (and in theory easy to do).
Anyway…back to writing reviews.  Thanks for reading!