For the past 7 days I've been hanging out on the small islands of Malta, which are located just east of the African country of Tunisia, within the Mediterranean (or just south of Italy).  For those unfamiliar with the specific locale, here's a quick map refresher: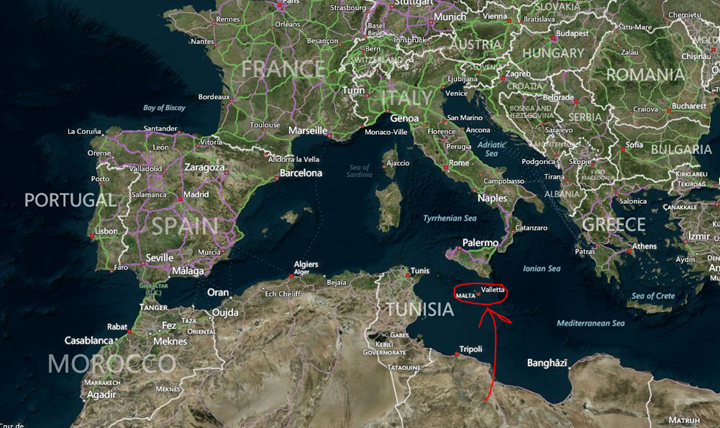 I was here for a bunch of work meetings until the weekend, when I then spent a few days checking out the island with The Girl.
1) Checking out the Blue Lagoon
On Thursday evening a work excursion brought us via speedboat to the below spot.  But The Girl and I enjoyed our short stay there enough that we came back two days later on Saturday after driving to the north end of the main island and then taking a quick 10 minute ferry over to the Blue Lagoon, which sits on a separate island.  It's a bit of a cluster though right where the boats drop you off:

So we hiked a bit away, and it's just beyond here we hung out for the afternoon.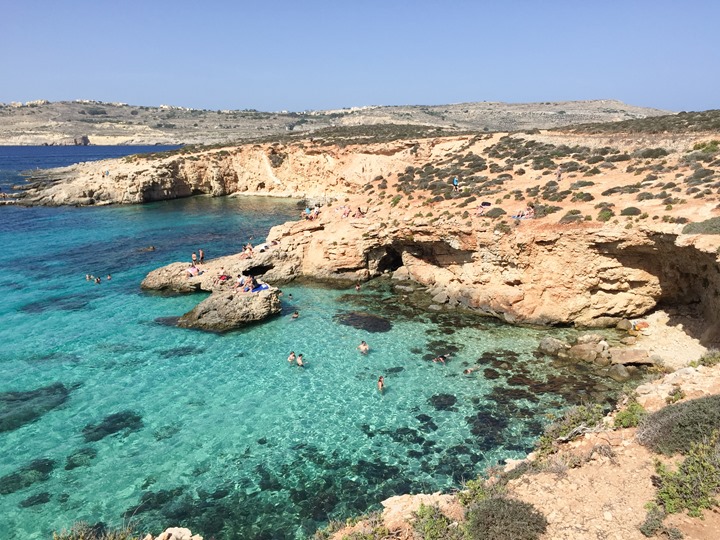 We then decided to float our way across to another island, where we sat for a bit and got a better view: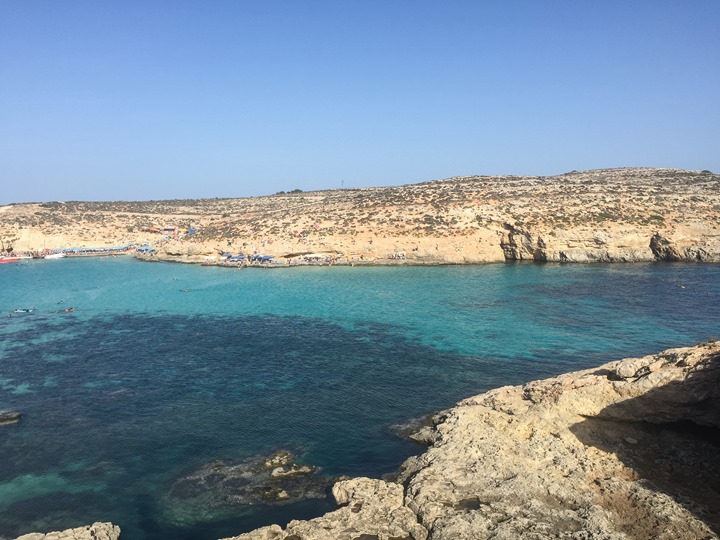 And of course, I got in a short openwater swim as well.  Though I didn't quite have as much time as I wanted before the boat left, so I had to keep things to only about half a mile.  You can see that swim track image down below in the swim section.
2) Lots and lots of GoPro Hero4 testing
When I look at all the trips I take for work, and all the testing that I usually do during these trips in random activities – most of it isn't terribly ideal for action cams.  Running watches?  Sure, I can pretty much easily run anywhere (even in Africa at night in the bush).  But creating interesting action cam content in a random blah city?  Not so easy.
Thankfully this past week that was silly easy in Malta.  Be it four drug-cartel style speed boats racing across the water at sunset….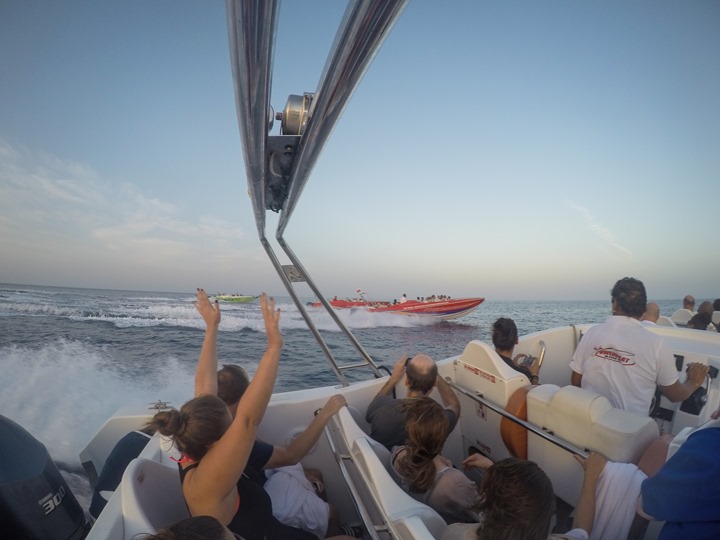 …or pool shots in a seaside pool (twofer actually, FR920XT swim shots and GoPro shots!)…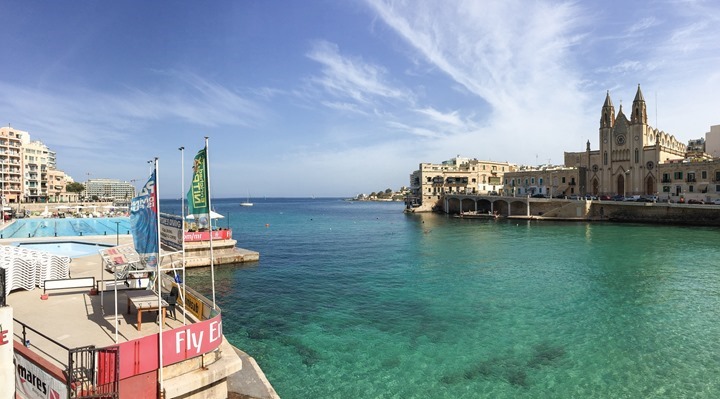 (Awesome fact: This pool cost only 3€ to enter, and I was the first one in the water that morning.  Though, barely anyone actually seemed to use it the many times we passed the pool.)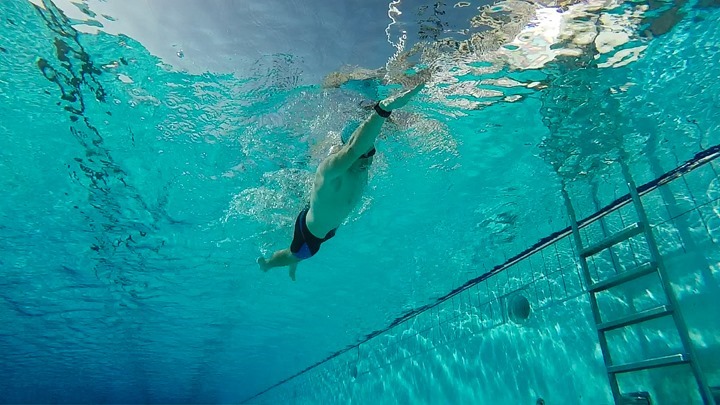 …or shots of waves crashing against the rocks to get high speed footage, it was all there.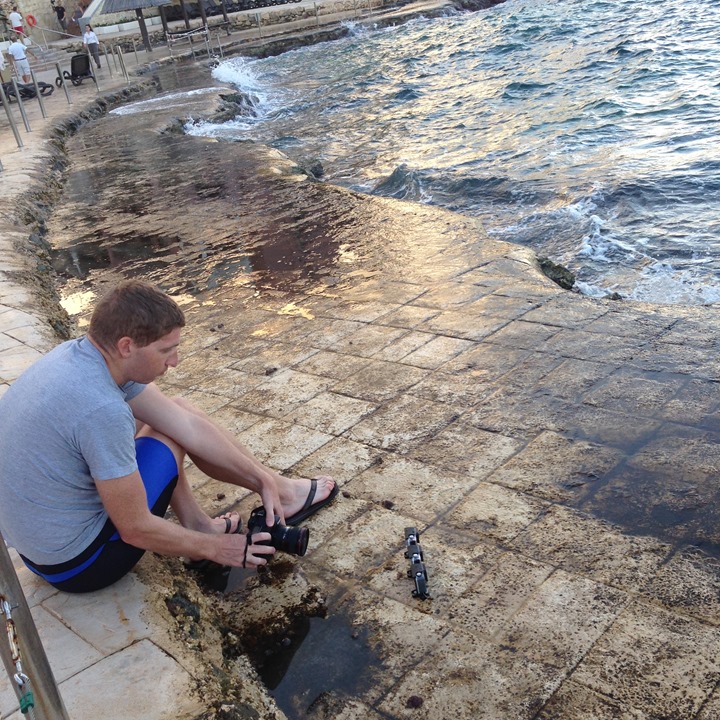 Plus, many other shots.  And, as I'll cover in a moment there is lots of potential for yet additional footage and testing over the next 15 days of travel.  All culminating in a review of all three new cameras (GoPro Hero4 Black, Hero4 Silver, and the new GoPro Hero) more or less the day before/after my Garmin FR920XT review.
3) Enjoying some Maltese food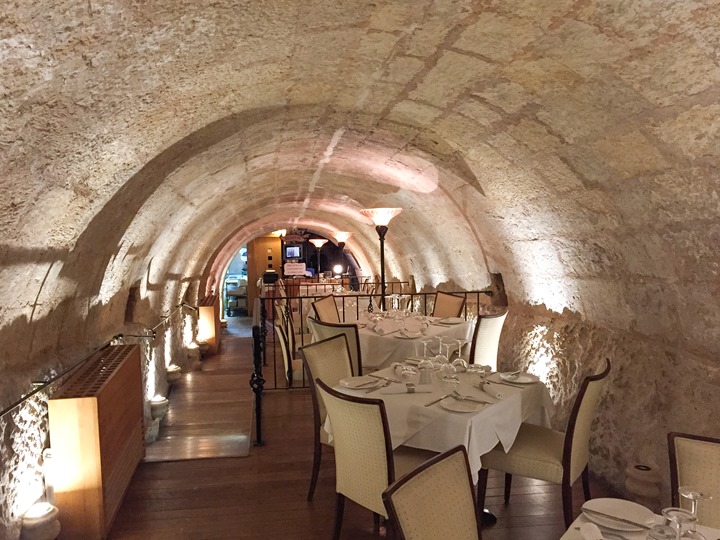 Of course, no trip would be complete without some good quality food.  And in that area, Malta seemed to deliver.  It helped too that the prices were quite reasonable.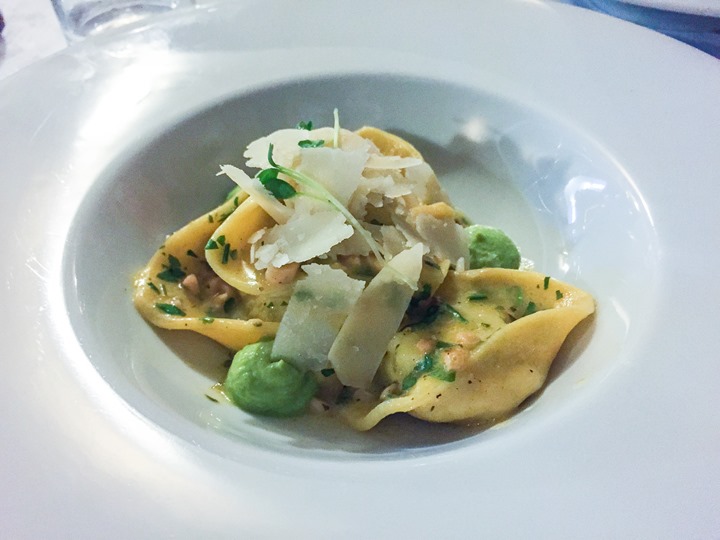 We were impressed with two solid meals back to back this past weekend, both reasonably priced and with unique twists on things.  For example, below had reduced balsamic sauce pearls, that appeared like caviar.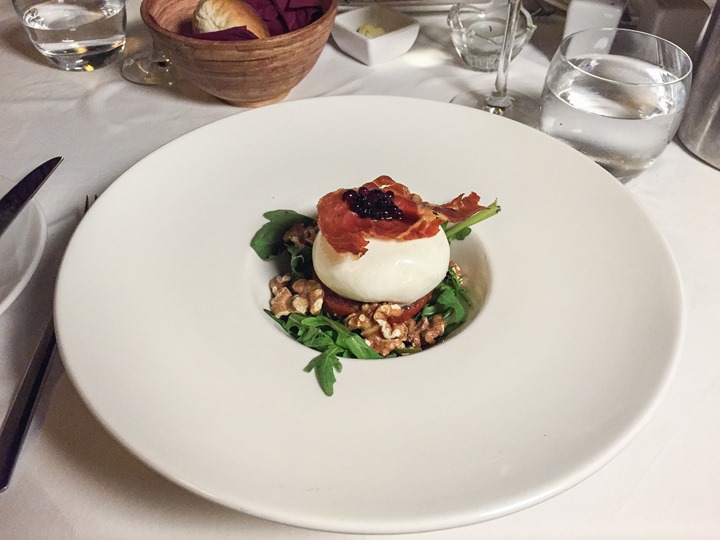 The food is a Mediterranean blend that heavily leverages from Italian food, which, I'm always quite happy with!
4) A week's worth of openwater swims
Ok, this one isn't so much this weekend exclusively, but, it is worthy of note since some of these occurred this weekend.
I was lucky in that the hotel I was staying at for meetings (and then a few days of vacation) was directly on the water.  Not only just on any old water, but more importantly – swimmable water.  Mostly quite clear and without too much boat traffic.
So I took every opportunity I could to get in swims.  From just after meetings ended in the evening, to morning swims, to replacing my lunch break with it.  Here's a fun series of screenshots from this week.  I used screenshots from the Ambit3 since I like the coloring of paces.  Plus, in general the Ambit3 gives the cleanest non-swimcap track lines around: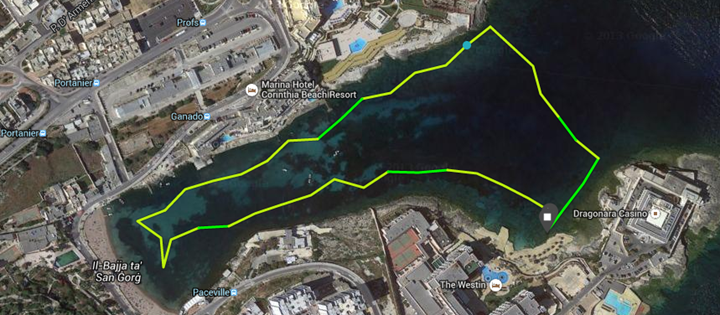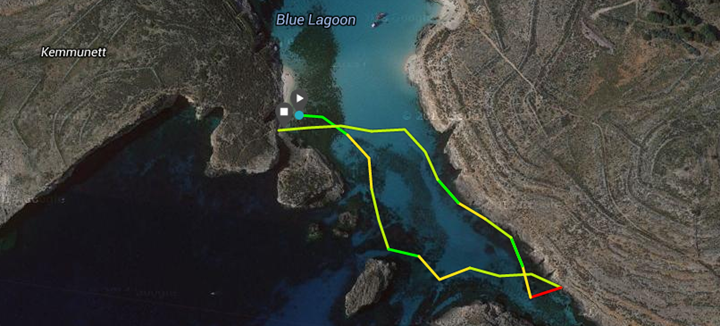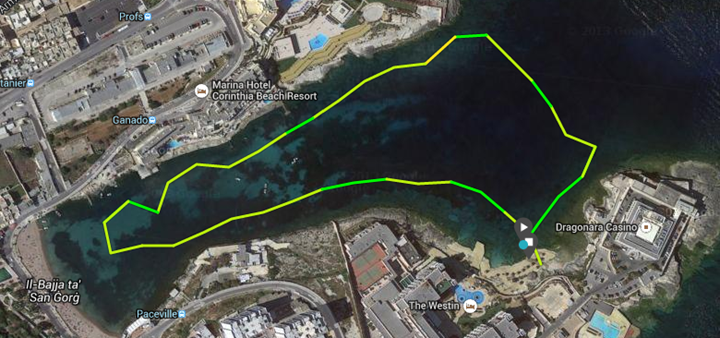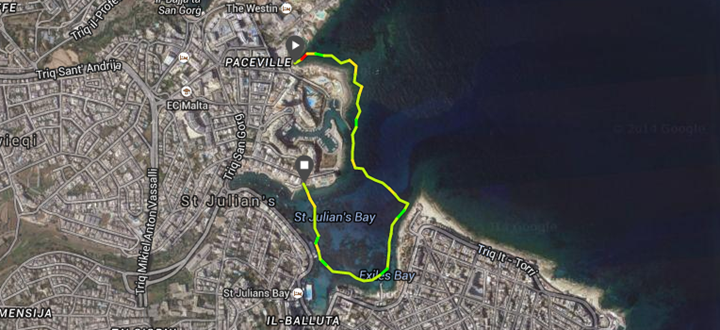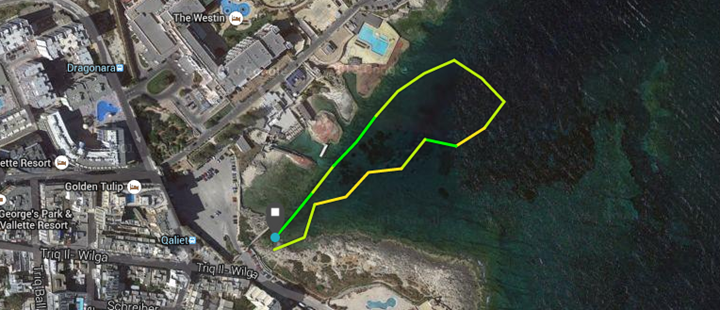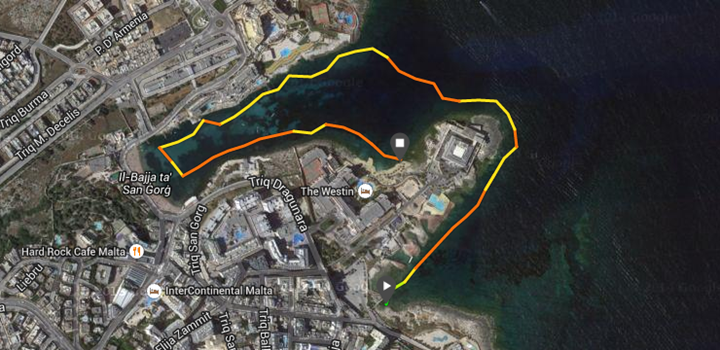 I'm sure I could swim every day in waters like these.  Well, minus a minor little incident on Thursday.  But I'll save that for another post later.
5) And now…I'm going to fly a long way away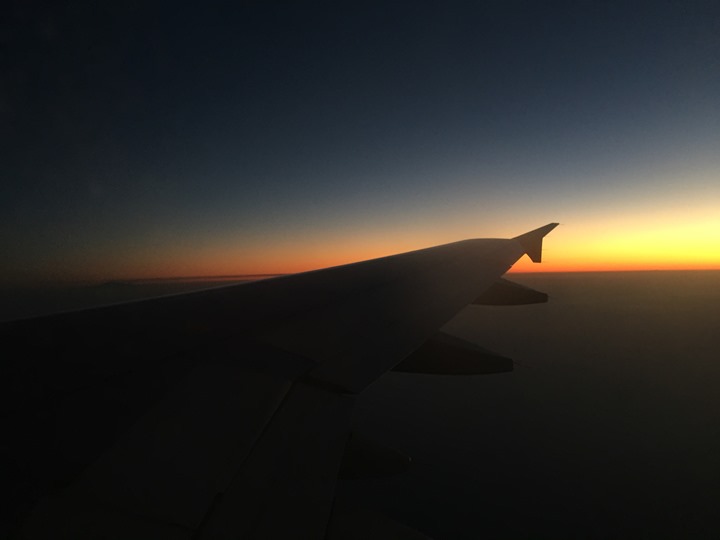 I've already knocked out the first flight of the morning, just after 6AM for a quick hop back to Paris.  Then, later this evening after unpacking, repacking and swapping bikes I'll begin the long trek to Auckland, New Zealand.  It'll take me a few planes, and a bit over 24 hours of flying…but eventually I'll get there.
And unlike most trips that last just a few days, I'll actually be there for nearly 10 whole days before heading elsewhere.  Crazy talk for me to stay put for that long, I know.  But, that's just how the work schedule panned out.  Thankfully The Girl will get to join me for a portion of the trip later on.
For those folks hanging out in Auckland, if you've got any recommended riding routes, or openwater swimming options I'm all ears.  I realize it'll be a bit chilly, but looking at the water temps I've swam in much colder in training and racing.  And perhaps if there's interest we can arrange some sort of swim/bike/run meet-up (one of those, not all of those…).
With that – thanks for reading!