Somehow in the crazy-busy last few days in getting a slew of product reviews published I didn't quite get to talk about my weekend at the chocolate fair.  Obviously, that's a problem.  Anytime I skip out on talking about chocolate I need to re-visit my priorities.
Thus, I'll briefly catch you up on the last 7 days, outside of the world of publishing 60-80 page product reviews.
Now, obviously if I'm going to the Epicenter of Chocolate Nom, I need to get in some serious running.  Which is good, because I ran a ton over the past 7 days, but especially so on the weekend.  The peak of that was a 2hr 10min long run, which  I started around noon on Sunday.  It was a semi-rare beautiful sunny day out: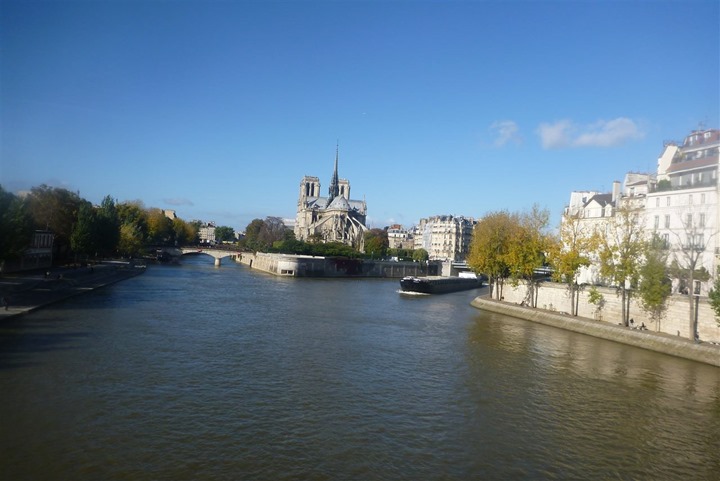 The previous day while walking past Hotel de Ville, I had seen a bunch of tents setup.  Turns out that the tents were part of the pre-race expo and ultimately finish line of a marathon relay.  The relay would do what I believe were 3KM loops along the Siene, and allowed you to create teams of varying sizes.
This particular road is generally closed on Sundays on warm days (yes, there's a distinction I've discovered) to traffic to allow folks to run/ride/wander, but today it was also doubling as the race course.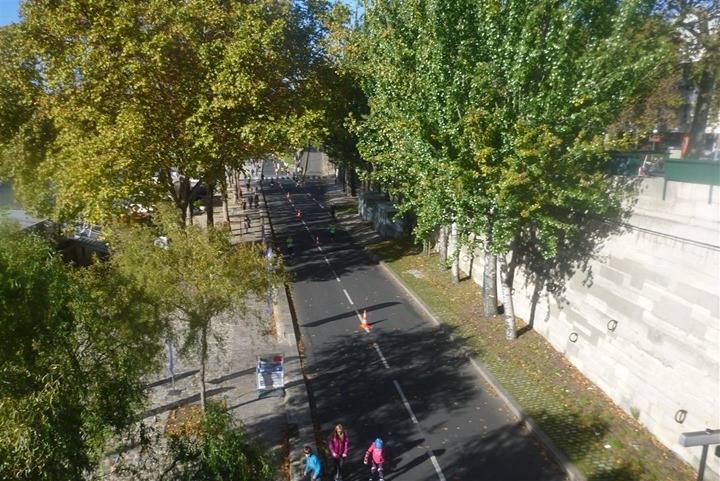 Thankfully it wasn't actually closed to other people, so I was able to join in on the course – which at this point was fairly empty.  Given the event started around 8-9AM, most of the faster teams would have been done at this point (especially in a relay scenario).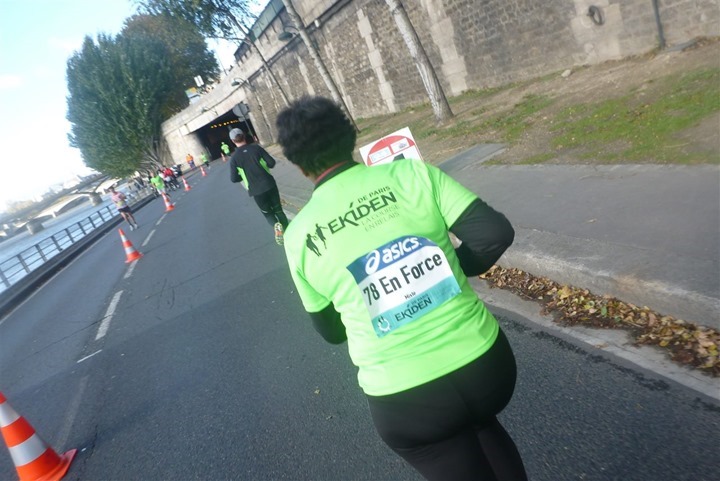 Eventually the route took me into the tunnel.  I LOVE the tunnel.  For two reasons.  First, the nearly 1-mile long stretch is totally awesome for testing GPS devices and failover to secondary pace mechanisms (i.e. footpods/internal accelerometers).  And secondly, it's empty.  Which means I don't have to dodge people.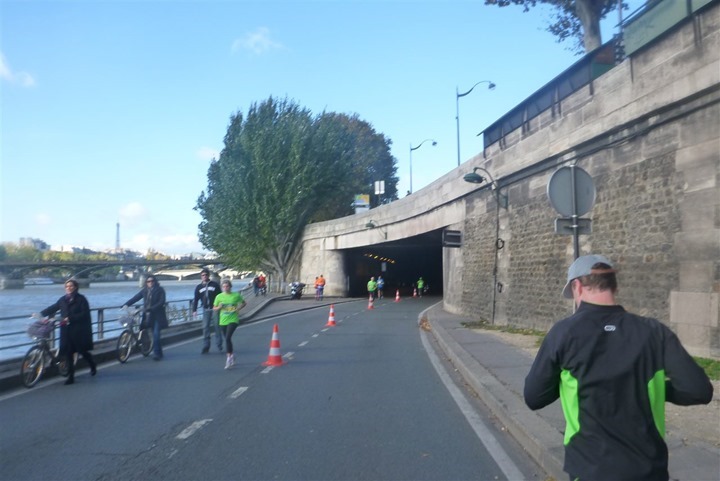 For those curious, here's what the tunnel looks like inside.  Yes, it obviously looks this fuzzy in real life – it's like Star Wars and light-speed.  Well, at least when running as fast as I was. 😉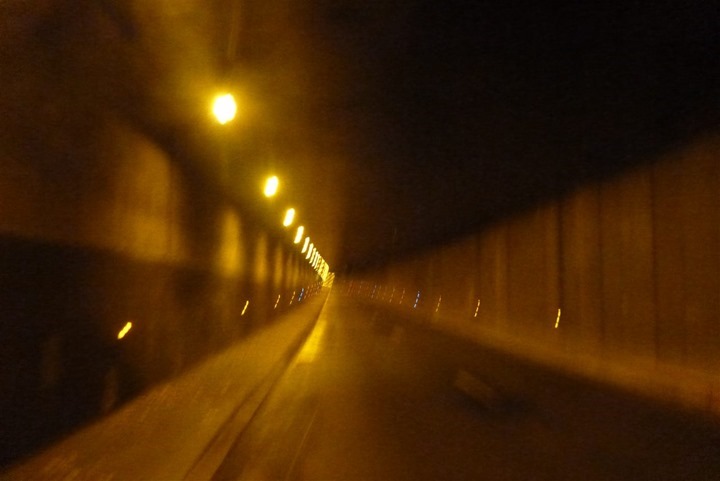 After exiting the tunnel I ran for a short bit before crossing the river and running along another now permanently closed riverside road towards the Eiffel tower.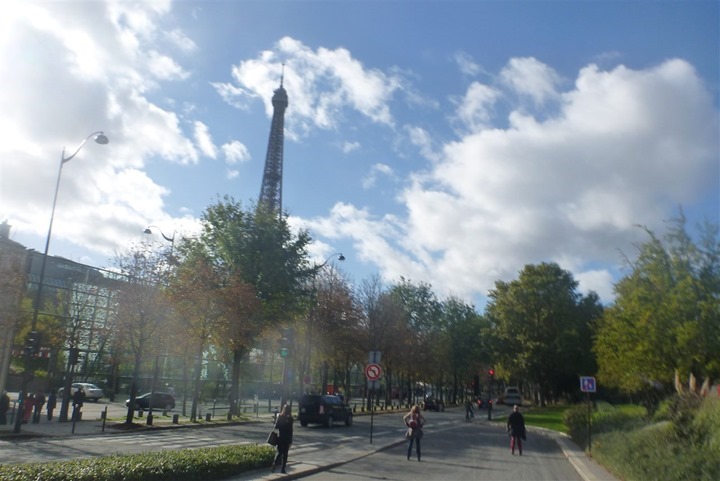 Ultimately after the Eiffel I'd again cross the river back to the other side to head up towards the large park near/around Longchamp.  For whatever reason I had put my camera into my Camelback for the next 10 or so miles, and thus captured nothing.  So, here's a map of where I went instead during that timeframe: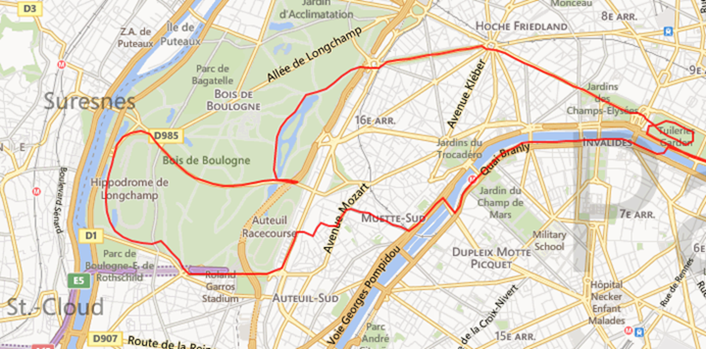 I'd ultimately run down the famous Avenue des Champs-Élysées before diving into the Tuileries gardens for a loop to burn a bit more time.  I actually ran around the Tuileries on Saturday as well, so I'll give you two photos from then.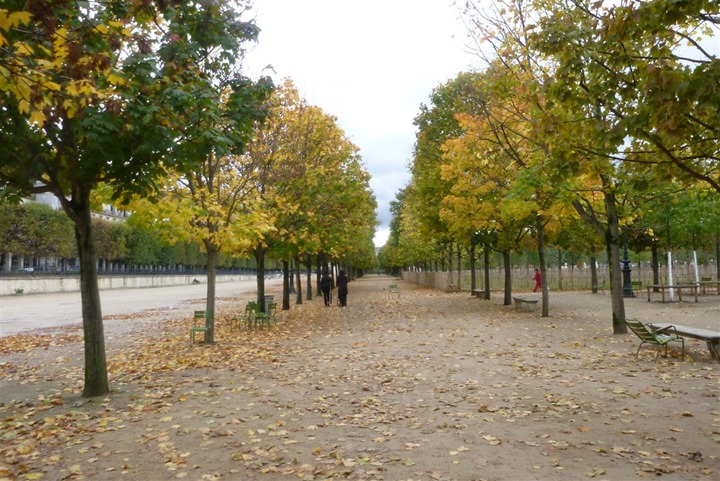 Also, someone appeared to have lost a giant golden ball in one of the fountains.  So, if you're missing your oversized Christmas Tree ornament – I found it for you.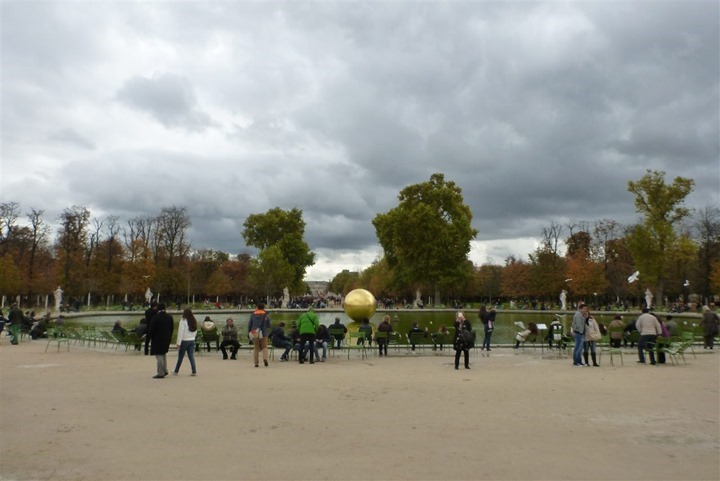 After exiting the gardens it was back down onto the same road that the race was being held.  Except they had just finished cleaning up (actually saw the cleanup crews grabbing the last signs as I came through).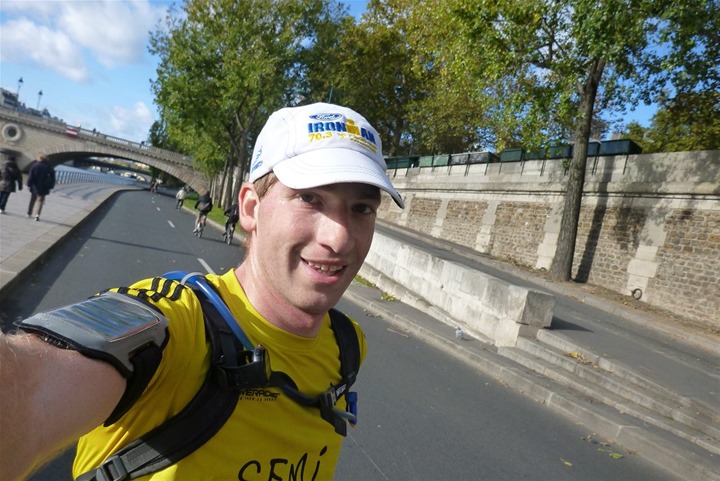 A mile or so later I wrapped up my 18.5 mile (30KM) run, with a fairly solid average pace of 6:59/mile (4:20/KM).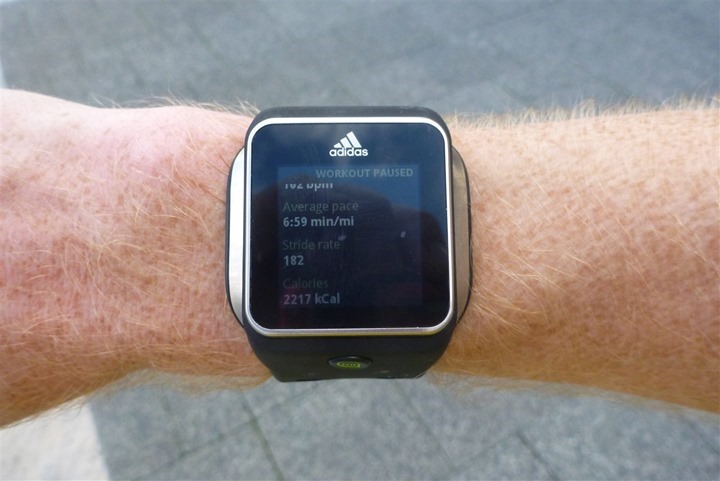 The important part here is that the watch told me I now can burn 2,217 kCal at the chocolate fair.  Thus, off I went!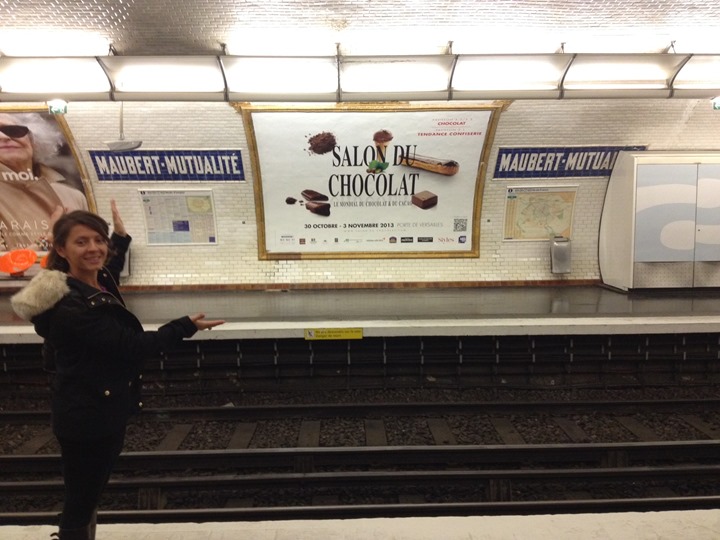 Technically, it's called the Salon du Chocolate, literally translated as Chocolate Fair.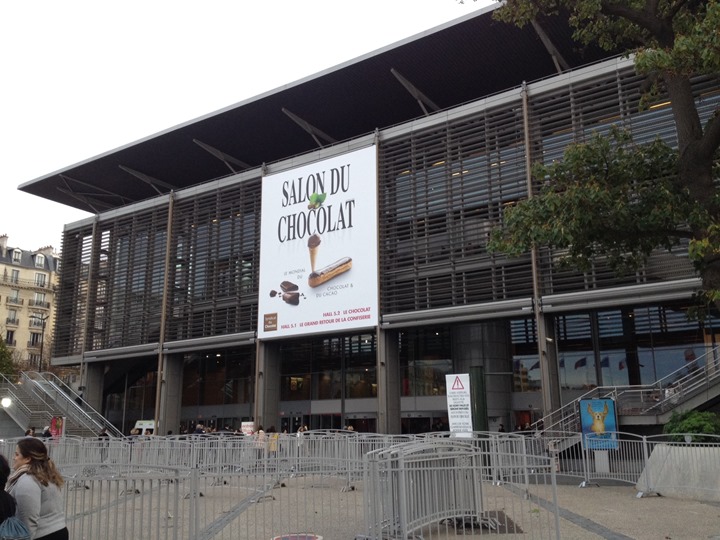 Once inside you're immediately hit with the smell of chocolate.  Oh so glorious chocolate.  And, as we discovered, Parisians clearly appreciate chocolates as much as us: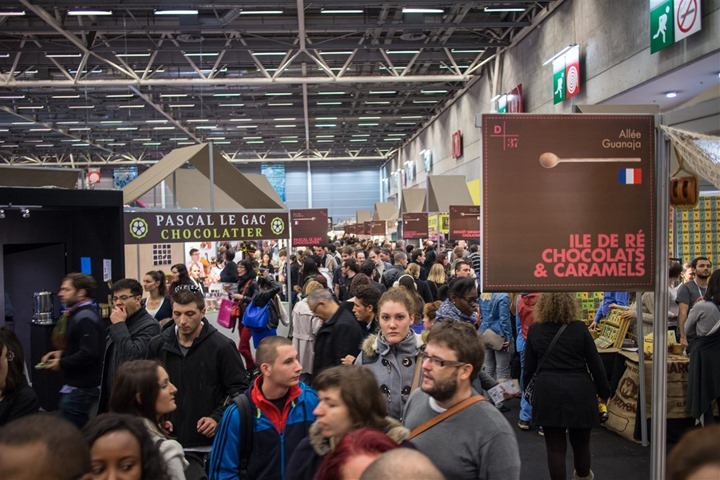 Here's the entire layout – on two floors actually: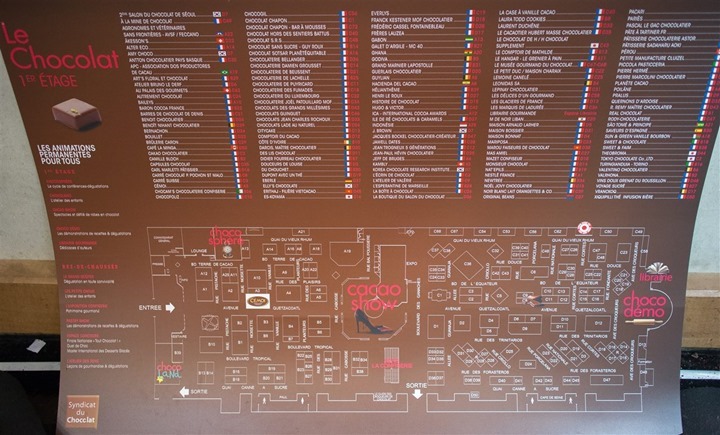 There's literally chocolate creations of every kind, from chocolate flowers: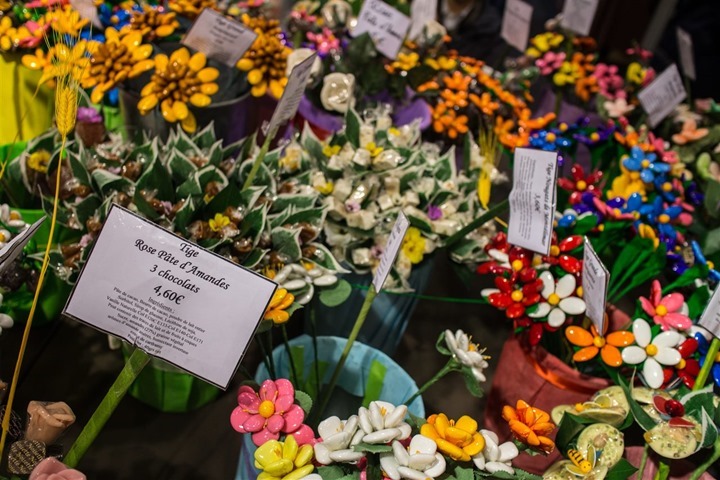 To Nougat with bits of chocolate or other fruits in it: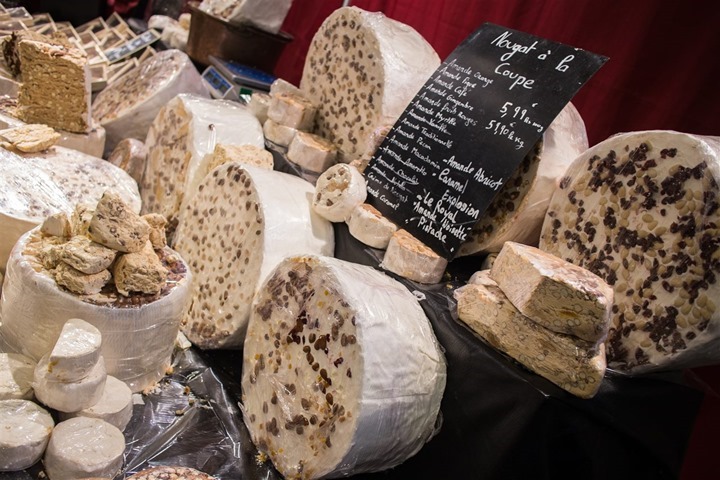 To Oreo and Macaroon earrings: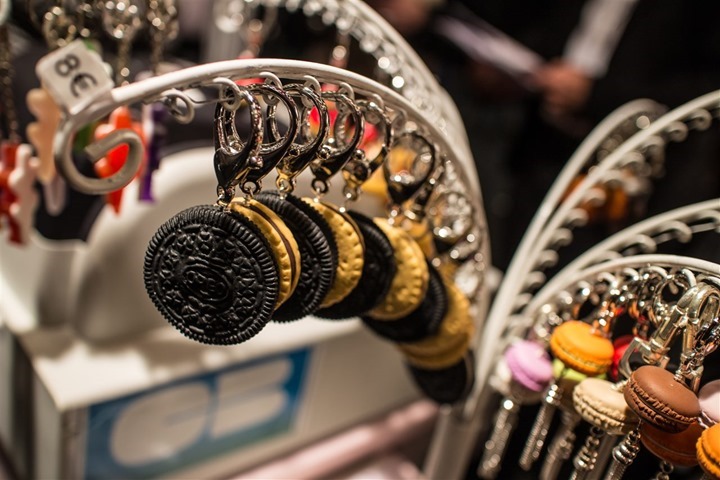 To chocolate Bailey's.  Free!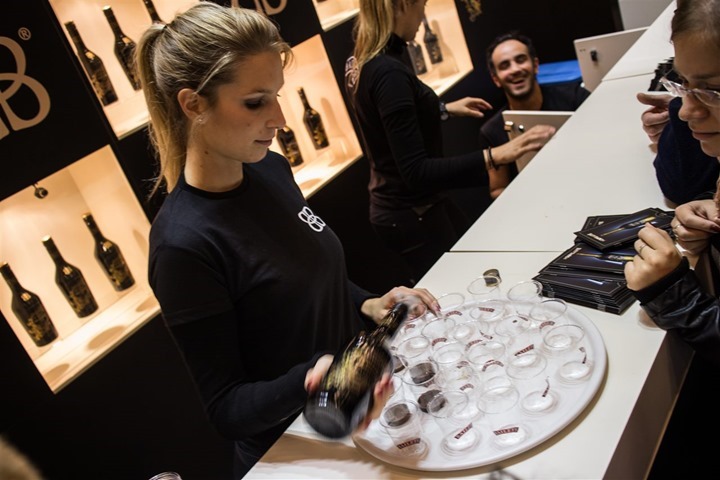 And of course, the raw cocoa itself: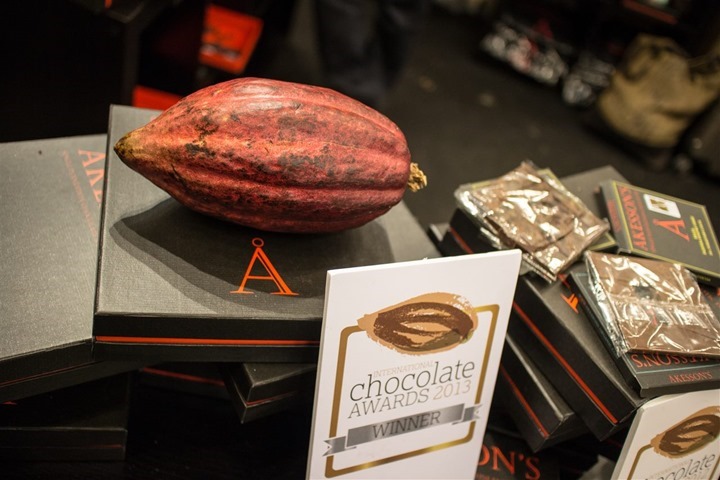 While the majority of the floor features small chocolate shops with chocolate for sale, there are some rather large demonstration and/or art-work style items.  For example, the massive Asiana Airlines chocolate airplane: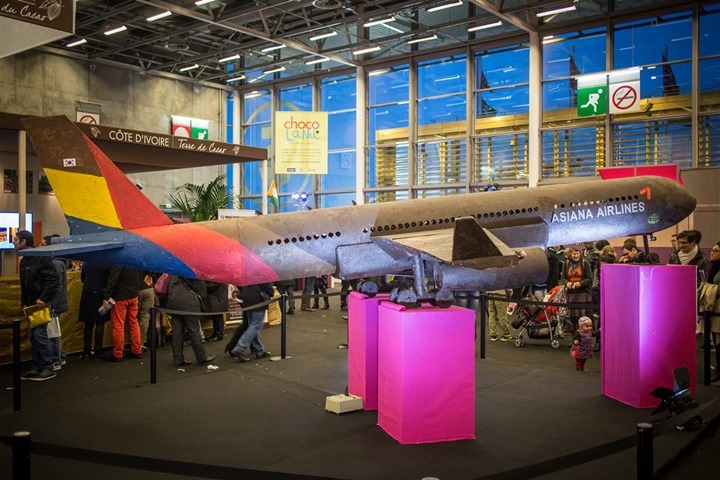 Or this huge chocolate fountain twice the height of a human: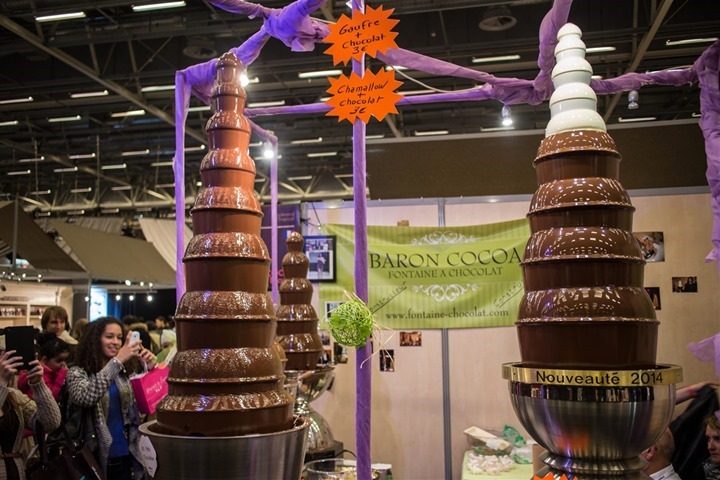 And finally, there was a chocolate fashion show, where the 'clothing' was made from chocolate: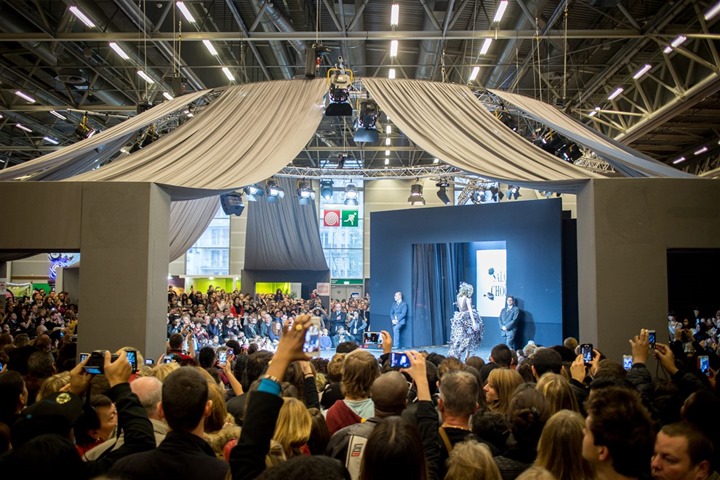 This was packed.  It was crazy.  Note for people going next year: Arrive early to get a good spot.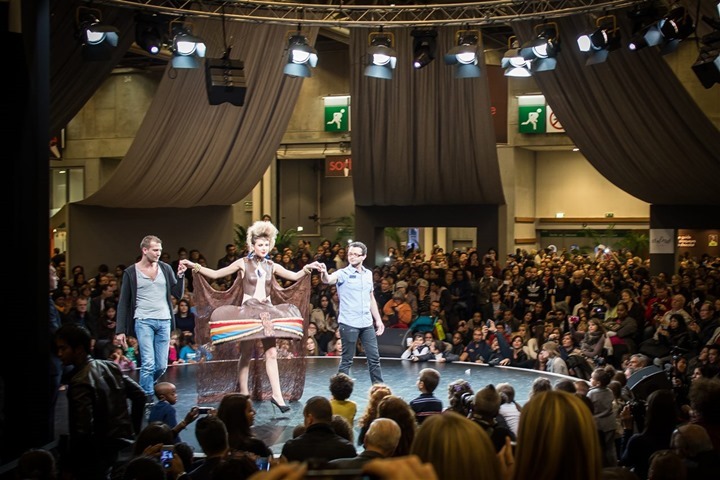 Oh, and then these two were seen.  Apparently they didn't make the cut for the runway show: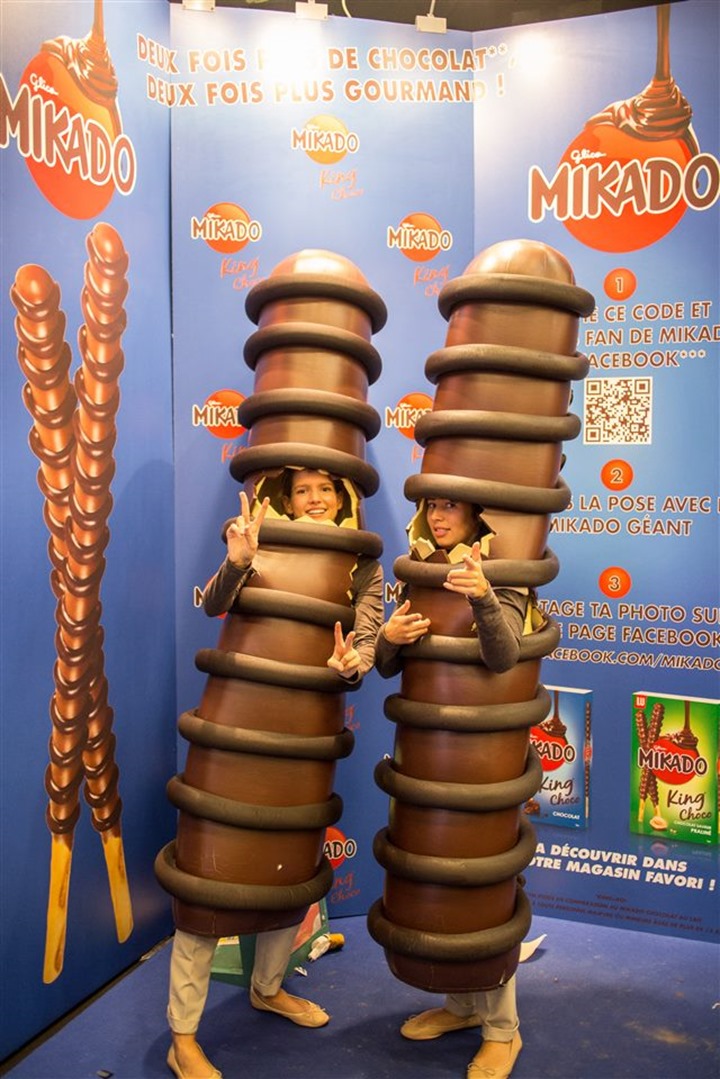 With that, we picked up some chocolate of our own and headed on out: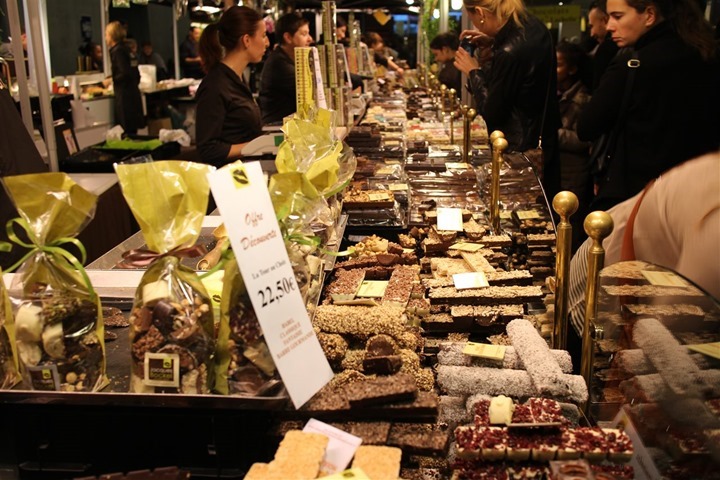 And thus – the conclusion to my weekend…but not my post!
Heads up to Tel Aviv folks:
As you all know, I travel quite a bit for work.  Most of my trips are incredibly short (i.e., I'm flying to Mexico City on Monday…for the day), and thus don't give me much flexibility to meet up with folks.
But I know there are tons of DCR readers in Tel Aviv, and I'll be there next week (after I'm done in Mexico City) and staying through the weekend….with The Girl as well.
So, if anyone is interested in some sort of meet-up on Friday evening, drop a note in the comments (your e-mail address is shown only to me), and we can try and arrange something.
Looking forward to it!
Thanks for reading, I've gotta run, off to pickup my visas for Brazil….