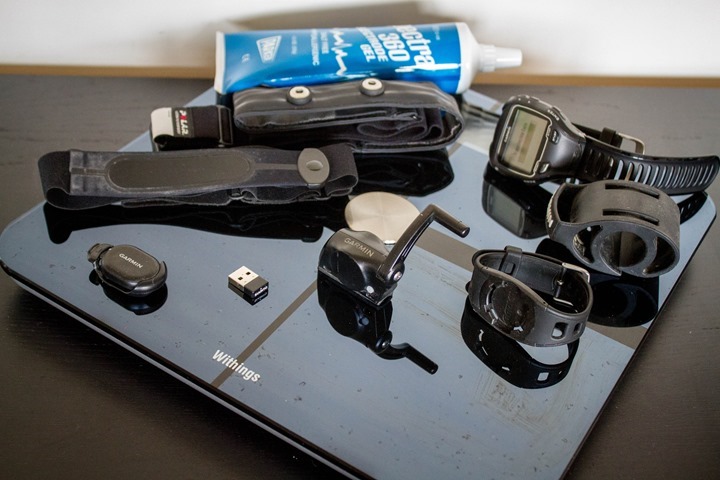 As you know, one way you support the site is via Amazon.  I thought it would be kinda fun to share with you a Top 10 list of all the stuff that you picked up during 2012.  It's an interesting look into what those interested in sports technology are buying these days.  I don't have any of your personal information as part of these orders.  I just see a line-item on a cumulative daily report that shows total quantity of items purchased.  No association to who, where, or even what else use purchased is shown.
Of course, amongst the thousands upon thousands of items, many are just run of the mill things that you and I purchase on Amazon.  Socks, Legos, books, and even suction cup darts.  One item at a time, I really appreciate your support of the site.
Without further ado, here's the countdown:
#10: Withings WiFi Scale (black and white combined): The Withings WiFi scale definitely had the technology lead going into 2012.  But since mid-year we've seen a number of new entrants in the connected scale space – including Wahoo Fitness, Lifesource, Fitbit, and another scale from Withings.  Not to mention past players like Tanita.  It'll be interesting to see how this shakes out over the next year.
#9: Suunto ANT+ Movestick Mini USB: This tiny little replacement USB ANT+ stick is pure awesomeness.  I wrote about it a while back, and how it allows you to easily transfer workouts from your Garmin Forerunner watches without the chunkiness of the big Garmin USB stick.
#8: Garmin FR310XT Quick-Release Mount Kit: While this is used for the Garmin FR310XT, it's also actually used for being able to run with your Garmin Edge cycling units – hence one of the reasons I think it squeaked its way into the top 10.
#7: Parker Spectra 360 Electrode Gel 250 Gram Tube:  No surprise here.  People are tired of having heart rate straps that report spikes and dropouts.  And for most, this gel near instantly resolves it.  Plus, this tube is way bigger than it looks.  It lasts a lifetime.  Interestingly, at #12 was a different brand (Buh-bump), which combined together would have put HR gel in the top four.
#6: Garmin Forerunner Bicycle Mount Kit: This $9 bike mounting kit is nice in that it really works with any watch on the planet.  From a $2 watch to a $550 watch, it simply wraps around the handlebar and holds your watch steady.  Simple and effective.
#5: Garmin Forerunner 910XT (all models combined): The most popular triathlon watch by a long-shot, the FR910XT outsells the nearest competitor (the Timex Global Trainer) by a factor of three.
#4: Garmin ANT+ Premium Heart Rate Soft Strap:  I find this item interesting.  One, it shows that people are still interested in heart rate data.  And two, it shows that all of you are thrifty shoppers.  See, usually Garmin upsells their 'bundled heart rate' models for $50 more than the non-inclusive unit.  Yet, the strap hovers around $45.  Savings of $5 for the win!
#3: Polar WearLink+ Replacement Strap (all sizes):  Out of this entire list, this is perhaps the most deafening.  In droves you are buying the only thing that seems to fix the Garmin Premium Heart Rate Strap dropout issues (without gel)… a $16 strap from Polar, Garmin's biggest competitor in the space.  A bit ironic…
#2: Garmin ANT+ Foot Pod:  Wanna run indoors?  Perhaps get run cadence outside?  Well, this tiny little coin-sized footpod is your friend.  And clearly, it's become a friend for a lot of you.
#1: Garmin GSC10 ANT+ Speed/Cadence Bike Sensor: Just like running, if you're looking for speed indoors – this is the way to go.  And, also like running, if you're looking for cadence inside or out, there's only one way to get it (aside from an expensive power meter).
So there ya have it – the biggest movers over the past year.  It'll be interesting to see how this changes in 2013.  I'd be willing to be that probably 8-9 of those items will remain the same.  I see the FR310XT quick-release kit slowly sliding off the list as less people will be buying the FR310XT (I suspect, in favor of the FR910XT).  And I suspect that the Withings WiFi scale will also probably slide out out of the top 10, not because they'll be directly selling less, but merely because there's more options in the marketplace in 2013.
As always, thanks for reading!