Last night while on my long run, I had a fair bit of time to think about cobblestones.  Mostly because I was trying to avoid slipping, tripping or otherwise falling on them.  The snow in my eyes didn't help.  Where I'm located in central Paris, the best places to execute a long run tends to be along the river (the Seine), as it provides the least amount of stop and go lights/signs/traffic.
Within the context of 'running along the river', you've got a few choices.  Either side of the river (left or right bank) is perfectly suitable for running.  Different sections offer more seamless running than other sections depending on the side, but on the whole, it's a bit of a wash as to which side is better if you're running a long distance.  They both have their pros and cons.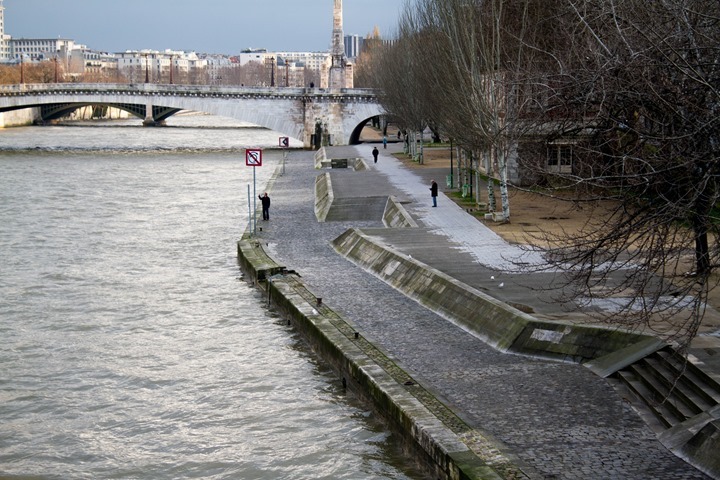 So then the choice becomes whether or not you run up at street level alongside the cars and pedestrians, or if you run down alongside the river at 'boat level'.  Running up at street means that you hit all of the traffic lights, and depending on the weather, have to play chicken with pedestrians.  Pedestrians that on the whole won't even give you an inch of movement along their path.  Down at boat level means that you're usually running on one of the access roads that allows cars/trucks/busses access to the various boat tie-ups.  That means it tends to be quieter.
There are however some stretches of pseudo-highway down there which can cause some crossing issues, but in some of those stretches they actually have walking/running paths.   But if you're going for a long run, those sidewalk stretches are short lived (though on weekends the highways themselves are actually closed to traffic).
Which, brings me to the cobbles.  Down along the river is where you'll find the majority of big cobbles that a runner will have to bound over in the city.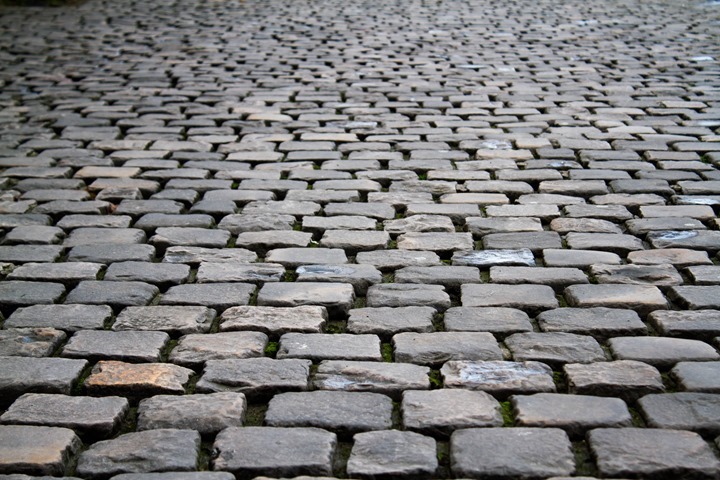 These cobbles tend to have larger gaps between them than the main street cobbles, and tend to be less uniform in size – oftentimes with broken or missing stones.  Thus running at night tends to get a little dicey.  But for the most part, the sections that are the roughest are usually avoidable.  Ironically, one of the worst sections I've come across thus far is only a few hundred yards from our place.  Since there are bunch of steps in that area (and low-overhangs that'll have you knocked out on your butt in an instant…trust me), we rarely run down along the river there.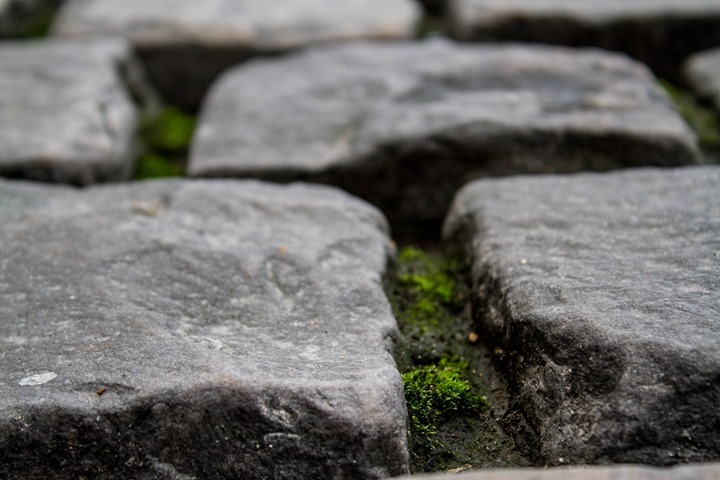 For me, it's the compromise I make in order to be able to maintain continuity on my run.  I've found that on the cobbles I normally lose 5 to 10 seconds per mile.  Which isn't too bad.  But I'd easily lose that much dodging people and the like up above at street level.  Further, I'm far less likely to get hit by a bus in the 'bus lanes of death' that are scattered about the city.  These are the bus/taxi lanes that run counter the the rest of the traffic on a one-way street, and have separate light signals that are often hard to visually separate.  So you think you're in the clear and start to cross – but then realize that you've just stepped into a bus lane with a non-stop bus hurdling toward you.  Not so good on a long run when you're tired.
The second reason I've been mixing in the cobbles is actually because both the Paris Half-Marathon and Paris Marathon courses have them.  With those races coming up in early March and early April – I've gotta be prepared to deal with the cobles.  Now, in most cases the cobles on these courses are smaller and of the filled in variety.  For runners, these aren't as bad (they still sorta suck for cyclists).  Here's a look at these: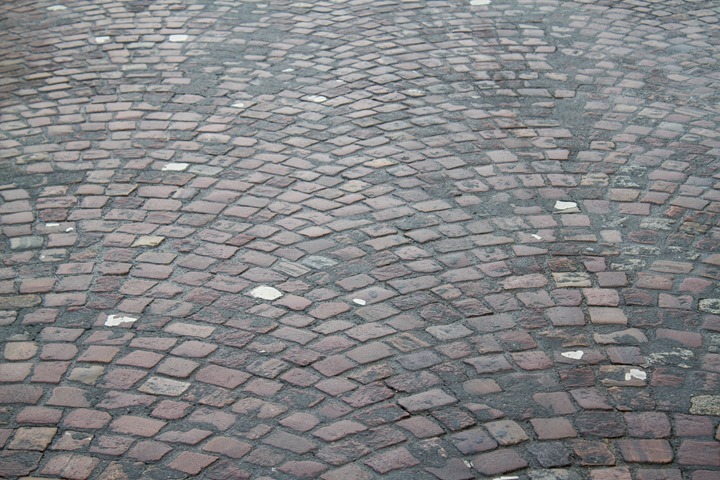 There's just enough variance that you notice the cobles, but it doesn't quite slow down your pace.  Your legs will be more tired after them, due to the tiny little shifts your muscles will have to make to constantly counter the non-flat surfaces.  Sorta like trail running…except, with the pounding.
I think I'm going to start running parts of the course to figure out exactly how many miles of cobblestones there are.  I pulled up on the course online.  I know that the first mile is all cobbles for example, and then on Rivoli (miles 1-2) it's a bit of a mix depending on where you are.  Once you hit the park (miles 6-12) it's fairly clean, based on my cycling on those streets.  As you start coming back into the center of town – especially miles 17-18, those are cobbles.  I'm rather familiar with that section, as I often have to cycle it when going out to Longchamps (where many people cycle, roughly mile 24ish on the chart below).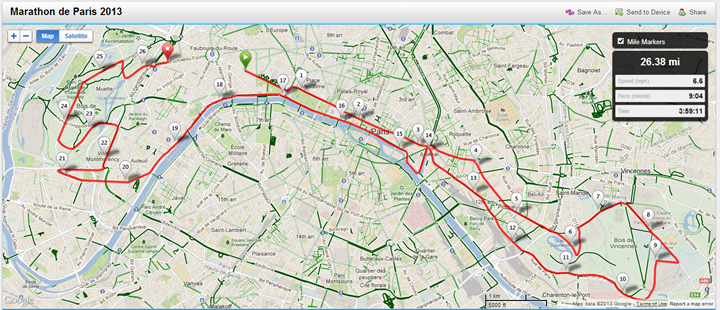 Of course, at present most of my long runs are on weeknights, so with some of the areas being a bit further out and in not-so-well-lit spots (namely 6-12 and 21-26), I'll have to fit those in on other runs.  Everything in the center of town I run near-constantly.  For example, the map from last nights run: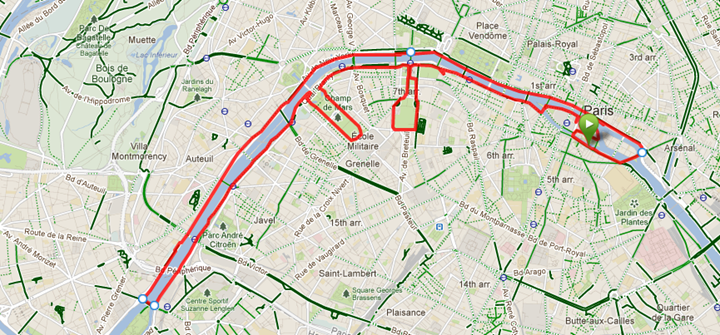 If I ran in daylight, I figure I could probably get the whole course easily in two long runs.  One run hitting up the left side, and one run hitting up the right side.  Plus much of the Paris Half-Marathon (here, called the Paris Semi-Marathon) mirrors the Paris Marathon course, so it's like a twofer.
As for cycling on cobbles?  Well, I have nothing good to say about that.  I'll save that post for the day I crash on the cobbles.  Well, probably the day after I crash on the cobbles.  So far, so good.
Until then…
…thanks for reading!