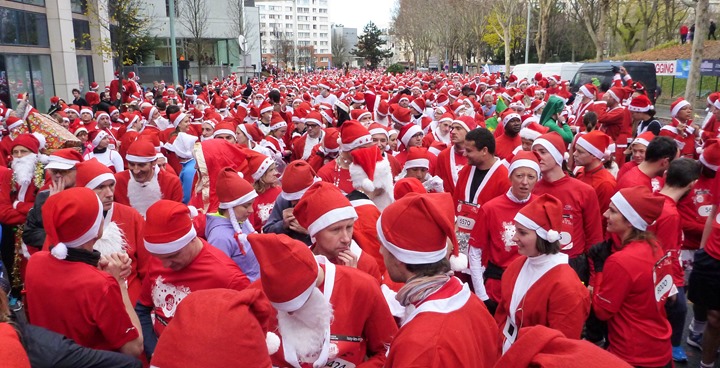 This would be our very first race here in France.  Now that things have sorta settled down between moving, opening a storefront, and just life in general, we figured a race might be in order.  Of course, neither of us have been on a defined training plan until the last week or so (ok, so maybe The Girl has – sorta) – so it would be a bit of a mix between a fun race and a training race.  Of course, anytime you throw in a few thousand people in Santa costumes, that the fun part's bound to happen.  Although, neither of us were prepared for just how serious they take either the costumes, or their athleticism here.
Registration & Packet Pickup:
We hadn't quite fully registered online prior to the race.  We were still sorting out this medical certificate thing here in France (in order to compete, you must have a signed medical certificate).  But we got that all straightened out and just registered onsite instead late morning on Saturday (the race was on Sunday).
Now the race is actually six different races.  Varying in length and slight changes in the courses themselves.  The shortest is only a couple kilometers for kids, and the longest is a standard 10K.  Here's the site for the race itself.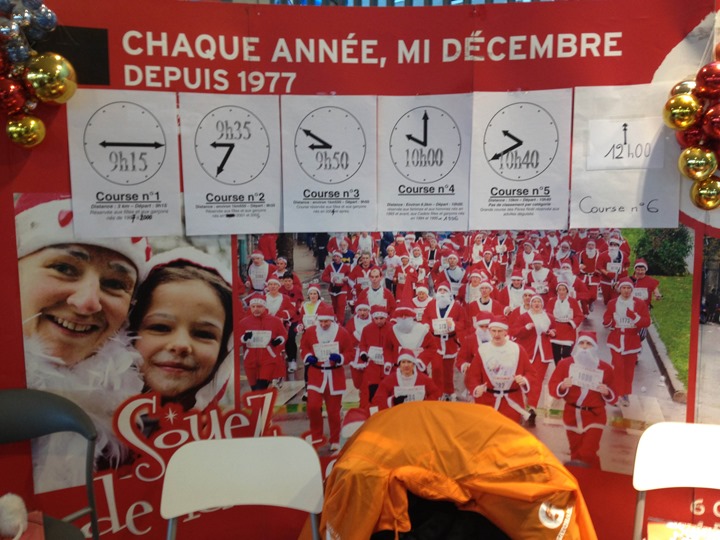 Once I arrived, I stumbled around and eventually figure out where I needed to get all signed up.  Slowly by surely my ability to navigate in French is improving.  Or perhaps, it's just my significant experience in navigating race registration expos.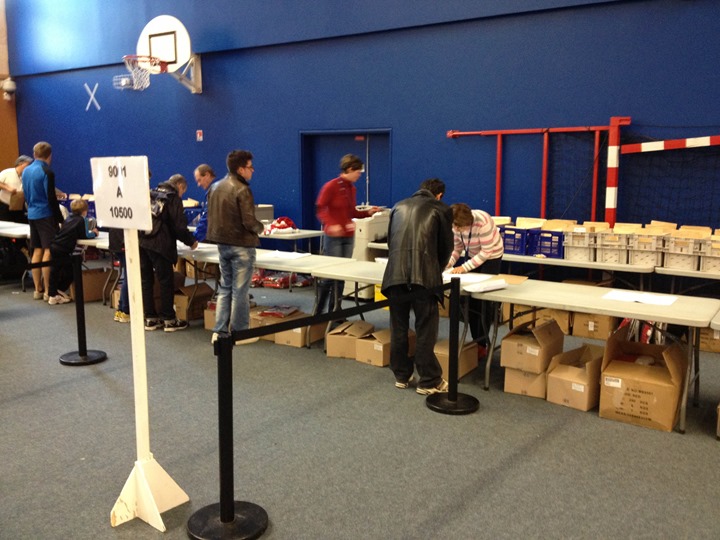 The race fee was only $25 – pretty cheap by US standards (and included a dryfit t-shirt)!  It would have been even cheaper if we registered online ahead of time.  And for an extra $10, a small amount of which went to charity – we got a Santa Costume.  Actually, a rather impressive Santa costume.  It even included that brown Santa bag for carrying gifts.  Everything you see in the advertising picture below is actually included.  Really astounding.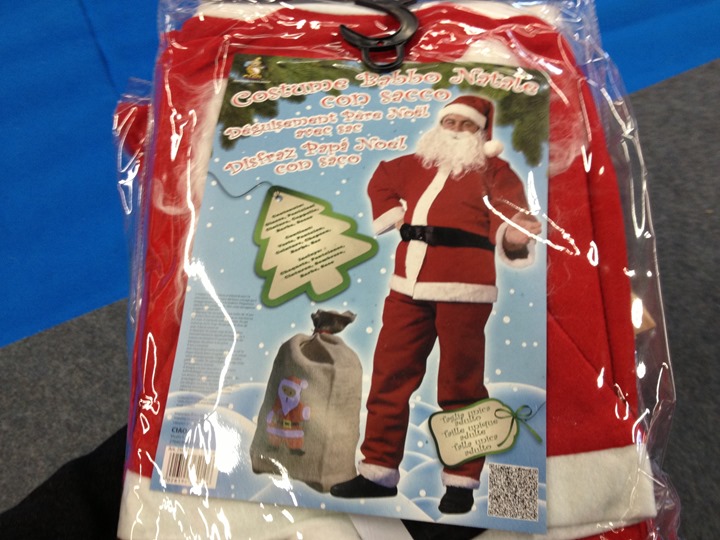 On the way out they had one last packet-pickup related stop: To pickup your full-size bottle of shower gel.  Mini-sample size this was not.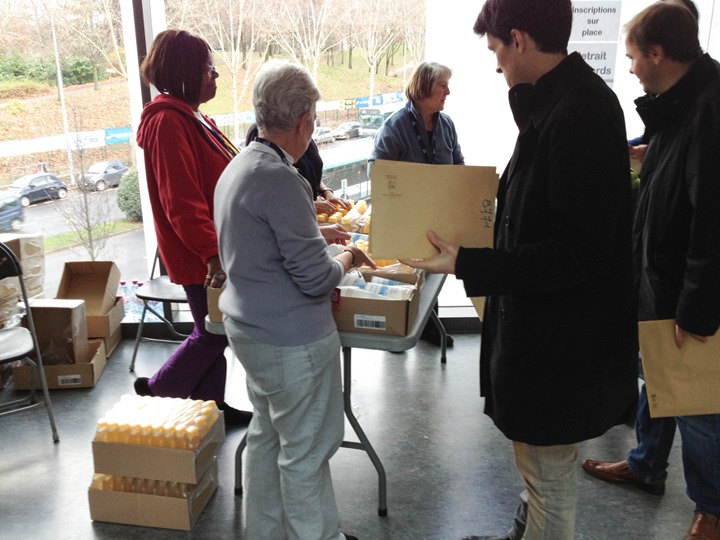 The irony here in giving everyone a bottle of shampoo/shower gel is pretty funny.  On so many levels.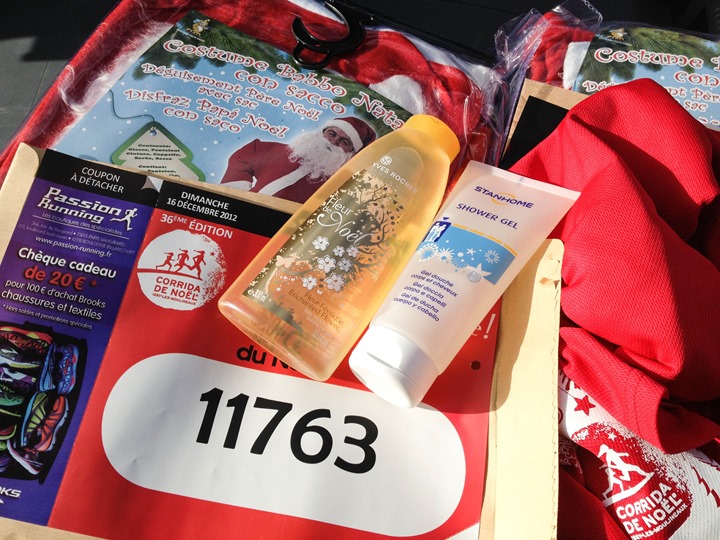 There was also a bit of an expo, with perhaps 20-30 booths.  Fairly impressive for a 10K.  I took this as an opportunity to pickup flyer's for just about every race in France for the next year.  No kidding, I have a stack of flyers just as high as my Santa costume package.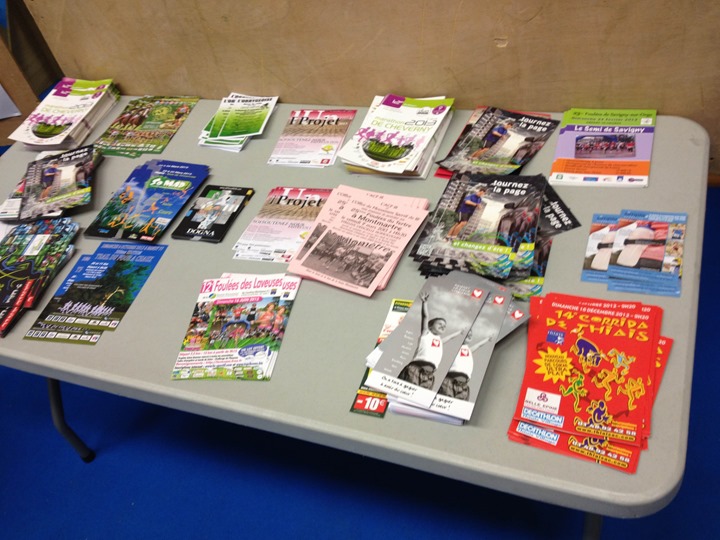 With those tasks complete, I left the expo area and headed back home!
Pre-Race:
Our particular race started at 10:40AM – which is quite frankly brilliant.  None of this early race wake-up stuff.  Well, mostly.  We were up early – instead, baking cupcakes ahead of the race so upon return post-race it'd just be a case of opening up the doors and ready to go.
At any rate, as we arrived we found dancing Santa's everywhere.  Warm-ups here were similar to Singapore, with dancing being the name of the game.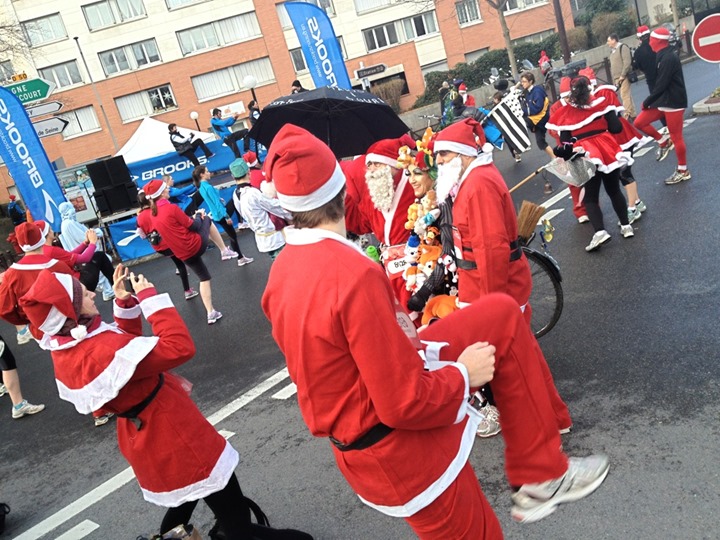 We first headed inside trying to find bag drop, but it ended up being a few blocks away.  No worries, once inside it was the perfect place for it – a big gym.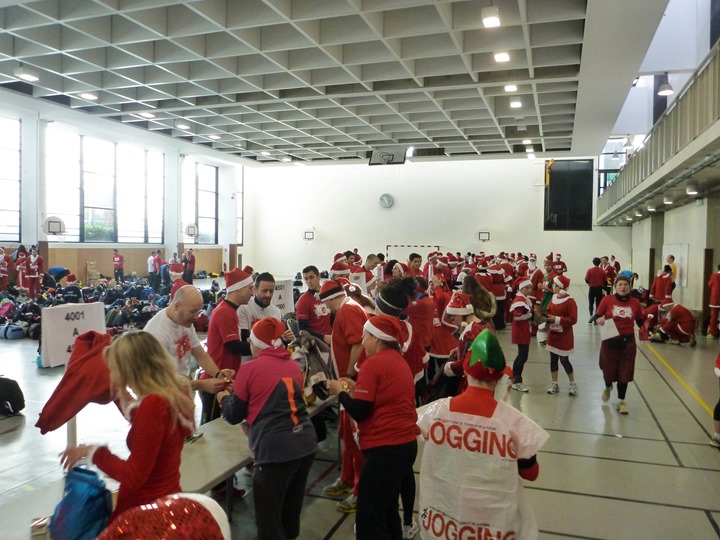 After we were done with dropping off bags we ran back to the starting area.  It provided for a nice warm-up of sorts.  You can see the start line at the far end of the below photo, with the blue arch: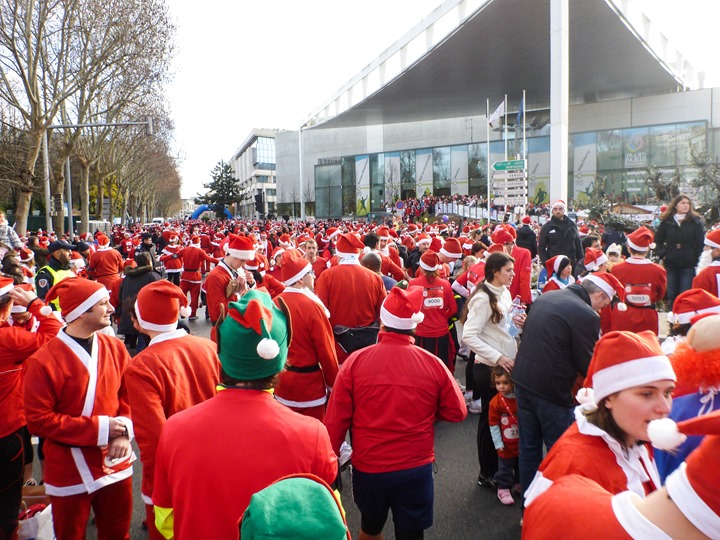 Here's us, we're ready to go!  We both skipped on the Santa pants, since that seemed like it might be fraught with ways those could get tangled up.  The costumes were one-size fits all.
With the temps at about 50*F, it was pretty perfect for running with a t-shirt underneath, and just the light costume on the outside.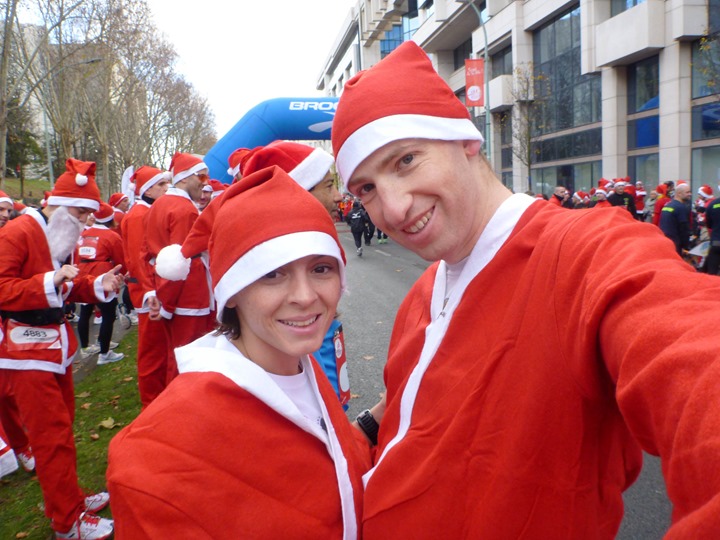 We weren't terribly clear going into the race what the expectation was on running fast and costumes.  Was there a pace/speed limiter in the costume division (like a parade or something)?  The 12PM race 80 minutes later was the true 'competition race' with age-group awards and all.
So we decided to get to the front so we'd have the great chance of getting ahead of the crowds.  As we looked back, you can see just how immense those crowds were: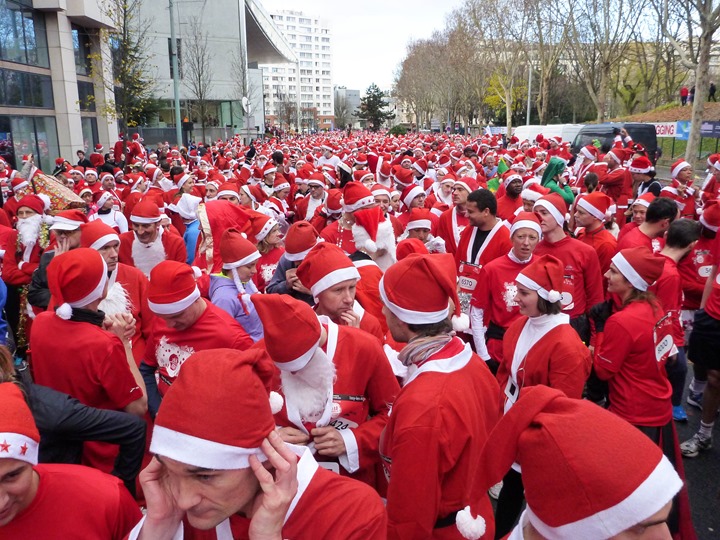 One we were in position, it was time to get this party on!
The Race:
Despite being a fun race of sorts, we both did have race plans.  After we hit that blue starting arch, we'd be on our own.  The starting buzzer went off (oddly enough, no countdown), and off we went!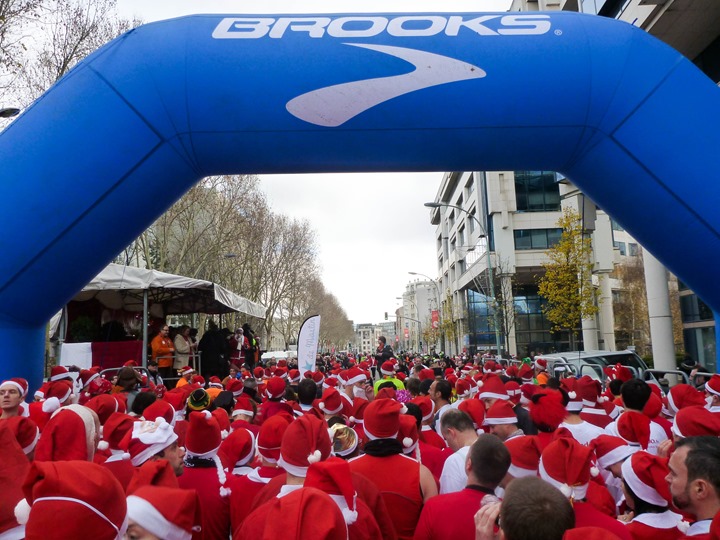 Despite how close we were to the starting line, there were a staggering number of people condensed in that small space ahead of us.  So the first half a kilometer or so was a bit…packed.  And thus our paces were a bit slow.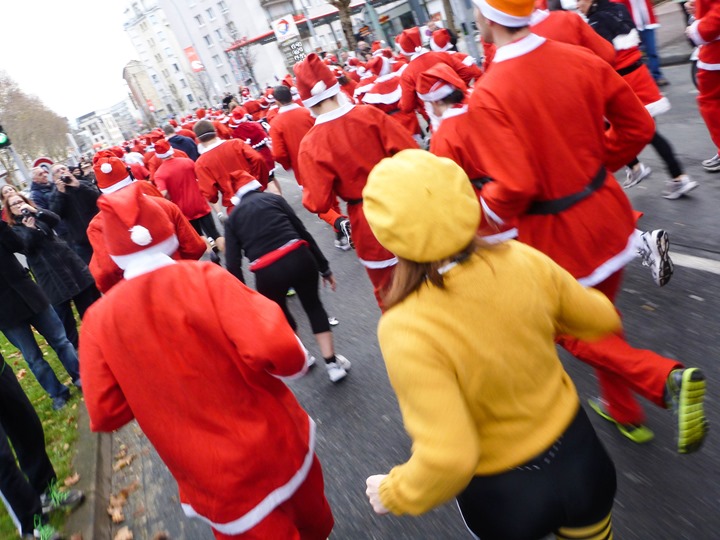 You can see just how many people were in that space, now expanded.  We were only perhaps 10 meters back from the line, and this is what it still looked like ahead of us, even around the corner.  I swear Santa's magically appeared in front of us.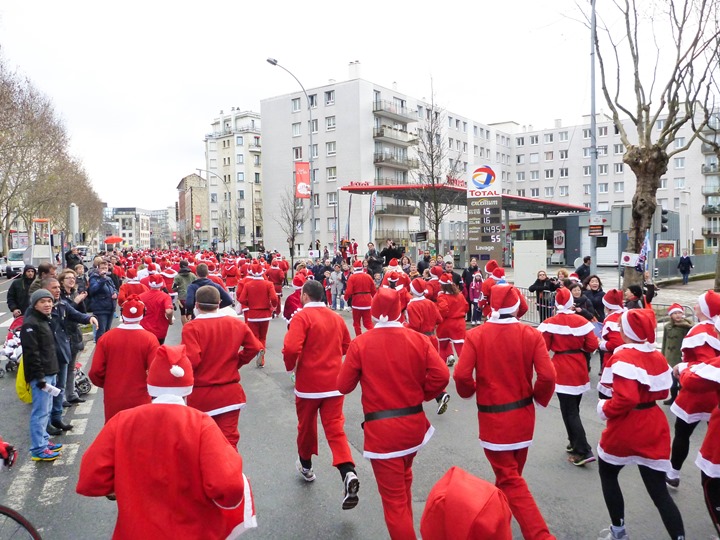 But by about the 1-2KM or so marker, things started to open up a fair bit.  I got ahead of the crowds and was largely executing on my race plan.  The first portion (slightly less than 1K) of the plan called for a Z4A heart rate zone.  Certainly not all out.  Probably something akin to a marathon intensity.  After which, for the next three miles I'd bring it up a notch to Z4B, or akin to the second half of a half marathon intensity.  Again, not really all out until closer to the 4-mile marker.  It was a cautious race plan given my current training regime (or, rather, lack thereof).
I should point out, that not quite everyone was in Santa costumes.  For example, the gentleman below center-frame.  I think he got mixed up with the 'Santa Baby' song, and apparently borrowed his girlfriend/wives lingerie.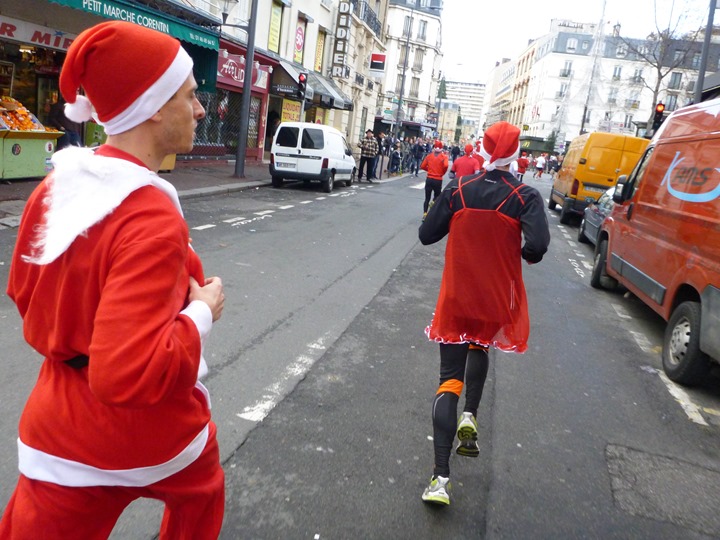 Along the route there were plenty of bands playing music.  Perhaps one every kilometer or so.  Pretty cool.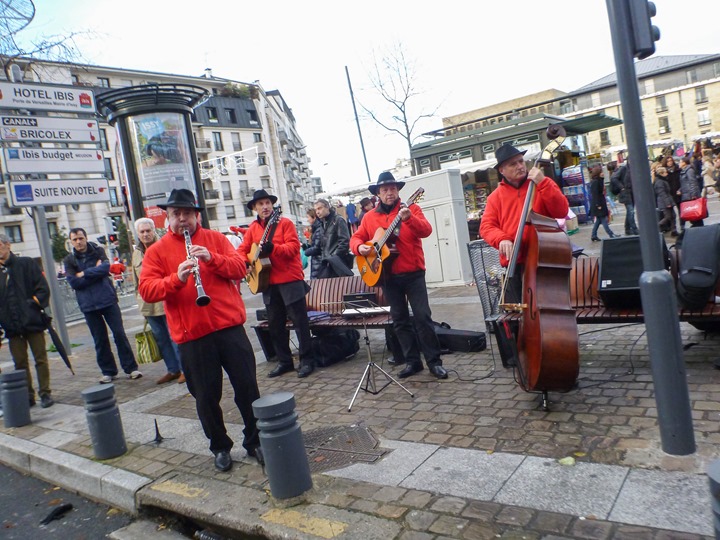 However, what was not cool was this mountain that someone put into the middle of the course.  I had seen the elevation profile on some of the documents that our Coach had given us.  However, I didn't quite grasp just how darn steep this thing was.  Or long.  Really, both.  There was a lot of pain involved.  At the moment this photo was taken I'd already gone up about a third of it, with the remainder being around the corner.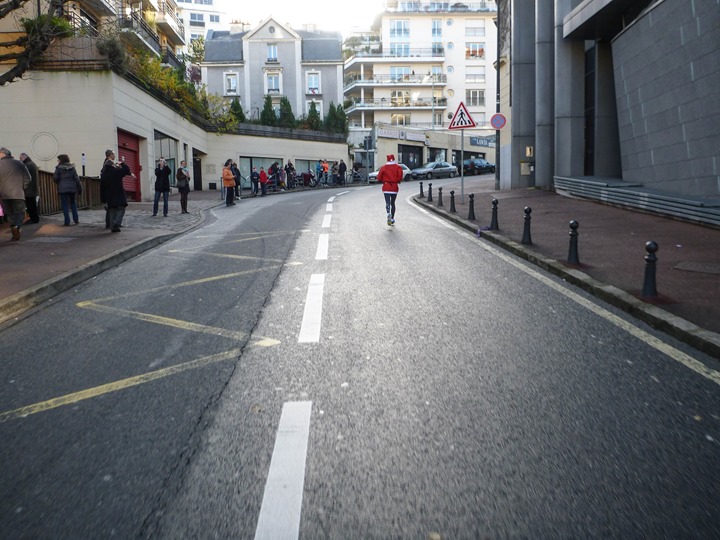 And the elevation profile::

Now, all the kids on the course made up for the mistaken mountain.  Lots of them out there – and all of them wanting high-five's.  Clearly, I'm one to oblige.  I mean, how could you not when running in a Santa suit?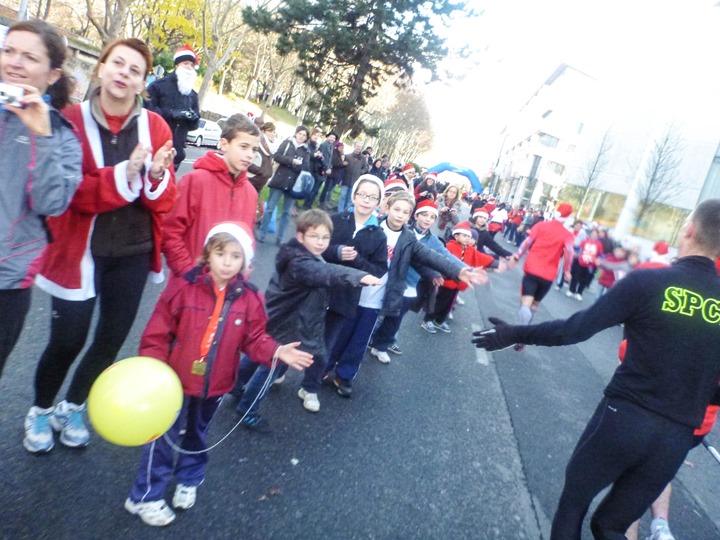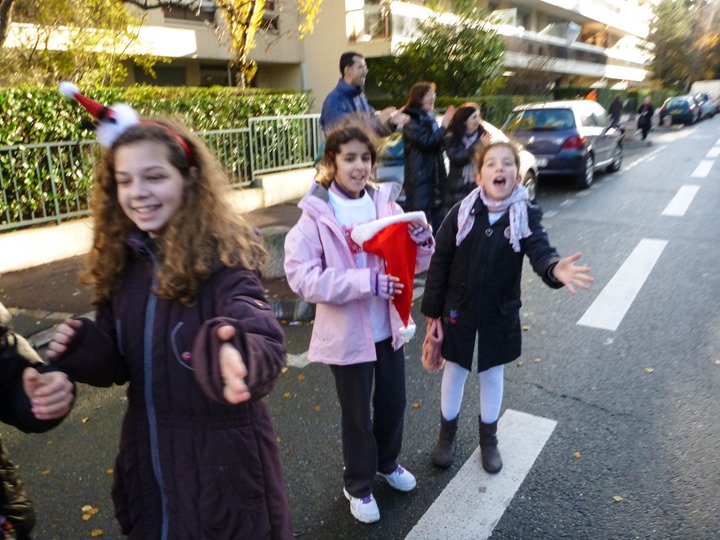 In addition to the kids, there were also volunteers that were pushing/pulling children with disabilities on the course in wheelchairs of sorts.  It appeared that some of them were doing it relay style.  Nonetheless, it was impressive.  They had a 2-3 minute headstart on the main pack, and I only just caught up towards the end of the first loop.  In other words, they were flying – doing about 7/min/miles.
The crowds as we went back through the starting area were pretty loud – awesome stuff.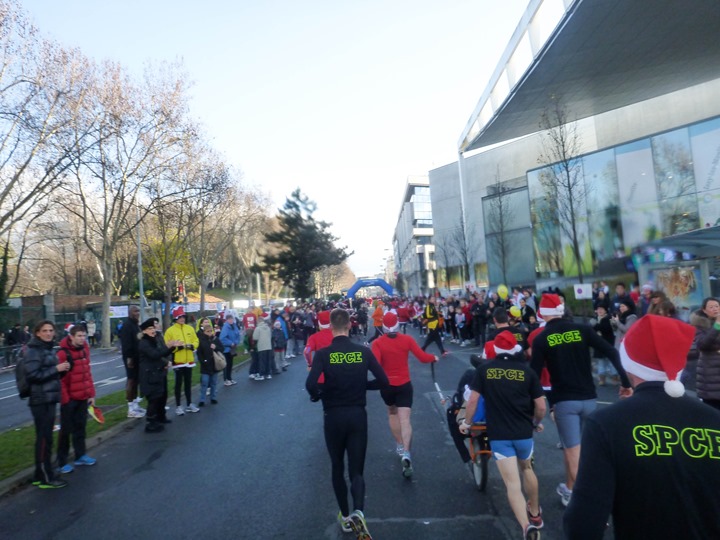 Speaking of loops, I should mention that this was a two-loop course.  When I first heard about this, I was pretty concerned that by mid-way through the second loop I'd be running headlong into the backend of the pack still on their first loop.  But in fact, that was far from the truth.
Here I am at about the 4.5 mile marker.  As you can see – nobody in the way: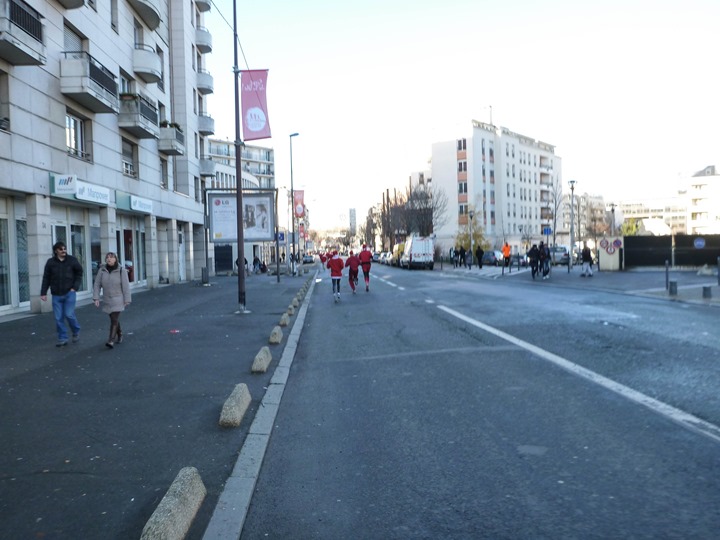 In fact, it wasn't until about the 5.5 mile market (about the 9K marker) that I finally overtook a first loop runner.  You can see the two cyclists here marking the last runner ('Fin' means 'Finish' in French).
Surprisingly, I only passed perhaps a dozen more 1st loop people between there and the finish.  To put that in perspective, that means that virtually the entire field was running no slower than a 10/min/mile (at least for the first loop).  That'd unheard of just about anywhere.  I suspect that the separate race waves helped to minimize and separate out runners from casual walkers.  But still, that's really damn impressive.
Additionally, I was quite surprised by just how fast the women's side of the field was.  Normally in the pace range I'm running at (sub-7) in the US, there's not too many women in most races at that pace.  A handful at best.  But here, there were quite a number in that range and ahead of it.  Very cool.
Oh, and remember, virtually everyone here was running in costume.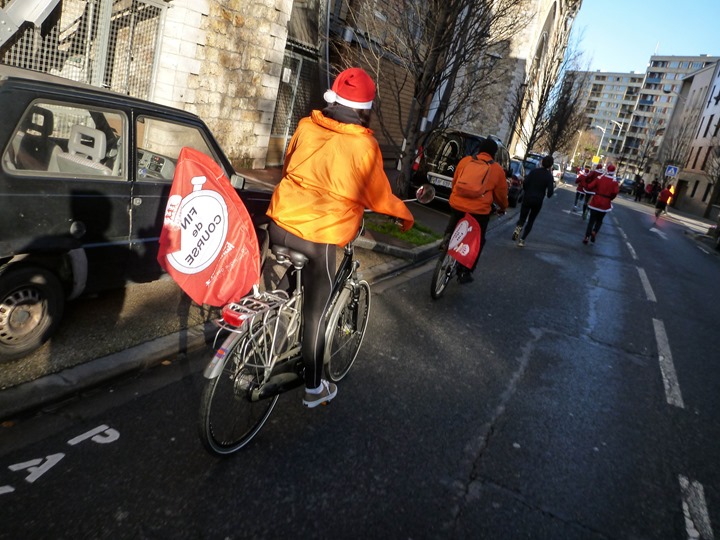 The one thing that did catch me off guard slightly was that there was only one water station per loop (seen below).  Now, I can't say it bothered me in this particular race, as I didn't even think about or consider water until I saw it.  I suspect in the summer there would be more.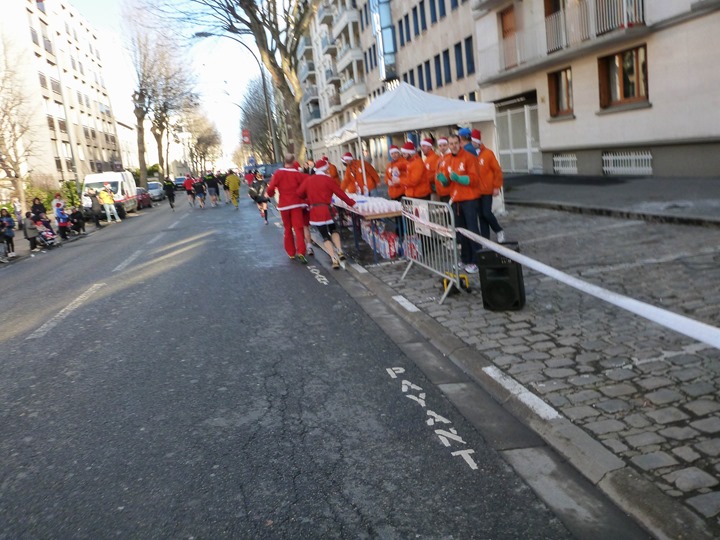 As I was in the final half a kilometer or so I did run into one little snag: A pirate ship.
Seriously.
There were probably a dozen pirates, and a full blown pirate ship.  All running…somehow.
It just happened that they were on their first loop and there was one area where we went up onto a track.  As you might imagine, the track is fenced in, so you have to cut through the gate/entrance in the fence.  The ship got a bit caught-up trying to maneuver in.  Kinda funny.  No worries, everyone takes it in stride.  Soon they were on track…literally.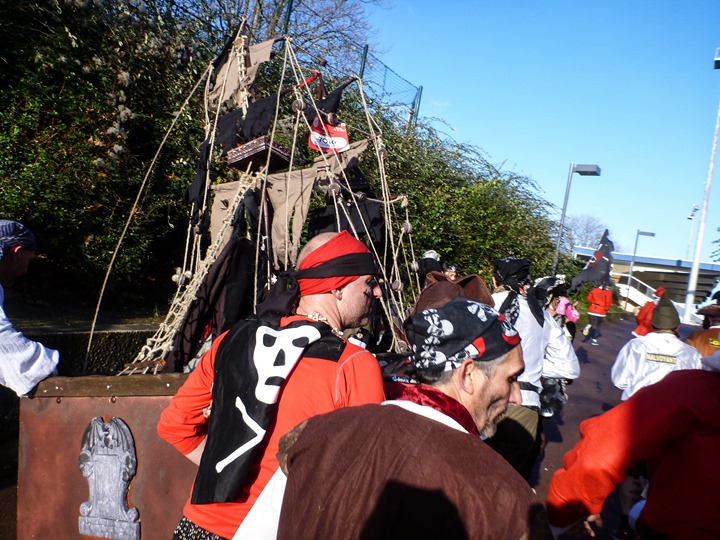 See, track: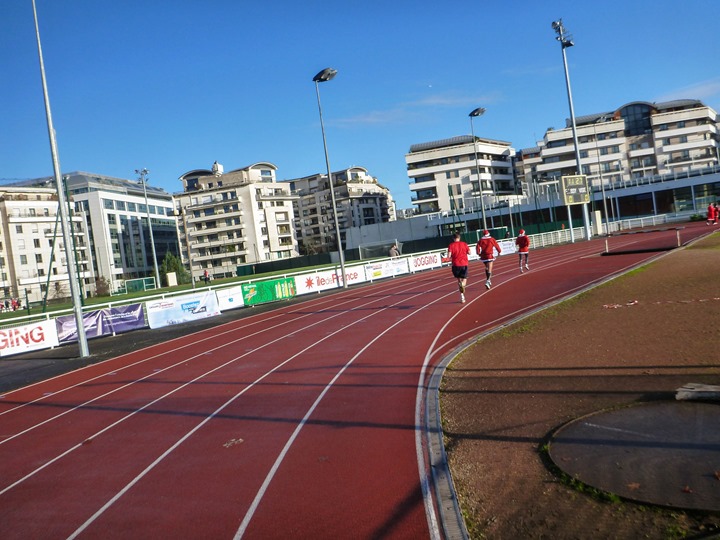 After I finished, I went up to take a photo on the track (you ran about 200m on it to the other side).  I couldn't quite get close to the track, and had to shoot through two windows from a fair distance away.  So it's not a super-high quality photo.  But when was the last time you saw a track full of running Santa's?
After departing the track, the next stop was the finish!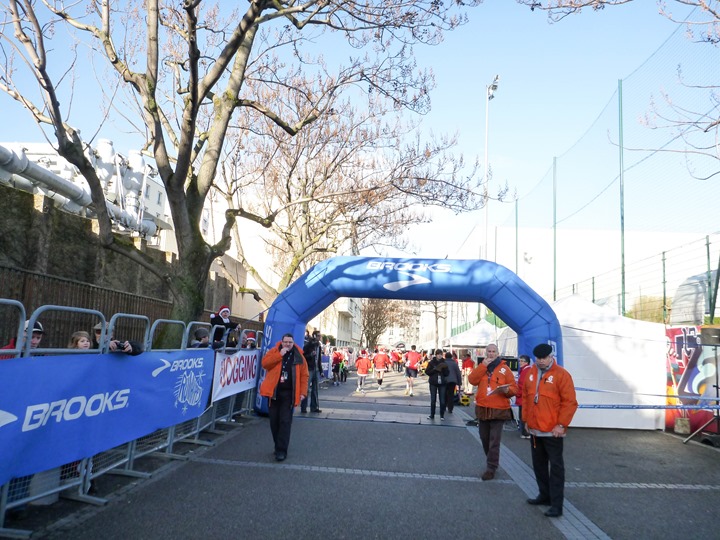 Overall, my time was 42:04.  Obviously, far from a PR from me (The Girl and I were joking that I ran a faster 10K race after getting hit by the car).  But that's OK.  Give me a month or two back in normal training (with intervals/etc, which I'd mostly been lacking lately), and I'll be back in the game.  That's what the off-season is for, right?
Post-Race:
It's clear the French have their priorities in order.  The very first thing upon crossing the line is a gentleman presenting me with a bottle of wine.  You'll find the water some distance later.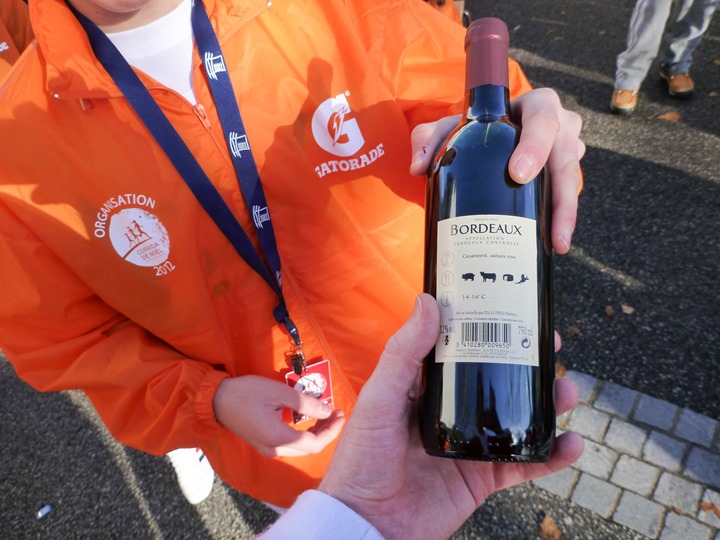 I'm not clear if everyone got wine, because while they had a fair bit of it (including a pallet off to the side), I don't know if they had thousands of Santa's worth of it: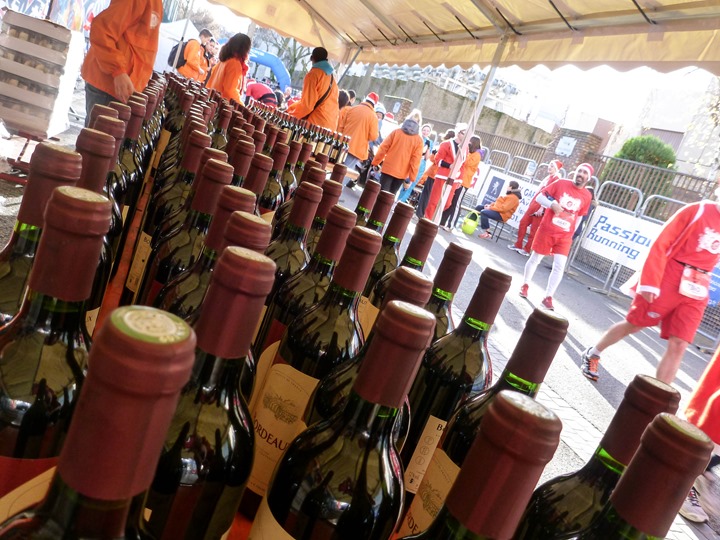 Unfortunately, a few bottles got dropped here and there – likely due to sweaty hands.  Sad panda.  Thankfully, ours was not amongst the dropped – and we enjoyed one of our bottles later that night (The Girl and I both got one).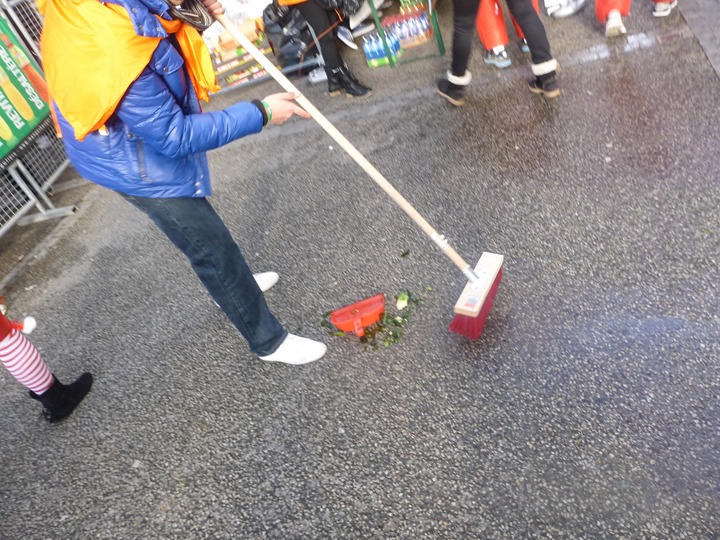 Once we got past the wine station, we found the water/Gatorade/fruit/cookies/etc station.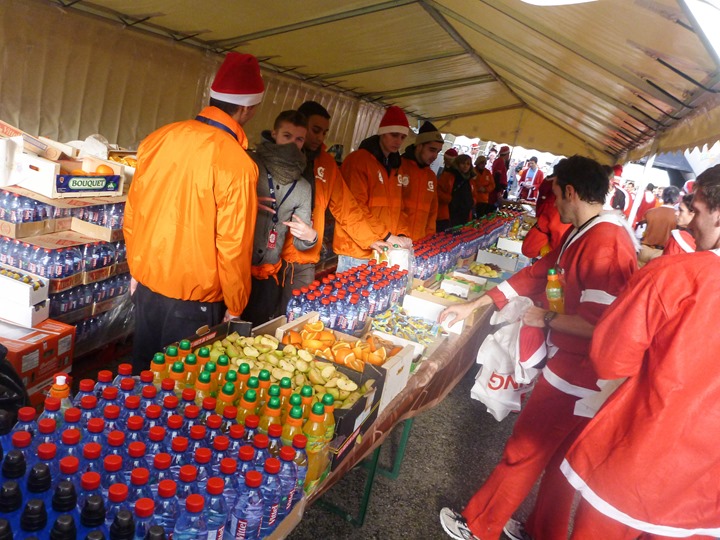 This station was notable for a few things, but one item in particular caught my eye.  Do you see it?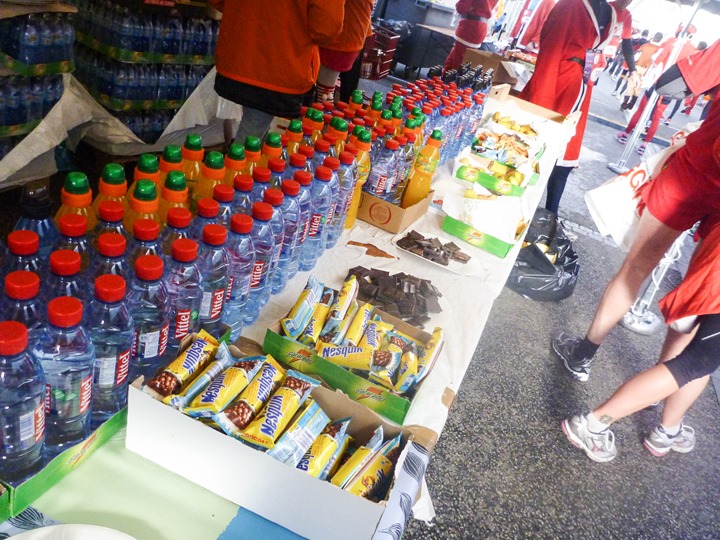 Here, let me help you.  It's the chocolate.  Would you like Dark or Milk chocolate?  Yes, both types are available (and cookies with chocolate inside them).  CHOCOLATE!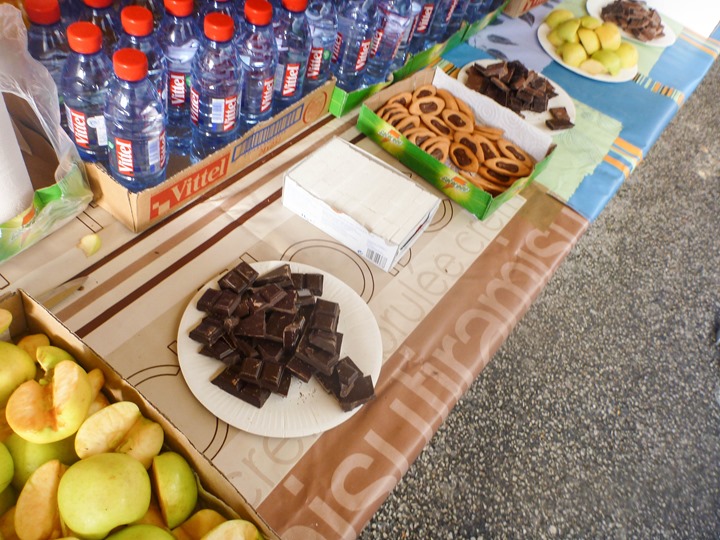 Given the free bottle of wine and the chocolate at the finish – I've decided it's unlikely I'll ever come back to the states.  I mean, how can you compete with that?
Or, the costume.  Oh, and we got medals too: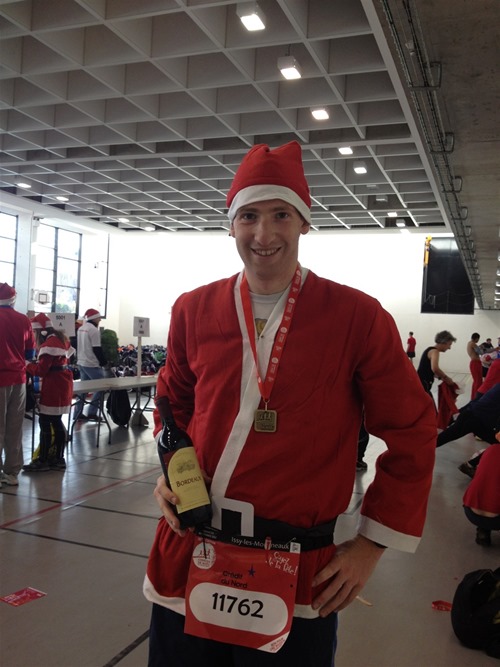 So there ya have it – my first race in France.  Looking forward to future races.  I've gotta go through that stack of race pamphlets and start figuring out which ones have chocolate and wine.  Clearly those will be the winners.
Thanks for reading!