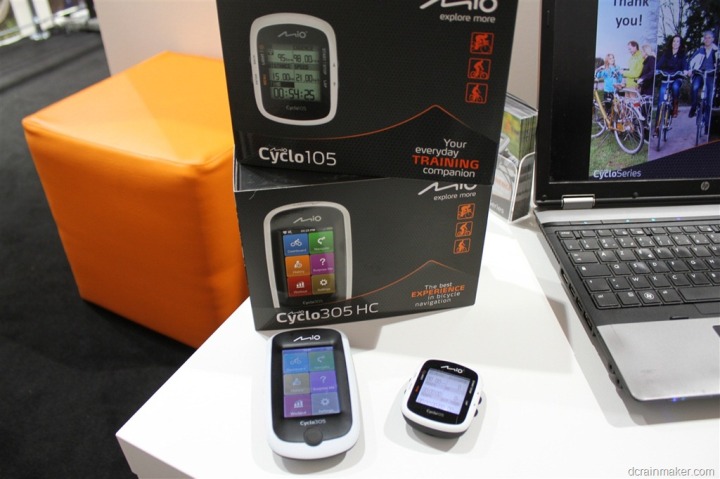 One of the areas I was looking forward to checking out with coming to Eurobike this year was companies which aren't offering products in the US market – but rather focus on the European market exclusively.  Of course, within the bike industry as a whole, the majority of major sports technology players do tend to offer products in more than one market – but there are some companies, such as Mio that are focusing exclusively on Europe.  Even if you are in the North America – I think you'll still find this post interesting.  First to understand what the market looks like elsewhere, and then how companies here are putting out new products just as innovative as their counterparts back in North America.
I had a chance to sit down with the Mio folks on Thursday and get brought up to speed on their product line; how it's different – and how here in Europe it gives Garmin and their Edge 800 a fair run for its money in certain categories.  Now interestingly, despite Mio not being a common household name in the US – it's actually closely related to a US company many folks in North America know- Magellan (the GPS company).  See, both Magellan and Mio are part of a larger company called Mitac (based on Taiwan).  In effect, they're siblings.  Small world, eh?
Before diving into the exact models – it's important to understand a bit of cultural differences when it comes to the bike computer market here in Europe vs the US.  In Europe, there's a much larger emphasis on navigation over performance metrics.  I've heard this message over and over while here at Eurobike.  There are certainly many Europeans that love all the detailed performance stats found on something like the Edge 500 and Edge 800 – but there's a massive number of folks here that just want to go find someplace new to ride and enjoy simply being on a bike.  Whereas in the US, there just aren't that many people (comparatively) that want deep directional navigation on their bike.
Mio is focusing on two core models (with significant software updates) this fall.  The first is the Mio Cycleo305 – which is a full featured navigation and mapping computer.  For those familiar to the Garmin lineup, this is sorta like the Edge 800 – except with some important differences I'll talk through.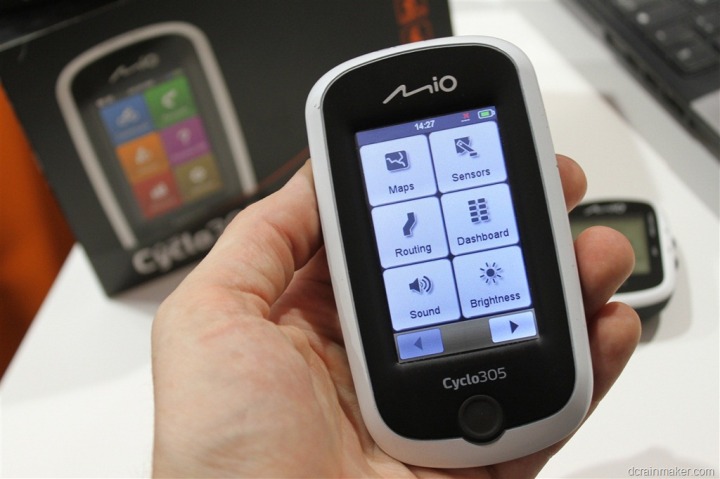 First is that while the unit offers connectivity to ANT+ devices (including heart rate, speed, and cadence) – it doesn't connect to power meters.  Again, in the Garmin lineup – the focus is on high performance as well as navigation.  Here with the Cyclo305, it's on enhanced navigation first and then basic data capture.  High performance metrics like FTP just aren't of significant interest to them at this time.
So what are the navigation differences?  Well, take for example the 'Surprise Me' feature.  This enables you to simply tell the computer how long/far you'd like to ride for – and it'll produce three random routes for you to choose from.  Like a menu.  You then pick the route you'd like to ride.  In theory it won't ever repeat these offerings to you.  You can see below it offering up three routes: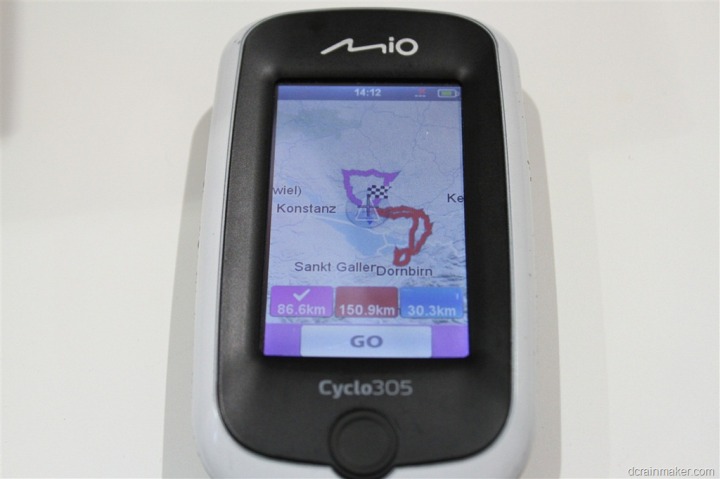 For those Cycle305 users already, there's some improvements coming here with an update in October 2012.  For example, the ability to create a Surprise Me route to a given destination (point on map, POI, or address) with a certain max distance.  The idea being if you bike to/from work every day you could mix it up a bit if you wanted.  Additionally they're adding new options to control the max slope difficulty (i.e. no big hills) as well as the road type (i.e. no bike trails, or bigger/smaller roads only).
Again, these are all ideas and concepts that simply don't exist on the Garmin Edge lineup.  Speaking of things that don't exist in the Garmin lineup… The Cyclo305 includes the maps in the box.  As you may remember, the Edge 800 doesn't include any useful maps and instead forces you to buy them – generally at about $100 a shot.  The Cyclo305 on the other hand offers two base editions – one for your local country at €300, and one with maps for all of Western Europe at €350
Along those same lines is the ability to route to a known ride/route.  Take for example the below photo.  It's showing you a route that's saved on the bike computer itself.  A ride in effect.  This could be something like "Paris Triathlon Route" – which might by the bike course for the Paris triathlon.  This option allows you two sliders that you can see below.  The first is to get bike navigational directions to the course, and the second is to do the same via car (yup, driving directions from a bike computer).  But it's that second toggle that is the cooler option.
Imagine a long route like a Tour de France stage (100+ miles) that might be a loop.  This option finds the closest point on the course and routes you to that.  This is really ideal for looped courses where you don't need to go to the specific starting point as noted in the file – but rather anywhere will do.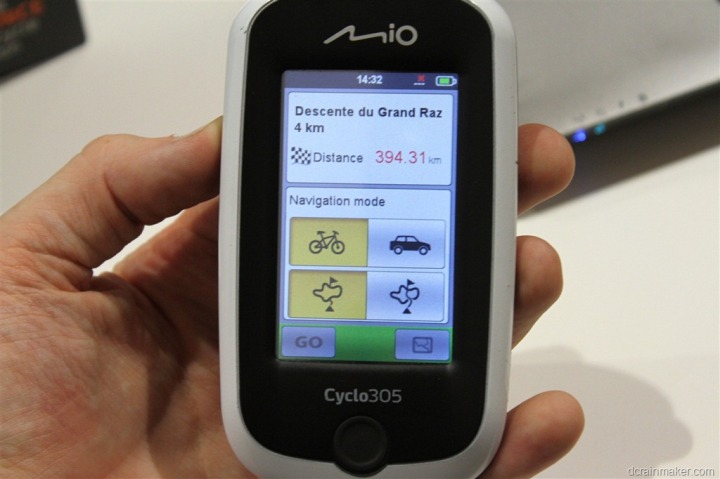 Like the Edge 800, the unit also allows routing to various points of interest – by all sorts of categories.  I thought it was interesting that as I was scrolling through the menu's, I saw the category listing for 'Pub'.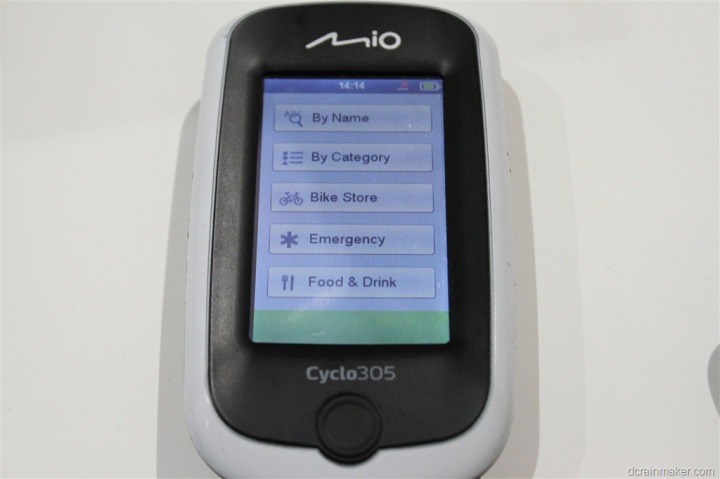 The touchscreen unit takes a bit more advantage of the graphical engine – offering more graphs and charts than the Edge 800 (the below was taken on a TGV train ride).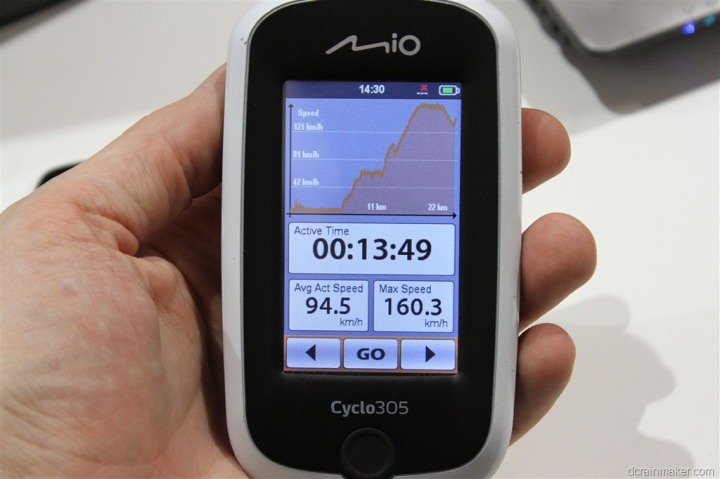 In talking with them though – I'm still surprised they haven't gone the tiny step further to offer power meter connectivity.  In looking at this unit and the data arrangements (ability to customize number of data fields displayed, types of fields, etc) – it's so close to what higher end cyclists would want – that it seems kinda silly to not add that tiny bit extra to make a viable offering to that market as well.
In either case, when I get back they are sending me both units noted in this post to check out and play with.  I'm looking forward to giving them a shot and getting more hands on time with them.
The second unit I'm going to mention very briefly is the Cyclo105.  This unit is competitive with the Garmin Edge 500 and designed mostly to record data.  Like the Edge 500, the unit does record power meter data, but does not offer any navigational support (no maps).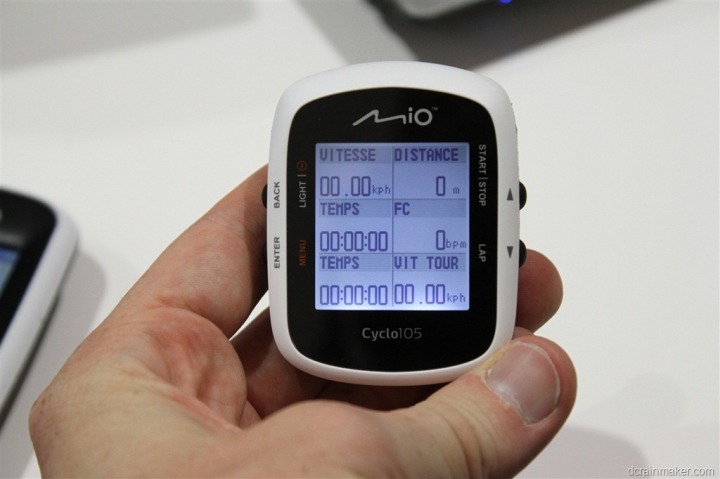 For those that are familiar with the new Timex GPS Cycle Trainer, you might think it looks awfully similar.  That's because…well, it is.  In fact – it's basically the exact same base body – just tweaked slightly for Mio.
Interestingly though, unlike Timex, Mio went ahead and added a quarter turn mount system to the back of theirs (Timex has a funky non-quarter turn mount).  Though, Mio does unfortunately use zip ties instead of industrial rubber bands when it comes to attaching the mount to the bike computer.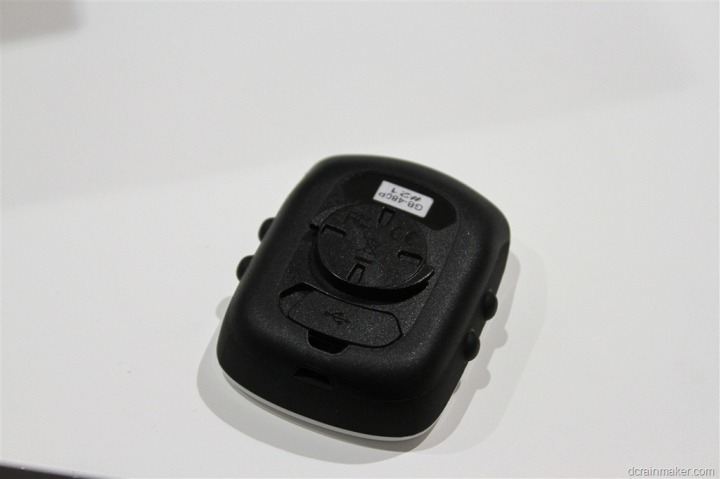 The Mio Cyclo105 units start at €140 for the non-ANT+ version, and €170 for the one that supports ANT+.  The 105H includes a heart rate strap, and the 105HC includes both a strap and a cadence sensor.  Similar bundle strategy to what we see with Garmin.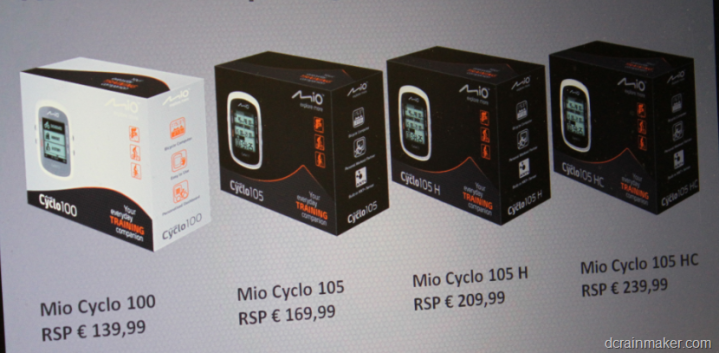 With that, I'll be looking forward to playing with these units and the October 2012 updates (which they boasted adds more than 200 new features and functionality enhancements) over the coming months.  Given I'm enjoying exploring new bike routes here in Europe – I'm particularly interested in the Surprise Me functionality and to see how well that works in real life.
As always, if you have any questions – feel free to drop them below.  Thanks for reading!