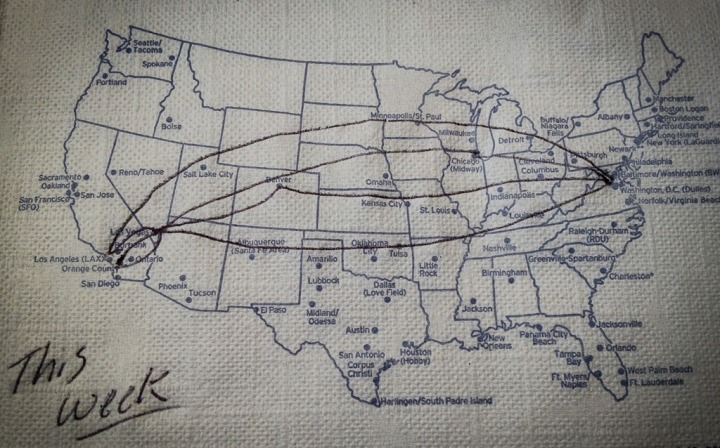 I started writing a post highlighting a couple photos from the craziness that's been the last 7 days.  But then I realized, the above drink napkin I filled in during one of my nine flights this week actually covered it pretty well.
For the textual version, here we go:
Friday: DC to Vegas via Los Angeles – Friday evening, arrive midnight.
Saturday: All day work meetings, and an evening 13.3 mile run around Vegas airport.
Sunday: Work meetings, and an 2hr mountain bike ride in Red Rock Canyon.
Monday: Conference during day, evening flight to LA, up late finalizing presentation…and a post.
Tuesday: Meetings in Orange County, 10K late afternoon run around airport, early evening flight back to Vegas, 7PM meeting in Vegas, midnight redeye to DC.
Wednesday: Arrive at 7AM in DC, 11AM meeting, back on plane by 3:30PM to Chicago, then onto Las Vegas again. Barely catch 9:30PM Cirque du Soleil Ka show (awesome). Then write Soleus 2.0 review.  Sleep.
Thursday: Normalcy, finally.  And I did get to try out my 4 years of high school Japanese in a meeting with folks from a Japanese organization. Largely successful.  Evening run, gelato afterwards.
Friday: Day-time conference, then 3PM flight to Denver, then onto DC. Arrive shortly after 1AM on Saturday. Home.
With that, thanks for reading! Have a great weekend everyone!  I'm certainly looking forward to a bit of relaxing!