This is a quick post, mostly informational as I happened to notice these things, and also happened to notice that nobody else seemed to notice. Thus, I figured I'd tell you.  Make sense?
Over the past few weeks Garmin's been rolling out a few updates to the existing Garmin GTU10, which is their gum-pack sized tracking unit.  This is the unit that's great for endurance athletes doing long distance races – such as an ultra running race or a half-Ironman or Ironman.  You may remember me using it back at the Boise 70.3 this past summer, to automatically update my location.  The unit uses an onboard GPS receiver to send coordinates as frequent as every 15 seconds via cellular networks (it used to be every 30 seconds).  Your cell phone need not be on you, it has a GSM chip built in.  You can customize the update timeframe to have the battery last as long as four weeks.
But the changes don't just come in the form of a firmware update.  Nope, significantly more important changes were made to the app, as well as the site.  And that fancy 'Deluxe' $4.99 tracking plan finally has some useful additional functionality in it.
Let's start with the firmware update.  Here's the official listing of new changes in this firmware update (updating the actual unit itself):
Added support for customizable low battery alerts, poor GPS reception alerts, and external power lost alerts
Added support for speed alerts, scheduled check-ins, and continuous tracking sessions for Deluxe service plan customers
Added support for network assisted location in situations where GPS is unavailable
Added GPS and network signal strength reporting
Improved battery life for scenarios where no GPS fix is possible or network connection is unavailable
Improved response time for locate requests in some situations
Fixed potential issue that could prevent the device from responding to locate requests

These updates are delivered via the Garmin Web Updater, which is the desktop application that delivers updates to Garmin USB devices, such as the GTU10 – but also including the whole Garmin Edge series for cycling.  After you plug the unit it, the update will complete automagically.  Mine took about 20-30 seconds to do.  Very quick.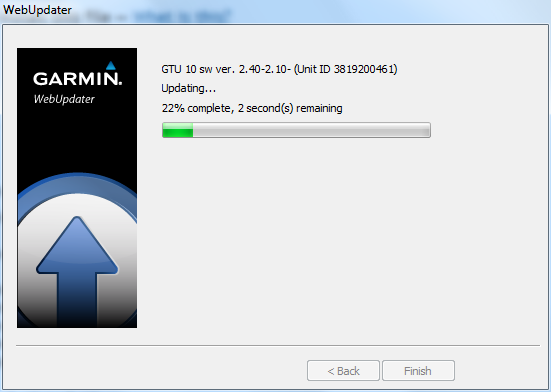 After the unit is updated, you'll see nothing visibly change on it.  Mostly because it only has one light, so there's really not much to see different there.  All the changes are on the backend.
After updating your device, you'll see the changes under the settings tab.  Within that, we'll start with notification.  The ones I've circled in red below are the new ones.  Of note is the speed notification.  You can bet this was at the request of parents installing these devices in teenagers cars…
Additionally, you can now customize the low-battery levels.  Previously it was one size fits all.  And the GPS signal loss option is interesting as well.  This is actually useful for troubleshooting.  Because the unit uses cell-phone networks to update, this allows it to alert you that the position you placed it in doesn't have GPS coverage (but does have cell coverage).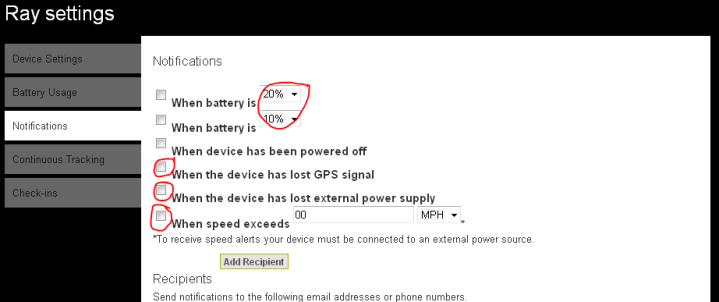 Next we have check-in's.  These are basically pre-set times where you want the device to transmit its location.  This is useful if you've got the unit set so the battery lasts four weeks, and you want it to check in every day at 9AM and send its coordinates.  You can customize the time, days of the week, and which recipients receive it.

After that we've got continuous tracking.  This kicks up the transmit time to every 15 seconds – and is ideal for shorter distance races where less frequent tracking wouldn't be enough data.  Note that the 'duration' maxes out at 5hrs, primarily from a battery standpoint.  You can go up to 20hrs if you reduce to every 30 seconds.  You can add recipients as normal.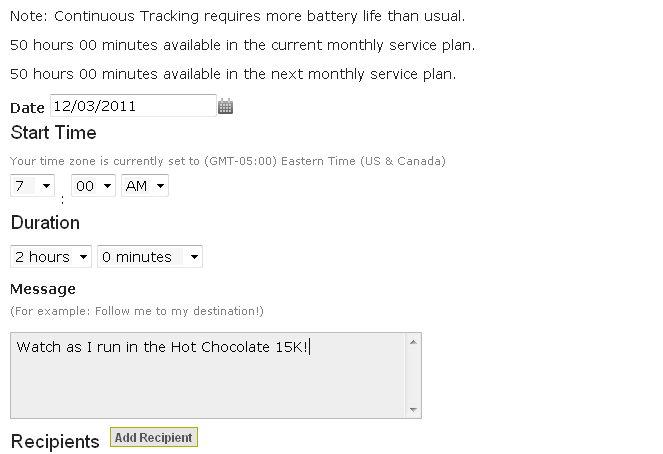 There's also been a few other changes along the way on the site, that may have been there longer – but I just happened to notice it now. For example, the cell and GPS indicators on the left hand side – as well as now the speed indicator: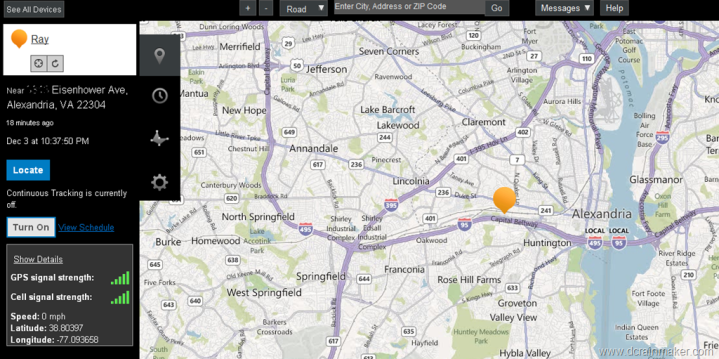 On the App side, there was a slew of updates.  Virtually everything you can do on the site, you can do via the app.  I'm glad to see this.  Sometimes apps get shorted when it comes to functionality, and given the tracking nature of the device – the app is the more logical place for a lot of this.  Here's the update notification of the app: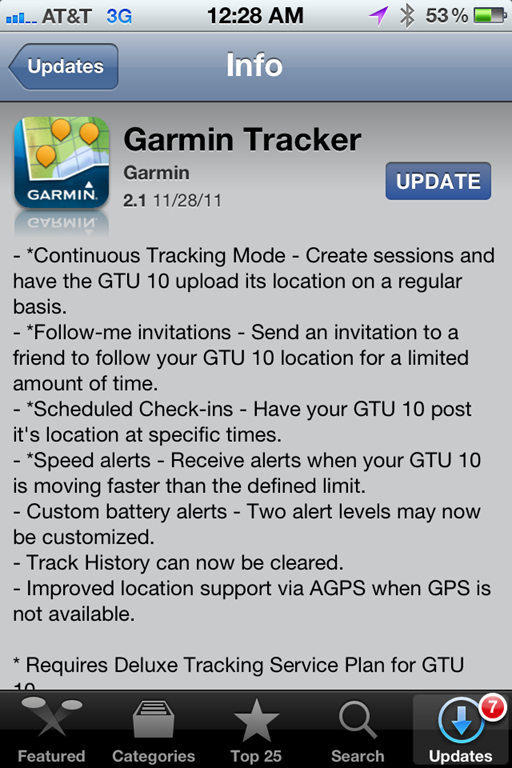 Just to show a few screenshots, which in turn show some of the features I mentioned above.
Now, perhaps the coolest feature listed here is the ability to do follow-me invitations.  This is something I've been asking for, for a long long time.  This allows you to create a shared page where you can allow folks to temporarily track you – complete with map and all.  This is great when you want to let folks follow your location during a race, but not forever.
The only problem here is that you'd probably never find this feature.  That's because it's actually hidden within the Continuous Tracking mode.  No idea why they stuck it there – but they did.  When you create a continuous tracking 'event' (limit of five hours), it'll ask you to specify recipients.  This is easiest to do on the app: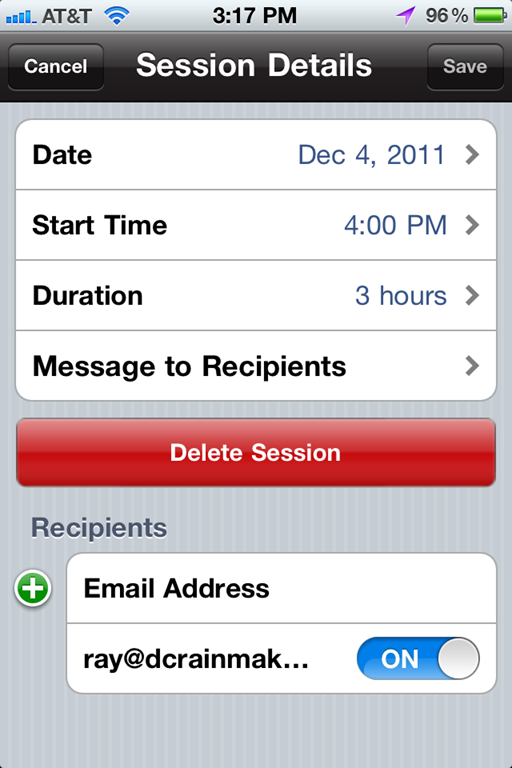 Interestingly, I got this little warning message.  At first, I was kinda peeved about it – as it seemed to me that Garmin was trying to tell me how to use my own device.  Or in essence – telling me I couldn't even give it to my wife so I could track her.
So I went back to Garmin and asked for clarification on what exactly this message was trying to tell me.  It turns out, the concern here is that if you were to give the device to someone else, but not tell them you were tracking them – that Garmin could be held legally liable for privacy issues.  Further discussion clarified that nobody from the Team Garmin Police force as going to be coming knocking out at your day, but rather this is just a liability thing for CYA for them.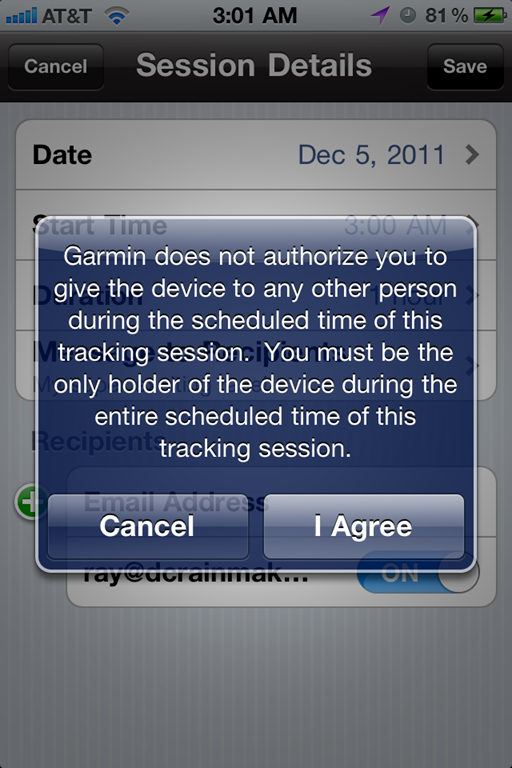 Once that's all set, it'll go ahead and shoot out e-mail notifications.  Unfortunately, the notification will likely end up in your junk e-mail folder, especially if on GMail, so you may need to go fishing there.  Once you find it, you'll click on the Follow Me link.  Remember, this is ideally going to friends and family.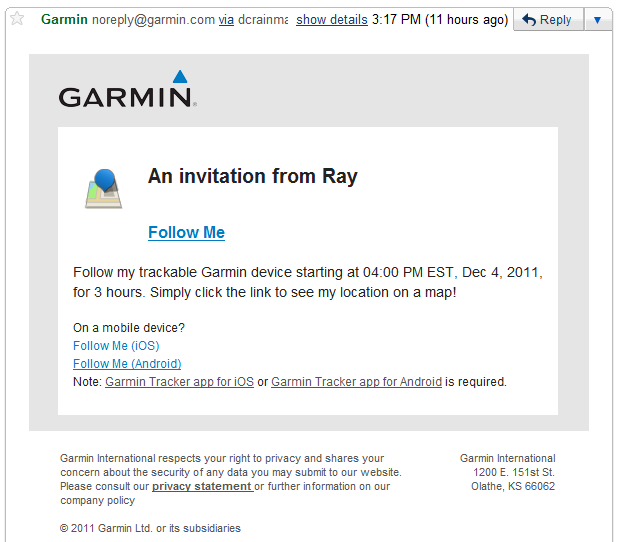 For the duration of the time you specified (starting from the start time you list), the user will be able to track you on a map. After that point in time, it just defaults to the Garmin page.  There only other challenge here is that the user must already have and/or create a Garmin.com account.
I think this is a good first step for a more open/functional tracking architecture, but honestly, it still doesn't meet my needs – or the needs of what I hear from many others.  At the end of the day I want a site I can send out and people can just click on a link and immediately see my position.  I don't want them to have to sign-up for a site.  I do like the expiry concept, but 5 hours is just too short.  Since the device can last week, I should be able to configure a timeframe that extends months if I want to.  After all – if I was using the solar or car charger with the device, no reason that battery is my limiter.  Today, the Spot device has this exact same functionality.  Additionally, I can set a password if I want, as well as create multiple shared pages.
And of course, I'm also still looking for them to add that $1 or so ANT+ chip into the device and send that data too.  But perhaps I'm asking for too much for a Friday morning.
Speaking of which, that's all I've got.  Thanks for reading and have a great weekend!