Over the course of the day I watched from my home office window as the river across the street delivered all manner of items downstream. Garbage, soccer balls, tree trunks the length of school busses, entire 10' trees standing upright with leaves still on them – floating like little islands. Eventually a van would float by and beach itself about a 100y from the house. I have some (bad) photos of it, but will get some better ones in the morning.
At the time the river was high, but not terribly high.  Enough to be interesting, but not yet enough to be of concern.  Of course, it was enough to cancel the swim for the Nation's Triathlon being held this weekend – and once you see some of my later photos and video, you'll easily understand why.
As the workday neared it's closure, my mind turned to getting out and nailing my run.  Tonight's workout was 1-mile repeats…9 of them at 6:27/mile.  Plus the usual 2ish mile build/warm-up.  The Girl had about a 45-minute head start on me, so by time I headed out she was into her main sets.  Thus I joined her during my warm-up – which allowed me to take along a new cell phone into the downpour.
But not just any cell phone.  Nope, it's a new ANT+ enabled cell phone…and it's also waterproof! I can swim with it!
Yes, seriously. Here's a picture pre-run connected to my Garmin ANT+ heart rate strap using the MapMyFitness app (which also supports foot pods, speed/cadence sensors and power meters):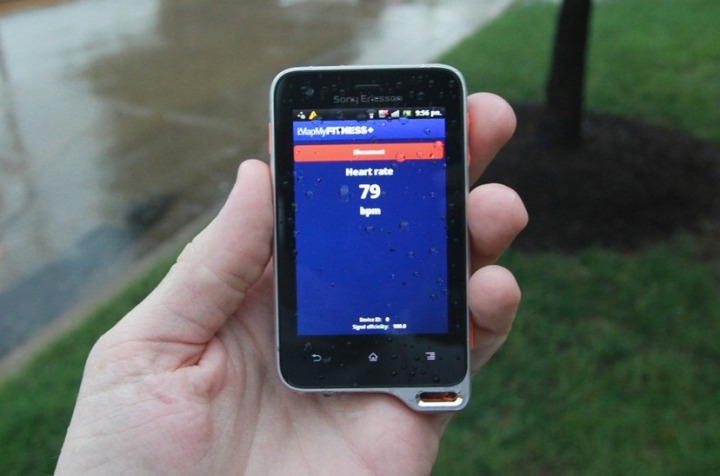 This is the Sony Ericsson Xperia Active, and includes an ANT+ chip in it allowing it to connect to any ANT+ device.  Look for tons more detail on Monday leading into my Interbike coverage.  Actually now to think about it, lots of cool stuff to be posted Monday/Tuesday that I've been semi-secretly testing over the past while. Some of it hidden in a few pictures in semi-recent for those eagle eyes…
Anyway, back to the running – here's a short video I took while running during the warm-up (I ditched it for my main sets). While the fact that it's pouring out and the cell phone is being used to record this is impressive – what's more impressive is what's floating down the river.  Remember this stuff all ends up in the Potomac river about 2 miles away.  Thus why you just can't safely swim – any one of those chunks of wooden debris could easily kill a swimmer.
Running over the floodwaters
After finishing the warm-up I headed into my neighborhood for loop-de-loops. Two loops = 1 mile.  Kinda nice that way.
It was of course pouring, solid dumpage, along with thunder and lightening the entire time.  But I just kept on counting the seconds between lightening and thunder to ensure it was still a safe distance away. With running between the town houses I was pretty safe as the shortest thing around.
The workout itself went quite well, the lowest HR's for those paces to date – despite having to at times cross the small tributaries that seemed to have appeared.  It was interesting over the 90+ minutes worth of loops to see how the changing rain intensities would change how and where the rain went on each loop. An ebb and flow of sorts.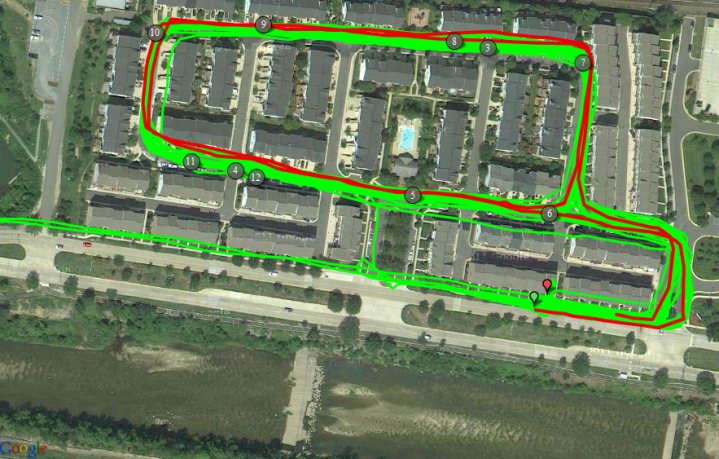 Each time I'd finish a loop I'd end at the front of the house, and each time I'd to see the waters of the river across the street continue to rise (you can see it on the satellite above).  Since The Girl had finished earlier, she grabbed the little camera and headed across the street to take a couple of photos – really astonishing stuff.  The black edge you see in the first photo is the rail of the bike/run path that you often see in my photos.
As you can see, the river came within about 2-3 feet of cresting over onto the roadway (and thus my doorstep).  It went a tiny bit higher later on after dark, but the pictures/video didn't come out too well.  Thankfully, the water has gone back down for now (though they're expecting it to rise again later tonight).  Unfortunately, just half a mile down the street (lower elevation), our street, I-95, as well as a number of homes were flooded.  I-95 was actually closed to to water flooding across it.  For those not familiar, I-95 is the primary highway that runs up/down the East Coast.
But, turning the news to brighter things – something else arrived today (besides lots of water) – the DCRainmaker stickers I ordered came in!
I had long pondered getting some, but a few requests from some soldiers serving over in Iraq and Afghanistan finally got me moving on it last month.  I used Sticker Mule to have them printed (also a suggestion by one of the soldiers), which turned out pretty economical. I didn't expect them to arrive until a few weeks from now – so I'm pretty jazzed to have them before Interbike.
Check em out!
Once I get past the Interbike craziness I'll be working to put together a way you can request a sticker or two – for free.  I've just gotta work out how to automate some of the envelope printing/postage issues such that it's the most reasonable option to keep my costs down (and reduce the time to handle it).  More details in a few weeks.
But if you're at Interbike or the ANT+ Symposium and see me, hit me up – I'll have a stash of them with me.
Thanks for reading – and have a great weekend!