There was a lot of cool stuff shown at Interbike last week – but perhaps one of the coolest and least expected technology items demonstrated was a partnership between Fox (the bike company, not the TV corporation) and Garmin that allows you to calibrate your Fox Racing Shock system using the Edge 800 via ANT+.  They also demonstrated it using a Bluetooth enabled Android phone using a custom application.  This component is called Smart Pump, and is part of Fox's Intelligent Ride Dynamics system.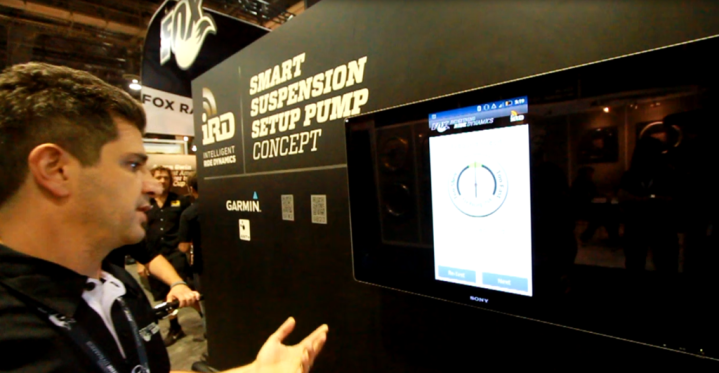 So why introduce a system such as this to a mountain bike?  Well, as the Fox folks explained – they see an incredible amount of bikes with shocks that leave the bike shop (configured correctly or otherwise) and then are never re-calibrated again.  This has in turn lead to customers that are unhappy with their bike setup and ride, not realizing a simple recalibration could fix things.  Many customers simply don't know where to begin – especially if new to mountain biking.
Fox's Eric Mellegers explained by saying, "The main motivation of this product is to have an interface to make it easy for the end user or the dealer to setup their suspension correctly without having to understand the concept of setting sag or understanding travel or strokes on rear shocks.  Ultimately this will improve the end users experience with minimal knowledge with an easy interface and an electronic guide to a perfect balanced setup."
I should point out that the system doesn't weigh any more than a traditional pump – and they even commented they don't see this as an expensive item.  For them, having happily calibrated customers is more important than the trivial cost of a few electronic chips (read: It costs far less than unhappy folks returning bikes).
First, I'll get into how the system works – and then I've got some non-fancy video of calibration using both methods.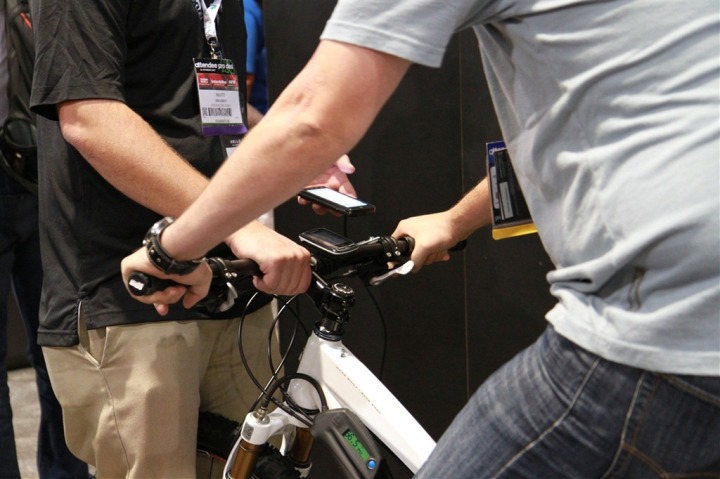 Installed on the bike is the Smart Pump that has both an ANT+ chip in it, as well as a Bluetooth chip.  This pump is used to control the calibration of the shocks (front and back) as well as give pressure readings within the system.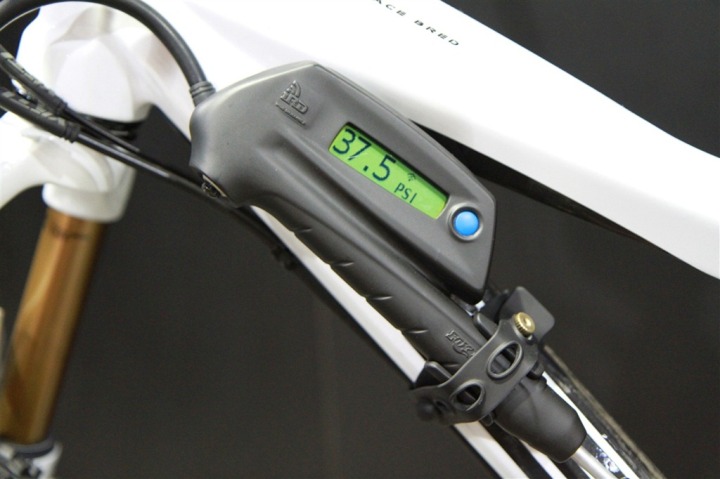 You can see it connected to the front shock, below: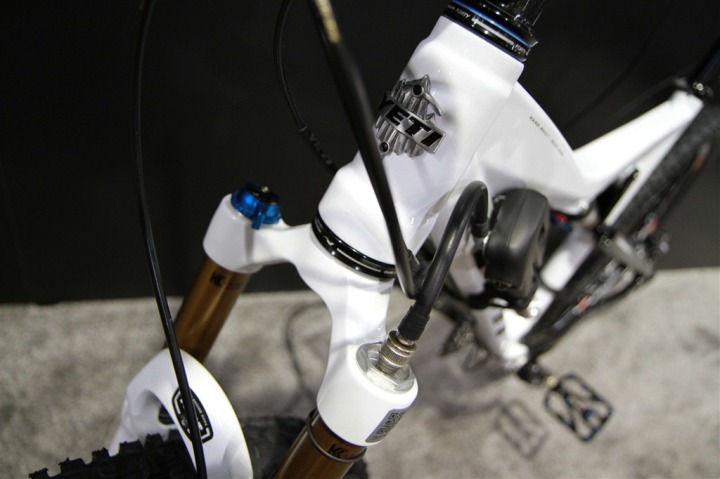 You'll note above that there's actually a QR tag code stuck to the side of the shocks – both front and back – that you can scan via cell phone camera.  In addition to the code, there's also an ID that you can manually enter in (for the Garmin Edge 800).  The reason for the QR code is that each individual shock serial number can be stored and then quickly referenced.  Think of it like a serial number.  It also allows the system to know exactly what type of shocks you have.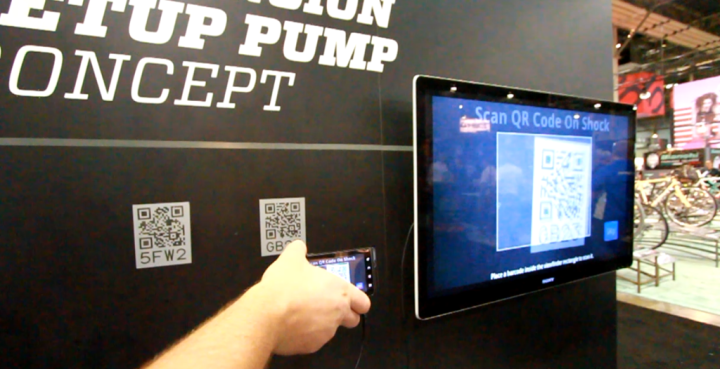 In the case of the Edge 800, you'll notice a new menu option within the bike profile page for a given bike (as usual on the Edge 800 you can setup multiple bikes):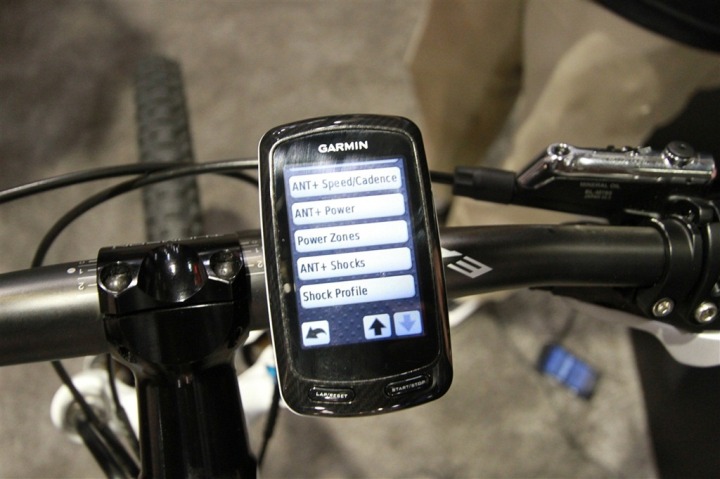 Once the 'ANT+ Shocks' menu is selected, you're then able to either go through a setup wizard – or review shock settings.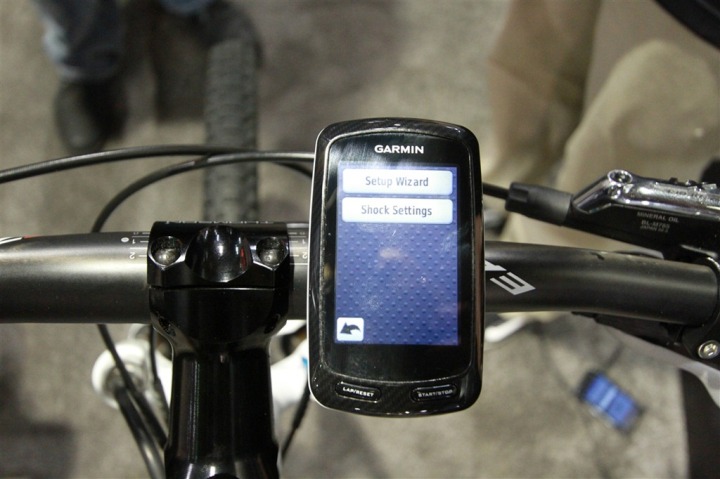 If you choose the setup wizard, it'll walk you through step by step in shock configuration (you can watch the whole process in the video below).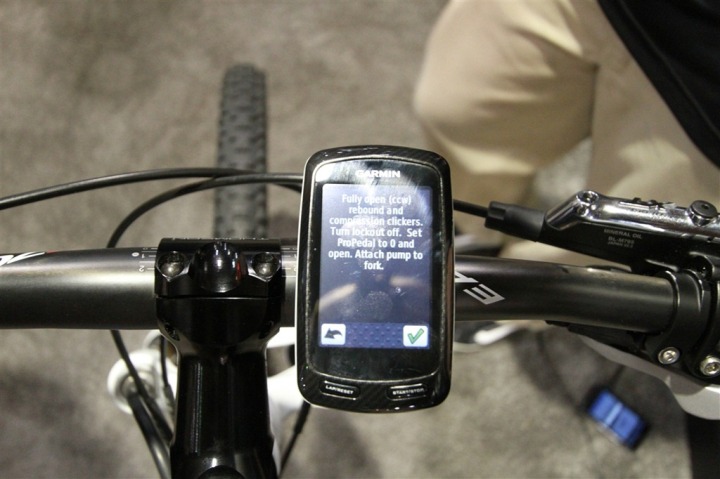 The system then reads the pressure in the shocks and allows you to adjust the  shocks (simply by turning the blue knob at the top) to get to the correct sag or rebound. Because the data is transmitted in real-time, this means during some steps you'll actually see the pressure reading on the unit change instantly as you adjust pressure.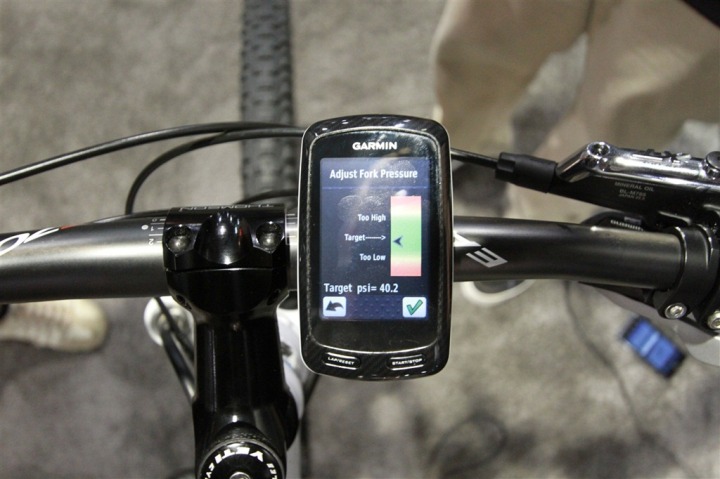 Meanwhile other steps such as rebound adjustment will instruct you to bounce the bike – where the system measures the rebound each time.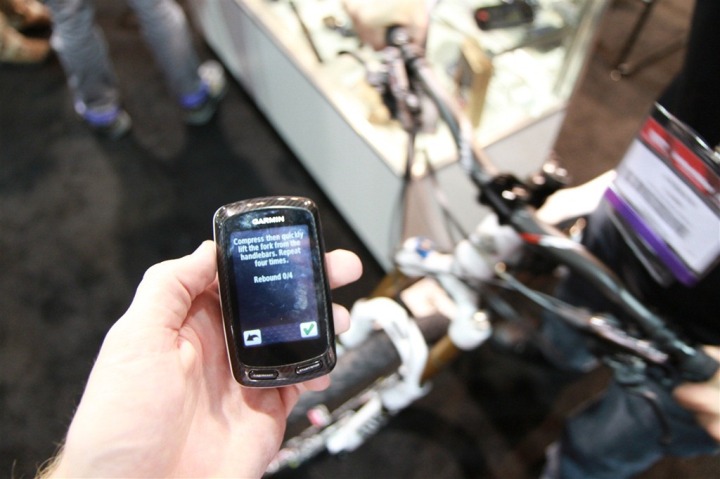 You can see the information is display on both the Garmin Edge 800 (above) as well as the Android phone (below).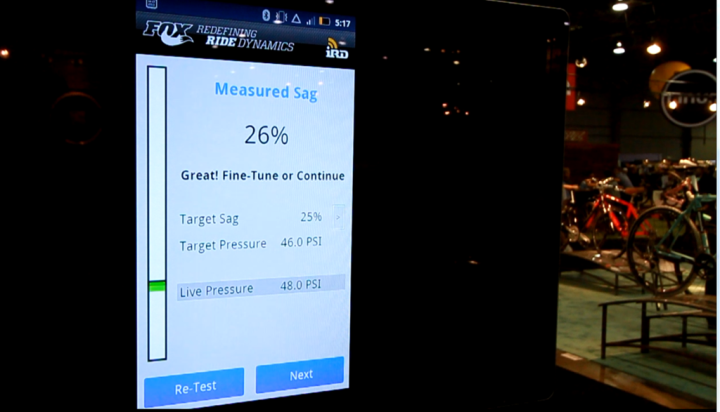 Now that I've given you a brief overview, I'm going to let the product designers give you a walk through.  The videos are a touch bit long – and shot on the busy show floor – but for those interested in the subject, it gives you a pretty clear idea of how it works.  I've split them into two pieces – one showing calibration with the Edge and then with the Android phone. 
The first is the Garmin Edge 800 paired via ANT+ to the Fox Smart Pump system, with Shannon Boucousis from ANT+ and Matt Hrabko from Fox:
Calibration of the Fox shock system via Garmin Edge 800
Next we've got calibration with with the Android phone via Bluetooth, this time with Eric Mellegers of Fox.  The phone's display is mirrored onto the TV screen you see via cable, simply to make it easier to see (which I admit, can be kinda hard to see with the continually changing focus):
Calibration of the Fox shock system via Android phone
So what do you think?  Is this a system that you'd find useful?  From the folks I talked to on the show floor – primarily bike shop owners and employees – they said this would be incredibly helpful from a customer satisfaction standpoint, especially folks new to mountain biking.
But since this setup is purely concept, there's no date on if or when it might be released – they're looking for feedback from folks like you if you'd find this of value.  Like most things I post around these parts, the right people are definitely watching this page – so if it's of value – drop a note in the comments.
—
For all my Interbike coverage here on the blog you can use this tag to see all the Interbike 2011 posts. Thanks for reading!