When it comes to getting things done, Friday is never a terribly successful day for me.  Though, sometimes I find that spills into Thursday's as well.  Take for example, yesterday.  As I was pondering getting on the bike for my indoor trainer ride, I got distracted with some new cupcakes The Girl made for some folks.  Naturally, she had left some behind for me.  And naturally, I realized at that very moment that I wanted one.
Immediately.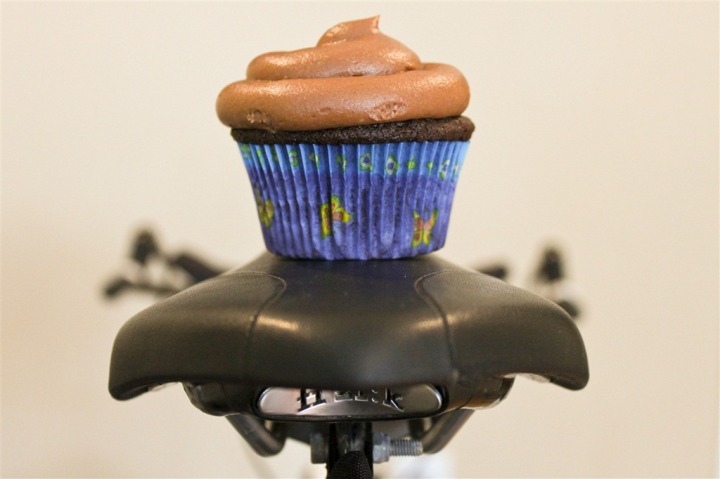 Of course, at this point I was in my cycling stuff and ready to roll.  So I temporarily placed it on the only place I had near me – the seat.  Though, that wasn't practical for long given that I needed to sit there.  Since I could find no other place to stick it…I simply ate it.  During my warm-up.  I saw it as completely legitimate nutrition.  No?
Speaking of cake like things, it has come to my attention from a number of you that I never actually showed off The Girl's incredible triathlon cake back a month ago from her cake contest.  You may remember that weekend where I pitched in and helped out like a mini-baker.  I was her…uhh…minion.
She meanwhile was the star of the show – complete with peeps from the Food Network there.  She won more awards that I can count, all pretty cool for her first cake competition!  But somehow in all the excitement I never posted the photo here, to make you aware of its awesomeness.  So here ya go: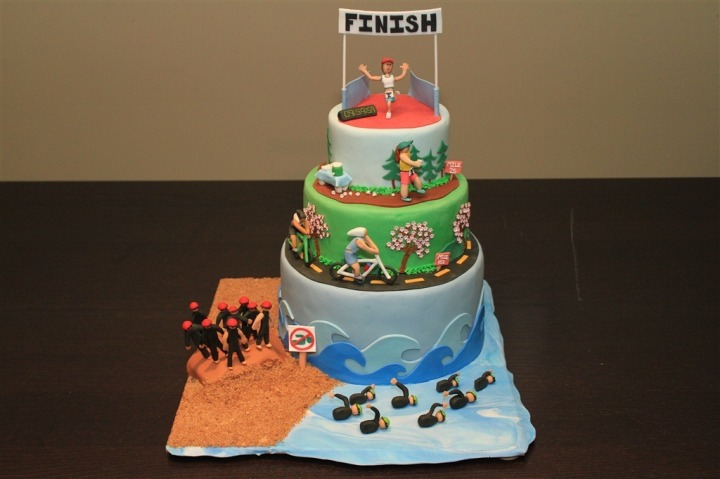 Of course, you can read her in depth and detailed post on how she built it all.  It's just like my product review posts, except with edibles. She's been creating other cake creations as well, thankfully all of which requires flavor testing from me.  Multiple times a day. 
As part of her quest in world cake domination she's looking for cakes to create (free of charge) for  organizations to build her portfolio of awesomeness.  She's love to help out with those supporting good causes (charities, military families, etc…).  The key part here is this again supports my frosting and cake eating habits.  So if that's something that interests you, poke on over to her little world.
Either way, I've now successfully distracted you.  Welcome to Friday…and the rest of your weekend!