It's that time of the training schedule again.  The time where a race is right around the corner in four days.  For me that means a lot of things.  First is the inevitable taper in workout duration.  Then there's the slightly shaken up workout routines.  The workouts now tend to focus on brief excursions into higher zones, rather than longer sustained efforts.
And lastly…there's the wetsuits.
Why the wetsuits?
Well first off – I need to ensure the darn thing still fits.  After all, eating all these cakes, breads and cupcakes that The Girl creates around here certainly can't be good for the skintight suit.  Thankfully though, I've managed to get myself back to my season ending weight from last year (which is still a handful of pounds short from where I want to be as we near Boise 70.3).
But the real reason is simply to get used to the wetsuit again.  While in an ideal world one's wetsuit would feel so seamless it wouldn't alter your stroke…this isn't an ideal world.  There will be differences and it's important to understand those.  Thus you want to spend a bit of time to remember how the wetsuit impacts your stroke and to ensure your comfortable with it again.
Before I could ensure it still fit I'd have to remove the suit from its vacation location hanging out on the kayaks in the garage since the day of my last race last year.  Probably not ideal from a care and maintenance standpoint…but my wetsuit is a trooper, going on four years now and still very happy with the $250 or so I spent back then.  Plus, I didn't intend on leaving him there all winter…he was initially just put up there to dry…and then September became October…and then February…and somehow April.  My bad.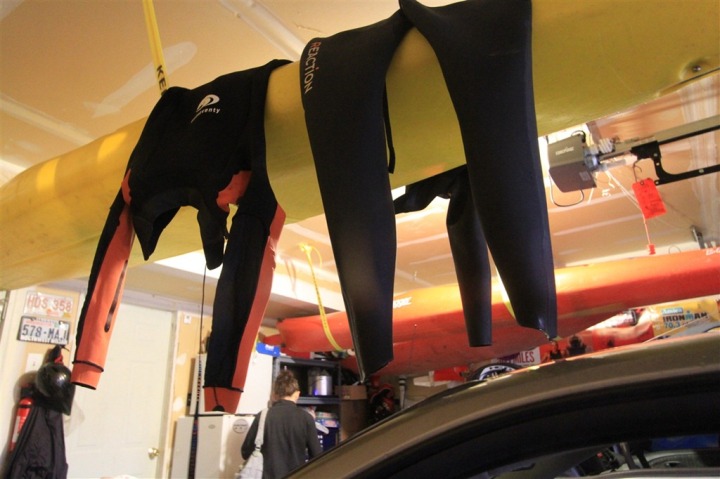 Earlier this evening I headed to the pool to meet up with The Girl.  While our swim time didn't quite exactly line up, we had enough time overlapping that we were able to get a few shots before we parted ways.  First up is the ever so fun wetsuit insertion process.  I say insertion because it's really a more forceful process than simply putting on other clothing like a pair of socks.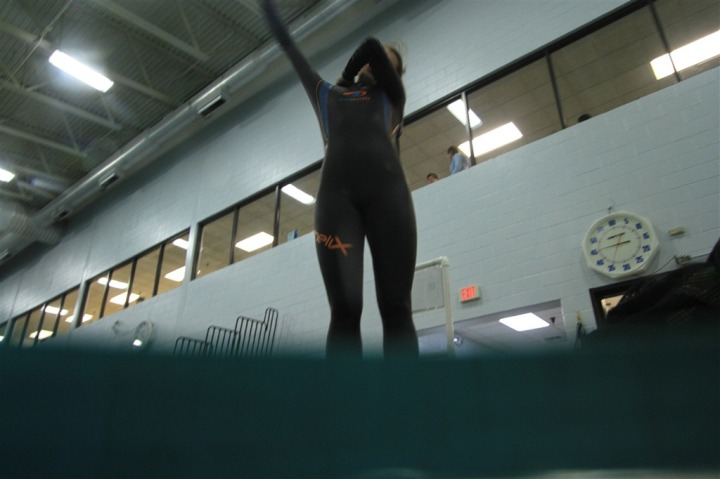 Personally I prefer to do this inside the locker room – simply so I can minimize any potential fails I might have attempting to get into the suit (you know, like falling over, getting stuck, putting it on the wrong way, etc…).
Once in the suit and in the pool I had a simple 800y warm-up.  It focused on a variety of body position drills – to aide in ensuring that you don't get lazy simply because I now floated more easily.  After all, while the wetsuit certainly speeds swim times (5 minutes per mile is a commonly accepted number for the average triathlete) it also makes it easier to get lazy when it comes to form.  That laziness equates to lost speed.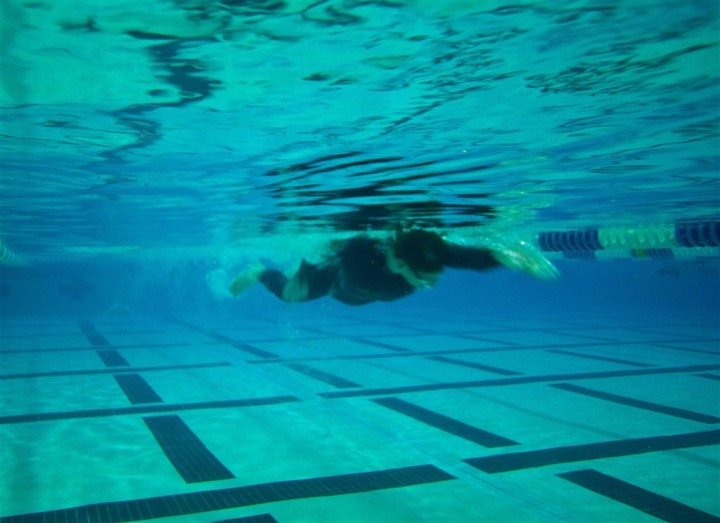 After the warm-up I went straight into the main 750y time trial.  I started strong but semi-conservative.  Given this was the first wetsuit TT of the year I hadn't quite refined my effort expenditure to pace for that distance (after all, the effort is very different than if I swam without a wetsuit).
So I probably went out a bit too easy initially and could have saved a bit of time there.
I used the Swimsense watch to record my swim lap sets, which were pretty steady at 1:18 per 100y.  Swimming isn't exactly my cup of tea, so that'll have to work for now until a bit later.  Of course, it's cool to analyze the per-lap speeds and see how those vary over the course of the time trial.
Tomorrow (Wednesday evening) we'll go back to a land-based brick with a short but intense 40ish minute bike trainer effort followed immediately by a 30 minute intensity building run.  And then on Thursday we'll return to the pool for more fun in the water with the wetsuits.
It's those wetsuits swims that are probably my most favorite training days.  Why you ask?  Well,  it's the one rare time in each training cycle where my swimming paces are awesome.  The rest of the time…not so much. 🙂
Thanks for reading!