When I started this multi-week international work trip through Asia early last week, there was no plan to spend any time in Vietnam.  It simply wasn't on my itinerary.  I was to work until Friday in Seoul, and then head to Thailand, for the next five days.  However, due to a computer system kicking the bucket, I had to make an emergency trip to Saigon (or Ho Chi Minh as you may call it)…so…I cut my trip in Korea short and headed off to Vietnam.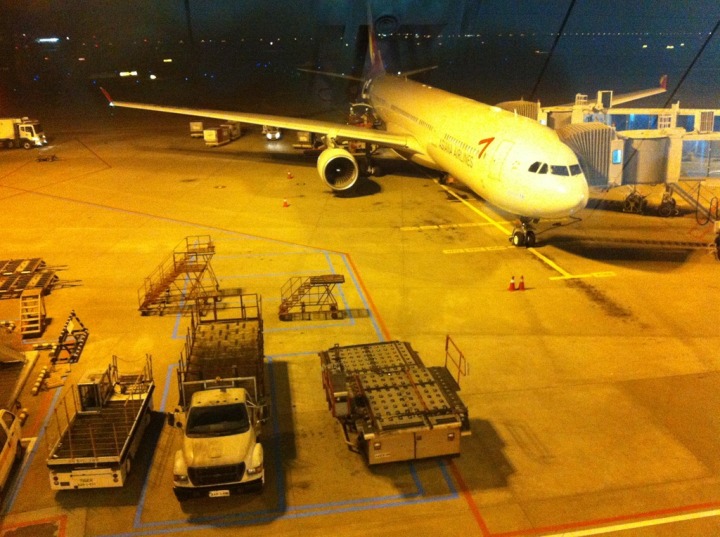 After landing in Saigon very late Thursday night I worked non-stop from very early Friday morning until quite late again, so not much outside of that to report there.  Luckily, I was able to get everything all happy again and thus able to enjoy a weekend in Vietnam.  Additionally, The Girl was set to join me for the week (a first and very rare occurrence), and luckily I was able to get her tickets all re-directed to Vietnam…versus the originally planned Thailand.
My local co-workers arranged a tour with a tour company for us on Saturday out a few hours away from the city to both a local church/temple, as well as some older Vietnam War (though here they call it the American War) tunnels.
First up after the multi-hour bus ride was the church.  This gigantic structure could probably be used to build aircraft, though we'd find out in a bit that they easily fill it up with people instead.  However, upon our arrival, it was fairly empty – affording us an impressive view of the building.
As we neared closer to noon, a steady stream of folks in white outfits started to converge on the building.  Like ants to an anthill, they came from pretty much everywhere.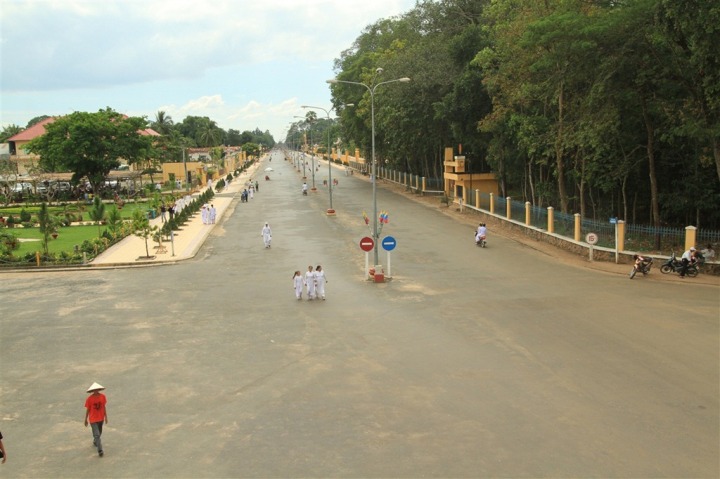 About this time we were ushered upstairs and out of the way.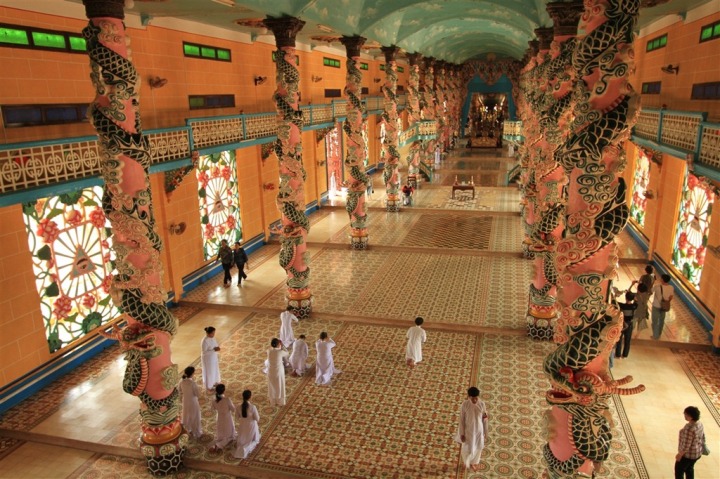 After all the tourists were cleared out of the main floor, the women started to march in: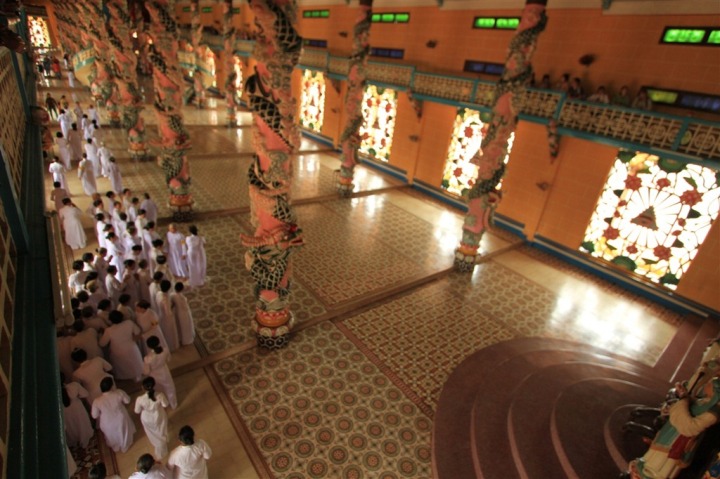 At first, it was a bit disorganized, but soon very clear order came from the wandering: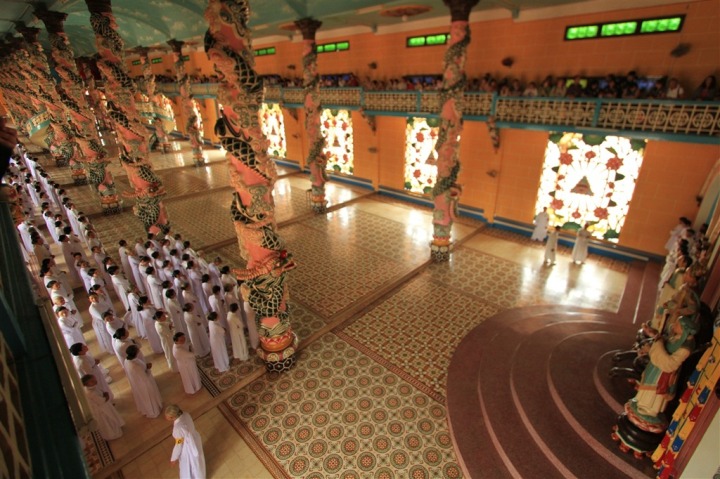 A couple minutes later, the men proceeded to head out onto the main floor, lining up rather quickly.  Along with them was a processional of what I presume to be church leaders (our tour guide didn't exactly provide much useful information here).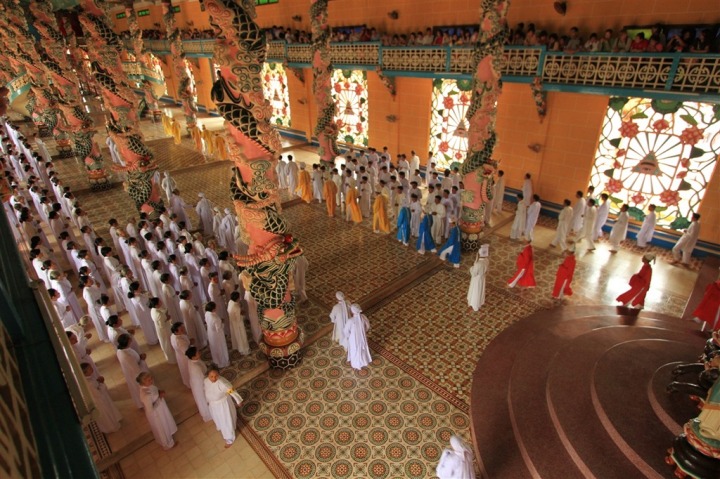 They then converged and everyone took their spots.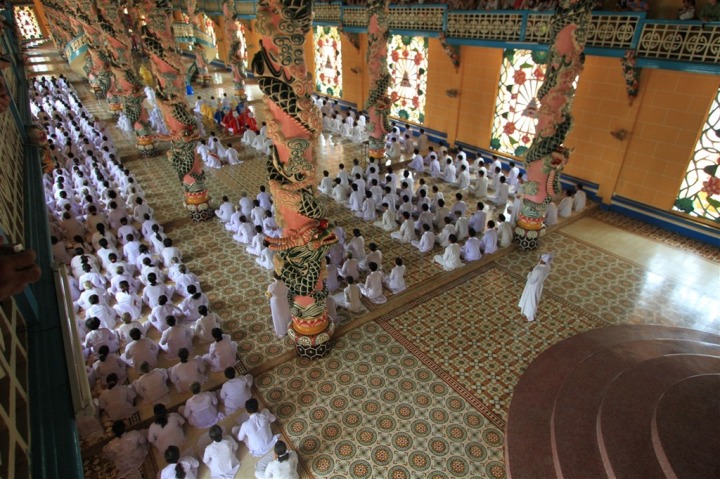 Soon, the service took over, leading to lots of praying – around this time we headed out.
From there our bus made the all-critical food stop.  Luckily this was done at a little place that served some amazing Pho.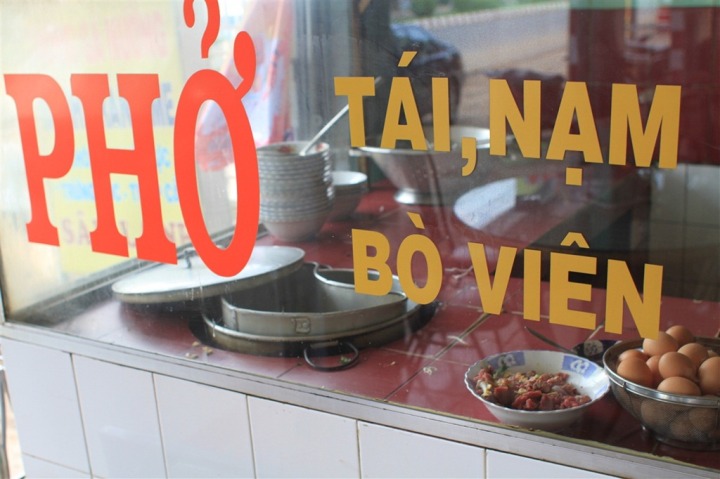 Even better were the prices.  The below sheet lists it in local currency, but to convert – simply assume 20,000 = $1US.  In other words, our bowl of amazing Pho was just a bit over a $1US.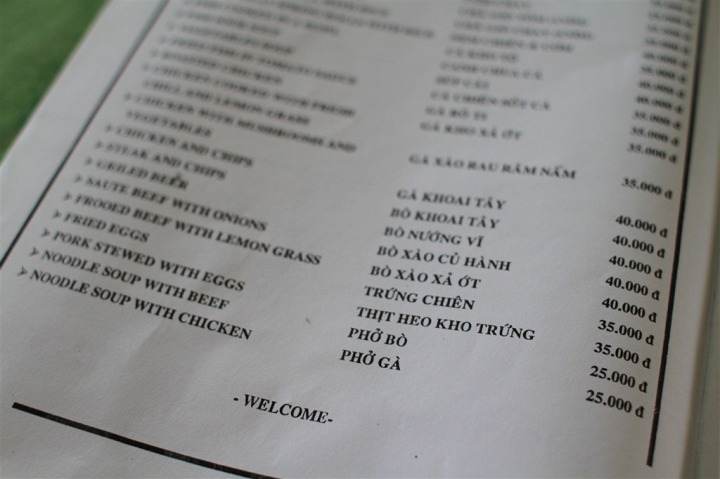 And…here's the Pho, plus some other goodness we picked up.
After our meal (which, unlike Seoul didn't involve any moving parts), the bus loaded up and continued it's trek another hour and a half to Cucci, site of some fairly significant Vietnam War era activity.  There wasn't really any grand entrance to the place, but this little rules sign was interesting.  Just remember – no drunk visitors: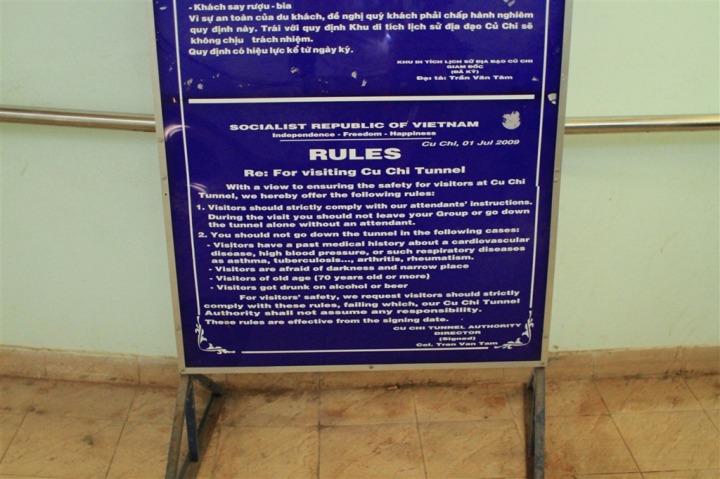 The first thing they showed us was one of the many tunnel entrances, which, while this picture is a bit fuzzy – was fairly amazing in how these holes completely disappear into the ground when gone.  And that's when I knew exactly where the entrance was.  More like scary really.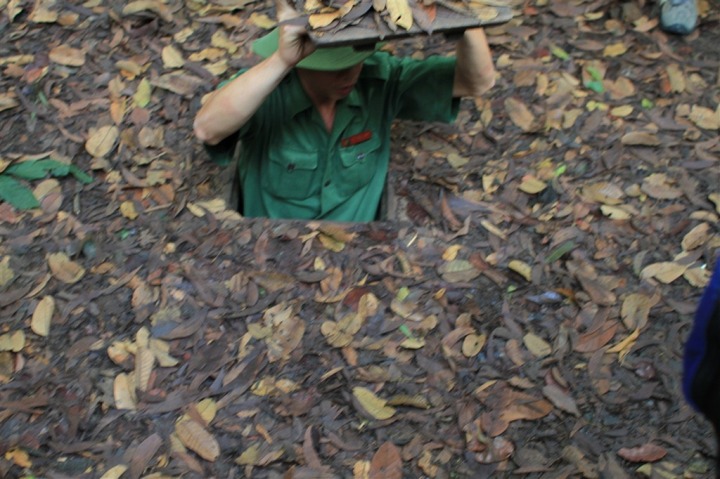 Continuing to add to the list of things you wouldn't want to run in was the litany of trap-door type systems – all of which involved fairly deadly and/or painful metal spears.  The first one here flipped over like a see-saw.  While you may think from the picture it would be a heavy structure, the unit actually took less than a light touch from a pinky finger to move.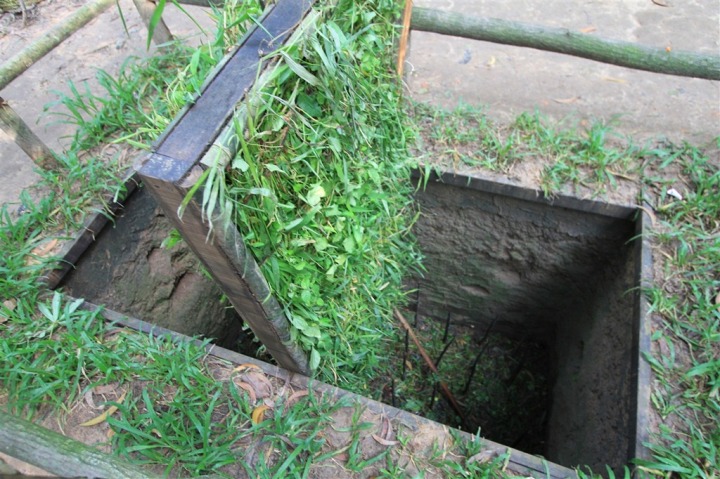 The majority of the rest of the tour involved more pokey things.  Kinda weird actually.
Finally, they showed us the tunnels.  They were very very small.  Being 6' 2", I barely fit in them on my hands and knees.  Very tight fit.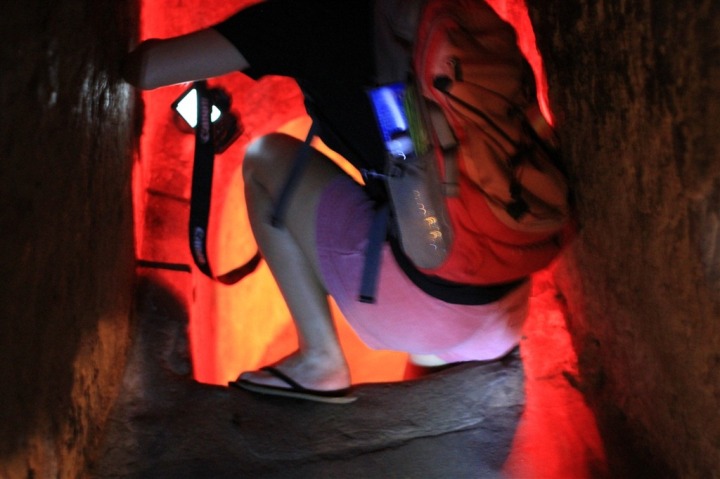 As the finale for the day, the tour of the location included a rather bizarre video.  While most war-related locations offer a semi-neutral view of the historical events surrounding a conflict…this one did not.  It started off with some rather colorful language including 'Crazy bastard Americans'…and only went downhill from there.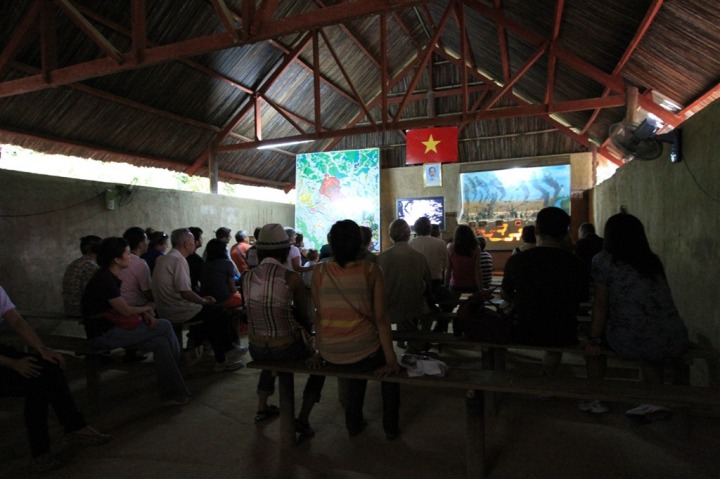 I suppose you can never go wrong with at least seeing alternate viewpoints, but I'm not sure much of the specific wording was necessary (and we won't even get into many of the 'facts' presented).
At any rate…moving onto more positive things.
On Sunday we went for a walk through some of the more famous local sites.  To start with, we can actually begin at our hotel – The Caravelle, which was/is one of the more famous in the city, sitting just across from the opera house.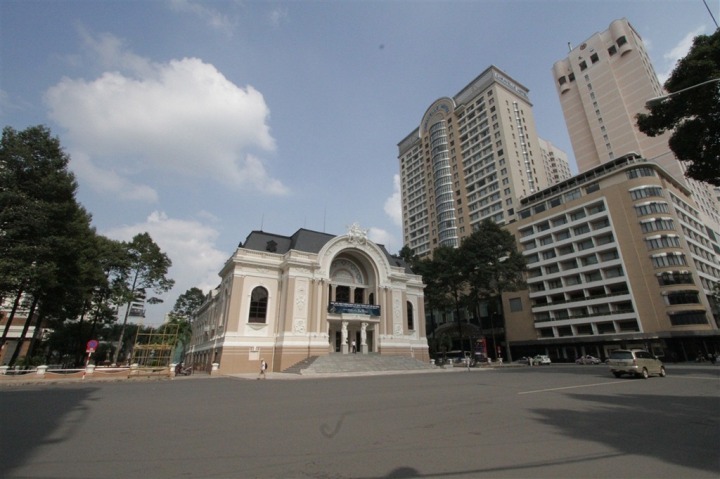 From here, you can see over to the building where the infamous helicopter leaving Saigon photo was taken.  Although a new taller building now blocks the exact view, the rooftop is still there.  Oh – and despite many rumors stating that helicopter was leaving the US Embassy…it wasn't.  It was just the the meeting location, which happened to house government folks below it.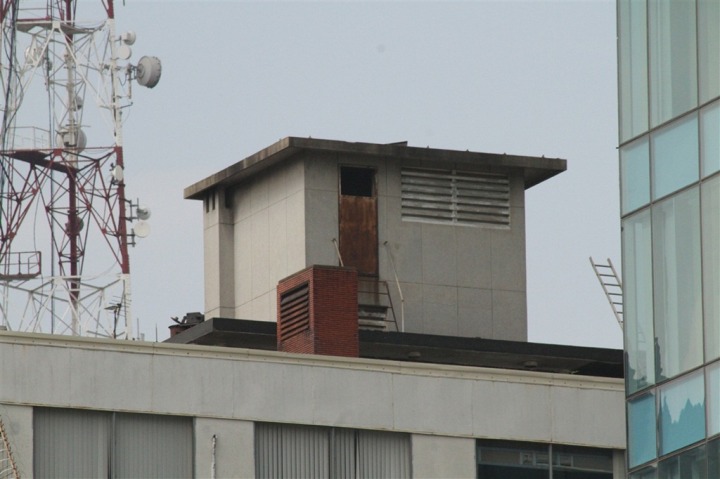 As we headed down the street we came upon an amazing French church (the French ruled here for quite some time).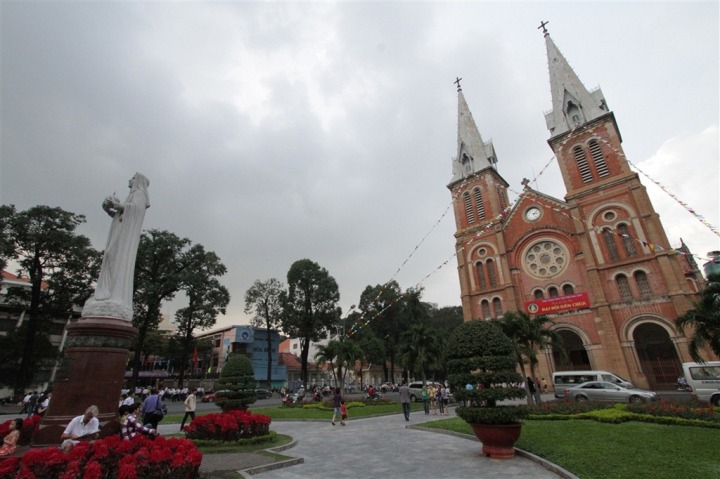 Interestingly, many local brides rent wedding dresses and get photos taken in front of the church – we would see a never ending stream of them surrounding the church while we were there…virtually none of them actually get married at this church.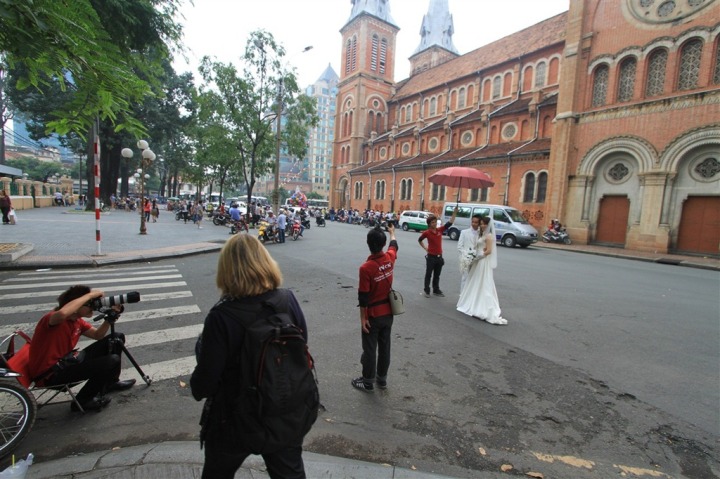 (Note that none of these photos show the same bride twice…all different ones, and all within the span of a minute or two, on just one side of the church)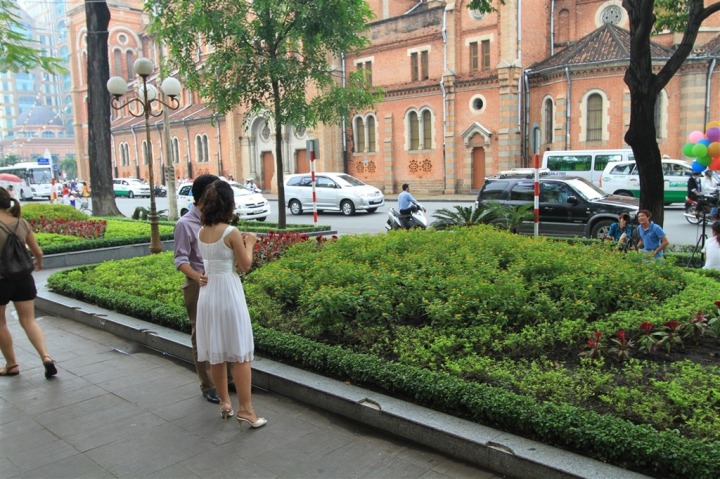 And…some of them randomly pick strangers kids to get photos with: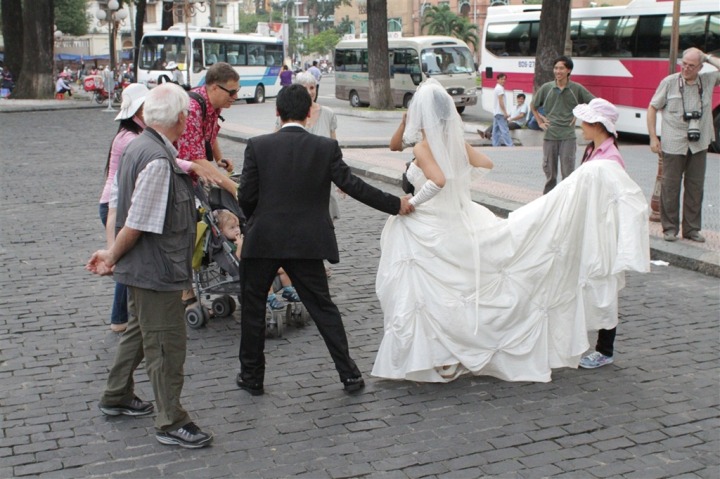 After the church, it was off to the market.  Though, like much of our street crossing here, this required a whole lot of very careful crossing: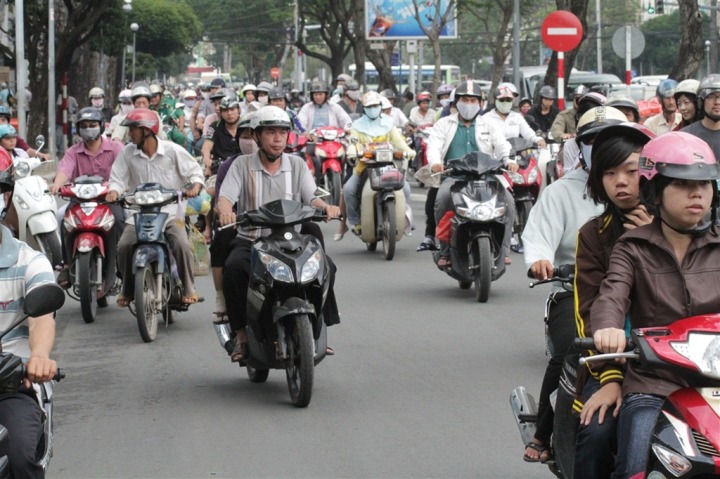 Anyway, at the market – stuffs to be bought!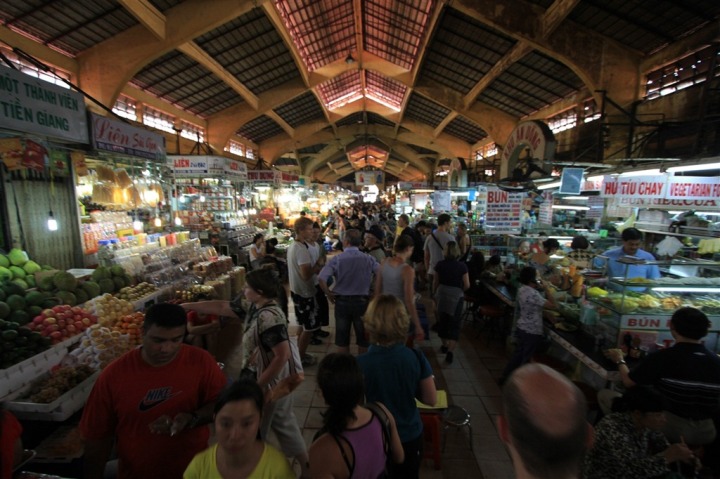 Inside the market was packed with everything from clothing to meat to prepared food to trinkets:
I picked up a couple of little things, including a totally awesome t-shirt…which, I'll have to share sometime.
After our market adventure…it was off the airport…another day, another flight, another country: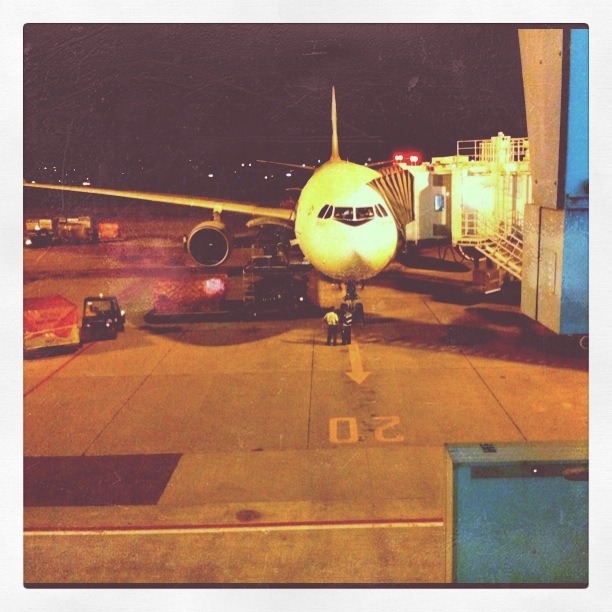 More to come…
(P.S. – Some folks have asked what type of camera the photos are coming from.  Virtually everything is from a Canon 7D DSLR camera, and most of the photos are using a Canon 10-22mm lens, with some of the food ones using a new 28mm 1.8 lens that I just picked up.  I list all my photography gear deets here.)