We arrived into Delhi, India – the country of 1.2 billion people – quite late Tuesday night…errr, rather Wednesday morning I guess.  We were supposed to be there Tuesday night – but because the coffee pot on the airplane wouldn't work, we waited 3 hours for them to fix it…thus, Wednesday morning.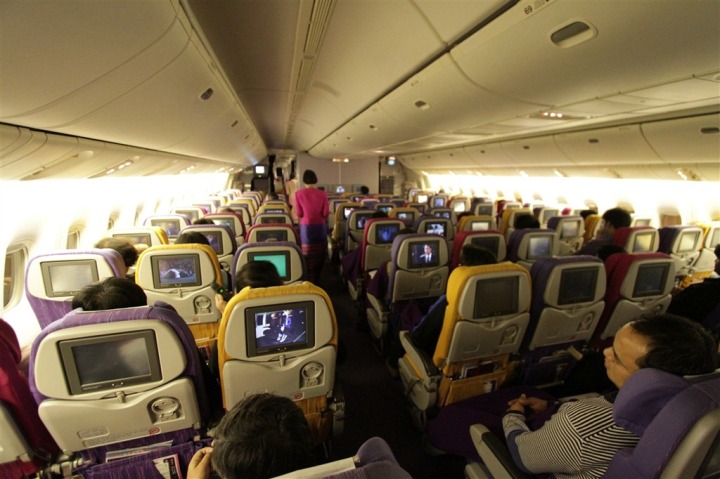 After a few hours of sleep it was time to explore Delhi…or rather New Delhi…or wait a sec, they're not the same? What's the difference?
Turns out Delhi is simply the older portion, and New Delhi is the newer portion (the detailed explanation actually involves  a lot of history).  But there's no mistaking which Delhi you're in.  New Delhi has wide streets with a very tree'd in look, like driving in the suburbs.  While the old Delhi has crammed streets that could barely fit a car, and in some cases don't.
So our first item of exploration was Humayun's Tomb in New Delhi.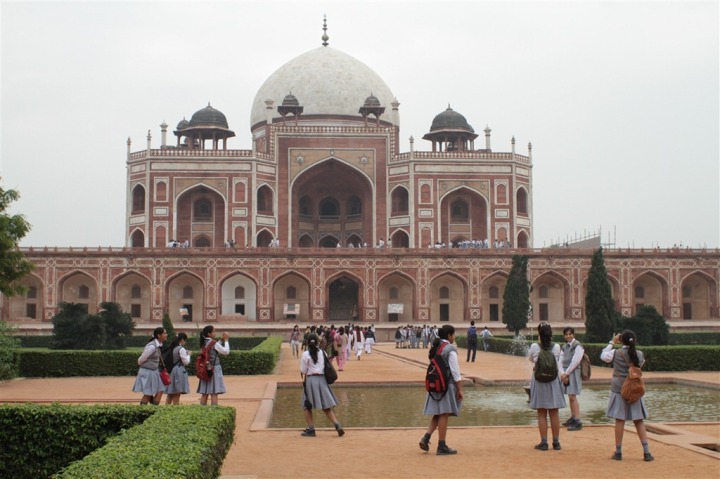 The whole place was quite impressive, but what was probably just as impressive was when hundreds (maybe thousands?) of school children flooded the grounds.  They were all quite friendly, and seemed to enjoy the curiosity that two non-Indian people represented.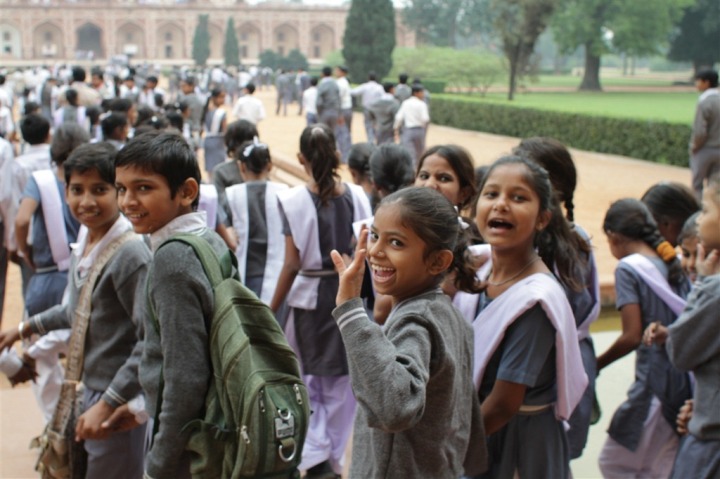 From there we headed over to Old Delhi to explore some of the smaller streets.  We were loaded up on a small bike cart and whisked away through the very very tight streets of Old Delhi.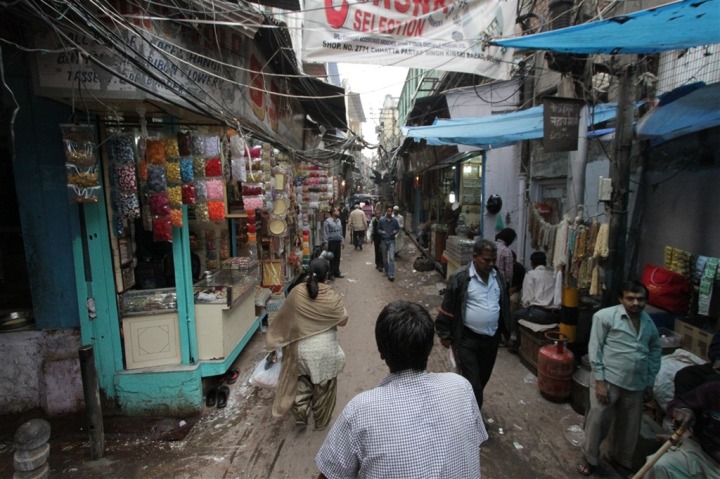 This would be our first preview into Indian driving techniques…if only we knew what was in store.
After screaming through the market area, we headed over to Ghandi's memorial park.
I should point out at this juncture that we had an amazing guide with us for the day.  As you probably know from my past travels, I'm not exactly a 'tour guide' kinda person.  I generally prefer to explore the city on my own.  Often times I find that packaged tours are like herding cattle.  Thankfully, this was different.  It was just The Girl and I, plus Ruby (our tour guide), and our driver.
Here's Ruby: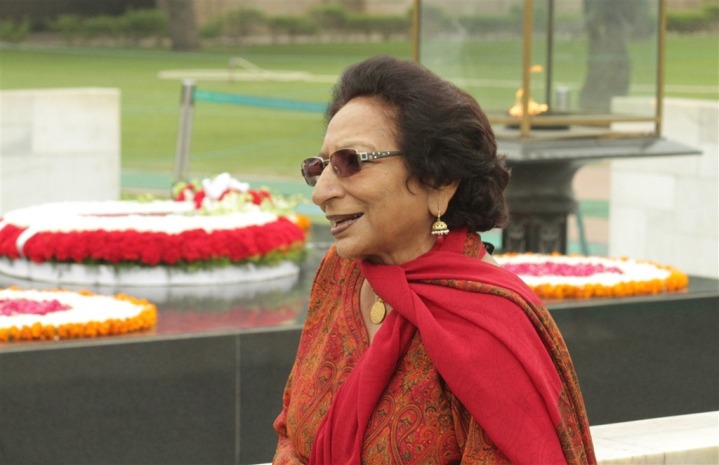 Ruby is a retired history professor that does an occasional small group tour.  She had an amazing amount of history and knew the answer to virtually everything we asked. It was also great that she spoke flawless English, making it very easy to both communicate with her, but also relate.  We initially weren't planning on having a guide, rather instead planning to go it alone.  However, after a day in Delhi, I'm glad we went the route we did.  It would just take so much longer to see all the sights (travel between them), as it's unlike a European city layout where you can easily jump on easily understood public transport to popular sites – or even walk between them.  In this case, the company that was responsible for the rest of the trip (And Beyond India), arranged for all the tour guides for the first two days before we headed into the jungle.  It was relatively inexpensive for a private guide – and so much better than a mass tour group.  We were on our own timelines and could stay as short or long as we liked.
Rounding out the day (we did more, but I've only got so much writing space!), was an awesome Indian lunch.  We would eat Indian food for breakfast, lunch and dinner the rest of the trip – and all of our meals were amazing.
We finished up the first night in India watching some 'Who wants to be a millionaire?'- which is still incredibly popular here, and broadcasted live four nights a week.  In fact, just a few days prior there was a winner.  Also, the movie "Slumdog Millionaire" is equally as popular here.
(Bhutan for those curious…and the contestant got it right)
The next morning it was time to head to Agra, home of the Taj Mahal.  This involved a few hour train ride on India's legendary rail networks.  Of course, first you had to navigate the traffic at 5AM getting to the train station entrance.
Once we arrived it was a relatively short 15-20 minute drive to the main entry area.  I've found many entertaining signs while in India, but I particularly liked the last item on the middle sign.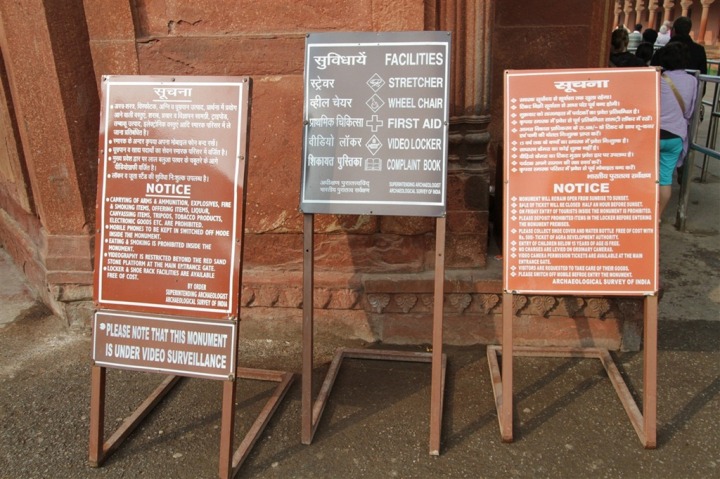 Once you pass through security (which is gender separated), you arrive at the outer perimeter entrance building, which has a straight shot view down the gardens to the Taj Mahal.  This building, as impressive as it is, is just a prelude to what's beyond.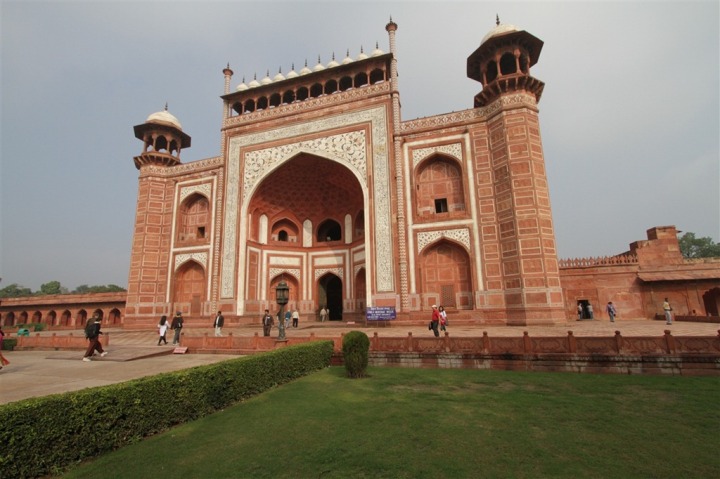 As you walk into the inside of the above building, the Taj presents itself off in the distance.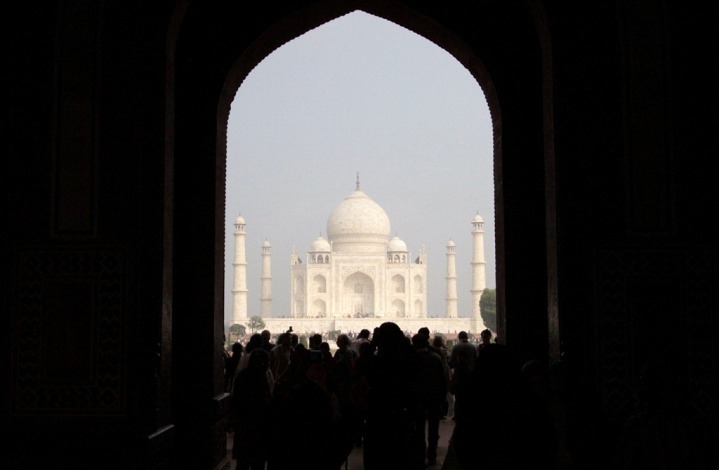 As soon as you get out into the open, you find yourself in a sea of photo-seeking folks.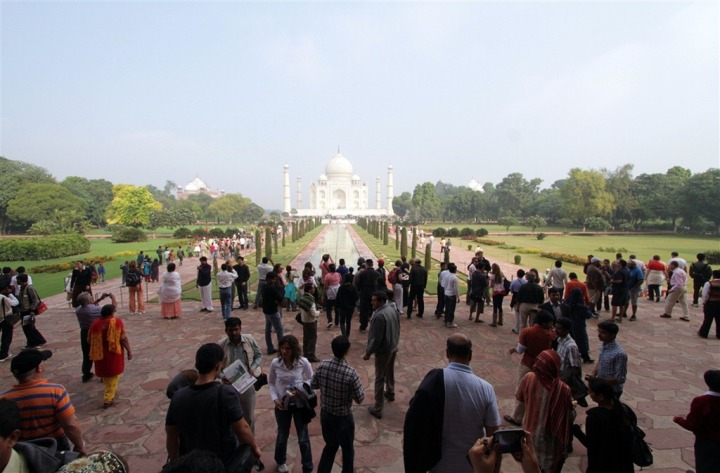 But, it doesn't take long to find your way to the front of the platform and grab a few pretty photos.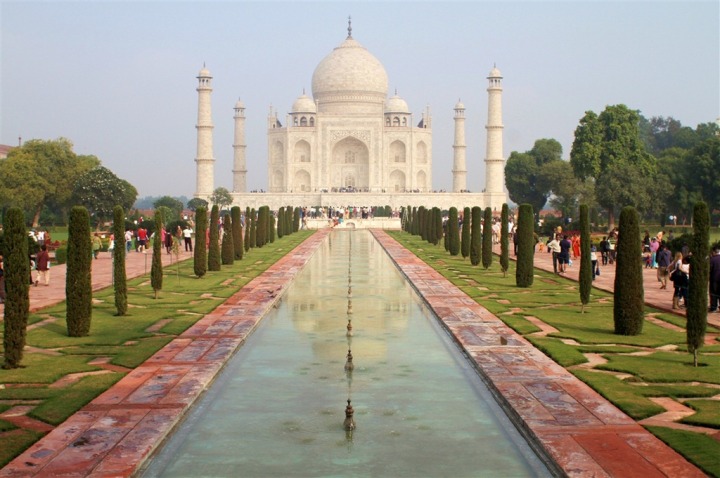 The Taj Mahal is comprised entirely of white marble from India.  Unlike some other marbles found elsewhere, it doesn't stain, nor does it damage easily.  In fact, despite hundreds of years of millions of people pounding up some areas of marble steps – there isn't even the slightest hint of a dip on the staircase's steps on the original stones.  And everything else about the place simply shimmers in the sunlight.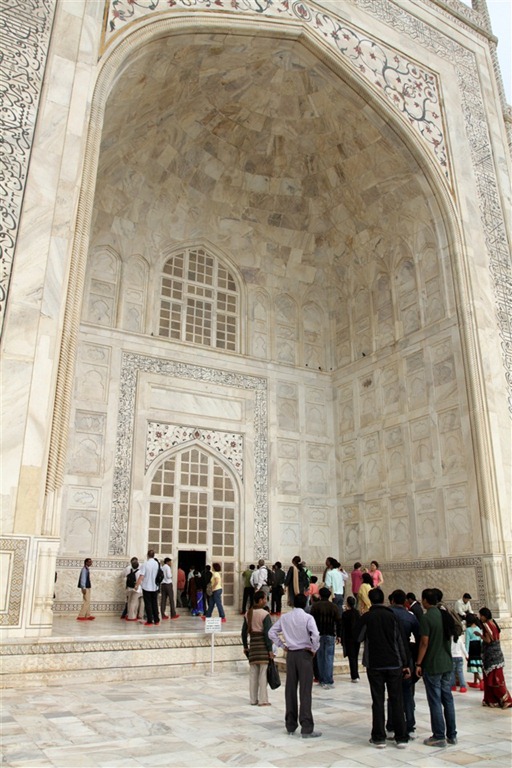 Speaking of steps… Once on the main deck of the Taj Mahal you're required to wear these little disposable red shoe slippers they give you (or you can choose to check your shoes and go barefoot).
One of the items that you probably wouldn't be able to see from your typical Taj Mahal photo is the detail on the side of the building, both in the base as well as all the way up and down the structure.  These white marble carvings are immaculate and the precision astounding, despite being there and touched by tourists for hundreds of years.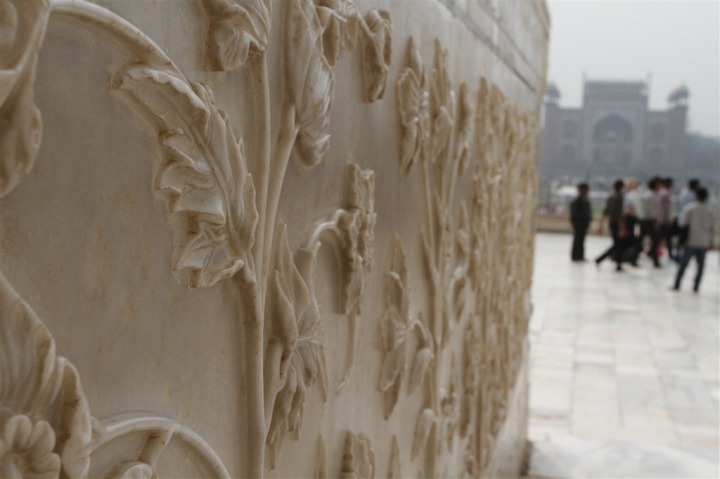 After we wandered about a bit more, it was time to head onto a nearby fort.  We'd actually visit two forts that afternoon, and despite the first one being the main tourist draw – it was actually the second one – some two hours away – that we enjoyed quite a bit more.  Which is below.
But instead of talking about the fort, I'm going to focus on the journey to the fort.  As this was where we'd get our full fledged introduction to Indian driving…and roads.
See, unlike most parts of the world where the roads are considered a place for traffic to flow in just a single direction per side, in India – they're more akin to a meeting place.  A place where all creatures and inanimate objects alike can gather and spend time – even if they aren't going anywhere in particular at all.
Take for example…cows.
Cows are sacred in India (not used for meat).  However, that doesn't mean they don't wander freely across the road.  I can't even begin to count the number of cows we (well, our drivers) nearly hit during the trip.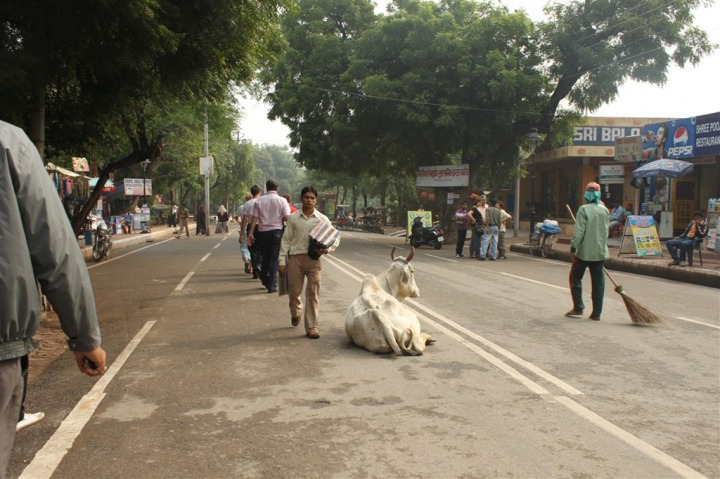 Of course, it wasn't just singular cows – but rather entire herds:
And then there were the goats: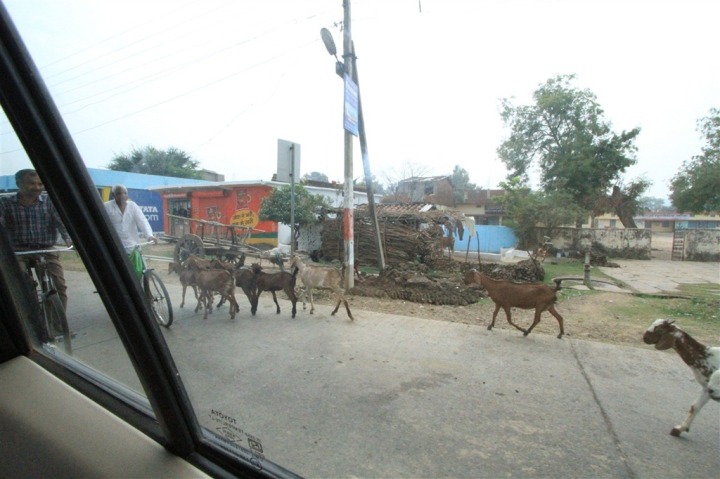 And the pigs…but I don't have a photo of them…nor the camels in the road one day, nor the monkeys – how I missed the monkeys is beyond me.
But I didn't miss the horse drawn carriages: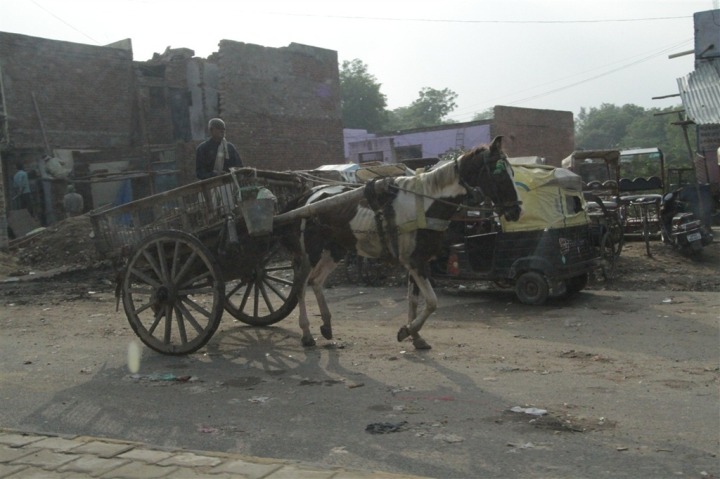 And that's all before we get into the various human-powered and placed items…holy moly!  I've got an entire post planned with 'Bikes and Cyclists of India', for a rainy day.
It was during our drive back from the temple at night, that we enquired as to why nobody in India seemed to use headlights.  You know…given we were out on dark roads in the middle of nowhere and just barely dodging everything from oncoming cows to full on busses.
Our guide simply shrugged and said: "In India, for some things, there are no explanations."
With that, we got back on the train and headed back to Delhi…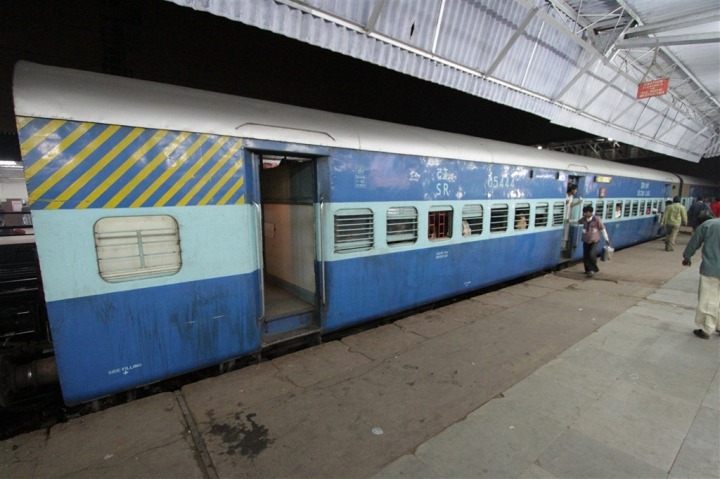 …ready to leave the city and head a few hours away by small plane to the jungle…