As I talked about yesterday, I've spent the previous week in Mexico City, Mexico – which has an elevation of 7,500 feet above sea level.  That's roughly 2,000 feet higher than Boulder, Colorado…or, for those Floridians, that's about 7,498 feet higher than the highest point in your state.
But elevation wasn't my only issue.  Unfortunately, over the past few years, and in particular the last 12-18 months, the situation in Mexico City has slowly spiraled southward with respect to violent crimes.  While not anywhere near as bad as near the border or other locations, there are many many places in Mexico City where one doesn't go after dark…or daylight.  I was advised by some of the locals I was working with as to what areas were safe and when – and after getting the lowdown, that didn't leave me a lot of ground to work with.
So, my training grounds were drastically reduced to basically one main street during daylight…and the gym at the hotel.
The good news is that the gym had all sorts of newfangled machines that I could connect an iPod/iPhone to and gather lots of interesting data.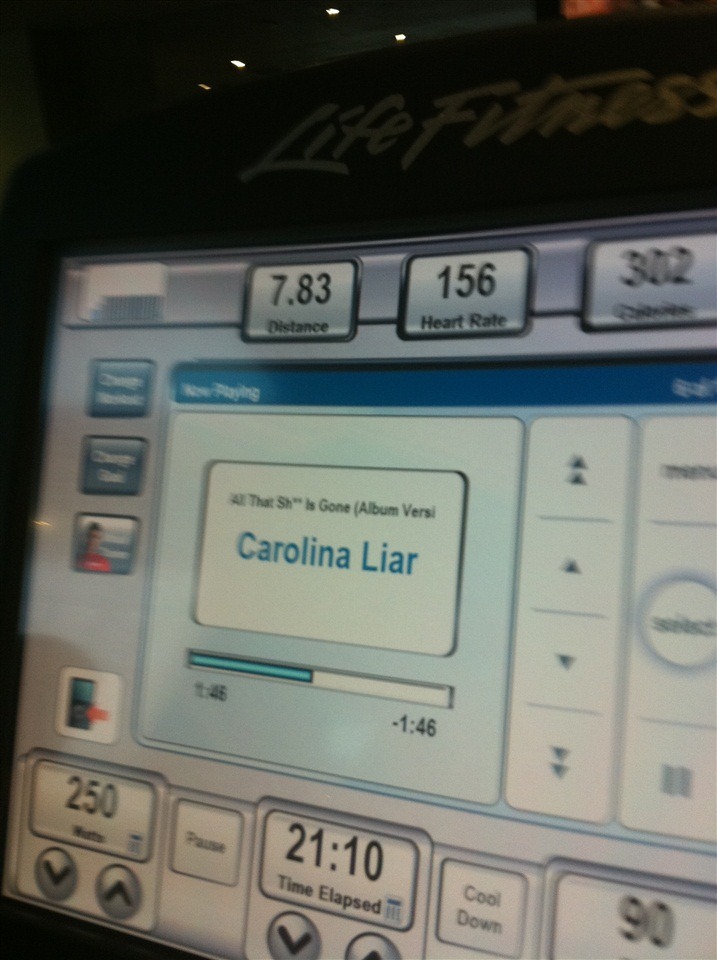 The bad news: These applications are completely useless and don't gather any data at all.  While the Nike+ pieces are good on a treadmill, my experience on the stationary bike was disappointing.  Especially given that it actually showed wattages on the bike itself.  Just didn't record it (or anything else for that matter).  So instead, I just used a simple Garmin to record my heart rate.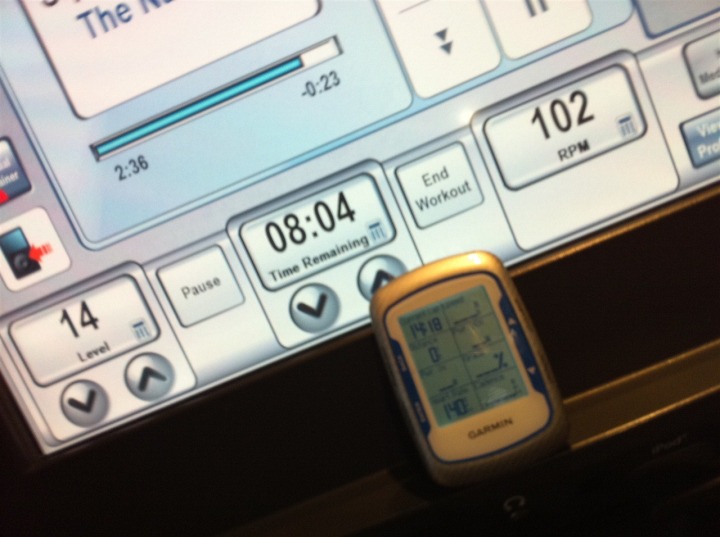 I also spent a bit of time trying to retrofit one of the stationary bikes with a Garmin Speed/Cadence sensor – mostly for the cadence (no flywheel).  Unfortunately, that was also a failure, as there wasn't enough clearance there between the crank and the bike itself.  I think I could fashion some sort of bracket system though and a piece of Velcro to attach to a running shoe to make it work – just need to go back to the drawing board.  Industrial strength Velcro and other items didn't quite work.
However, I did have some very solid workouts on the machine.  Including a two-hour brick that started on the bike and then finished on the treadmill.  That made a massive lake below the bike.
But – let's get outside, ok?
My first outdoor run was on Wednesday, and it was just a brief affair to see where I could go and get the lay of the land.  Luckily I was staying on a main thoroughfare, so I was able to start right in front of my hotel and run from there down a large tree-lined road.  Unfortunately, I chose rush hour, and I was constantly dodging and weaving not only a sea of cars, but also people.
It was simply more effort that it was worth as I wasn't able to maintain pace due to constant starts/stops.
So…back indoors I went.  That's my workout written down on a hotel envelope.  That had the added advantage of being a great place to stash one's keycard.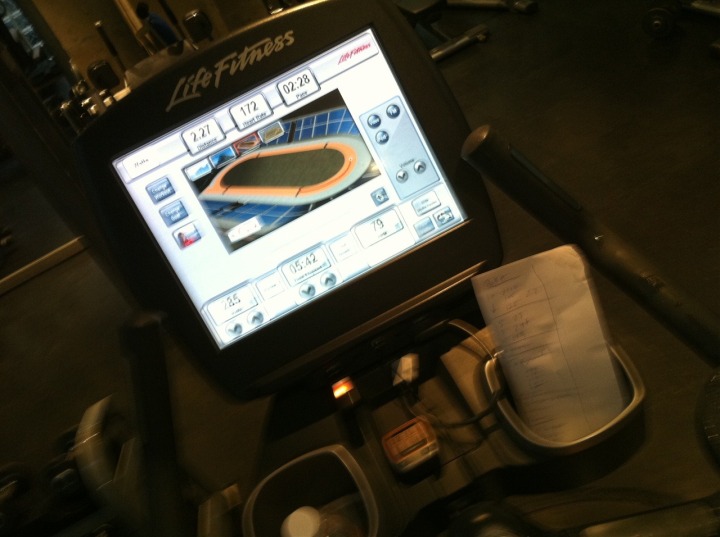 However – Sunday morning when I woke up to head down to the treadmill for the last time, I happened to look out the window and noticed something strange: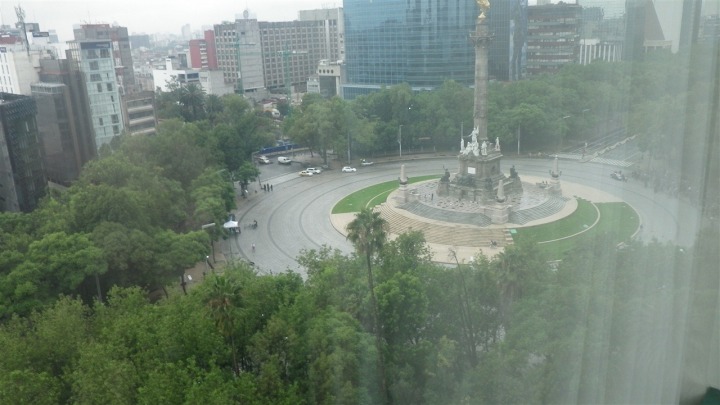 Huh?  Why are there cyclists everywhere, where are the cars…and what is that massive blob of people?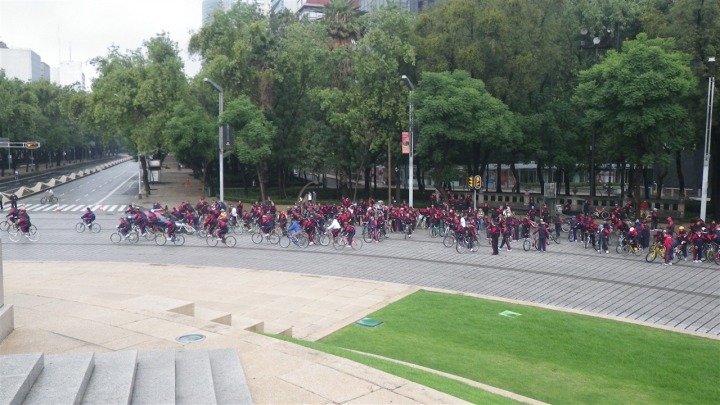 I quickly got changed and ran down to the front desk to get the details.  They explained that they close down a stretch of one of the main streets in Mexico City every Sunday – about 6 miles round trip to cyclists and runners.  The street (the Reforma) is the main avenue in Mexico City.  I can't think of any other city worldwide that closes that big/important of a street every week (many cities closer smaller streets, but nothing like this).
So out I went – ready to brave the new streets – without the fear of being kidnapped.
It was pretty awesome.  The Reforma is closed to traffic every Sunday from 8AM to 2PM, and I got out there shortly after it closed.  So at first it was just a trickle.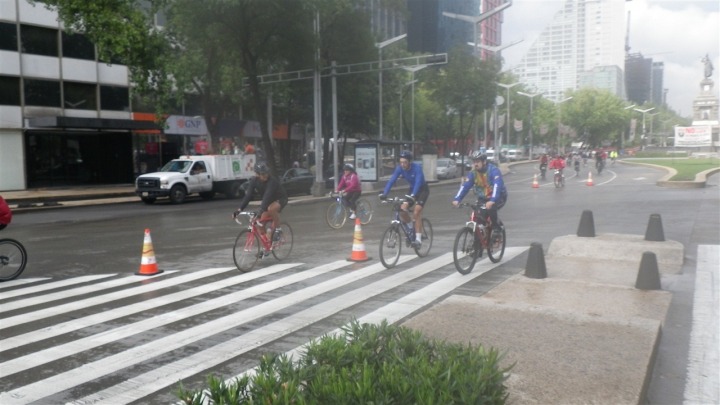 But soon – there was a TON of folks out there.
They even had free Gatorade, water and granola bars.
Of course, if you wanted to rent a bike you can do that at tons of street corners, or via their subscription bike system, below: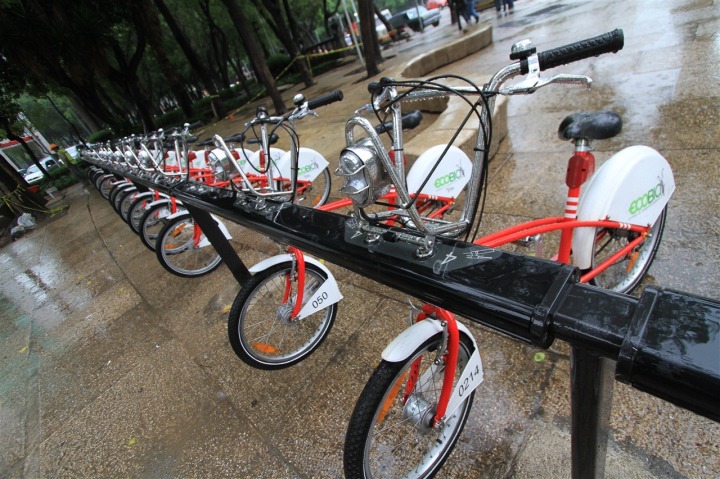 Along the way a cyclist that spoke English (and was from DC) chatted with me briefly and noted that because it was the last Sunday of the month, they actually closed down 32K of streets in round-the-city circuit – and that the big group of folks I saw earlier was the local police, all out in a bike exercise program.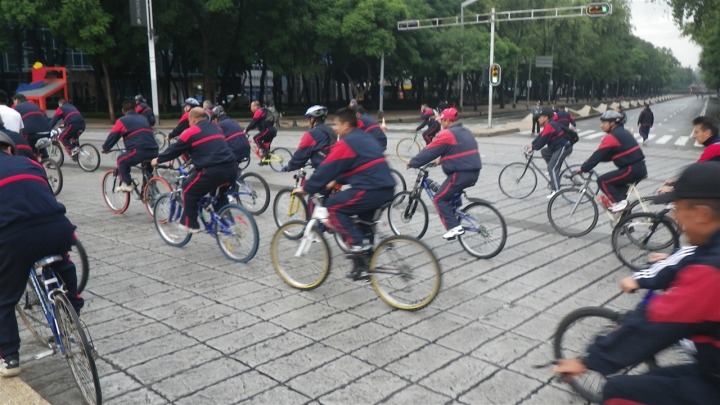 As for my run – I had an awesome ten-miler outdoors – my last workout before heading to the airport.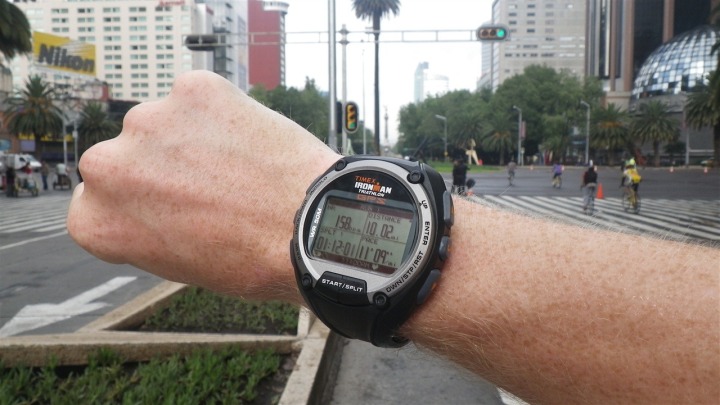 Later that night I'd arrive at my current destination…unfortunately, I can't even step outside the hotel here due to safety reasons. 🙁
Gym bound I am…