We made the 2,306 mile aeronautic trek into my hometown of Seattle late Tuesday night (well, actually, my hometown in Edmonds…but those are just details). After a short weight at the baggage claim for our bags, we were off to the house.
Wednesday morning came around awfully quick.  Though, as is always my favorite – going from East to West means you naturally wake up kinda early.  Given I'm not an early bird, this is a bit of a cherry on top moment.
We (My brother, Dad, The Girl, and I) and began our short trek over to Stevens Pass ski area, about 90 minutes from Seattle.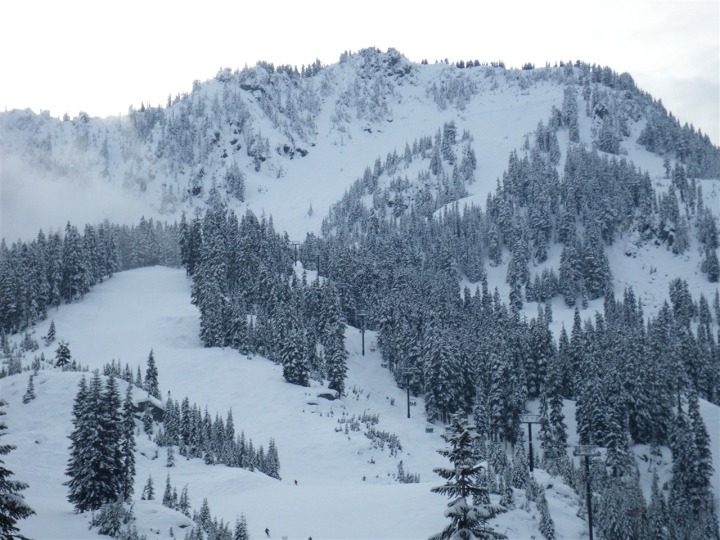 Below is the life up the steep section to Seventh Heaven – with the toughest runs inbounds at Stevens, all double diamonds.  We saw, we conquered, and we moved on.   Though, the camera was regrettably not deployed during that section.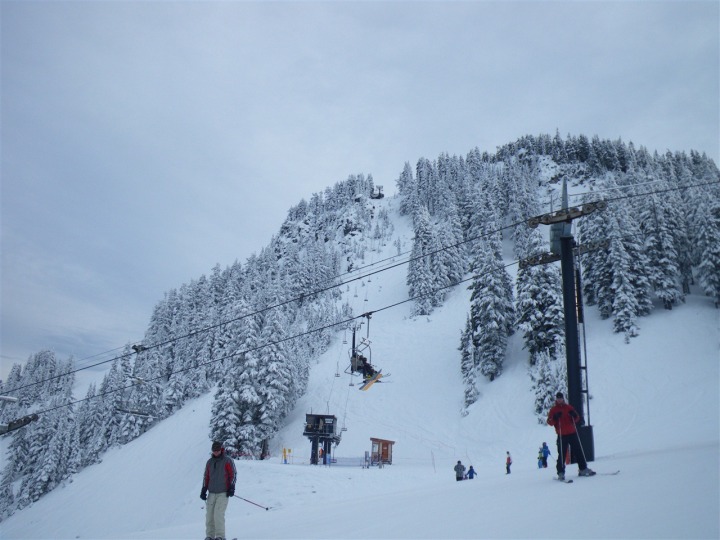 This is my brother.  I have no idea what he's doing.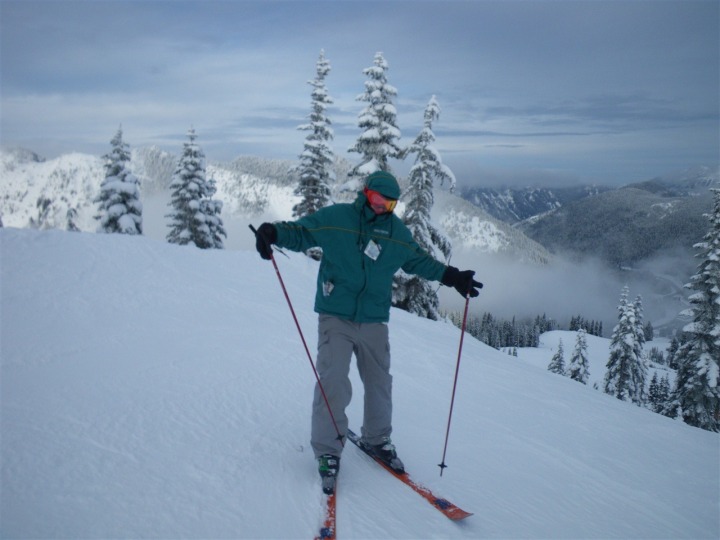 I found a run named 'Skyline'- which…is vastly different from the long 100 mile National Park road that I ride in the summer.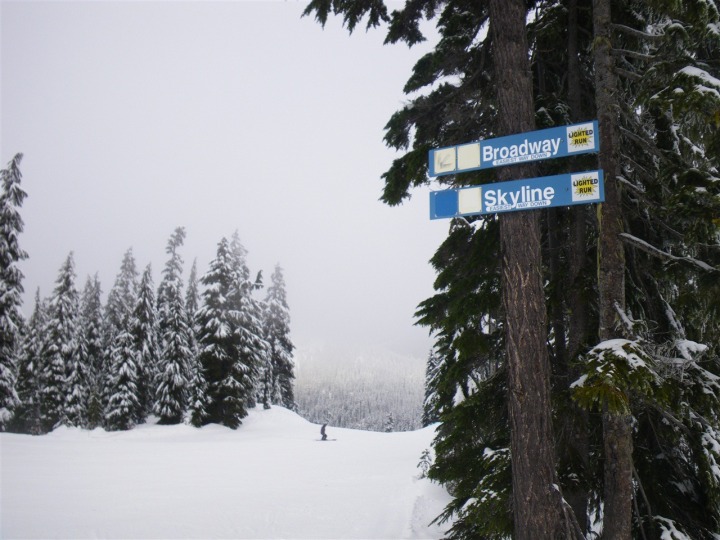 It's unclear what the sign is specifying here.  Likely it's the jumps in the terrain park, but I certainly wouldn't wanna be caught standing next to the arrow that says small.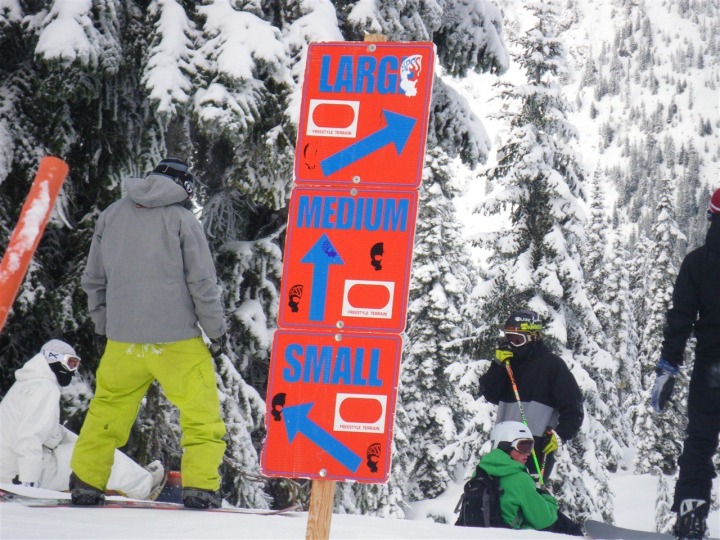 In the final few runs, the sun started to peak through the clouds.  It was always sorta poking around, but never quite as nice as until the end.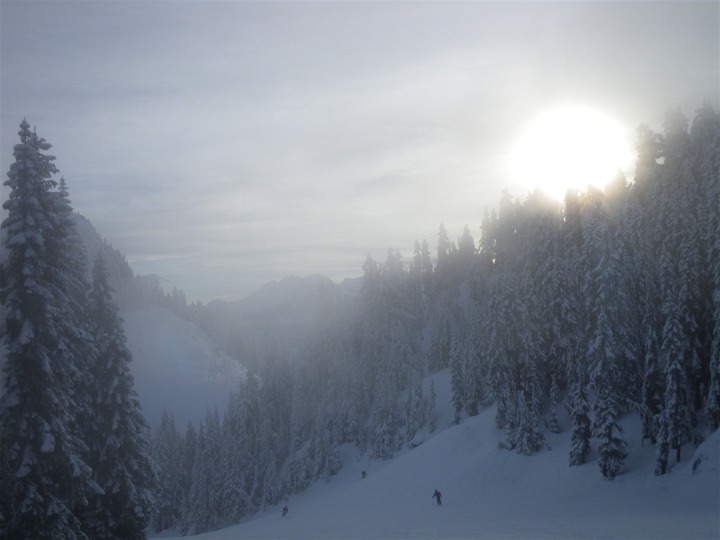 I played around a bit with the Real Ski App.  This is pretty interesting.  It allows you to use the camera and it overlays the run names/chairlifts, etc onto the image.  As you turn, it updates.  It uses an internal accelerometer, compass, and GPS to do this.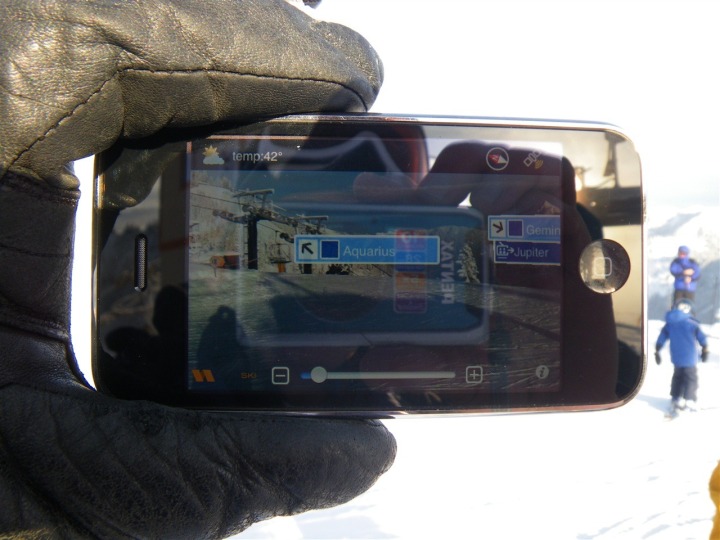 Here's a quick few second video showing it rotating at the base with all the stuff automatically showing up on the screen.
You can get more info here (it's free for some Ski Areas).  To be fair, while this is cool and interesting…it's also by and large completely useless. 😉
Oh – and don't forget to buckle-up!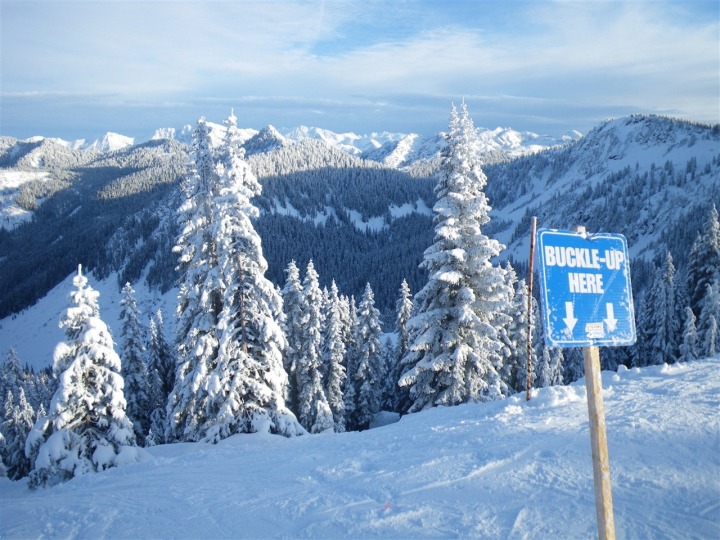 Here's my little GPS track of the place using the Garmin Edge 500: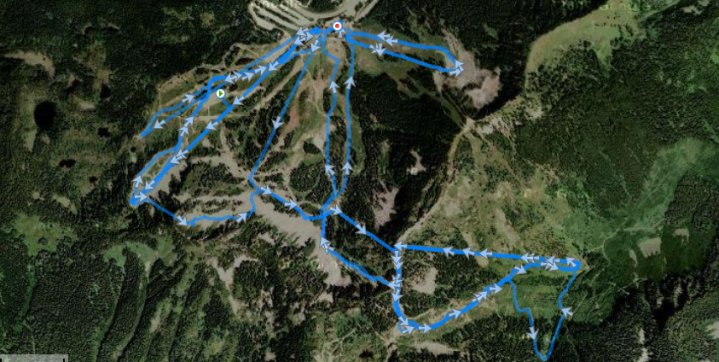 On the very last run, my brother and I raced from top to bottom.  We hit 50mph, which is still 20mph off of our recorded record.  We suspect given the conditions that day and with one more run with one of us spotting, we could have done 60mph probably.  Oh, and of course, I won. 😉

The next morning (Christmas Eve), the Girl and I bounced all over the Seattle area checking out places.  Even though I lived here 22 years, I found (after the fact), this pretty cool page with places to take photos in Seattle – check it out though if you're planning a trip here.  Here's a couple of quick pictures from the market: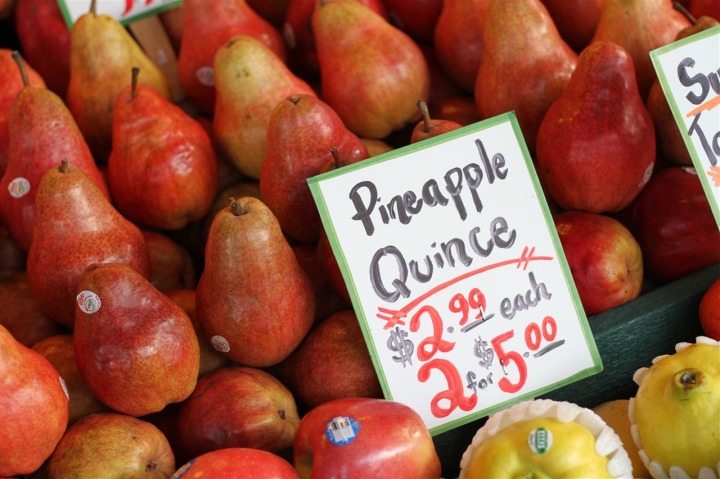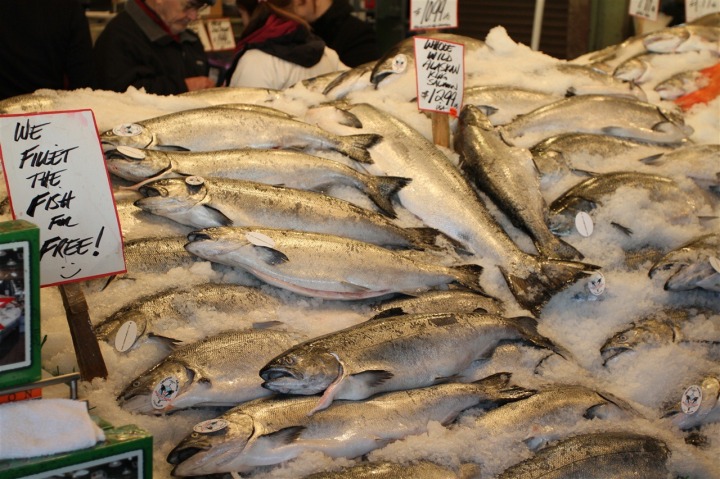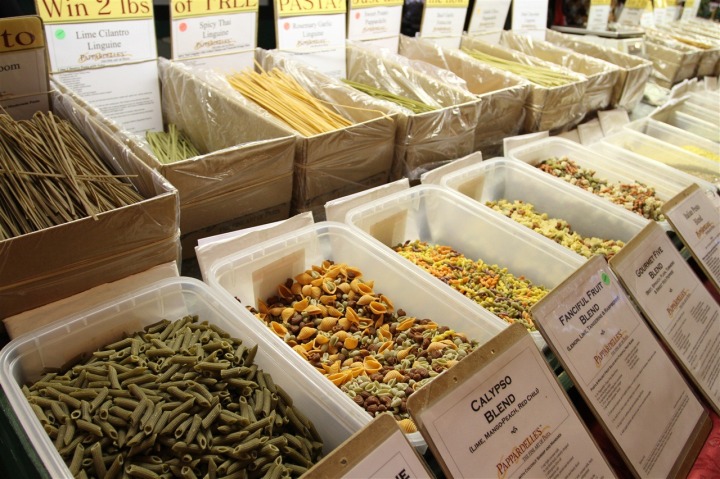 That night my Dad and I put together the turkey brine, that's him below doing the patented quad-pour of stock.  And I also cooked up a beef tenderloin roast, check out my carving job.  It's pro.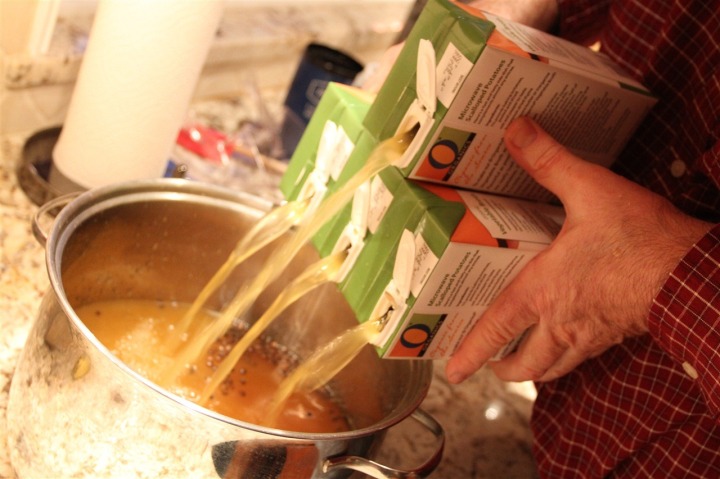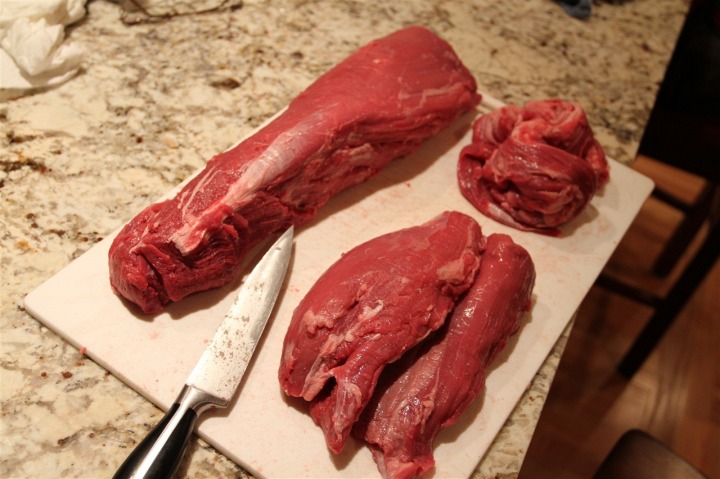 And then I wrapped up Christmas presents to put under the tree.  I even cut out little Santa heads from the wrapping paper as name labels.  Though, the panda bear on the left package got a bit of a head wound.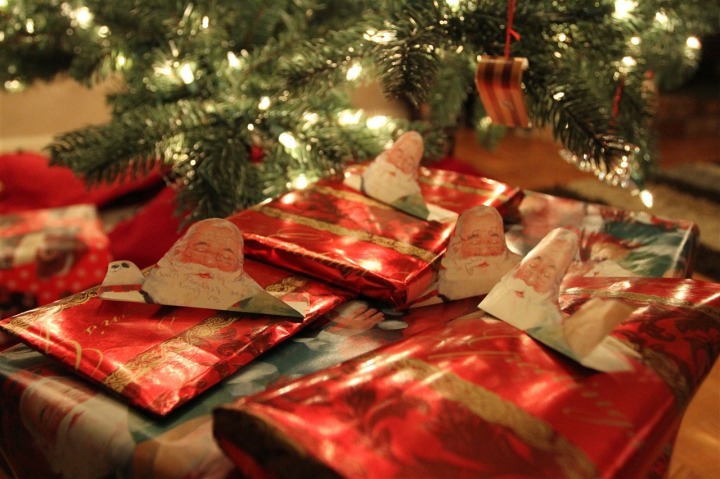 And soon, before you knew it – it was time for Christmas!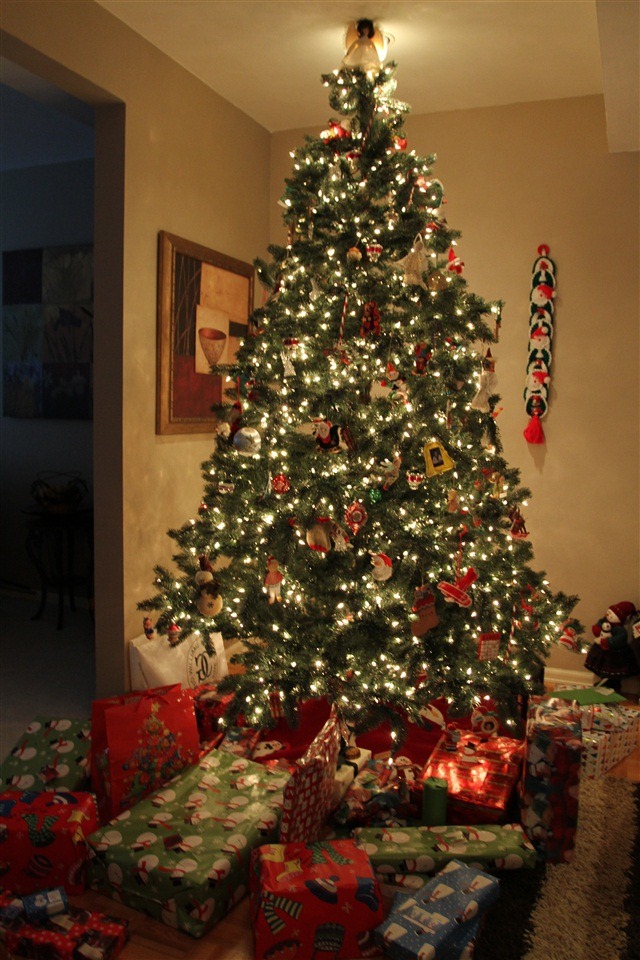 Check out these bike ornaments I got: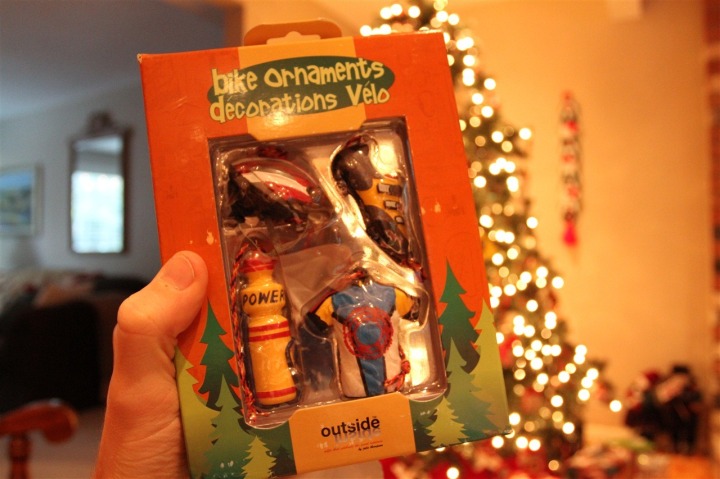 Or perhaps the little bike crank below.  It's a compact crank.  Haha…get it? Oh..no? Go read this then.  It's alright, soon you too will be a bike—wannabe-jedi (I'm not a bike jedi, just a wannabe).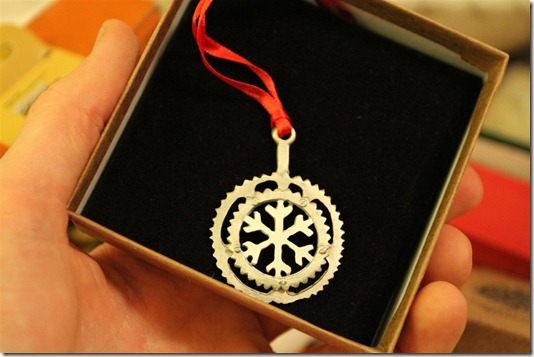 Can you beat this?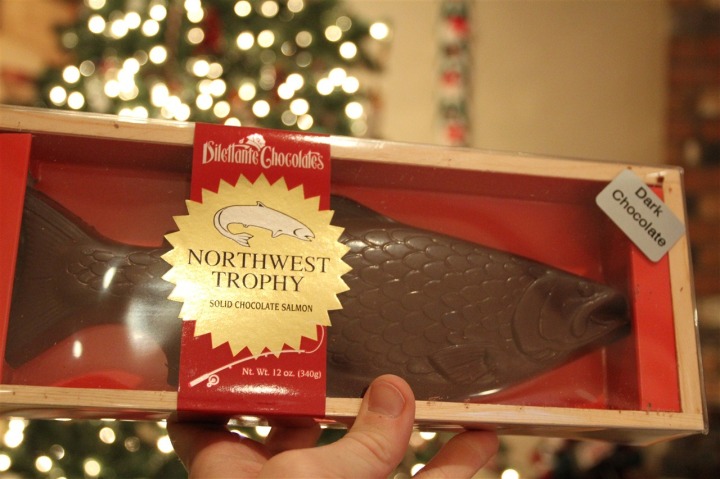 My brother then cooked up some breakfast, here he is hard at work.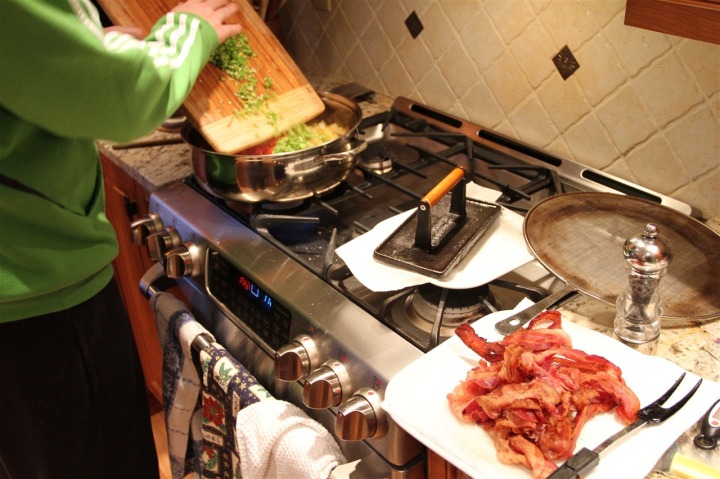 In the mean time The Girl and I went out for a run with view of the snow covered Olympic mountains and the Puget Sound.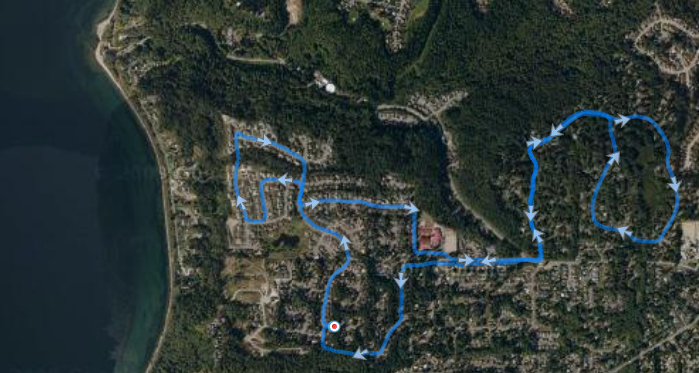 Upon our return, we were all put to work.  My initial job included the Quince Cranberry sauce that I make.  Good stuff.
Along the way Mr. Turkey came out of the oven too: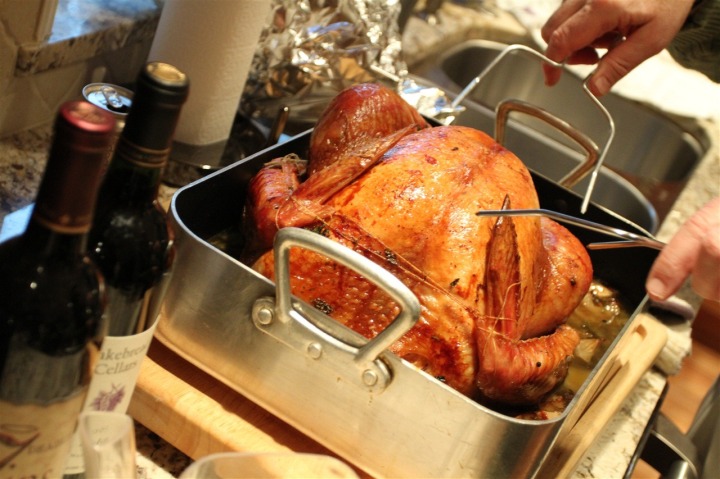 And finally, it all ended up on the table.  And in my belly.  My belly was full.  Very very full.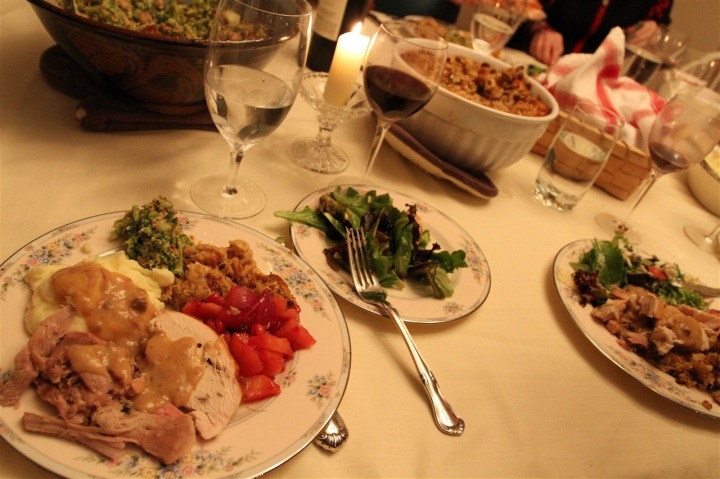 Oh – and then there was dessert.  Sooo good. The Girl puts the finishing touches on a pumpkin torte.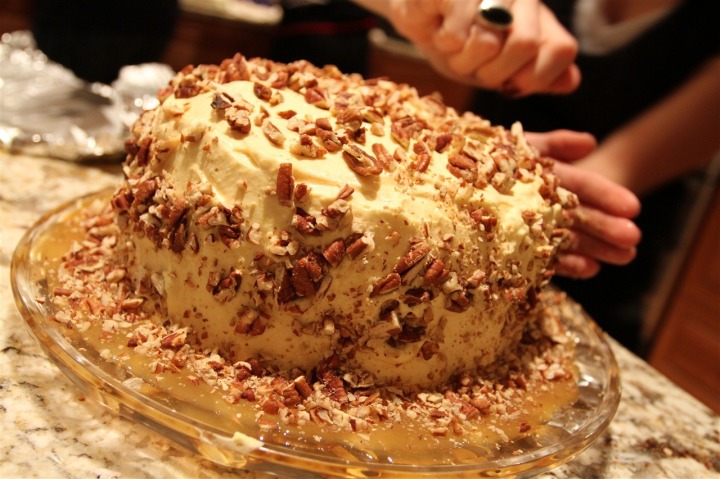 Post dinner I spent a fair bit of time getting cozy with the printer.  I was printing off all of the confirmation information for the two week trip the Girl and I are embarking on.  I always like to have a paper copy of complex international vacations.  I don't worry as much on business trips, but for vacations with over a dozen flights and half a dozen countries, little pieces of paper can sometimes save you.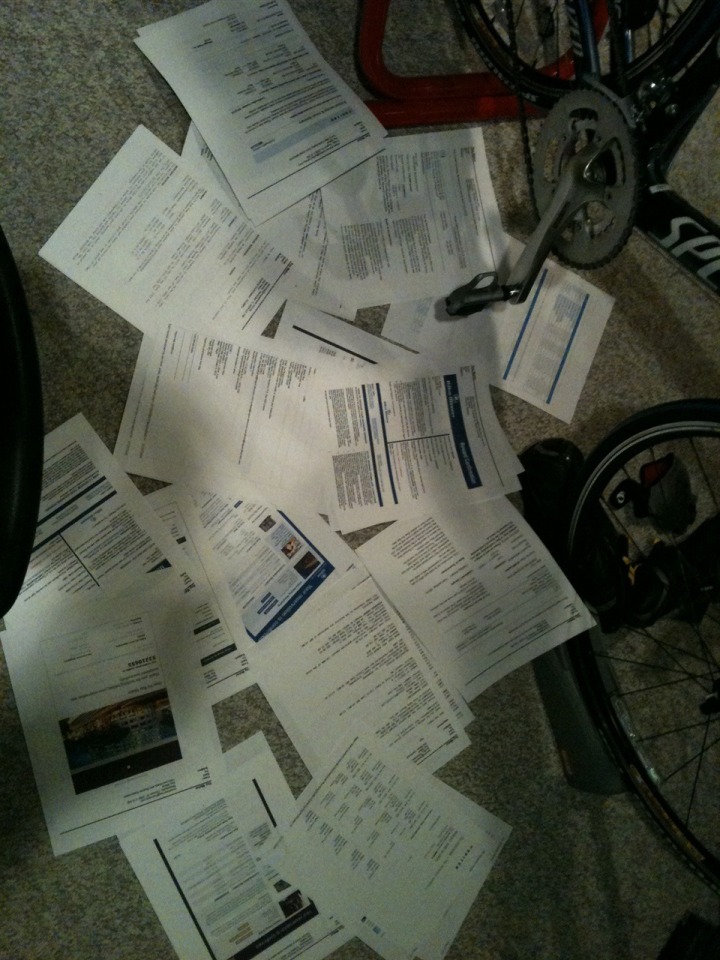 So with that…catch ya on the flip side (of the world…)…