Since late spring when Ironman training pretty much took over any free time I had, my time to good decreased quite a bit.  But in this recovery week since IMC, I've had a bit of time to get my cook on.  It probably didn't help matters that the new Williams and Sonoma catalog arrived Thursday…loaded with good recipes. Here's what the weekend entailed:
Thursday night: Fresh Pesto Fuseli sprinkled with Mushrooms and Pancetta
I'm not sure where all my prep photos went too…but, here's the finished product.  And yup, I made the pasta myself.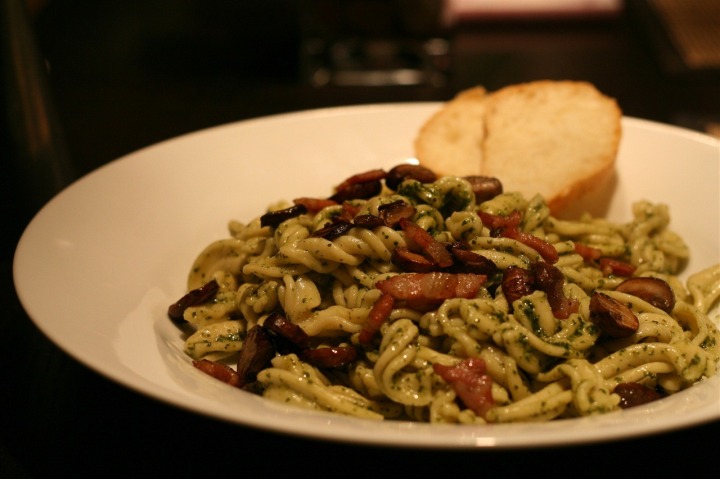 Friday night: Caramel Braised Pork
Saturday:
Lunch: Croque Madame
Dinner:  Herbes de Provence Rotisserie Chicken & Leek & Pancetta Risotto with Fines Herbes
I did the chicken on the grill, and the Risotto inside.  Both turned out great, but that Risotto recipe is totally awesome.  My new favorite by a mile.  We ended up having dinner out on my little deck, with the tomato and herb plants to the side (and Hootie, the plastic owl).
Sunday:
Sunday I took off cooking.  But…the girl did not.  She whipped up these very fancy cupcakes.  The topping is a white chocolate thing of awesomeness.
Monday:
Monday I was back at it.  For dinner I made Steaks au Poivre with Sweet Potatoes Fries.  And yes, I cut and made the fries myself.  The sauce was a shallot red wine reduction sauce
The astounding part here is really the fact that over the course of the last week I've actually lost weight…consistently…every day.  It was only today that I finally halted the weight loss and stayed steady.  This all despite only working out about 30 minutes each day.  My kinda workout to food ratio!