It started first with somehow showing up late to the race shuttle bus.  Because I missed it I had to hitch a ride on a golf cart that speed to catch up to my wave.  I arrived just in time to see my wave starting.  I followed suit figuring that'd only put me a few seconds behind.
As I ran into the water I realized I had on a life jacket…and my helmet – under my swim cap.  After disposing of the life jacket (but keeping the helmet), I continued to swim down the course…through the canals of Venice.
I made good time during the swim and finished relatively quickly.  But I couldn't find T1 and spent 10 minutes wandering around trying to find the bikes.  In the process a nice old grandma offered to let me use one of her four incredibly expensive tri bikes.  I declined and instead went on to find my bike.
Upon arriving at my bike, I realized I forgot my cycling computer, which meant I was going to race completely blind (no  speed/HR/distance).  However, I soon realized I also forgot my race wheels and most importantly forgot my cycling shoes.  Usually I only forget a few minor things…this was just outlandishly ridiculous.  I went off to wander through the finish line festival area to beg for a pair of shoes.  Yes, the race is still going on and the clock still going.
Well…until the alarm clock rang anyway…
Time to go out and run 🙂
I always love the days before a race, as I get nice short quick workouts prescribed.  Today was only a 25 minute run tempo encompasses about four miles.  Although a bit chilly and windy, it's a great day outside.  Tomorrow's lookin' pretty nice as well weather-wise, it should rise to a little above freezing, perfect for a 10K.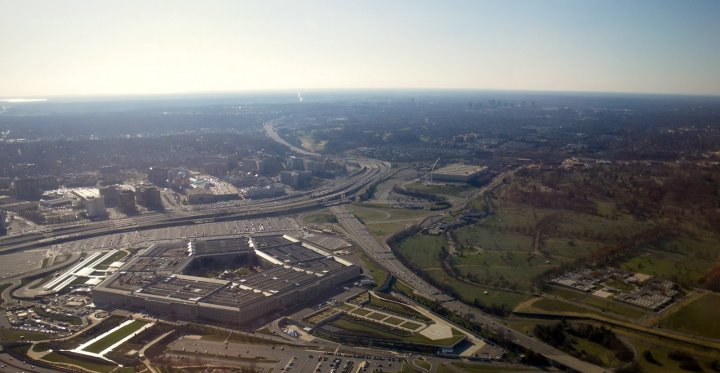 (This morning after my run overlooking Arlington Cemetery, the Pentagon and Northern Virginia)
And…best of all: Only three working days left till I go on vacation…for 3.5 weeks.  How on earth I managed that still defies logic – but I'm apparently a pro at the 'system'.  Over the course of that three weeks I'll cover some serious ground and show off some pretty cool technology in the process. I've got some neat things up my sleeve.  Woohoo!