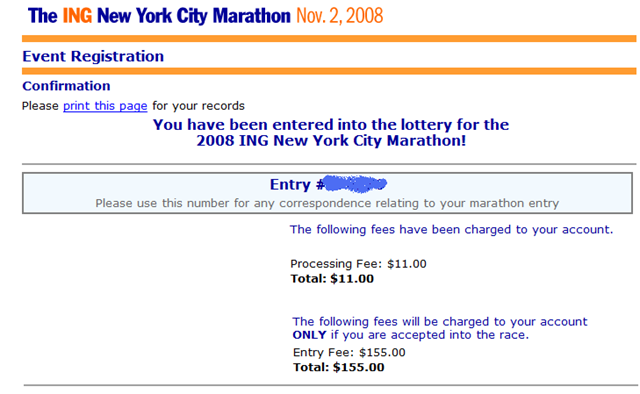 I tried last year to get into NYC Marathon via the lottery. But it didn't pan out (aka I didn't get lucky). I'm trying again this year for the lottery. If it doesn't work out I'll simply pick up one of the plentiful Marine Corps Marathon bibs in late August when everyone who hasn't trained is trying to get rid of them. Which…btw – would certainly be a HELL OF A LOT cheaper than the NYC Marathon. But I don't think I'm really in a position to talk about race fees given the Ironman is $500.
I had hoped to sneak in a race before the deadline to automatically qualify with a 1:23:00 half-marathon time. But I just don't have the time on the training schedule to correctly ramp up interval work and taper time for it. So lottery it is.
My goal is to be able to qualify for Boston next year with this one. That will take a 3:10 time for my age group, which is more than in the cards. But on my predicted time… I put something a wee bit faster in mind. You'll have to stick around till fall to see how that works out.
Oh – and btw, the lottery registration period closes next Wednesday. So get a move on!