No not Ikea.  Not your local LBS.  Not REI.  It's Costco.  Cause where else can you buy a massive gazebo, a pair of jeans and a full uncut beef tenderloin all in the same place?
My day was basically a 10K run and a 40 mile bike ride – interspersed with yet another failed DirectTV install.  Seriously – when I tell you to bring a ladder that can go up a four story townhouse – DO NOT bring a 18′ ladder and then stand around looking confused as to how you're going to ascend the remaining 40′.  Not.to.smart.
Anyway, after that it was time to conquer about three weeks worth of grocery shopping and outstanding Costco items.
Of course the first issue with any Costco trip is battling it out in the parking lot.  Tonight was no exception – this place was more hard core than a triathlon swim start.  People cutting people off, darting out in front of larger moving objects and numerous near crashes.
Speaking of the swim, of note is that the swim goggles are now back in stock again.  Three pairs of Speedo goggles for $15.  Not bad.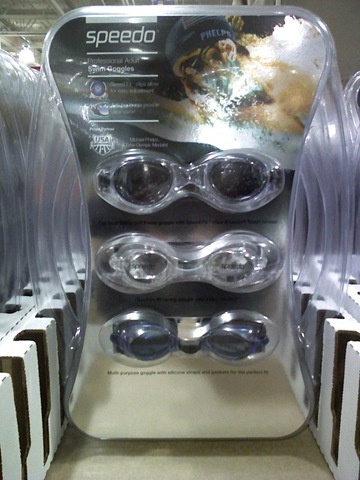 Although I'm a bit stocked up still on goggles from my earlier Box O' Swim Stuff.  So I passed on them for now.
After that, I had to get my Propel stock pile restocked.  Somehow I ended up on empty yesterday morning.  But before I found it (they moved my cheese!), I stumbled into the real reason to go to Costco on a Saturday – samples.  And they were baking little pizza's – woohoo!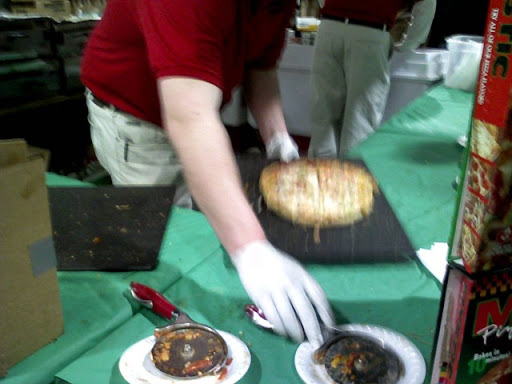 After that, I grabbed a few pair of jeans and khaki's since I've managed to get bike grease on all but two pairs.  I could care less about getting super-special-designer jeans.  These are Levi's and they're cheap.  I'll likely ruin them within 45 days anyway.  I topped off the cart with a pineapple, since it was rockin' cheap ($2.99!).  Then it was off to the checkout stands.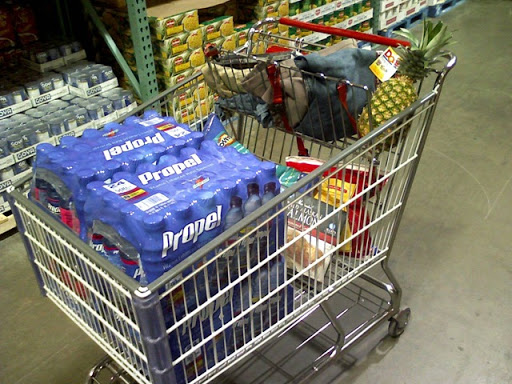 My checkout choices weren't good, so I settled on a line that had the least number of items in peoples carts. 
I miscalculated.  Badly.
Apparently when someone tries to buy 15 chickens things go awry.  The FDA or animal society is called in and the whole situation breaks down. 
Wait – you thought I was kidding about the 15 chickens?  Nope.  Seriously – 15 little chickens.  That's like a whole family farms worth of the little chickadees.  And because you might doubt me – I bring forward proof – a cart full of chickens: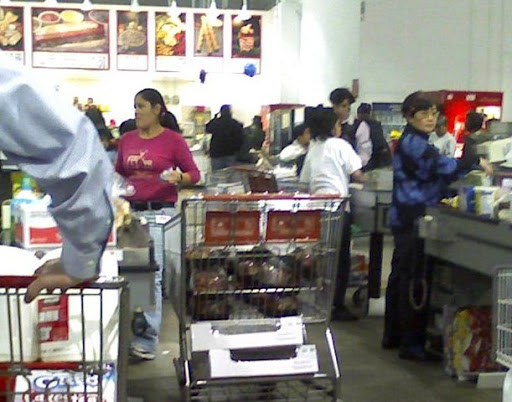 After my Costco antics it was a not-so-quick stop off at the grocery store for my remaining items, and then finally dinner.  Cheese Steaks from a nearby Philly Cheese Steak place.  No, it wasn't healthy.  But I ate semi-healthy all week.  And it was better than eating 15 chickens.