I haven't been to an NFL game in probably 10-15 years – at least.  The last one that I would have gone to would have been the Seahawks when they still played in the Kingdome.  Not to say I don't enjoy the NFL – I do, it's just that tickets are expensive and if I'm going to go to a game and lay out the cash I'd prefer that I do it watching my 'hometown' team – the Seattle Seahawks.
So a few months back a few friends of mine (all from Seattle, but translated along the East Coast now) hatched a plan to go to Philly to see the Seahawks play the Eagles.  Of course tickets were sold out – but we managed to get them through Stubhub and the prices were only about $30 above list, not bad at all.
A quick check of the weather revealed much uncertainty.  It could rain, it could snow, it could 'ice', it could gust, and it could do nothing but be cold.  Helpful those weather people were.
So I packed enough winter gear to go on an expedition across the ice caps and set off for a quick 2.5 hour drive to Philly.  Of course, the first stop was Pat's to get a cheese steak (Wit-Whiz – translated – With Onions and Cheese Whiz).  While there are a number of 'famous' cheese steak places – I tend to frequent Pat's, mostly because that's about all I know.  And if I'm going to drive 2-3 hours for a cheese steak; I don't want to screw around and get a bad one.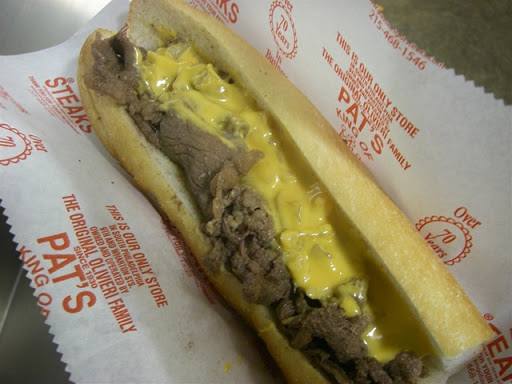 From there it was a quick jaunt over to the stadium.  Our seats were the second to last row on the upper deck, but really it was a fine vantage point as we were about on the 35 yard line.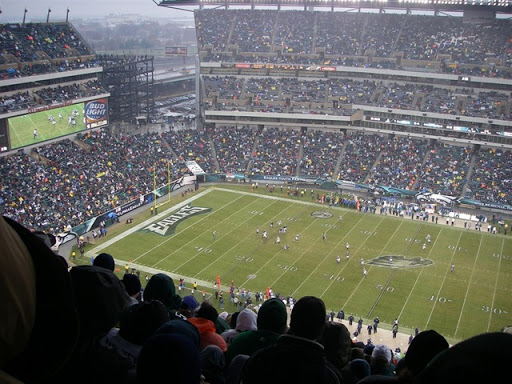 And the best thing is that while during the majority of the game the sky rained a slushie mess down on everyone else, we were covered by a little portion of the roof.  Sweet!  My clothing plan worked well and I managed to stay warm the entire time.  It's much more difficult to plan for staying warm while sitting still for three hours than it is to stay warm while doing something athletic (running, biking, skiing, etc…).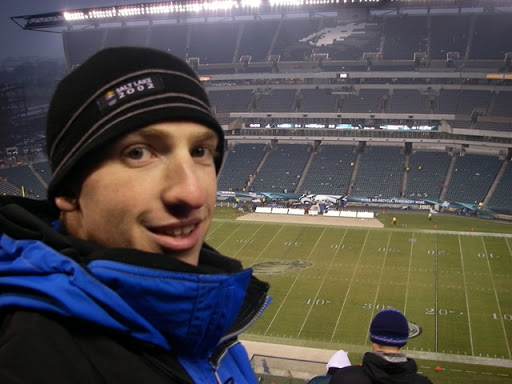 After we finished watching the Seahawks take care of the Eagles – we went back to Pat's for a dinner-time repeat.  Oh – and I had made chocolate chip cookies last night, so we ate about the whole batch as well over the course of the day.  Good stuff.