What is Pepperoni Bread you ask?  Ahh..it is the greatest creation of all time.  Simple, yet great.  Bread, cheese, pepperoni – all rolled up into one easy to consume appetizer (perhaps too easy).  In my family this stuff makes the rounds in huge quantities around the holidays, and occasionally at other random events throughout the year.  It's  easy and quick to make.  You could make it more complex if you wanted to (such as creating your own dough), or easier (like buying pre-shredded cheese).
Note to male brethren: This recipe is unlikely to cause females to fall head over heals with your culinary capabilities.  Because let's face it: it's three ingredients (pre-made), with 10-15 minutes of prep.  And it's a little greasy. However, it will be a big hit at the football party.  For female wooing recipes you'll have to wait until my home made balsamic reduction & pesto sauce on fresh gnocchi.
Things to buy:
Package of three frozen white bread loafs (see package picture below) – I get Ready Dough, but really anything would work.  Well, don't get dinner roles, that wouldn't work.

Package of pepperoni (usual package size, 6oz or so)

Block of Mozzarella cheese (1lb)
How to put it together:
An hour or two prior to your planned baking time, take out the bread rolls and let it defrost on the counter.  It won't take long, so don't let the sides get hard.  This recipe will only use two of those rolls, save the other one for later – or buy more cheese/pepperoni.  Or bake some bread.
Once ready, preheat your oven to 350*F.
If you bought a block of mozzarella cheese (un-shredded), go ahead and shred it.  Just use the largest shredder holes on your shredding block (or Cuisinart), don't worry about making it look pretty – it will all melt into cheesy goodness.
Take one of the dough rolls, and make a ball out of it.  Roll it around until it's a pliable (flour on the surface is your friend).  Once you've got a functional dough roll, I usually split it in half to make it manageable in the oven.  It's not required – but it makes life easier later on.
Take one of the two halved pieces and roll it out using a rolling pin to make it a flat square shape.  It doesn't need to be perfect, but don't roll it too thin otherwise the cheese will burst through it in the oven.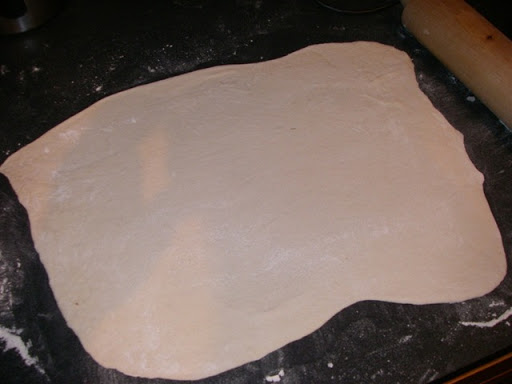 Once you've got a large flat squarish looking thing, take some cheese and layer it on top.  If you're not sure how much cheese, take the cheese you shredded and dive it into four piles.  Just use one pile per role.
Once you've got the cheese foundation laid down – pile on the pepperoni. I try to space them a little bit so it doesn't become a mess.  It will roughly look like below once you've put both cheese and pepperoni on.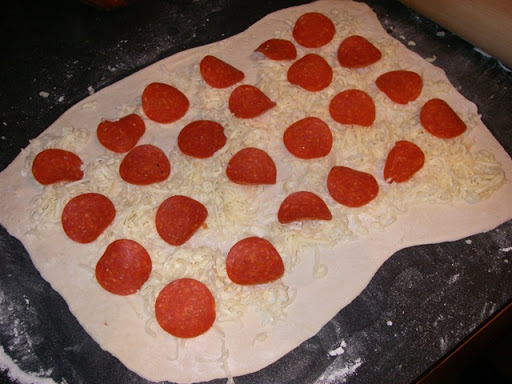 Now that you've got the goods laid down – it's time for some rolling action.  Simply start at one side (long side) and roll it up towards you.  When you're done pinch the ends a little bit to prevent leakage.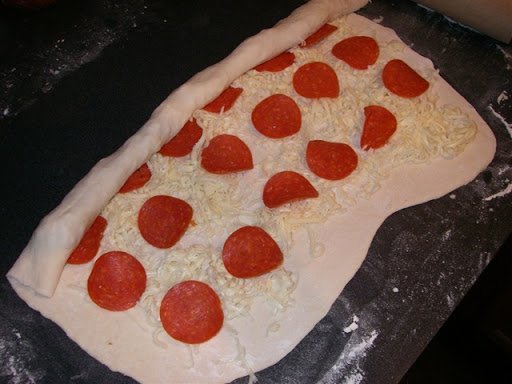 Once you've finished the other three, throw them onto a cooking sheet.  I would use some sort of nonstick surface if you have it.  Toss in the over and cook @ 350* for about 20-22 minutes, or until it looks golden brown.  When it's done, take it out of the oven and let is sit a few minutes to cool down.  From there, just slice it into little pieces of cheesy goodness.  I usually freeze most of it for consumption later on, and I freeze it un-sliced (but cooked).  To reheat just toss in microwave.  It's great for a quick fix before (or after) a long ride.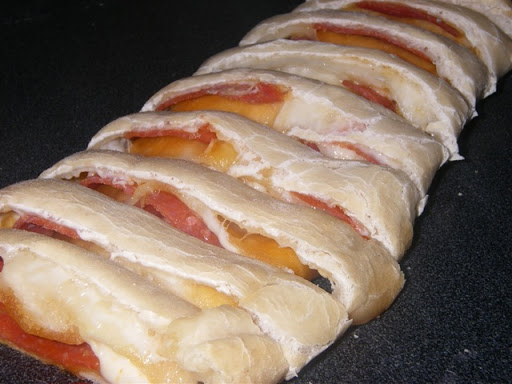 (Oh, and to those curious – you'll get plenty of triathlon related posts in the coming days and weeks – I had tons of time today on the plane to write up all sorts of good stuff).  But for today, you get food.