For future athletic reference – 13.1 miles is a long way to run at a 6:20 pace. Which is why my body made the decision this morning it was going to run it at a more 'gentlemanly' 6:36 pace. My legs no longer feel as though it was very gentlemanly pace – they're sore already.
Here's the recap of the day:
I went to bed around 9PM – a side effect from being up at 6AM Saturday morning, this gave me tons of sleep and I was up before my alarm clock at 5AM. I ate my breakfast of champions – banana, Snickers energy bar & a Propel – and then headed out the door. In a rare moment of pure genius I decided not to check out of the hotel. Actually, to be truthful – I was just too lazy and decided the automated system would automatically check me out eventually. This turned out great though for getting a hot shower after the race (cause I was pretty darned cold).
They used these new 'chips' for this race. They're actually pieces of paper that have an RFID tag built into them. You simply put it through a shoe lace and off ya go. It didn't move or brush up against my leg – so all was good. And it's simply disposable afterwards. Although with the tag on me, I kinda felt like an item waiting to be scanned over a checkout machine. Check it out: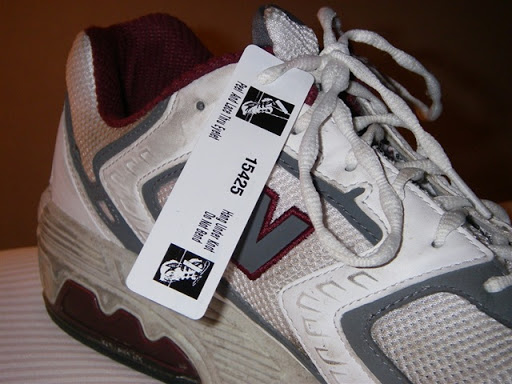 I was a bit confused by what to wear given the weather conditions. It was advertised as mid-30's with light rain. That's a bit in the weird zone of clothing options. I ended up wearing standard running shorts, a long sleeve tech shirt and then a singlet over the top of that – figuring that if I got really hot I could toss the long sleeve and just go singlet. I also had a ski hat on, and a pair of $2 clothes I got at the expo. I tossed the gloves at mile 2-3, and the remainder of the clothing worked pretty well. At a few points I did temporary consider tossing the shirt. But I only decided against it because taking the shirt out from under my singlet while running was going to be rather challenging.
Anyway…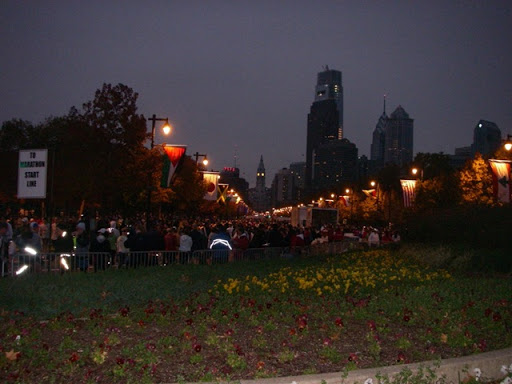 I found a spot at the front of the starting line – way closer than I ever dared venture in previous races. I was maybe 10yards back from the starting line. Yet amazingly, like every other race, there were people who insisted on walking 'from the front'. Seriously.
Once I got past them, I was off on a scenic tour of Philly. It really is a nice course, lots of stuff to look at. The spectator support is pretty good on the downtown side of the river. I started off my first mile with a 6:40 pace (as planned), and then dropped it down to a 6:10 pace for the second pace (wee faster than planned) and then stabilized to a 6:20-6:30 pace for quite a while. Between mile 9 and 10 I slowed a bit due to a large hill – someone had said the course was pancake flat – they lie! There were actually a number of rollers along the way, each one of them chipping away a little bit at my pace.
I never quite stabilized on a 6:20 pace (my goal pace) and despite doing more mental math on the run than you can imagine, there was simply no way I was going to finish in 1:23:00. Actually, there was one point at mile 9 where the math worked out in my favor…and then I realized I worked the math wrong.
I ended up checking out the finish line in a time of 1:26:31 – or a 6:36/mile average. So while I didn't hit my goal time, I did PR by 12 minutes over my last half-marathon back in March. And shaved off 23 minutes over a year ago. I've got until around June 1st to get it down to 1:23 – so plenty of time. I think I can do that by February/March.
The other really good piece of news is my place. I finished 63rd overall out of all half-marathon finishers (4325 peoples). And more importantly – I managed to crack top 10 in my age group (M25-29) with 9th place. That's assuming they don't change the results…again.
So all in all – a good day.
Finishers medal: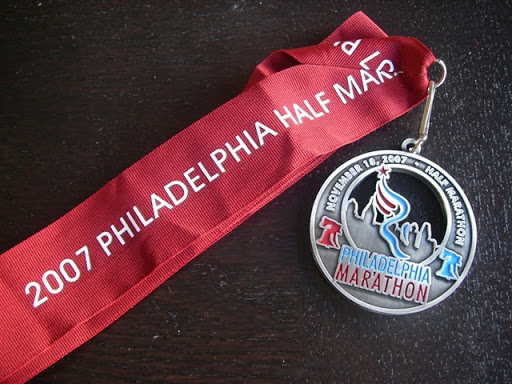 The finish line area: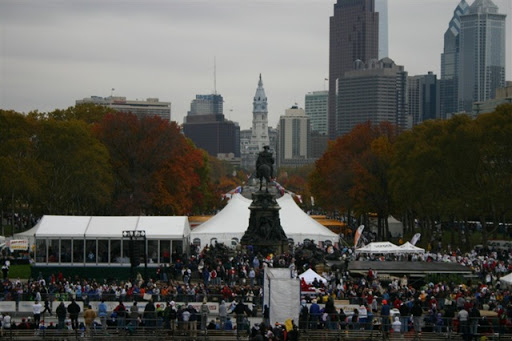 A lot of port-o-potties (they actually had two full lengths like this):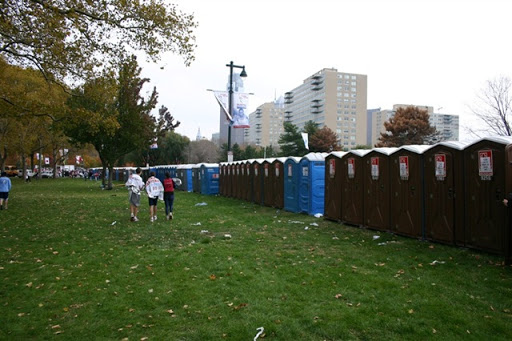 And finally – the winner of the marathon, about 100 yards from the finish: