This has been a busy last week or two for Apple, especially in the watch realm. But also in other areas like expanding out iPhone 14 Emergency SOS via Satellite to some European countries.
In this quick post, I'm going to iterate through what's new on the Apple Watch side, and give a few thoughts on it. Given this is basically a firmware update-style post, I'm going to try and cover as much ground as possible. Also, some of these features are not available in all countries (including mine), making it a bit trickier to test.
However, I've included a video from DesFit above, who was able to test the Track Running and Race Route features.
Note that these updates come via Apple watchOS 9.2, which is available for all Apple Watch Series 4/5/6/7/8/SE/Ultra editions. Both of these new features were previously outlined during Apple's launch keynote all the way back in September. With that, let's dive into it.
Running Track Mode: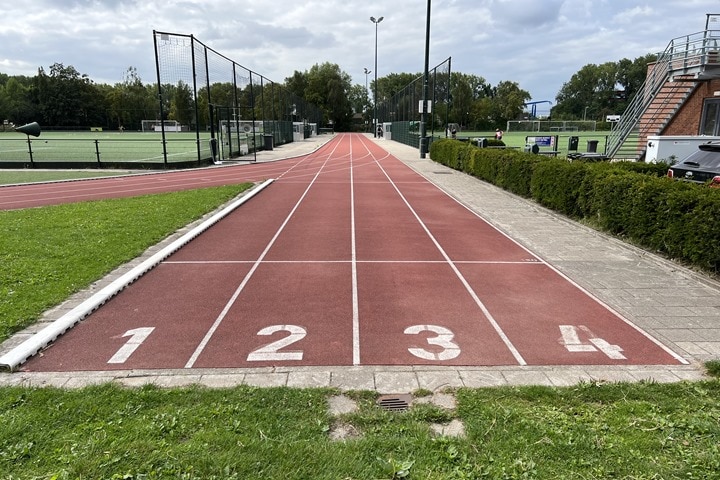 This first feature is only for the US, as it uses an Apple Maps database of all tracks, with the exact track parameters. This works both at the track, as well if you start a run away from the track and arrive at the track. When in the Outdoor Run mode, once at the track (either at the start or mid-run), it'll prompt you for the lane you're using. At that point, it'll track your workout and map snapped to the track.
You'll get lane-appropriate distances, and your satellite map will even be snapped to the correct lane. Additionally, it'll show (as seen above from DesFit), the exact lane number you're running, as a reminder.
This model is hugely different from what Garmin/COROS/Wahoo do with their running track mode, which 'learn' the track within about 1-2 laps. It then saves that specific track for the future. While Apple's method has the benefit of skipping the two-loop learning phase, it's also not really scalable. As I've said all along, this is the one area I pretty strongly disagree with Apple on. It's only available in the US today, it only works on "standard 400m tracks", specifically per IAAF specifications, and won't work on the myriad of other 400m tracks with other quirks (whereas the Garmin/COROS/Wahoo methods do). For all the algorithmic prowess that Apple has, I'm still perplexed about why they'd go down this route. In any case, I might go to CES in January, and if so I'll give it a whirl – though, the track I typically use at UNLV next to the Las Vegas strip is certainly IAAF, so it's probably not too much of a good test of things.
That said, I do like how Apple automatically notices you're at a track (using location data), versus Garmin/Wahoo/COROS requiring you to select the track mode specifically.
Race Route (Running/Cycling):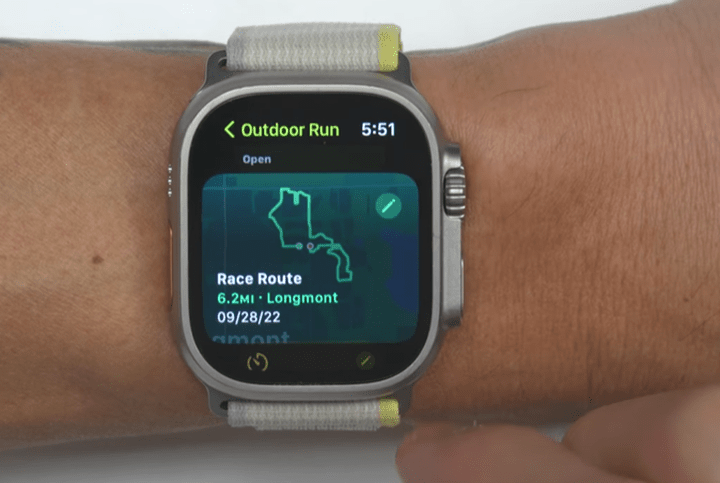 This next new feature is effectively a virtual pacer, for known routes (both cycling and running). A route is defined as having the same start/end points, the same overall distance, and a route map. It requires the route to be done twice. To access this you'll tap the "…" next to the Outdoor Run/Ride profile, you'll be given a list of routes to choose from.
Once you've selected the route and get going, you'll see both your duration remaining (distance), as well as whether you're ahead or behind your previous effort (and by how much time). If you deviate off the planned course, you'll get an off-course warning. At the end, it'll tell you whether you won, and then give you added information in the app.
Sadly, while I actually can test this one here in Europe, I can't seem to get anything to enumerate on any of my watches. I suspect this is because I actually very rarely run the exact same route twice. I'm always tweaking routes just slightly. For example, while I may do my city/building test section repeatedly – I can actually do it forwards or backwards, and then in turn, how I get to that spot varies quite a bit depending on whether it's part of a super-direct short run (5KM) or a longer run. And finally, from where I start (home or the office). Compounding that is that I have multiple Apple Watch units on multiple accounts, meaning that my data isn't super consistent. And finally, I've had so much traveling in the last 4-5 months that my routes are literally all over the world.
Nonetheless, what Apple is doing here sounds like good technological building blocks. Of course – the holy grail that I suspect Apple is ultimately going for here is having the ability to download pre-planned routes to it, and then of course offline maps. But hey, one step at a time.
17-Hour Iron-Distance Triathlon Battery Update: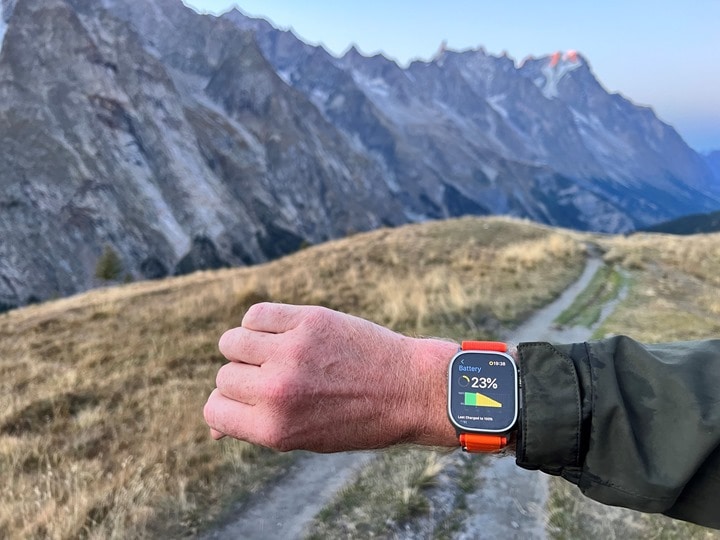 Apple has updated their battery life claims for the Apple Watch Ultra and doing longer timeframe events. Previously, the claim was "most triathletes" could complete an Iron-distance race. Apple basically looked up how long it took the average triathlete to complete an Ironman (~15hrs), and then kept themselves safe there. However, an Ironman race allows up to 17 hours. Apple has updated their claim, with version 9.2, to now reflect that in their December 2022 testing, with an Apple Watch Ultra in regular low-power mode with LTE enabled (not the crazier low-power mode variant), you can get 17 hours of battery life. This claim explicitly calls out being an outdoor multisport workout, and further even specifies the exact distances of an iron-distance race (2.4mi swim, 112mi bike ride, and 26.2mi run).
Having full-fidelity data in this claim is notable because the crazier low-power mode is entirely useless from a data standpoint. In the crazier mode it massively reduces GPS/HR data. Whereas the regular low-power mode still has full fidelity GPS & HR readings (but changes the screen to gesture-based, versus always-on).
Apple's own site is a bit fuzzy on which mode variant they use, but I've confirmed with them specifically that this 17-hour claim includes full-fidelity HR/GPS data. Also, if it had been crazy-low-power mode, then it would have been under that other section heading. When Apple talks about the crazy-mode, they refer to it as "with fewer GPS and heart rate readings". I fully agree with you that this is confusing. Having a different term for this would be far easier to understand.
In any case, all of this roughly matches what I saw back this past September in my 70KM trail run/hike I did, where it lasted 14 hours, but I had 15% battery remaining – putting me on target for about 17 hours.
Going Forward: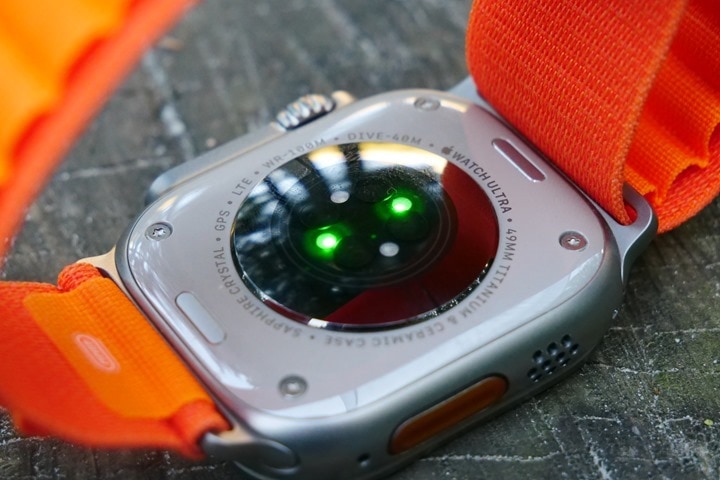 Apple managed to successfully check off all of the Apple Watch sports-focused features they promised by end of 2022 when launching the Apple Watch Ultra. Which then begs the question of what's next? And when?
I suspect a lot is next, and I'm optimistic we won't see Apple take a break. Historically Apple has tended to batch these features alongside watchOS platform updates, which usually float from June to September. But as I believe Apple knows, that's not the way the rest of the endurance sports industry works. In fact, arguably, it's inverted from that.
Endurance sports watch makers generally aim to have products announced/available in late spring, when people are looking to buy watches and other outdoor gear for the summer season (and adjacent timeframes). May tends to be the sweet spot for that. If we look at the next steps for Apple, in terms of creating a watch that competes well in the endurance sports realm, the list is vast. However, there are really a few core bucket-list items that would meaningfully shift momentum. They are:
A) Downloadable route support
B) Downloadable/offline maps
C) Some sort of training load/recovery feature
D) Full cycling sensor support (namely power meters)
E) Revamped backtrack component/feature for mid-workout navigation
There are plenty more items than that of course. Things like adding back in the ability to change data fields/pages on your phone, or being able to create structured workouts on your phone (both of these have to be done on the watch in WatchOS9). Same goes for plenty of usability improvements around the Ultra edition extra button and gloves during workouts.
However, as I keep saying – I would not underestimate Apple here. They've got smart people that are just as much endurance athletes as you or me, and as evidenced by someone signing off on adding running power and scuba diving (of all things!), they're clearly aiming to get into what might have been considered niche watch markets. Things like adding downloadable route support or training load/recovery are standard-issue on pretty much every $300+ watch in the sports realm. And I suspect Apple knows that too.
Thus, good times are likely ahead. With that – thanks for reading!