Wahoo has announced its major changes for the Wahoo SYSTM & RGT apps (Wahoo acquired RGT this past spring), including new routes in both platforms, as well as being the first major platform to add integrated voice chat between riders (complete with private channels and more). Additionally, Wahoo is announcing a Wahoo trainer & Wahoo X monthly subscription bundle for a single price.
All these changes go live today, immediately, across all platforms that Wahoo currently supports. Meaning, you'll be able to download the new versions of these apps right away, and get right into using the new voice chat or new routes without waiting for a future update months down the road.
Let's dive straight into things!
RGT Voice Chat Hands-On: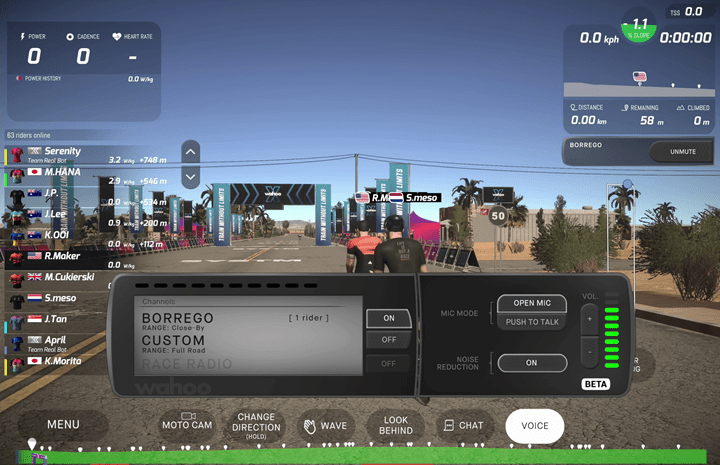 RGT's new voice chat feature finally implements something that countless indoor cycling platforms have been touting and discussing for nearly a decade, without ever actually doing 'For Realz'. Up till now, teams have had to use 3rd party solutions outside the game, such as Discord or others. And while that works fine, it adds a layer of complexity that many users won't bother with.
Now, it's all built-in. Though, you don't have to use it – it's an option. The way it works is that there are different 'channels' and configurations based on what type of ride you're doing. You can create private channels, or use proximity-based channels. There's also a race radio channel. The new voice chat feature is immediately available to all platforms, and includes the ability to control it from the main app, or the companion app.
First up, your hardware; you can use any audio device you want, that includes:
A) Bluetooth headphones
B) Wired headphones
C) Just the mic/speakers on your computer
D) A parrot tied to your computer via twine
In my case? I simply used the mic on my MacBook Pro computer. I joined an event where most others did the same, and one person also used AirPods. At this point you're probably thinking that you'll pick up the sound of a trainer or other weird wind noises. And the answer to that was a resounding 'No'…well…mostly. In three different rides I did, I couldn't hear any trainer sounds at all, nor could anyone else hear my trainer (one ride on a Zwift Hub, another ride on a Tacx NEO 2T). Obviously, the half a dozen of us on this event were mostly using quieter trainers. If you do use headphones though, you'll actually hear stereo left/right which will align to the correct side of you that the rider speaking is on.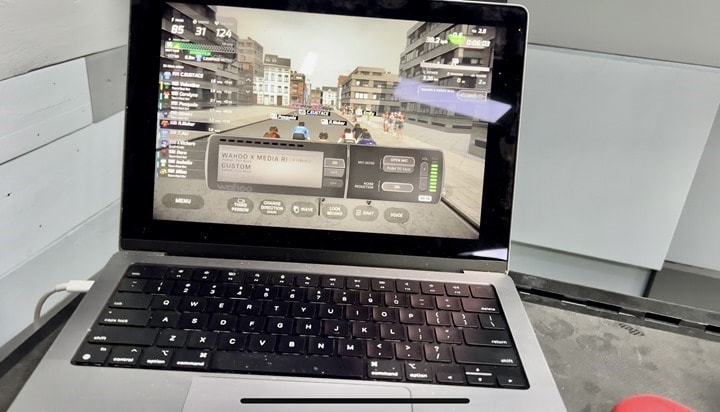 (Sadly, my screen recording from one of the group ride sessions seen above apparently did not save properly, so I've re-done these screenshots without everyone else. Though practically speaking there's no difference visually.)
The reason you can't hear these noises is that RGT implements a noise suppression/canceling filter. That filter is built by Unity (the game engine RGT leverages), which is the same game engine used by boatloads of other games in the industry, with likely tens of millions of concurrent users daily using it – most with voice chat already. Point being, it's tried and true. You can toggle it on/off if need be, but there isn't any customization of the noise suppression levels from a user standpoint.
There were two cases where others could hear sounds:
A) One rider was riding a pre-production Wahoo KICKR Bike V1, which has a weird resonance issue – that cut through the noise gate in certain scenarios when he was talking and sounded non-awesome. That person could use manual mute if they needed to.

B) For fun (sorta), I did a hard shift jumping down the cassette under load, which made a large clang. That was audible while I was talking, but not otherwise.

C) All of us had fans on and pointed at us, and we didn't hear that sound at all. However, one of us had AirPods on, and you could hear some wind noise from that person's fan (because it was pointed at their head).
But any other sprints for example resulted in zero sound.
Ok, with that, let's look at this control panel. Note the control panel disappears when you don't touch it for a few seconds, and instead there's a mini-monitor to the upper right that shows the name of the person talking, as well as the channel. See the mini-monitor in the upper right corner below the elevation gradient. It'll show the channel name, and the name of the person actively talking.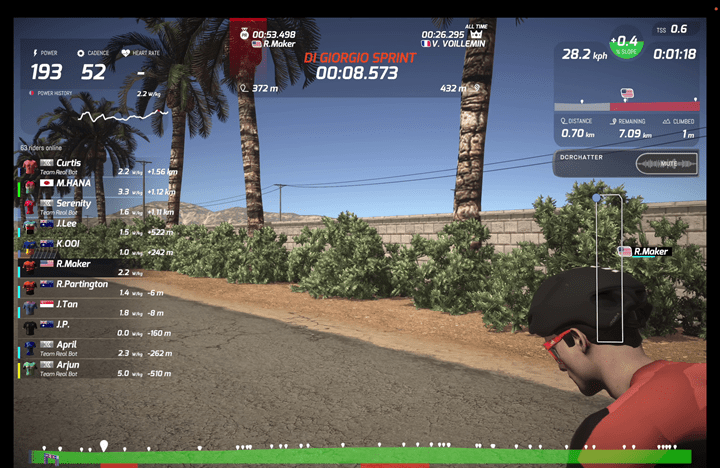 You can always mute an individual person if they're being abusive, or simply have a KICKR Bike V1.
Looking at the channels, you'll see a few options:
Main Channel: This main channel will let you hear people within 45 meters of you (on the virtual road). As you go beyond 45 meters, the person will quickly fade into the distance. If in an event, then this becomes an 'all road' channel, so that everyone in the event can chat.
Custom Channel: This allows you to either create or join a custom channel name on the fly.
Race Radio: This is a channel that'd be used by an organizer, to act as either an event-wide logistics channel, but could also be used for interviews/coaching during a ride (such as having a special guest, or one to many coached ride).
[Update: Shortly after the announcement today, Wahoo has decided to hold off on proximity-based features. Meaning, for now the proximity bit is turned off, and the Main Channel is instead all-road, akin to how a group works. Hopefully that comes back, as it was actually kinda cool.]
You can mute these channels as you see fit. Note that you can't currently hear both the Main Channel and a Custom Channel. Wahoo says in their testing this became a bit confusing as to which channel the discussion was happening on. So once you switch to a custom channel, you'll only hear that.
To join a custom channel, you simply type the name of the channel (e.g. DCRAINMAKER), and it joins it. If such a channel doesn't exist at that time, it creates it, and then joins it. You'd give out that channel to others to join. There isn't any list of current channels (since the point of channels is often to be private). You can use the regular text chat feature though if you wanted to send it out to everyone. There is no user management in these custom channels (only the Race Radio channel).
Obviously, this seems like it'd be kinda ripe for people accidentally joining others' custom channels with simple channel names – thus, you'd want to get kinda creative with your channel names (e.g. instead of DCRAINMAKER use something less guessable like DCRCHATTER).

As you can see in the screenshots, there are also volume controls and mute. The option for 'Open Mic' is what I used exclusively in my testing, which means I don't have to press any buttons to talk, it's just open, and uses the magic of noise suppression behind the scenes so that you only hear conversations. It worked great. But, if you've got a noise situation that the software can't solve, then you can just use push to talk. You can either push on the app (e.g. your computer), or, using the companion app, which has the same controls:
Ultimately, in using it I've gotta say I was surprise impressed. Overall it worked exceptionally well in our test group. Now that group was a bit smaller, and also all of us had relatively high-end trainers that are pretty quiet. Still, the whole noise suppression bits worked super well, even with fans, sprints, and everything else. I'm looking forward to seeing this work in bigger scenarios, and this seems like a massive jump forward on the social side having integrated in. I could actually see myself jumping in on future RGT rides simply because this feature is there.
Finally, it's worthwhile noting that RGT is already looking ahead and seeing what graphics upgrades might be possible with the newly announced Apple TV edition, which significantly increases both the CPU and GPU. That unit starts shipping next Friday (Nov 4th), and will likely offer RGT a fair bump up in performance. Given RGT is built on Unity, they say that they expect to be able to reap those benefits fairly quickly, though they don't have a specific timeframe for updates until they get their hands on the hardware.
Inversely, there still isn't an Apple TV version for the larger Wahoo SYSTM suite (non-RGT). Wahoo says the work is ongoing to get an Apple TV edition out, but that the video player conversion ended up being more challenging than they anticipated. They hope that early next year (2023) they might be able to release it, though, frankly that's also been the same tune the previous two years as well (both under SYSTM, and then previously under The Sufferfest). But on the Brightside, at least RGT is on Apple TV.
Other Wahoo SYSTM Updates: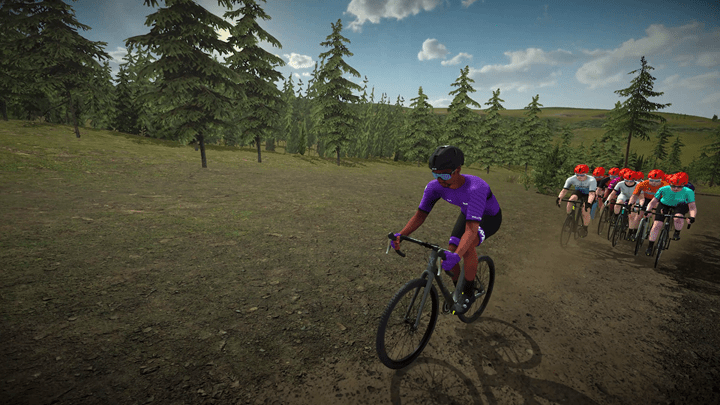 In addition to the big ticket item, which is the voice chat, Wahoo is also announcing a number of other changes today. Here's the quick run-through, starting first with some software bits.
New SYSTM "On Location" Portugal Rides: These rides are led by Mike Cotty (founder of The Col Collective) and are actually among my favorite rides in the Wahoo SYSTM portfolio. This new set adds three rides, including: Nazaré to Foz do Arelho (28KM), Setubal to Praia da Figueirinha (24KM), and Cascais to the Sintra Rainforest (28KM).
New RGT Real Road – Dunoon Crossover: This is based on the real-world location in Scotland, and is entirely gravel based. This is pictured above.
New RGT Magic Roads– All SYSTM On Location Series: For all of the "on-location" series in SYSTM, these will be added as Magic Roads within RGT. The idea being you can ride them in either location.
In addition, Wahoo is re-announcing their previously announced Outdoor Structured workouts, which they launched with the Wahoo ROAM V2 earlier this month. That basically lets you ride SYSTM workouts outdoors on Wahoo ELEMNT units, the same way you've been able to previously ride other platforms (like TrainingPeaks and TrainerRoad) on Wahoo ELEMNT units for a number of years.
Next, we've got a non-software bit of newness, which is that Wahoo is launching a new Wahoo KICKR SNAP + SYSTM/RGT subscription bundle in the US. This bundle is $29.99/month (for 12 months), and includes a full subscription to Wahoo X (so it includes both SYSTM & RGT), as well as the Wahoo KICKR SNAP. At the end of the 12-months you own the KICKR SNAP outright. That would mean that 12 months at $30/month is $360, which is a pretty solid deal given the trainer normally retails for $399. Of course, the KICKR SNAP is a pretty old trainer these days (5 years old), so this is somewhat a case of Wahoo trying to offload those trainers as new direct drive entrants/competitors have arrived at $499 with substantially better road feel/accuracy/etc…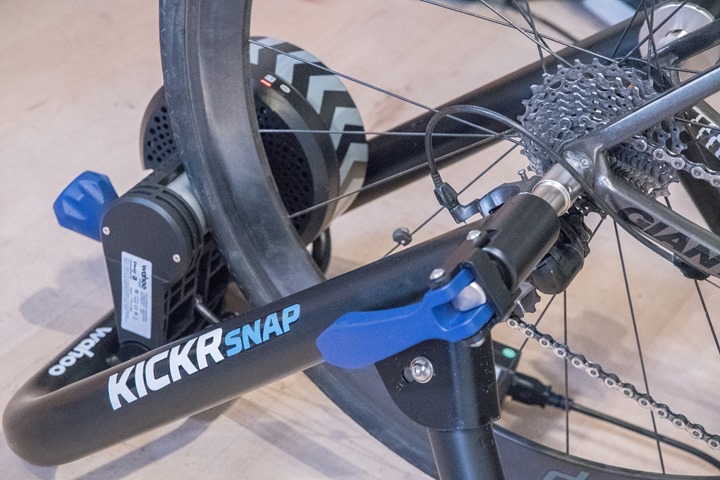 Wahoo says that they plan to do other trainers in this model as well, including the Wahoo KICKR CORE and eventually any other Wahoo trainer, where you'll just pick the subscription package and then choose your trainer. That'll come soon, but wasn't ready for launch. The cynic would point out that this tact is exactly the opposite of what Wahoo just tried to argue in their lawsuit that selling a product direct to consumers would hurt bike shops and the health of the cycling industry:
"Further, Wahoo sells its products through various channels, from its own web site
and other online stores, through national retailers like REI and through independent bike shops
throughout the US and Europe. Each channel plays an important role in Wahoo's go-to-market
strategy and in the cycling industry overall. The selling of a copy of Wahoo's product only direct
to consumers, thereby eliminating the retail channels, hurts the overall health of the cycling
industry."
And I'd further argue this is basically just going to set off a bundled hardware/subscription arms race with all the major players, which probably benefits consumers' wallets, but will absolutely hurt the aforementioned retailers Wahoo previously said they were trying to protect. Keeping in mind Zwift did not actually bundle anything with the Zwift Hub.
But hey, we'll save that lawsuit fun for another day. Alternatively, I discuss said lawsuit with DesFit in more depth in the most recent DCR Supporter Quarantine Corner that's going live a bit later today for DCR Supporters. (Update: Now available either in your e-mail inbox, or, at the end of the DCR Supporter 'Exclusives' page).
Wrap-Up: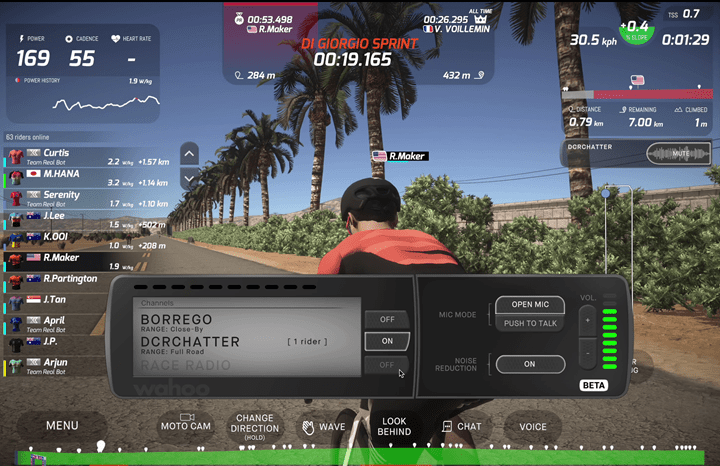 While RGT is no doubt not the behemoth that Zwift is, they're delivering a feature that countless people have basically begged for. And more important, they're doing it in a way that seems to work super well in my trial of it. There was no complexity involved in using it, I just opened my laptop up, and set it in front of me, and started using it. In two different positions near my bike, it picked up my bike perfectly and everyone could hear my voice without issue. It's literally the perfect execution of a feature that 'just works', with no to minimal learning curve. And I think it's one of those features that will substantially increase engagement in the platform.
The other Wahoo SYSTM updates are slightly more minor – especially for what is essentially their big annual update. Undoubtedly, creating the new Portugal 'On Location' rides costs a fair bit of money and time, since these aren't just "slap a GoPro on the front" type real/outside rides, but ones filmed from multiple angles with drones/mics/etc… The production value is high. And of course, while there wasn't much else from a headliner standpoint new in the Wahoo SYSTM suite, they are always adding more content, apparently up to 700 workouts now in the entire platform (across different sports including strength training, etc…).
Finally, as for the bundled offering – it'll be interesting to see where this goes. Setting aside Wahoo's double-speak on the implications of only direct-to-consumer products, this is a good deal if you want both a trainer and training platform bundled together. You're spending less for this bundle than you would for just the Wahoo KICKR SNAP itself, but this includes a year's worth of Wahoo X, all while only having to pay it monthly (versus upfront). As noted above, I think this will ultimately trigger the bundled subscription arms race. Where that ends up for consumers is anyone's guess, though clearly it's going to cut out the middleman of retailers. That's simply the way that concept works, regardless of industry.
With that – thanks for reading!