Strava has begun rolling out video support, allowing you to upload short video clips to your workouts, which will appear in your feed in the same manner as photos today. All users will be able to view the videos on other posts today, but the ability to upload videos to your workouts will be phased in over the next couple of weeks. Meaning that you probably won't be able to attach that epic video today, even if you can see everyone else's videos. As usual, ensuring you've got the latest version of the Strava app is key.
I've played a bit with it, adding a couple of videos to one of my recent workouts to show how it works. Obviously, like Instagram or other social networks, you can decide exactly how much effort you want to put into this endeavor (such as adding music/etc…).
With that, a quick overview of how it works, cause it's really rather simple. Oh, and this is/will be available for all Strava users, no subscription required.
How it works:
After you've completed your workout and uploaded it to Strava, you'll go to the same spot you normally would to add photos from the Strava app (no desktop upload at this time). You'll probably get a one-time banner notification about this new feature, reminding you of the excitement that awaits.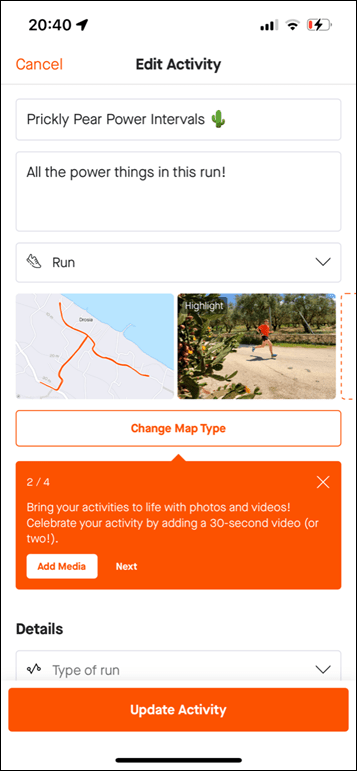 After that, you'll just tap to choose whatever video you want. Strava accepts videos of any length, but will crop it to the first 30 seconds. Meaning, if you upload a 60-second video, only the first 30-seconds is seen/shared. Thus just like on other social platforms, you'll want to trim out finger-over-lens or wardrobe malfunctions before you upload. There aren't any built-in trimming tools. Note that you can upload as many clips as you want.
Just as with photos, you can choose to set a video as the 'featured image', which means it's the cover-photo for your activity when people are scrolling through Strava activities in their feeds. Since videos can take a little while to upload, as long as the Strava app is open it'll upload in the background, and you'll see a little progress circle/bar over the video showing that it's uploading (see above right).
Once uploaded, others will see the video in their feeds, with the audio muted by default (again, just like most other platforms). You can see the little volume/speaker icon in the lower corner:
You can tap it to view it in full if you want. Both vertical and horizontal videos are supported. The videos will loop endlessly. Though, when you rotate your phone, it won't take up the full screen for horizontal, it just stays with black bars like this:
With that, here's an activity of mine you can look at if you want with some videos. Since I wasn't exactly anticipating Strava's video feature, this is just some shots of me running, along with a snippet from an upcoming video that I'm editing. So, no fancy montage here or anything. But I suppose that's probably how most people will use it.
With that, go forth and upload! Or, watch other uploads. Or, I suppose someone will be upset about this, saying Strava is somehow not focused on something that they want. Ultimately, Strava is (and always has been) a social network for athletes. This is an entirely logical step that frankly should have been there a decade ago, but at least it's here today. And best of all, it's (soon) here for everyone – not just subscribers.
With that – thanks for reading!