I just finished reading Iain Treloar's excellent recap of the spectacle that was the 2022 Giro Teams Presentation. He ultimately gave the 1-hour and 50-minute extravaganza a meager rating of 4.5/10. I am no expert on such events, nor how to precisely judge the ranking impact of reindeer man or any other portion of said event.
However, I did need to take a moment to review the entirety of the portion of the show that focused on leveraging indoor trainers (while outdoors) and performing a synchronized dance act atop them. Also, sometimes the bikes were more atop the riders than riders atop them.
The beginning of this situation starts at 1:31:54 – for which I've handily set the video to play from, if you click below. Though, as always, I perform a detailed analysis and review down below.
To begin, our five dancers rush the stage with their bikes pre-attached to the trainers. Though, they have assistants for this, one person holding the bike, and another holding the trainer. Frankly, this feels like cheating. As any regular Zwifter knows, the entire challenge of relocating your trainer with your bike still attached is whether or not you'll fumble the play and snap your carbon frame, halfway across the living room.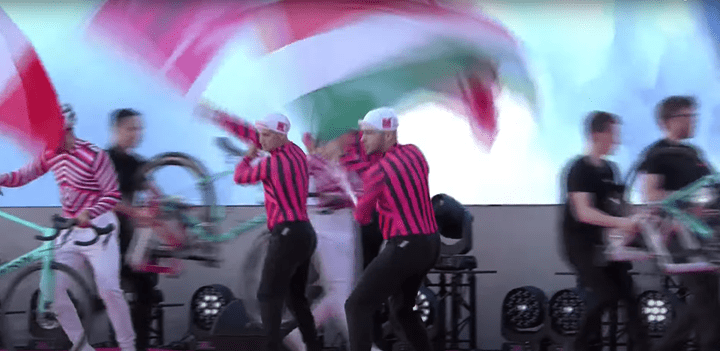 Now admittedly, I don't usually have a dozen people vibrantly waving giant flag poles around my living room trying to impale me when I complete my trainer relocations. So perhaps I'll cut them some slack.
It should be noted that the branding on this trainer has been removed, which is unfortunate, because as you'll see – the stability of this unit is exemplary throughout this entire risky proposition.
Next, our cyclists sequentially mount their bikes with the biggest flex possible. No, literally they flex – by unnecessarily extending their foot well above their helmeted heads, and then sweeping it down onto the pedal. The Rockettes ain't got nothing on this crew. I plan to mount my bike this way at my next triathlon.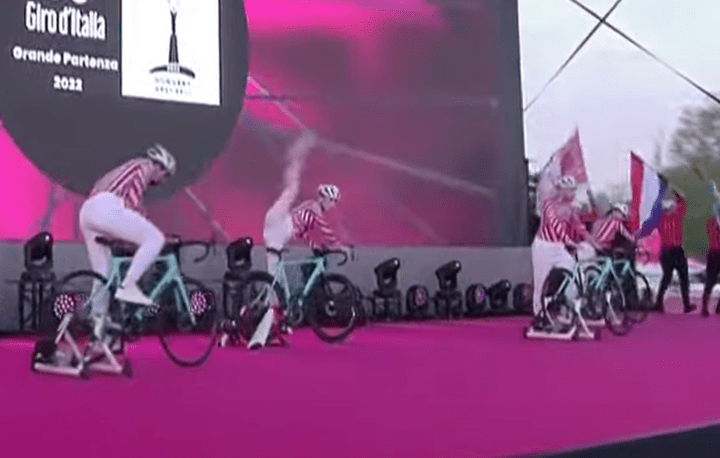 At this point, I am reminded of the infamous ProForm Tour de France indoor bike commercials of yesteryear with helmeted riders.
A short demonstration of them sweeping their arms upwards to the sky, and we're in the starting corral with game faces enabled, ready to get this show on the road…err…stage: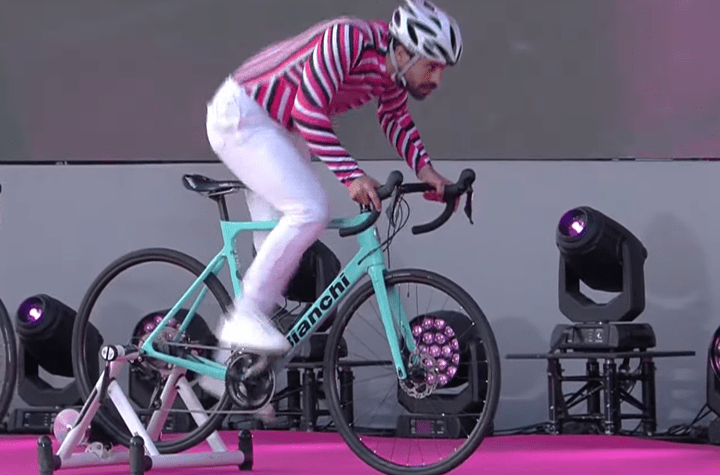 After some synchronized aero position work, the entire group attempts to steer in Zwift, however, they appear to have forgotten their Sterzo's backstage. Nonetheless, the lack of hardware steering support doesn't stop them though from practicing Repack Ridge.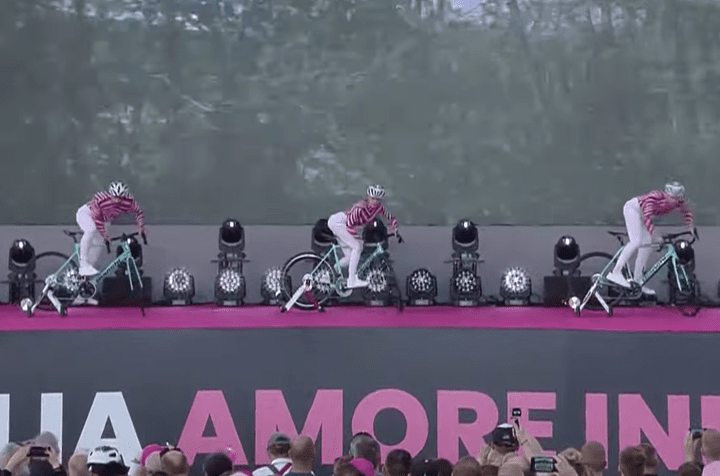 And in fact, they quickly try to simulate a crash (of the bike, not Zwift). Normally we'd see Wahoo KICKR CLIMB utilized for gradient changes, but that's not compatible with this particular trainer model. Perhaps Wahoo should consider adopting their open standard to enable such artistic performances in the future. Albeit, this move probably just voided the Bianchi warranty with that backward lean (under the 'misuse' clause).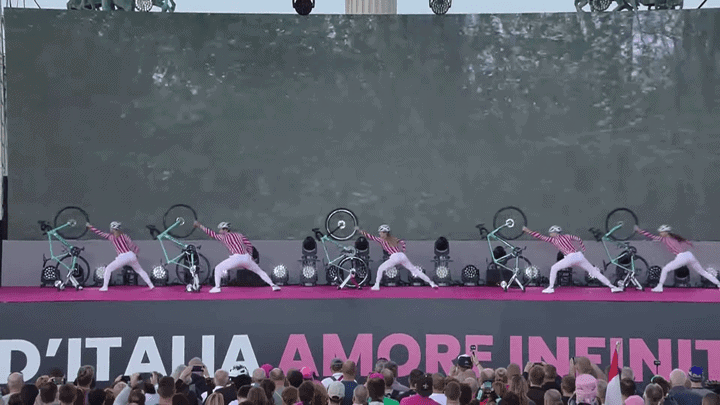 With the bikes safely back on the ground, the virtual leaderboard again descends upon our petite breakaway trying to poke their eyes out with swirling flags on poles.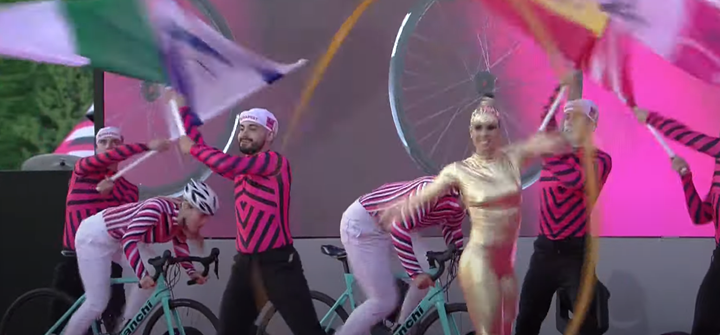 Astoundingly, nobody gets flagged, and our cyclists crescendo their way towards a sprint finale unlike anything ever seen in a Peloton class. Except for the Adele classes. Those always finish like this.
And before we know it, this act is over – and we're back to something boring that doesn't involve a trainer.
While this performance has nothing on true UCI Indoor Cycling Artistic events, I do feel like it opens the door for a future launch event for some indoor trainer company. Just like Olympic Opening Ceremony performances and countries trying to one-up each other, I've gotta imagine someone in Longbeach is already working on the right choreographed dance moves for the upcoming Zwift Trainer/Bike. Especially since that thing appears to have built-in stage lighting, the possibilities are really endless.
Ball's in your court Zwift, I'll be waiting.