While COROS skipped their usual seemingly unofficial monthly new feature updates last month, they're back at it again this month with a pretty solid update – including both app and firmware features. Below I dive into everything that's new, and cover which watch these features are available on. Note that for the firmware side, COROS says that the original APEX and PACE watches don't have any more space in the firmware for expansion, hence why they're excluded.
They also reiterated their plans to introduce "new hardware" later this year, but no specifics beyond that. Given the lack of details on what that hardware is, I can only assume COROS will start manufacturing milkshake machines.
Note that COROS says the update cycle will be staged over the coming days, but that all users should see it by the end of the week.
What's New:
There's 10 new features, with 8 of them being watch-based, and 2 of them being app-based. Though, many of the watch-based features also enumerate on the app. For example, the sleep tracking bits with sleep phases now show in both places.
1) Structured Workout for Indoor Run and Bike Mode: Up till now, neither of these were supported as structured workouts. Now, you can create structured workouts for both – as well as it'll support it for inbound structured workouts from TrainingPeaks. (VERTIX/VERTIX 2/APEX Pro/PACE 2)
2) Perceived Effort & Training Notes: When you complete a planned workout or structured workout, you'll be given the option to rate the level of pain using smiley faces. Though oddly, this isn't offered for non-structured workouts (even as an option). You can complete this on the watch, or on the app itself – but again, you can't add it to the app for general workouts that aren't structured. On the app you can also put in notes for that training session. Coaches will also see this data in the COROS Training Hub, which is really where the value is for most people. (VERTIX/VERTIX 2/APEX Pro/PACE 2). But again, this should be available for all completed workouts.
3) Sleep Accuracy Increase, now with Sleep Phase/Stage Data: COROS previously had sleep tracking, but didn't track the four sleep stages (Deep, REM, Light, Awake). This data will show on both the watch in a widget, as well as in the app afterward. (VERTIX/VERTIX2/APEX Pro/PACE 2)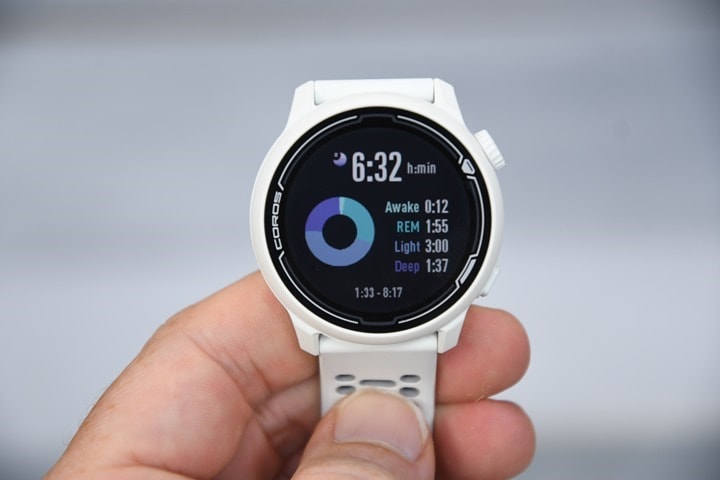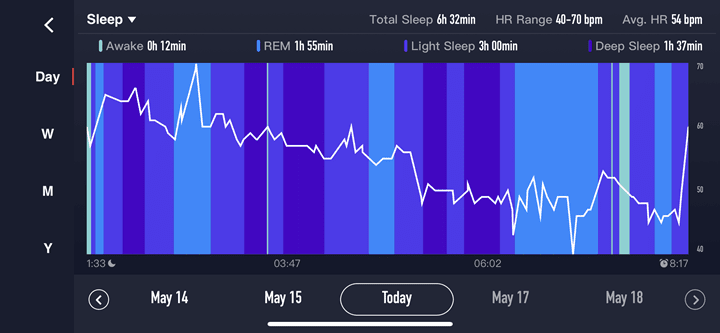 For fun, here's how this data lined up for me last night:

And here's a little gallery of the screenshots of each app. The time I fell asleep/woke up, is at least largely correct across the board. Oura however miscounted awake time significantly, as I was not awake those last 30-40 mins.
Thus between the data and the screenshot, you can see why I don't put much faith into the value of sleep phase/stage information from various wearables.
4) Added 'Adjusted Pace' for Running: This will automatically adjust your pace to account for the terrain. So basically, what your pace would be if running on flat terrain. This is useful to try and compare efforts on hilly routes versus flat routes. If you've used TrainingPeaks, you know this data field as GAP, or Grade Adjusted Pace, and it's something I find super useful to compare after the fact on a rolling course. (VERTIX/VERTIX 2/APEX Pro/PACE 2). I would go out and try and do a test run to demonstrate this, but…I live on a giant pancake. So instead, here's a screenshot from COROS of how it looks in the app: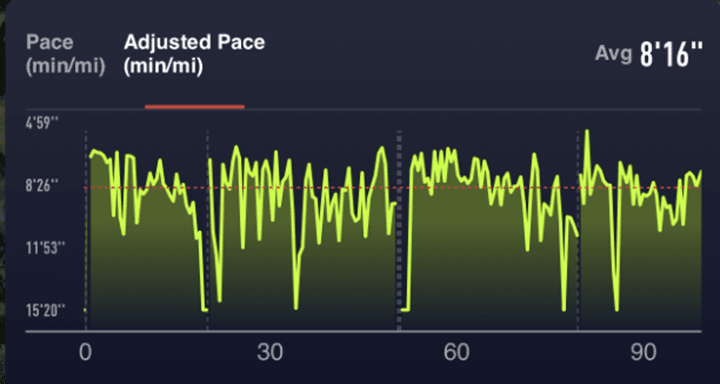 5) Watch Status Indicator: This simply shows in the upper left corner of the app what your watch and app are doing. Whether they're currently flirting, actively doing the horizontal shuffle, or no longer talking to each other.
It's as simple as that. (This is a COROS App feature, and is available across all watches.)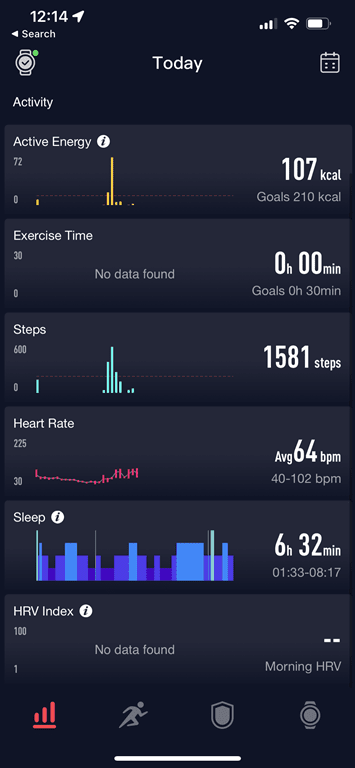 6) Training Calendar/Center Changes: These are all interrelated changes, all kinda rolled into one section within the COROS app for all users. They include:
A) Showing both completed and planned workouts with different coloring/backgrounds, so you can see what you did versus what you planned to do.
B) Added an effort color-coding key for this calendar, including both color-coding the completion rate as well as the workout type (e.g. run/bike/swim/etc…).
7) Find My Phone + Find My Watch: You can now use your watch to find your phone, and your phone to find your watch. Neither will find Dunkin' Donuts, nor the Apple TV remote. These features do of course require that you have your phone/watch paired up via Bluetooth Smart – and that it be in range. I find the COROS Bluetooth range disturbingly good – so this isn't usually a problem. Seriously, I had a watch in a bowl of water in the kitchen yesterday, and it still found it out in the backyard. From the watch, you'll find this in the Toolbox of other things like settings and action camera control. Once you press this button, on the phone it'll start a unique tone/song, at full volume.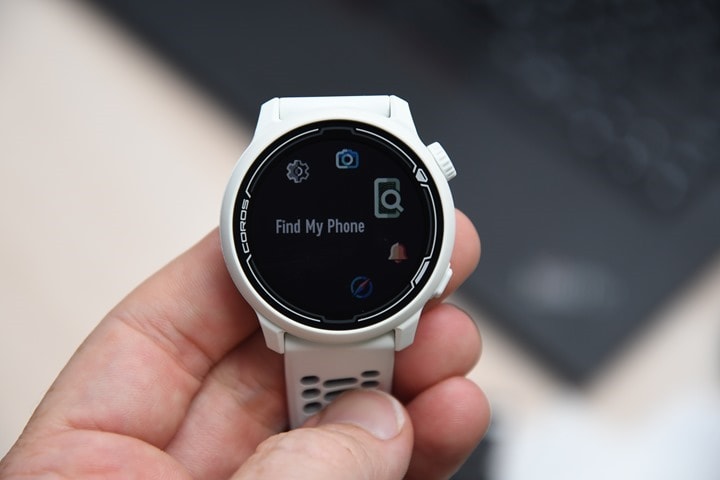 Inversely, you can use the app to find your watch, though this didn't work for me either. Just the sound of silence. These features are available on the VERTIX/VERTIX 2/APEX Pro/PACE 2.
8) Manually Delete Activities From The Watch: I'm not sure I need to expand on this with any further words. Pretty self-explanatory, except to note that if you delete it on the watch, it'll delete it on the COROS platform too – which is actually kinda unusual. (VERTIX/VERTIX 2/APEX Pro/PACE 2)
9) WiFi Data Sync: This is the first step towards COROS utilizing the WiFi hardware in the Vertix 2, now allowing data sync. This will sync your workouts and other data to the COROS cloud platform. You can certainly see how down the road this would allow map downloads as well as things like music sync. COROS previously talked about WiFi map downloads, which would be a huge step up from the current map loading process.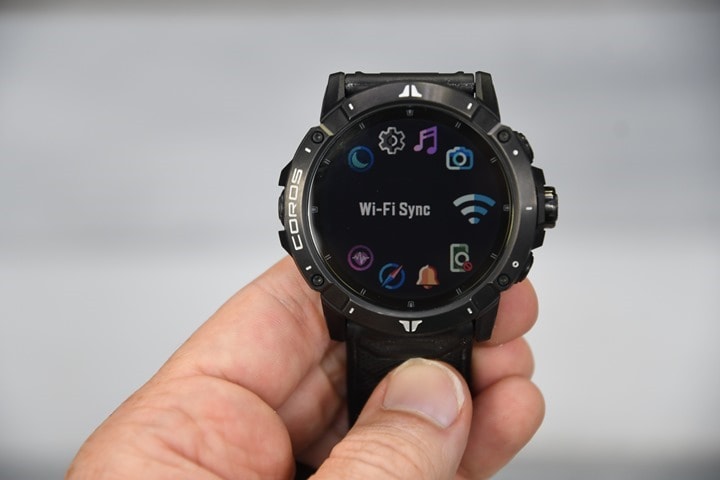 10) Map Road Data Details Increase: This is an easy one, roads and trails will now display on the map one scale level higher, at 200m/500ft, versus the previous 100m/200ft. In other words, previously you had to zoom lower to see roads/trails, now you can see them at higher zoom levels. This is for the VERTIX/VERTIX 2/APEX PRO.
The Forward Slog: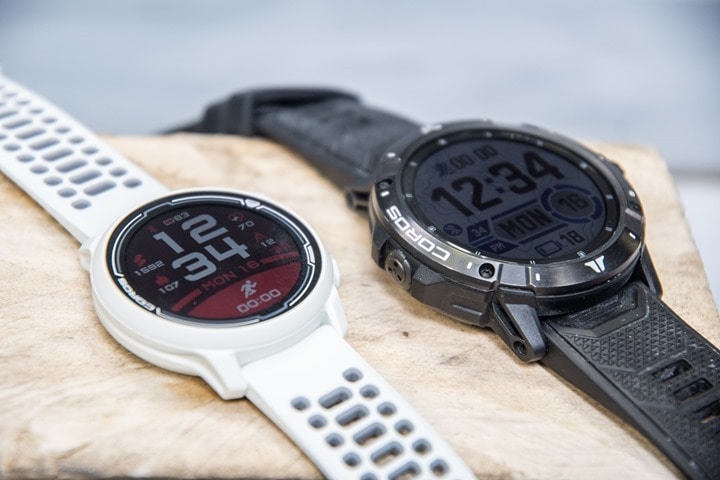 Now like I've said for many COROS feature updates over the last 6 months or so, none of these are new to the industry. All their competitors have all these features already. Instead, this is specifically designed to check off show-stoppers that might prevent someone from jumping ship to COROS (from Garmin, Polar, or Suunto). You'll notice most of these features are more minor tweaks designed to make your life easier. Things like being able to delete a workout from the watch, or finding your phone using your watch.
From a training-specific standpoint, it's similar. Aspects like being able to record a perceived effort or training notes, as a new training calendar view in the mobile app. Supporting structured workouts for indoor run and cycling modes is more major however for a company to implement, but something that many have asked for.
While it's easy to look at this list and shrug, it's important that this list is happening. By that I mean, this is the point where COROS has largely entered into the 'death by a thousand feature cuts' update slog realm.
When people look at endurance sports watches, there's often some very specific feature to them, which they use daily, that's a showstopper if it's not there. Take for example structured bike workouts on the watch. For some portion of the population, having that was a hard-stop requirement. Yet for others (like me), it's shrug. I do my structured cycling workouts using an app like Zwift or TrainerRoad, and if outside, on a dedicated bike computer. Inversely, outdoor structured run workouts? Yup, that'd be a hard-stop requirement for me (and COROS already had that, they added indoor structured run workouts – which for me falls back into the non-critical camp since I'll use an app or piece of paper).
The point being, there are hundreds, if not thousands, of these types of features. Things you don't even think to realize – like the newly added ability to delete a workout on a watch. That's the sort of thing that'd likely never be covered in a review anywhere, but it's what makes ease of use better on a watch. And this is COROS going and checking that box.
Finally, the important thing to keep in mind here is that COROS is doing this frequently – usually monthly. So even if features are catch-up, they're dropping a huge slate of additions – and again they're doing it almost monthly, which means their momentum is far greater than some of their non-Garmin competitors who are adding 2-3 items every 3-5 months.
With that – thanks for reading!
Found This Post Useful? Support The Site!
At the end of the day, I'm an athlete just like you looking for the most detail possible on a new purchase. These posts generally take a lot of time to put together, so if you're shopping for the COROS Pace 2, COROS APEX Pro or COROS Vertix 2 or any other accessory items, please consider using the affiliate links below! As an Amazon Associate I earn from qualifying purchases. It doesn't cost you anything extra, but your purchases help support this website a lot. Even more, if you use Backcountry.com or Competitive Cyclist with coupon code DCRAINMAKER, first time users save 15% on applicable products!
And of course – you can always sign-up to be a DCR Supporter! That gets you an ad-free DCR, access to the DCR Quarantine Corner video series packed with behind the scenes tidbits...and it also makes you awesome. And being awesome is what it's all about!