Strava just published their annual year in review presentation, which outlines what all of us 95 million Strava users suffer through each week. Both athletically suffering through hard workouts and long adventures. But also occasionally suffering through what others post on their timelines. Perhaps most notably, we get our annual reminder that Strava as a company still struggles to grasp how years and calendars work.
After all (as usual), the 2021 annual report is actually from Oct 1st, 2020 till September 30th, 2021. So anything you did since September doesn't count here. Nonetheless, if you like charts and graphs on people's sports adventures, this is the place to be. It outlines the 37 *MILLION* activities that Strava users upload per week (though, presumably only 1.6 million if we exclude people's Peloton Cooldowns). And the company itself continues to grow, at 2 million athletes per month.
I think in some ways what's probably notable more than all these concrete numbers is likely something less tangible (and definitely not on this report): Strava users are reasonably happy these days. If we rewound to about two years ago, the angst against Strava was high. The company hadn't added meaningful features in years, they ignored user requests, and mostly just took people for granted. However, after a leadership change in Dec 2019, we've seen a continuous stream of new features. Sure, not every feature appeals to every person – and that's fine. Of course, they upset free users way back in exchange for giving more features to paid users. But even in the last few months, we've seen free users get new features too. So while I'm about to go stat-heavy here, the main thing I look back at Strava's 2021 is the addition of new features and the continued decline of angry users.
The company has seen a 38% increase in activity uploads, year over year. Of course, this time last year (Dec 2020) they had 73 million users according to last year's report, so that's a 30% increase in users there, thus things are roughly in the same ballpark in terms of overall activities per user.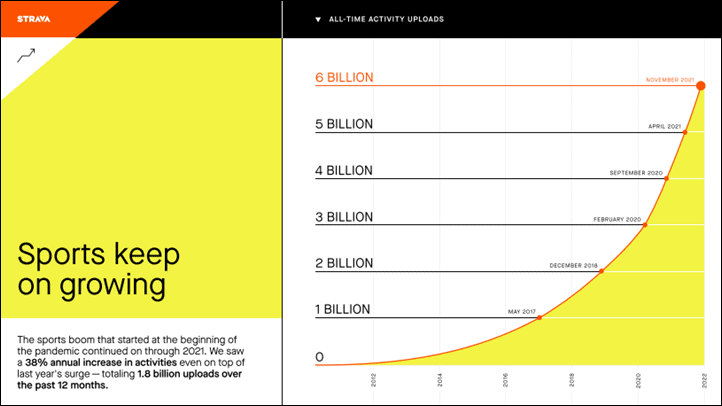 The company continues to see more diversification in its sport types, but in some cases at the expense of others. They noted that alpine skiing and snowboarding were down 37%, logical due to so many closures/restrictions there. Whereas instead, Nordic skiing increased since there were usually less (if any) restrictions there.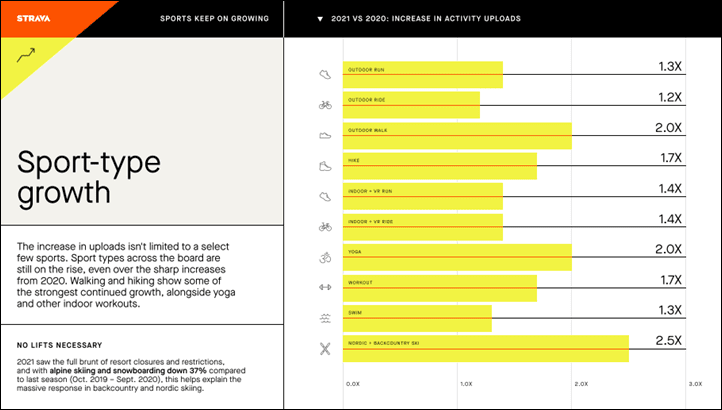 Unsurprisingly, walking activities recorded to Strava continues to increase year over year. I've certainly seen this in my own feed. I suspect this is not just a case of people walking more during COVID, but also Strava's user base becoming more broad in terms of being less 'hardcore' athlete-heavy than it was 5 years ago (or even 3 years ago).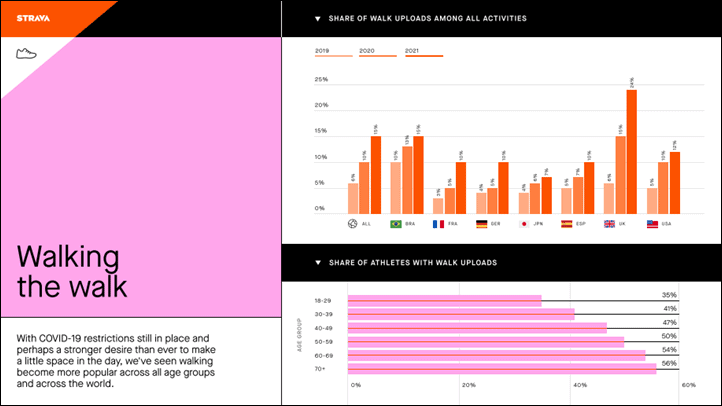 Both challenges and club memberships continue to grow. This is somewhat logical in that during the height of lockdowns people gravitated to clubs as a means of keeping engaged. However, I'd really hope that Strava looks at this graph, then looks at their clubs product, and then realizes how far they need to go. The company has so much potential around clubs (things like route planning/scheduling/sharing directly into team members' devices automatically, structured workouts within a team, beacon integration within a team event, etc…), almost all of it untapped. And it's been untapped for years.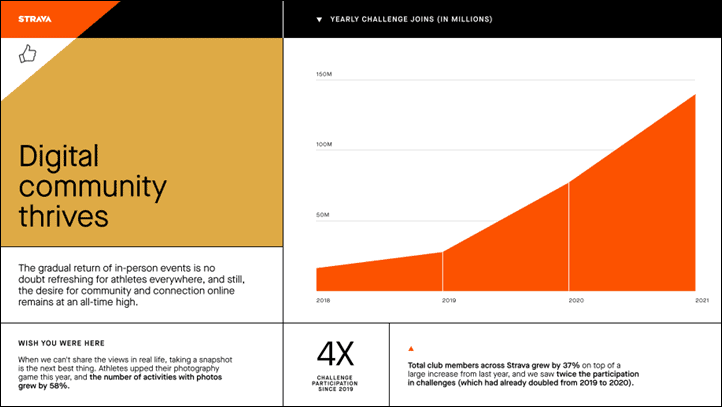 Next, there are Kudos worldwide. This chart will take a moment or twelve to mentally decode, but in essence, look for your country, and then look for the biggest colored line to see which other country you give the most love to. For example, Americans give lots of kudos to Canadians and Brazilians. But Americans largely don't appear to care about the French. Which is too bad, the baguettes and cheese are quite good.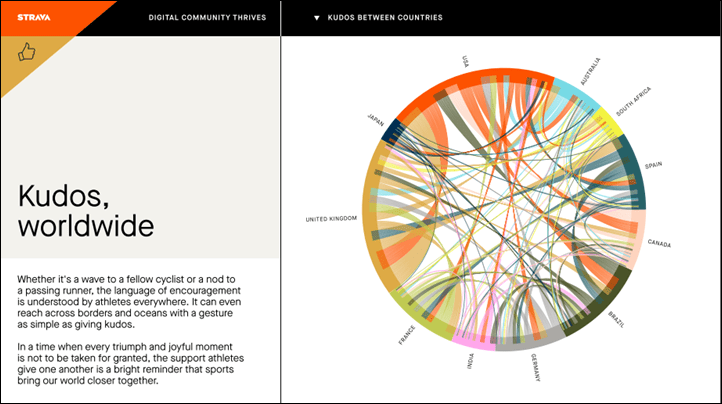 In any case, if you'd like to dig through the full report, I've taken the 14 page PDF and put it here in this nifty gallery. First, is the version in miles:
And then the metric version
With that, go forth and continue uploading. Once I hit publish on this, I'll be cracking open the Strava app and joining everyone else, in toggling my most recent run from private to public.
Thanks for reading!