Indoor-focused trainer app news will be all the rage for the next while as companies try and pique your interest going into the colder seasons here in the Northern Hemisphere. Though, in this case, both companies also support outside workouts too. Here are two shorter items that came across my desk in the last day or so, for which I've decided to dig into a bit.
Xert Adds NPE CABLE Support:
Xert has added NPE CABLE Support to their iOS and Android apps, which means that if you've got a CABLE device you can now pull in ANT+ sensors even while on iOS (which doesn't natively support ANT+). NPE's CABLE has been around a number of years as a way to bridge the ANT+/Bluetooth Smart divide, mainly for connecting older ANT+ devices that don't have Bluetooth Smart broadcasting by themselves. For example an older heart rate strap or power meter that only transmits ANT+.
Of course, these days, virtually every sensor made is dual ANT+/Bluetooth Smart, so it tends to be less of an issue than it used to be. However, not everyone upgrades their trainers or power meters frequently, and in general, those are the type of devices that are less likely to have full/proper Bluetooth Smart support.
The second area that's of use here is devices that DO actually have dual ANT+/Bluetooth Smart support, but only a single channel of Bluetooth Smart connectivity. For example, a power meter that supports one Bluetooth Smart connection. If that user wants to use that power meter with Zwift, while also recording their ride on a Polar or Suunto watch (to account for training load), that'll be impossible. Whereas CABLE can basically offer another/extra Bluetooth Smart channel based on the ANT+ broadcast.
Now some of you are like 'But couldn't I already do that with CABLE?' – to which I say – yes, you could. The difference though is that Xert has added native API support to CABLE, so that it can connect to more sensor types – notably smart trainers control via ANT+ FE-C. Further, this makes it so that once the connection to CABLE is established over a single channel, it enumerates all your nearby ANT+ devices. Additionally, some types of sensors – notably the Varia Radar, aren't publically available on Bluetooth Smart (only via special request to Garmin, which hasn't always approved those requests – as there is no official BT profile for cycling radar). As a result, this sidesteps that by simply ingesting the public ANT+ Radar profile and making it available over Bluetooth Smart. While the NPE implementation is clean and helpful, I'd also argue this is yet another great example of companies slowly stepping away from sport/fitness standards, as I discussed in my recent State of Sports Tech keynote.
Using it is pretty simple. First, ensure your CABLE is up to date using the NPE CABLE Util app. I'm not entirely sure when this firmware was released, as I can't find release notes yet on NPE's site. But my CABLE has been vacationing for a bit, so I grabbed the newest firmware from whenever it was released.
Next, ensure that your Xert EBC app on your iOS/Android device is up to date, that update came out today. Once updated, open the Xert app and go to Settings and you'll see "ANT+ Adapter" under sensors, then 'CABLE (ANT+ Adapter)'. You can tap it to rename it.
After that, you can pair ANT+ sensors in the normal categories as before (Trainer Control, Heart Rate, Cadence, Speed, Radar, Power), except simply that you'll actually see the ANT+ sensors – and not just the Bluetooth Smart sensors. Like with CABLE itself, you can rename these sensors and it'll save them for next time.
It'll automatically reconnect to CABLE next time you open the app, and then in turn, your ANT+ sensors will automatically connect too. As a reminder, CABLE can only be connected to via Bluetooth Smart from one app/device at a time. So if you've got it paired to the Xert app, then the CABLE app itself, or other 3rd party apps can't connect to it. So just be mindful of that in general (no change there, just a reminder).
TrainerRoad Adaptive Training Leaves Beta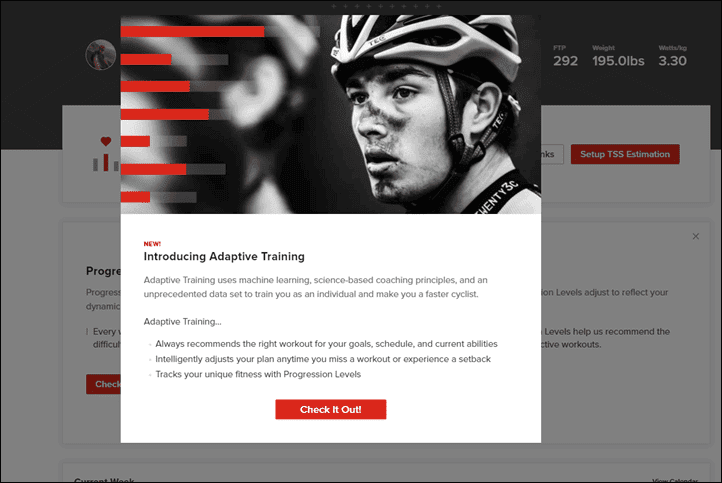 Last spring TrainerRoad launched their Adaptive Training platform to beta, which aims to use machine learning to dynamically adjust your upcoming workouts (based on a training schedule it also generates) to ensure the program and workouts give you the biggest bang for the buck, physiologically. Concurrently with that, they also launched in beta TrainNow, which essentially gives you three options for a one-off workout if you don't have a schedule, but want something to do right now, based on your historical data.
As of this week, both of those are now out of beta and into production. Over the past 7-8 months, TrainerRoad says they eventually built up to 25.3% of their userbase using the beta at some point, including switching new users to using/offering Adaptive Training by default. Adaptive Training is more than just a computer scoring your workout, but also you giving perceived effort feedback after your workout to gel the computer side to the real-life side of things. And then beyond that, it's sorting out what to do when you skip a workout entirely (due to life things).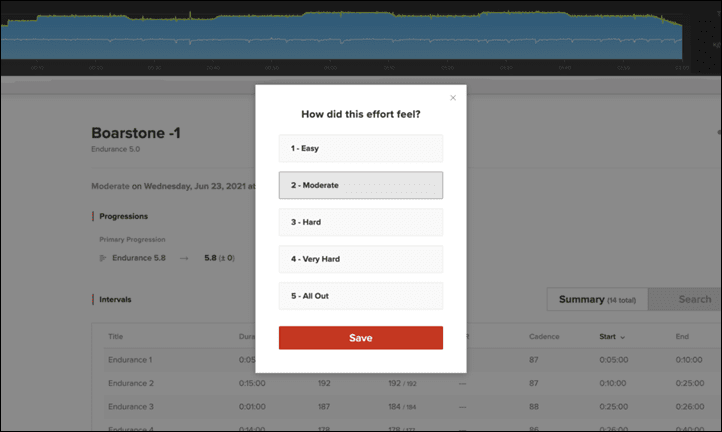 The two stats they shared were that they saw a decrease of 50.45% in failed workouts year over year. Adaptative Training aims to reduce failed workouts by right-sizing the workout to your ability to (just barely) complete it. Some might see this as a likely tacit acknowledgment that either TrainerRoad plans/workouts were historically too difficult, or alternatively that users often incorrectly selected a plan 'above their pay grade', by choosing a training plan beyond their ability (mostly in volume). Further, the company says that so-called adapted workouts have a 38% lower failure rate than non-adapted workouts.
While reducing failed workouts is nice from a warm-fuzzy standpoint, the more meaningful metric is whether or not the athlete is actually improving more in an algorithm-driven workout feed than not. TrainerRoad says athletes in the beta were 20% more likely to increase their watts/kilogram (basically, increase their power output). For that claim, they filtered only for athletes over 3 w/kg (watts/kilogram), as a way to remove new athletes that would likely see large gains. They also noted that realistically that claim is probably suppressed because the beta was mostly over the summer for the Northern Hemisphere (mid-season), rather than the winter where they say athletes see improvement.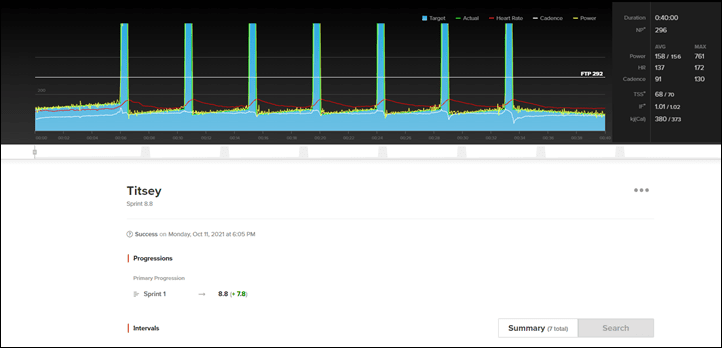 Now as big as some of these numbers might be, there are still some pretty significant real-world catches to the platform. Most notably is that it doesn't account for all your outdoor rides. Specifically, unstructured ones. Those aren't accounted for in the algorithm. So if you go off and do a training camp somewhere, or just simply have a weekly hard outdoor ride – Adaptive Training doesn't look at that data. It only looks at data that's a specific workout from TrainerRoad, and then specifically pushed to either a Garmin or Wahoo device (there are also some further minor temporary caveats there around Wahoo device tracking, but that's getting into the weeds a bit). So users on other platforms, such as Hammerhead's Karoo series wouldn't be able to get 'credit' for outdoor workouts either. This is in contrast to the aforementioned Xert, which essentially accounts for all rides coming into the platform in their algorithm and updates your training accordingly. One can see this week's worth of workouts back in September, all of which would have had no impact on Adaptative Training, despite having a couple of pretty significant rides in there (in a few of those rides below, it doesn't have power data because I had multiple devices with me, and it grabbed the non-power one first).

Similarly, Adaptive Training is really only powerful for cyclists now. While the platform can shift around running and swimming workouts 'smartly', it doesn't look at the quality of the workout. Meaning, it's not scoring your workouts. It's a 'did you do it' type of thing, whereas in cycling it looks at how well you did it.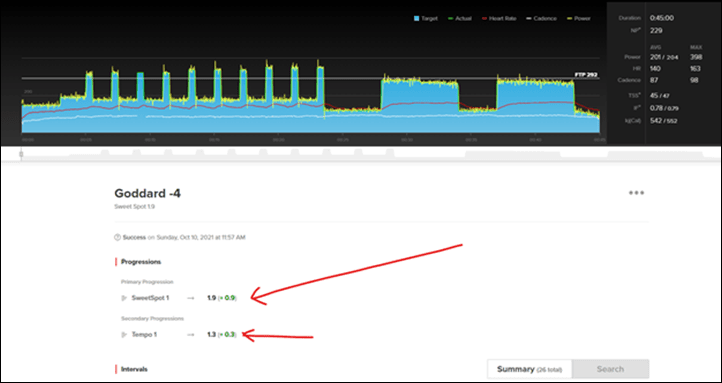 Meanwhile, the feature I've personally used the most – TrainNow, is also out of beta too. This is designed for folks not on a specific plan at the moment, or with nothing scheduled for a given day. You select a time length (duration), and it'll spit out three workouts. You can see stats about the workout, and decide if you're attracted to the curves of that particular blue-block arrangement. If not, you can hit the refresh icon to get three new prospective dates.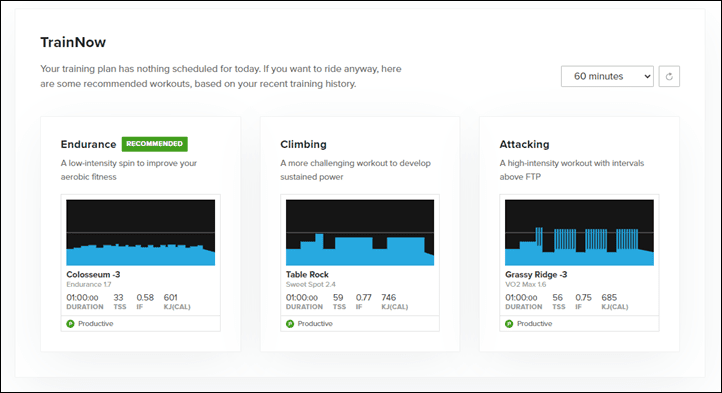 In any event, this post is a tech tidbits, and not a review or anything else. So, enough tidbiting. If you want more details they've got their help center here, or you can hit up their forums to see how real-world users are getting on with it.
With that – thanks for reading!