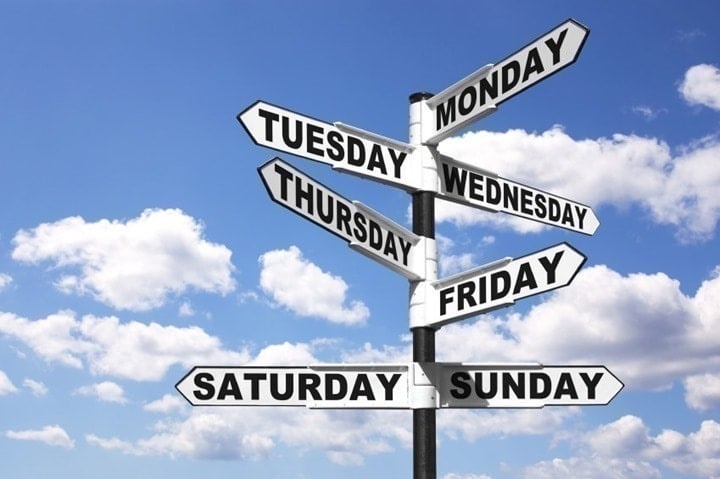 The Week in Review is a collection of both all the goodness I've written during the past week around the internet, as well as a small pile of links I found interesting – generally endurance sports related. I've often wondered what to do with all of the coolness that people write, and while I share a lot of it on Twitter and Facebook, this is a better forum for sending it on to y'all. Most times these different streams don't overlap, so be on the lookout at all these places for good stuff!
So with that, let's get into the action!
Sports Tech Deals:
There's a number of strong sports tech deals out there right now, primarily tied to Fathers Day coming up.
There are no deals currently.
DCRAINMAKER.COM Posts in the Past Week:
Here's all the goodness that ended up on the main page this past week, albeit, a heavy Garmin week. As usual, I can't really control when companies decide to announce their products. Last week was a heavy Wahoo week. Tit for tat.
Wednesday: Garmin Forerunner 55 In-Depth Review
Wednesday: Garmin Forerunner 945 LTE In-Depth Review
Friday: An Explainer: Garmin's New Wearables LTE Strategy
YouTube Videos This Past Week:
Here's what hit the tubes over on the You of Tube, definitely don't forget to subscribe there to get notified of videos the second they hit!
Stuff I Found Interesting Around The Interwebs:
Here's a not-so-small smattering of all the random things that I stumbled on while doing my civic duty to find the end of the Internet. Also, there's a few things this week that were actually from a week or two ago – I'm just catching up on this list:
1) Substantial Strava updates this week: Or rather, what Strava is calling their "biggest update for 2021". Honestly, I think that's overselling it a bit. I like the new segment cards and all – it's tidy, but that mostly assumes you care about segments (for which, I simply do not). Then there's the challenges piece, which again, is cool if that's your jam. But since you can only add a limited number of people, it's not functional for clubs/teams/larger groups. I get it, you have to launch somewhere, but I remain perplexed at how both Strava and Zwift keep missing the boat on larger team/club dynamics here. In any case, if you want the full scoop, hit up Lama's video below (oh, and related, I still use the now year old one-off routing pieces on a weekly+ basis, including for large chunks of the ride I'm about to head out on now):
2) 2022 Women's WorldTour Calendar Includes Tour de France Femmes: I'm super excited about this. It's waaaaaaay overdue. While it's 'only' a week, it's a start, and it's a good place to develop an audience. It'll run directly after the men's, starting July 24th to July 31st. We won't see the course till later this year, so that too is an unknown. It'll be interesting to see what they do here logistically, as starting the same day the men finish means that virtually every bit of media and cycling word is in Paris for the finish. As many others have said though, fan/media-wise, it'd be far better to run these concurrently with roughly the last week of the men's Tour, with the women simply starting a touch earlier on the same course (as the roads are already closed early that morning anyway). But in any case, baby steps.
3) Fossil doesn't plan to upgrade existing Wear OS watches: After Google announced last month that they'll join forces with Samsung to create a new Wear OS version/offering, Fossil basically says 'sorry' to existing owners. To be fair, I think this might be the only viable approach, depending on how drastic the changes are. Many people (including myself), would argue the only thing that's going to make Wear OS halfway palatable is a drastic change. Sometimes pulling off the Band-Aid hurts. I haven't asked Suunto, Casio, or Polar if they plan to update their Wear OS units.
4) Kiel Reijnen runs with gravel bike for 18 miles during race: Yes, you read that right – 18 miles, or 29 kilometers – after he had a mechanical. He did this in socks, on gravel, with the bike rigged over his shoulder using spare tubes.
5) Peloton acquires yet more tech companies: This time, Latitude 32, an engineering company that has assisted Fitbit, GoPro, and numerous other big names. This includes projects in sport, wearables, audio, and accessories. As if there was really any doubt at this point that Peloton is planning some sort of wearable, after acquiring Atlas and others.
6) How Val Thorens Ski Resort is using Drones: Pretty interesting stuff, from one of the biggest names in skiing in France. And we're not talking consumer drones here, but industrial ones, used for everything from checking runs for skiers at the end of the day, to checking avalanche systems and more. Also, I want to go back and ski Val Thorens again. Sadly, no skiing this past winter in France.
7) Also – if you want some hilarious blast from the past videos from Val Thorens: Here's from 6 years ago at Val Thorens when The Girl got 'stuck' on a giant zipline that is strung between two peaks. Also, my video, and a lot of other shenanigans. Seriously, it's absolutely bonkers how high up and far you are. And I'd love to do it again.
Sports Tech Device Firmware Updates This Week:
Each week I quickly highlight some of the new firmware, app, software, and website service updates that I see go out. If you're a sports technology company and release an update – shoot me a quick note (just one-liners are perfect, or Tweet it at me is even better) and I'll make mention of it here. If I don't know about it, I won't be able to post about it. Sound good?  Oh – and if you want to get a head start on things, this page is a great resource for watching Garmin, Wahoo, Polar, and a few other firmware updates.
This was a huge week for firmware updates from a lot of players!
Garmin Edge 530/830/1030/1030 Plus BETA Firmware Update: Continued tweaking of the routing/map screens. This links just to the 1030 Plus one, but you can find the rest in the Garmin Forums (with the most recent betas, as they update frequently).
Garmin Fenix 6/MARQ/Enduro Series Firmware Update: Just a boatload of fixes and tweaks.
Garmin Forerunner 945 Firmware Update: This is the big one, piles of new features from Ultra Run mode to new sleep tracking, to perceived effort tracking, updated Trail Run options, and more. This has been in beta a long-long time. Finally now, production.
Garmin Forerunner 745 Firmware Update: Basically the same as the FR945 one above.
Garmin Forerunner 245 Firmware Update: Adds daily suggested run workouts, VO2Max for Trail Run activities, perceived effort tracking, and a pile more little things.
Garmin HRM-PRO Firmware Update: Bug fix.
Hammerhead Karoo Series Firmware Update: Major Strava leaderboard updates, plus ANT+ sensor connectivity revamps.
Polar Verity Sense Firmware Update: This increases battery life to 30 hours, adds some SDK stuff for developers, and changes the way the sensor sends data via ANT+ during swim mode, so that the user can see summaries of their laps HR data when connectivity is available. It does NOT however add offline caching of heart rate for Garmin watches (trust me, I tried, then I checked with Polar).
Wahoo ELEMNT/BOLT/ROAM Series Firmware Update: Adds performance improvements, and tweaks KICKR & FE-C controls to default to passive mode (so they don't take over your Zwift session and dork it up)
Wahoo KICKR V5 & V4 (2020/2018) Firmware Update: Adds proper Bluetooth FTMS support (woot!)
Wahoo RIVAL Firmware Update: UI tweaks, and bug fixes.
—
With that, thanks for reading!