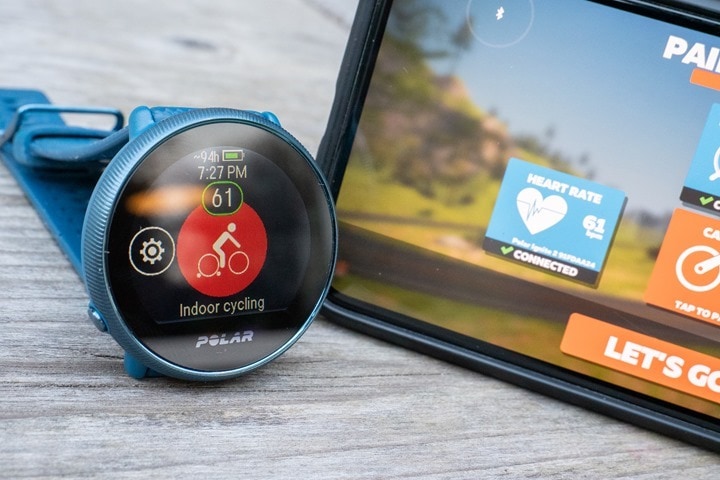 Polar starts shipping their previously announced Ignite 2 today, which was announced last month alongside the Vantage M2. Stashed away on the Ignite 2 is the beginnings of Polar's new heart rate broadcasting feature, which enables it to broadcast your heart rate from the optical HR sensor built into the watch, to apps like Zwift, Peloton, and more – even bike computers. It does this using Bluetooth Smart. More importantly though, this feature will be lit up on the Polar Vantage M2, Vantage V2, and Grit X watches later this year in a firmware update.
While heart rate sharing (or rebroadcasting) may sound like a basic function, it's actually still somewhat rare in the sports tech world. Further, it might sound like something you thought was already on your Polar watch, that's not exactly true either. Up till now, only a handful of companies supported broadcasting of your watch's optical HR signal to 3rd party apps.
For example, Garmin has supported it on all their watches for years, via ANT+ primarily, and then more recently also via Bluetooth Smart on a handful of devices. Wahoo launched it with their RIVAL GPS watch last fall, and then expanded the broadcasted metrics slightly with more treadmill running pace type data too (similar to what Garmin does). Whoop also supports broadcasting from the wearable Whoop 3.0 band. COROS also has some ANT+ & Bluetooth Smart broadcasting support, though, it does have a slew of limitations. But companies like Fitbit and Apple don't enable this on their devices natively using standard protocols, though there are some creative Apple-focused workarounds with 3rd party apps.
Even Polar, which you may have thought did it. Didn't really do it. Back when they launched the A360X they added a Bluetooth broadcasting feature in a later update, but in reality, it rarely worked correctly – seemingly due to a quirky implementation. So much so we never saw it added to other watches in Polar's lineup. Polar did have some sharing features tied in with the rest of their gym tools ecosystem, and those have largely worked within that platform – but there's an approximately 99.27% chance you've never used that system.
Thus, why this new feature is finally what people have been looking for. With that overly long backstory, let's do a quick look at how it works. Also, much of this post was buried in my Ignite 2 hands-on preview. But since this is coming to other watches down the road, I figure it might be interesting to dive into the weeds a bit here as a standalone post.
How it works:
First up, we'll need the right watch, and with that – the right firmware. The Ignite 2 starts shipping this week, thus things there are basically set for now. Whereas for the other watches, it's totally plausible (and likely) that things will differ by the time those get firmware updates. Polar says later this year they'll add it to the Polar Vantage M2, Vantage V2, and Grit X via a firmware update. Unfortunately, "later this year" is sorta a long timeframe.
To broadcast your heart rate to 3rd party apps you'll go to start a workout like normal, and then tap the little settings icon: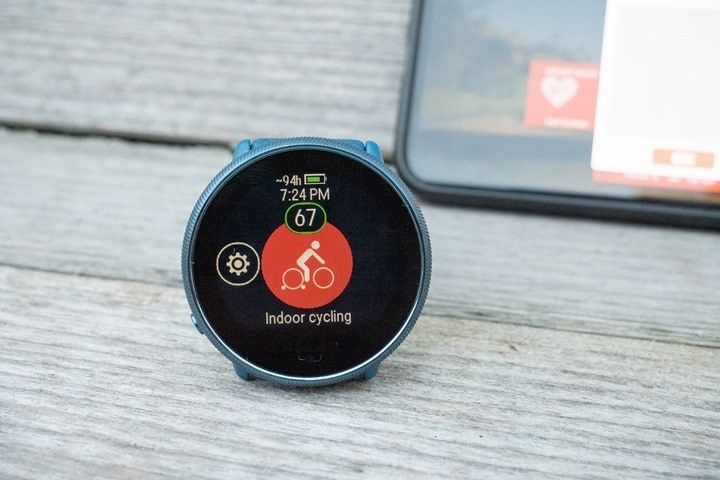 From there you'll see 'Share HR with other devices' in the list, tap that: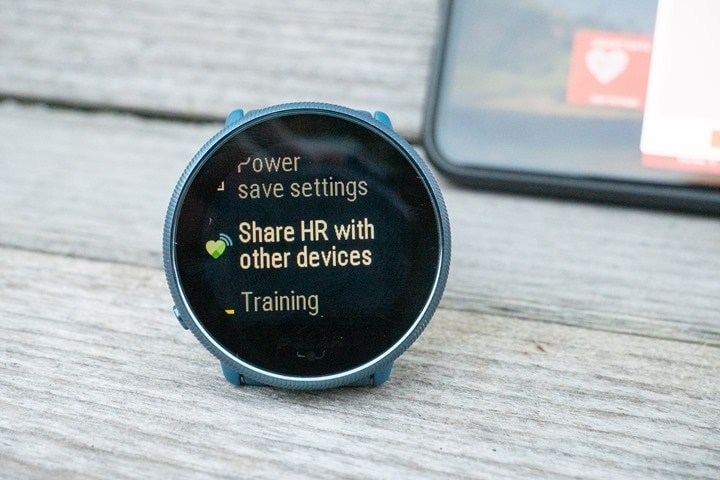 Now, you can choose to 'Add a new device', which…is your only option.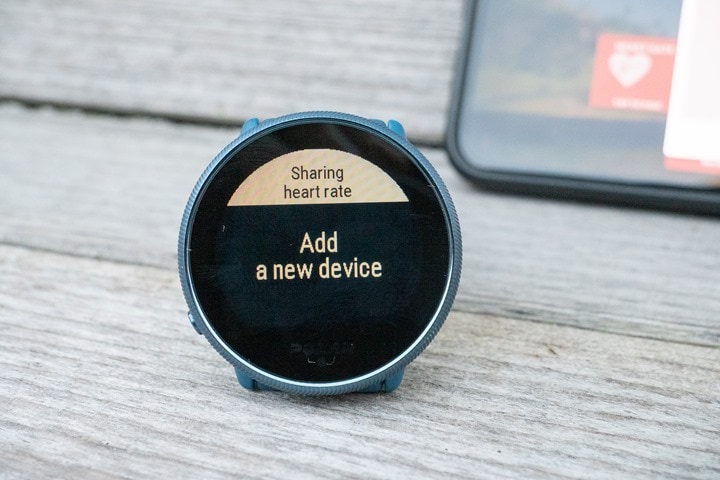 At this point it'll start broadcasting, and is your cue to search for sensors on your app/other device. You've got about 60 seconds to get this part done. For today's example, we'll just use Zwift: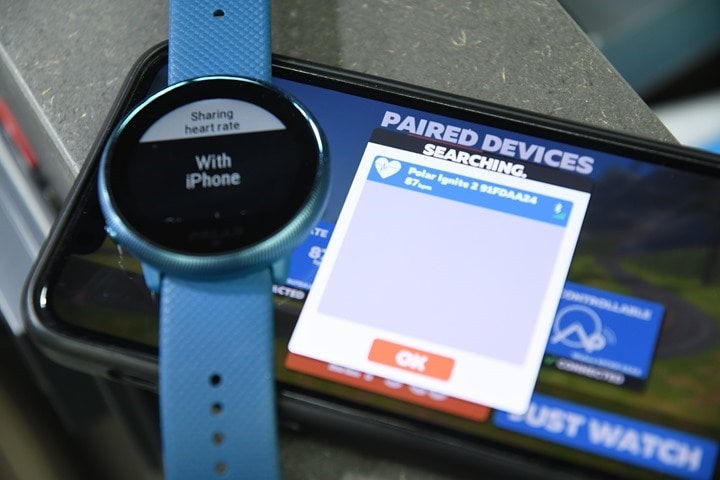 Once you see it in Zwift, tap that, and that'll confirm it over on the Ignite. There isn't anything you need to do there (in theory) – it'll just connect up. On the Ignite 2 you'll see the device source name listed (above 'With iPhone'). For phone apps, it'll just say the name of your phone (rather than the app). Whereas for something like a bike computer, it'll say the name of that (such as 'Edge 530'). I've used both.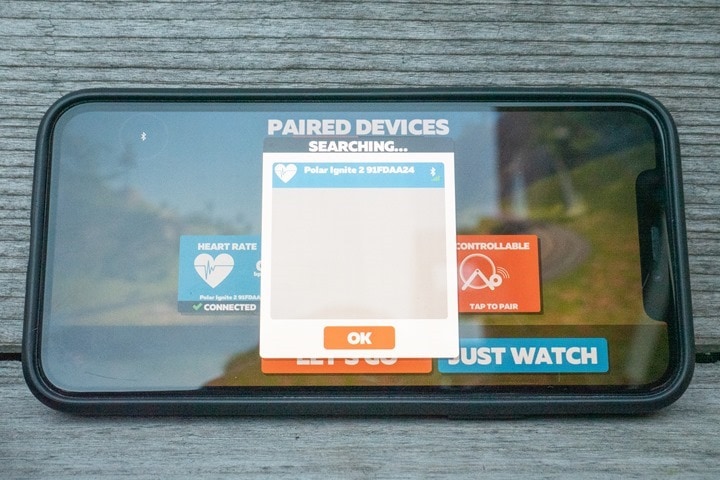 In some devices though, like the Garmin Edge 530, it doesn't show the name of the device, but just the GUID. You can see that below. Whereas in Zwift, it shows the proper name of the device (seen above). I don't know if that's Garmin's fault or Polar's fault, or both their faults. I see the name properly shown on the Edge 530 for other Bluetooth sensors, but not this one. But again, the devil is in the Bluetooth details there.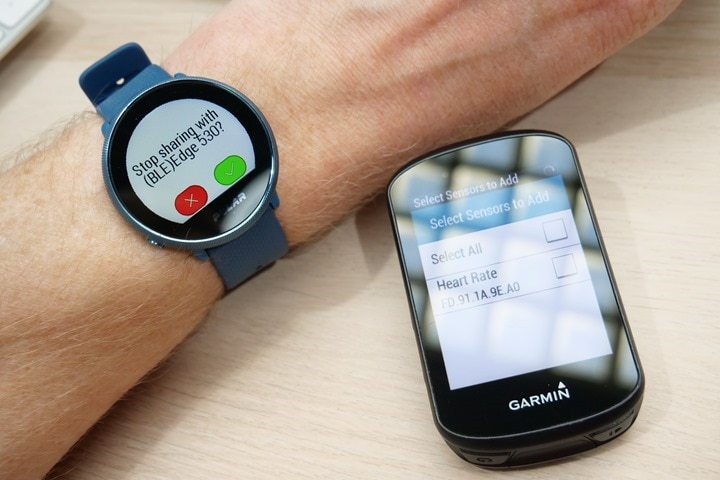 Now, interestingly, the Ignite 2 user interface doesn't seemingly support saving multiple pairings, or broadcasting to more than one device at once. However, if you say you're going to 'Stop Sharing' with one device, but then go straight into adding another device, it seems to hold the connection. Below, you can see I've got it paired (and live) to both my Edge 530 and my iPhone running Zwift, concurrently: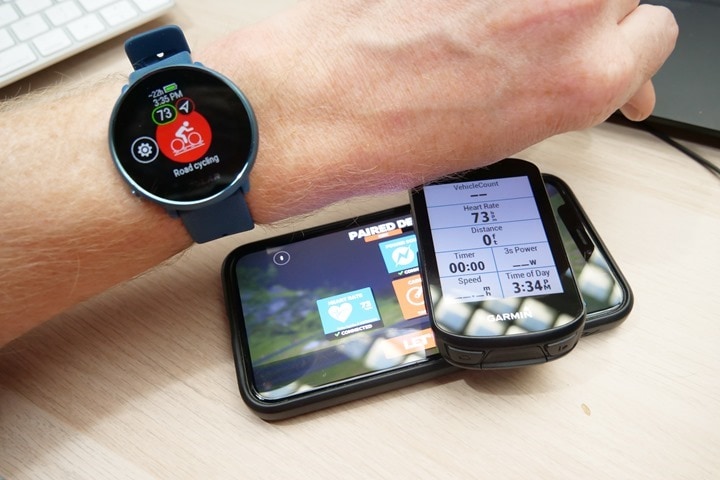 Of course, it's entirely possible that's a "neat bug" that'll disappear. In any case, once paired up, you'll see your heart rate shown on the watch and on the device that you're pairing to (Zwift, as seen below) – in the case below, 61bpm for both.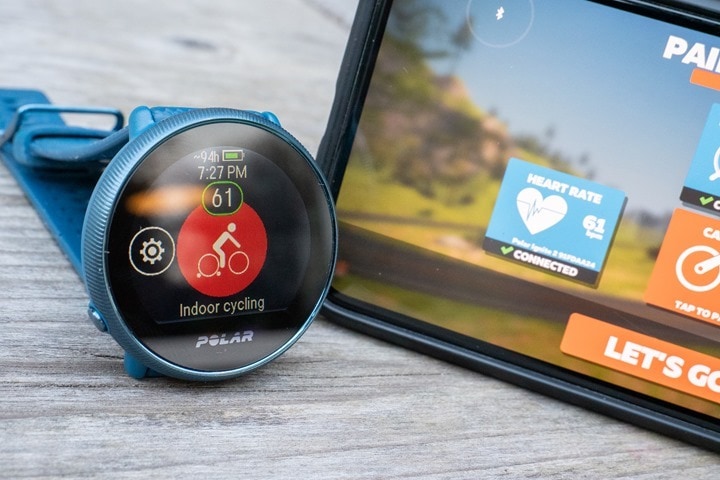 You can now go about your business and record the workout while also transmitting your heart rate.
Still, the pairing process seems overly complicated compared to how Garmin/Whoop do it (but really more the Whoop broadcasting mode is best here). I just wish it was a simple toggle that I enabled to broadcast my HR anytime I'm in a sport mode, and then I can pair to it as I see fit. The whole pairing screen thing just seems like a lot of work. I'd rather it just operate like a typical heart rate strap/band than try and get fancy. Just my two cents.
Wrap-Up: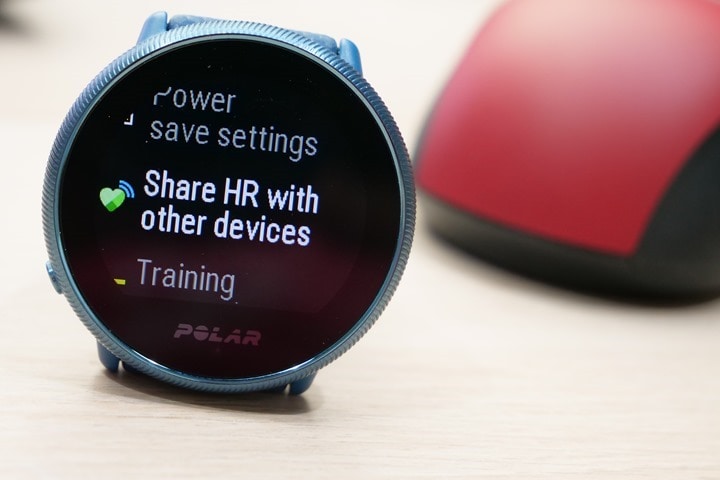 In some ways, it's kinda interesting that Polar chose to launch the HR sharing on what is effectively a low-end device (relative to the rest of their offerings). Even more interesting given that if there's any company out there that has something to gain by trying to sell you an added heart rate strap or sensor, it's probably Polar.
But this seems to show their awareness that consumers in this category don't want to deal with that. They just want to use what's already on their wrist, which in most cases is 'good enough' for the purpose at hand. Be it paired up to an app at the gym, connecting to an indoor bike like a Peloton Bike, or using it with 3rd party apps like Zwift at home. In most of those indoor-focused use cases, accuracy tends to be quite good. Of course, the technology doesn't care whether you're indoors or outdoors, so all these same scenarios apply outside too. Though, in general, most watches tend to struggle a bit more with outdoor cycling (and thus, using this to pair to a dedicated bike computer instead of a chest strap or upper-arm sensor).
Still, I do appreciate Polar bringing Bluetooth Smart broadcasting to this price point, while Garmin has been rolling it out on higher-end watches, they decided against rolling out Bluetooth broadcasting to their Vivoactive 4 and Venu lineups, which only feature ANT+ broadcasting. And even the Venu 2/2S that just released last week, didn't launch with Bluetooth broadcast, though, Garmin says they'll add it at some point.
And if there's one thing that Polar has proven time and time again, they're able to disrupt the lower to mid-range parts of the market by offering features not normally seen there, causing their larger competitors to react. Maybe by the end of the year Bluetooth Smart heart rate broadcasting will become the norm on all $200+ watches. Cause frankly, it sure as heck should be.
With that – thanks for reading!