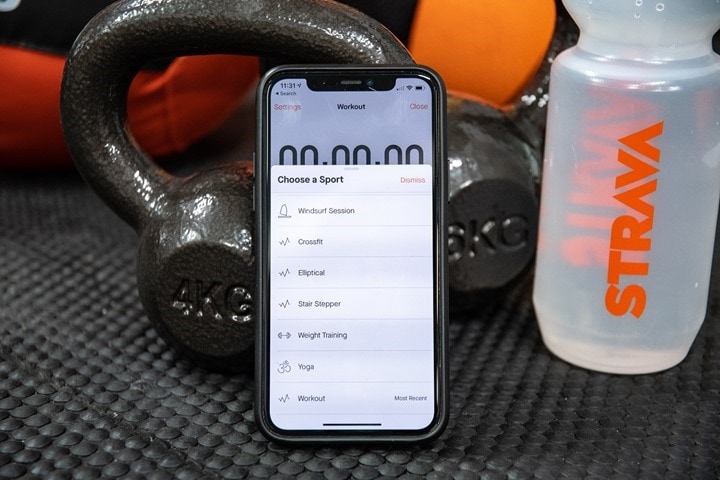 Undoubtedly, for many readers of this site, you've probably got a watch or twelve to record your indoor workout on. But, if you're still narrowing down options from my recommendations guide, then this new tidbit might be applicable to you.
As of now*, you can record an indoor workout on Strava's mobile app that doesn't have GPS involved. Previously, workouts recorded on their mobile app required GPS – which weren't really ideal when you wanted to record a gym workout and show it have a giant GPS splotch over your home. So that's solved.
With this change, you'll also be able to record your heart rate data with a paired Bluetooth Smart heart rate sensor for those indoor workouts as well. And again, this is for all Strava users, not just paid subscribers.
Using it is silly easy, simply crack open the Strava app, and then tap the 'Record' button', which brings you to the regular GPS recording page. However, down at the bottom, tap the sport listing:
Next, simply scroll through all the sports, past Windsurfing, to find the new indoor sport modes at the bottom of the list: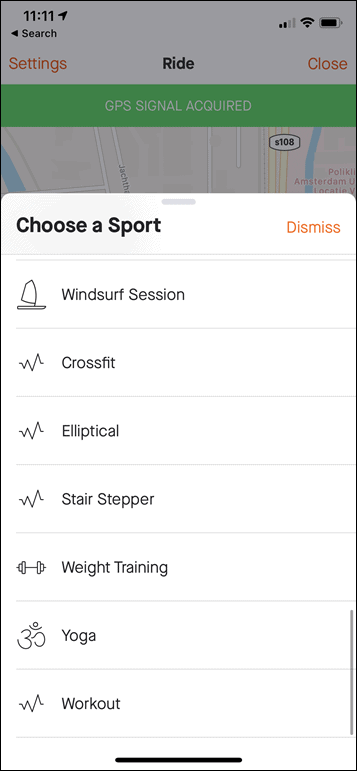 Or here, in text:
– Crossfit
– Elliptical
– Stair Stepper
– Weight Training
– Yoga
– Workout
In my case, I selected 'Workout', which is of course the catch-all bucket for everything else you can imagine (and that Strava can't imagine). From there, you can tap the heart icon to pair up a heart rate sensor via Bluetooth Smart. Note that you don't have to pair the sensor…but…if you've got it, flaunt it?
Once paired up, you're good to go and press start. You'll see elapsed time and your heart rate, that's it (what you see below left, there's no option to create laps or such).
Upon ending the workout you can then add a workout title, set a photo, change privacy settings, and all the usual jazz. Afterwards you'll see the starting time/date, average HR, max HR, and elapsed time in the feed preview. And in the workout details you'll get your heart rate analysis as well as calories.
The next time you open the app to record, it'll default back to whatever sport you used last.
And that's all there is to know about it. Oh, and of course, you can still apply the ZwiftIRL meme generator to any photo after the fact, even if it's not cycling – just to thoroughly confuse your friends about whether it was a naked yoga workout, or a Zwift one. But ya know…don't get yourself banned on Strava.
With that – thanks for reading!
*This is rolling out today to users. You'll need the latest Strava app version (190 or higher), and you might need to wait for the feature to become live on all accounts over the course of the day.