Every once in a while I get a bit excited to do short app reviews here on the site. Nothing crazy, just talking about smaller apps that I find interesting and that others might never have heard of. The thing is, I keep 'collecting' these apps in a giant Todoist list, and keep meaning to write about them. Some of them you might know – some of them not so much. We'll start with one of the more well-known ones within that context – Wandrer.earth.
This site tracks all the roads you've ever ridden on planet earth, and then lets you see how much of each ride you complete are 'new roads' vs 'old roads'. It'll track your monthly/annual new road distances, as well as award virtual points for new road riding. What you (or at least I), quickly realize is that I'm largely a creature of habit – mostly re-riding the same roads over and over. Albeit, sometimes in different directions. That's of course especially true in 2020 with very little travel. Which is where I'd often rack up new pavement miles for various bike-related events/trips.
I've been using the site's free tier for a long while now, so I figured I'd dive into how it works.
[Note: For this series, I'm trying to keep these posts to a reasonable length, so they aren't designed to be crazy-long in-depth reviews that require 8 cups of coffee to get through. As always, none of these posts/reviews are sponsored in any way. I just like highlighting cool apps from smaller developers where I can.]
The Details:
While all new roads award you points in Wandrer, all roads in the fitness tech world seem to end at Strava. And that's the case here as well, where the platform leverages Strava as your repository for past rides. To get started you'll link up your Strava account, and then it'll pull in your past activity.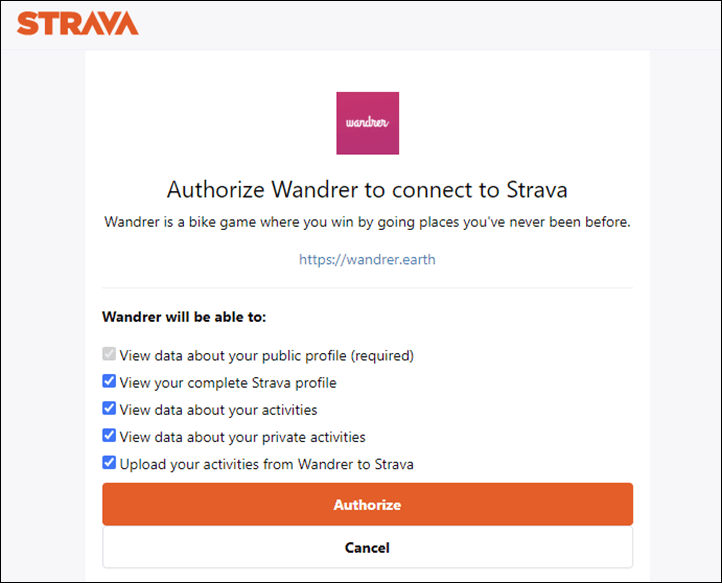 For example, in my Wandrer account there are 772 rides:

Whereas in Strava, it shows a few more:

So why the difference? Well, a few things:
A) Indoor trainer rides aren't included: And I've got boatloads of these stretching back a decade, well before Zwift or TrainerRoad even existed
B) Private rides (not marked public): When I initially joined Wandrer a long time ago, these weren't included. Now they can be. I just need to update my permissions on Strava. These are often my weekend wanderings with the kids, sometimes commutes, or whatever else that I don't want to share publicly. For anyone signing up new, this won't be an issue.
C) It's not on Strava, and thus, didn't happen: Look, the t-shirt is true.
No biggie, that all makes sense. Also, not all my rides are on Strava. For example, above you see my longest ride as 103.1mi, but I've got many rides 112mi and above, but all of them predate me joining Strava in 2012. Also, note that I joined Wandrer so long ago that it was before the paid tier existed. The free tier is limited to 50 historical rides being imported (but unlimited new rides from there out). If a user upgrades from free to paid, then they can re-import all past rides.
Also – most notably, it sounds like runs/hikes/walks are currently slated to go live in the next few days – which in my case should dramatically increase my country count (more on that later). Though, it's not clear if that'll retroactively grab my old data (I hope so!!!).
Ok, with that caveating out of the way, once logged in, you'll see all your past rides.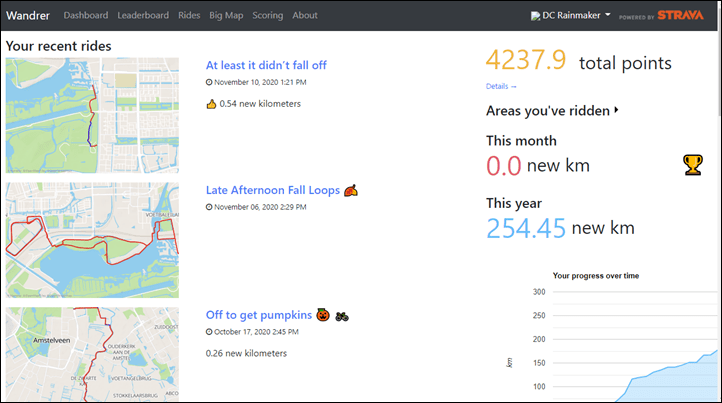 Above you'll see that for each ride it lists 'new kilometers'.
You can also switch to the 'Rides' view, and see an Instagram-style tile of rides, notably with the GPS track highlighted in red vs blue: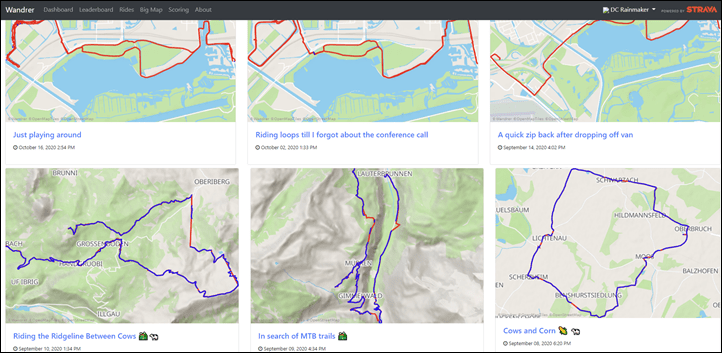 Thus, you see the bottom row was all new kilometers, though, due to the way the mapping is handled, it'll sometimes plot new kilometers as old kilometers. In the case of those three rides in Switzerland/Germany on that bottom row, all of them were totally new pavement (or trails) I've never ridden before. We'll get to that nuance of road accuracy in a second.
Looking at the 'Cows & Corn' ride (here on Strava), you'll see it lists the towns I've passed through and the mileage for each one, and almost everything is blue, meaning new pavement for me. This was a ride that I just stopped off the side of the highway and randomly picked a point to do a 45-minute ride, asking Strava to spit out a route. It was as simple as that.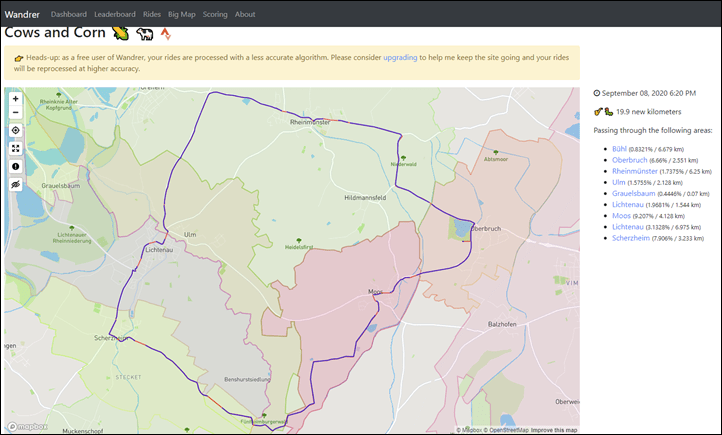 Now, you may notice above that there's red lines mixed in there. That's because when I first signed up for Wandrer a year or so ago the free tier used a different calculation method that was more efficient. Then a paying tier was offered with a more accurate calculation method (but that costs more computing power, hence paying). Now, it's been changed such that all users get the faster/accurate method, but that you have the 50-ride historical limit for free users.
Point being, you can see the jump in mileage between those two methods. Above screenshot taken with my account on the old method, and then below screenshot taken with my account on the new method. Notice the red is all gone, but also my mileage jumps from 19.9km to 22.14km. Anyway, for new users you'll all get the newer algorithm.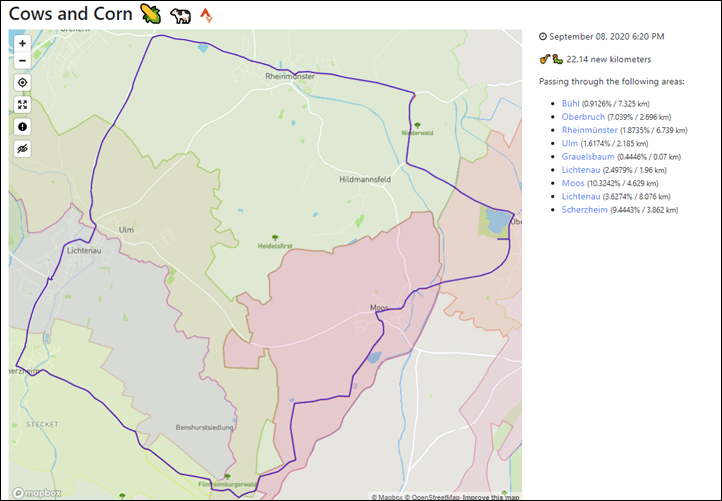 In any case, what happens when you go out for a new ride?
Glad you asked!
In my case, I decided for yesterday to create a route that had as much new pavement as possible for a roughly 60-80 minute long ride. So I hit up Strava's new Route Builder initially on my phone, but most of the routes while uniquely new in whole to me, still included a lot of pavement I'd already done. So instead I just went old-school style and opened two windows up side by side and kept tweaking it till it resulted in roads that I'm pretty sure I hadn't been on before.
Here's the resulting mess of a route: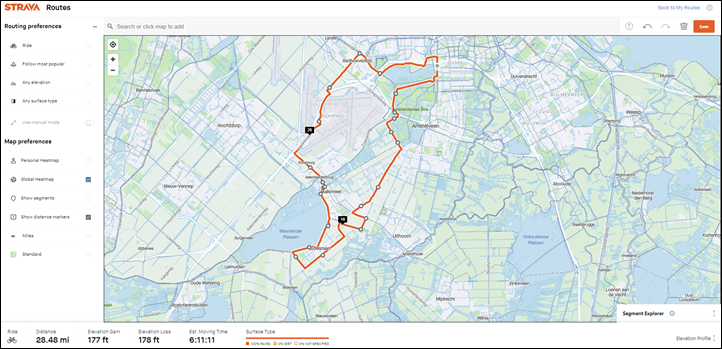 Then I went out and rode my bike. This is the normal part:
And, as 'luck' would have it, there were numerous bike path closures on my route, adding even more unplanned 'new' pavement. Plus, I got to ride under a Boeing 737, so there's that.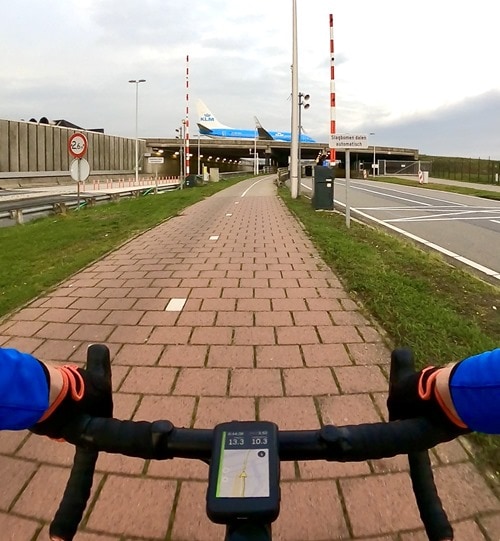 Anyway, after the ride is set to public in Strava, I'll get a notification e-mail from Wandrer, or, I can just crack open the website:

And here you can see the vast swaths of blue for that ride, indicating new pavement for me: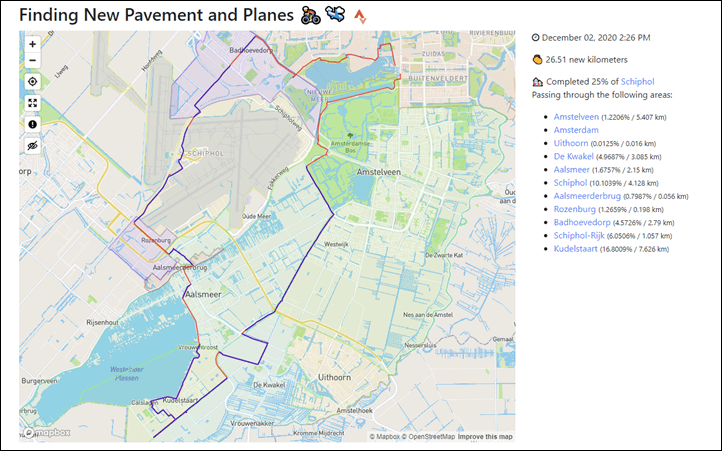 And then I can re-load my map of the region to see some updated totals for this particular area: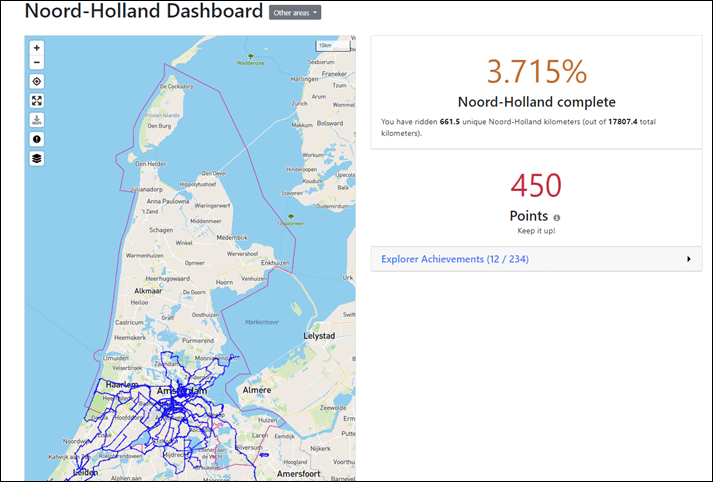 I remain semi-skeptical of the roadway lengths, as it seems pretty unlikely I've even hit 3% of this region. Heck, probably not even 3% of all the streets in Amsterdam. Complicating factors further is the expansive Dutch bike path system, which basically doubles the roadway numbers.
In addition, you can also see total breakdowns by country as well. This is an area I really wish there was a running version for, since I've likely run in some 60+ countries, whereas for cycling I didn't take my bike as often on my travels.

You can also see a world map, but at this scale (since I haven't done any sort of 'cross the country' type rides, it just looks like little dots: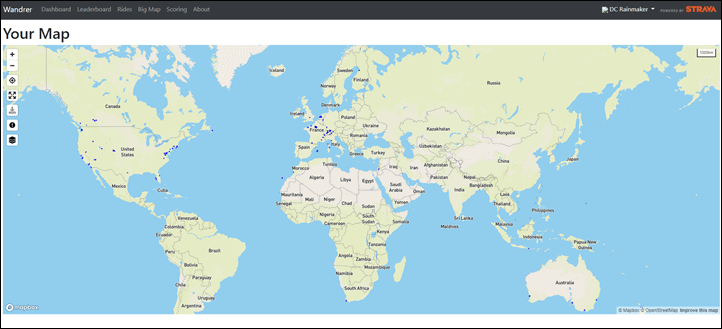 But when I zoom in a bit more, then I get more detail on my roads to date, here's Paris: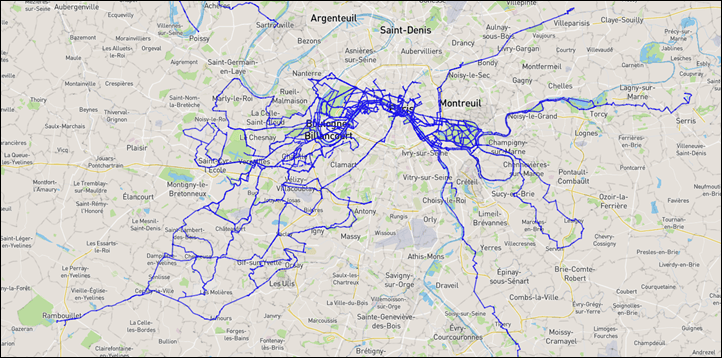 And Amsterdam: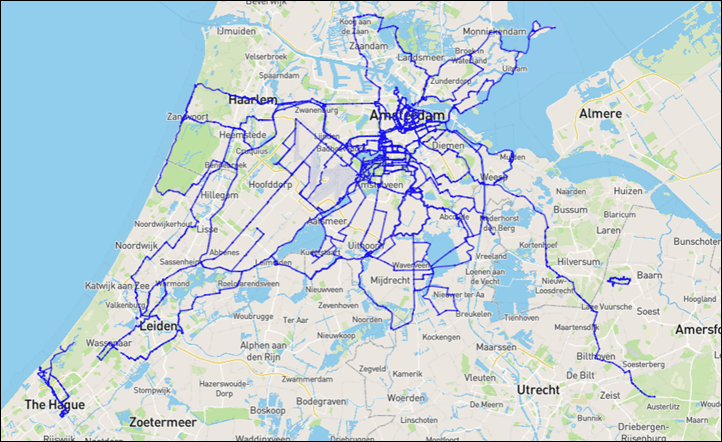 Whereas most of my time in DC predates my Strava account uploads (some rides were pulled in years ago from then my mostly offline Garmin files, but hardly the majority):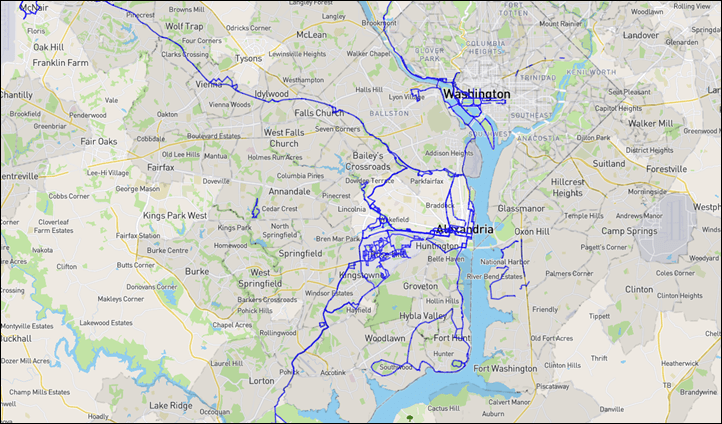 And finally, you can download a map of roads that you apparently can load onto your Garmin, and then basically just knock out street by street meandering around.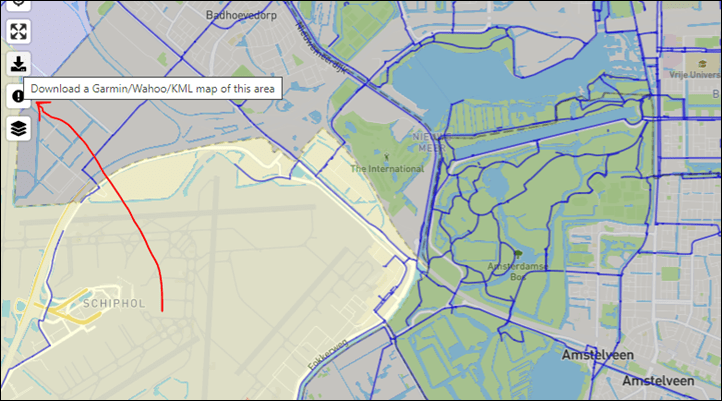 I haven't tried that though, so I'll have to defer to a DCR reader on how well that works. Still, I like the idea – and I know this past spring some runners were working on trying to run every street on their towns as a way of seeing places they'd never seen before. Same concept applies here.
Wrap-Up: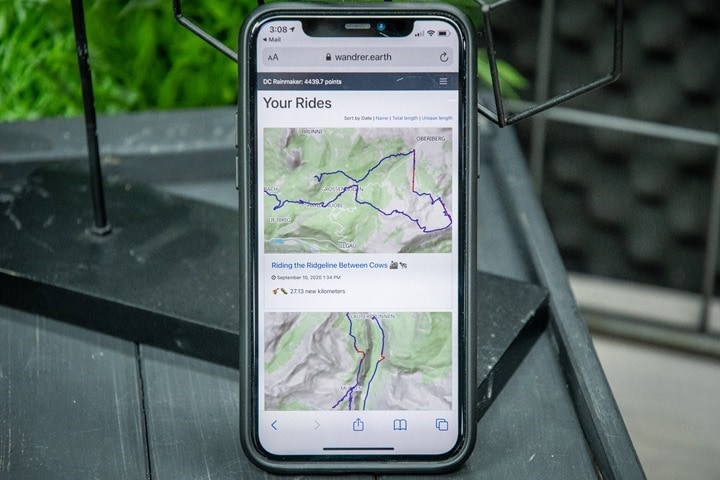 I like Wandrer, and what it provides aside of platforms like Strava's own heat maps. I enjoy being able to quickly see where I've ridden that's not necessarily heat-focused, but just 'have I been there or not'. A binary yes or no. And it's funny to sometimes look at a road and be like 'Oh yeah, I totally forgot I rode that route once years ago.'
My only two nitpicks would be how to turn this sort of data into an actual new route to go off and ride. Not just a meaningless pile of roads I haven't done, but a route that someone actually wants to ride. So basically a mashup between what Strava's new Route Builder tool does (where it magically spits out cool routes based on heat and routing data), but with a tickbox à la Wandrer that weights heavily towards roads I haven't done.
The second nitpick I have would be that I'm lucky I got in when importing all older rides was free. Nowadays for $30 for that option, it'd be a tougher pitch for me. A couple bucks – sure, but $30 is a lot for something that while I enjoy, I don't consider it a critical path to my daily life. Of course, we're all different in what we prioritize. And ultimately, as the developer behind Wandrer pointed out, the GPS mapping and calculations behind this platform are algorithmically expensive to operate. That's because given the amount of computing time that must be leveraged as every GPS point must be rendered, checked against past routes, determined whether it was just a case of you being in a different spot on the same road (thus, different GPS points) – or a different road, and repeat for each second of your ride.
Still, it's cool stuff – and I like cool stuff. Oh, and apparently an actual smartphone app (as opposed to just the site) is in the works. So looking forward to that too.
With that – thanks for reading!