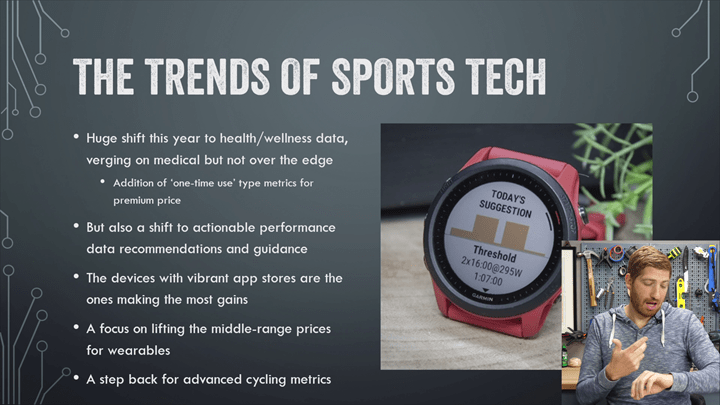 This post is gonna be a quickie, because frankly, if you want to watch my full keynote, it's gonna be a…umm…longie?
For a decade now I've been giving a 'State of Sports Tech' annual keynote each fall, and this fall would be no different. At least in topic, obviously, the world situation means it's all digital now. The delivery mechanism this year was the Garmin Developer Virtual Conference, which is what the ANT+ Symposium has been folded into. And, it's all online too. Here's my write-up on that with all the news from the recorded presentation which you can see below.
(Fun Trivia: From 2010 to 2018 my annual keynote was usually at the ANT+ Symposium, however, in 2019 the ANT+ Symposium date aligned precisely with that of my Peanut #3's delivery date. Thus, I wasn't able to attend…so instead, I actually delivered such a keynote earlier in the year at the 2019 Connect IQ Summit.)
In any event, the focus of the presentation begins with some of the overarching trends in the wearables and sports technology space, and then gets successively deeper into the weeds as we go along, talking about areas such as indoor training (and the rise of anti-competitive practices), or power meters and even running power. I also talk about the impact of COVID-19 on sports tech as well.
Remember, the audience for the presentation is the sports tech industry, not specifically consumers. Though, I've found over the last decade that many DCR Readers are interested in the presentation, and thus tend to enjoy the dive behind the scenes.  As always, while the presentation may be held in one venue or another, neither Garmin nor any other entity has any control of what I say. Nor do they pay me for it.
Ok, intro over, just hit 'Play' on the presentation below. I've put in YouTube chapters so you can dig around and find the sections that are most interesting to you. You'll see those as you drag along the timeline in the video.
With that – thanks for watching, and reading!