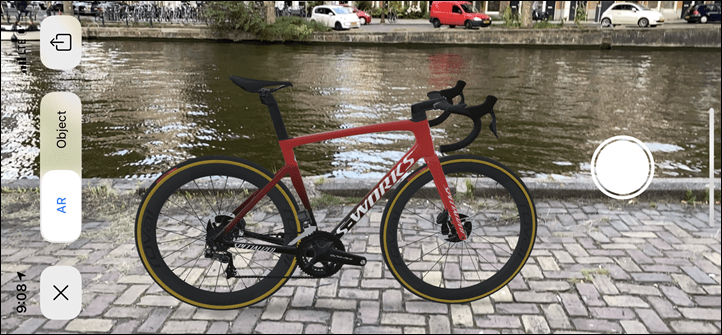 I initially was going to write about some new and increased functionality changes with the Specialized Ride app and Wahoo's bike computers, building upon what they launched earlier this year. But then I got distracted trying to take a photo of the new Specialized Tarmac SL7 inside my grocery store in front of a giant Corona stash. All in augmented reality. Yes, the photo is at the end of the post…you're welcome.
So, while the Wahoo and Specialized integration stuff is cool, I think for the moment I'm going to stay distracted. Except, after I got my groceries, sans-Corona, I headed outside and then back to the DCR Cave and had fun with the app (Android/iOS).
If you're not familiar though, last year or so Specialized launched their 'Ride' app. This basically was integrated with the new Specialized ANGi helmets, which detected crashes. Super cool stuff (and since then, they've ditched the annual fee). However, the run always had an underlying purpose, which was effectively acting as a hub to plan rides with other people, and act as a sorta-kinda-Strava like thing. I'm sure Specialized would say they aren't competing with Strava, and on paper they aren't either. But in some ways, it's kinda hard not to see it as a distance athletic hub competitor. Roughly.
This past January at the Tour Down Under (Remember that, professional bike racing? That was when 2020 was still kinda new and neat), they launched a partnership with Wahoo that brought ANGi crash detection integration and integration with Wahoo units. Now, this week they started backfilling even more data metrics to that – more on that with more bits coming soon, as we're getting distracted again.
In any event, one of the things in the 'Specialized Ride' app is the 'Feed', which is where you can see upcoming events in your area, and planned rides from others. It's a cool concept, and as I've noted numerous times before – is somehow something that Strava doesn't have. You *still* can't plan group rides from entirely within Strava with route details that sync to participants automatically. Not that you can do that entirely either in the Specialized app.
But, what you can do is get this new option to see their launched but not launched Specialized Tarmac SL7. This is officially the pre-launch phase, or something like that.
And, within the pre-launch you can use augmented reality to view that bike anywhere you want. Once you tap to 'See the Bike', it'll take a few seconds to download some stuffs, and then use your camera to project the SL7 onto your scene in an interactive 3D way….aka…augmented reality.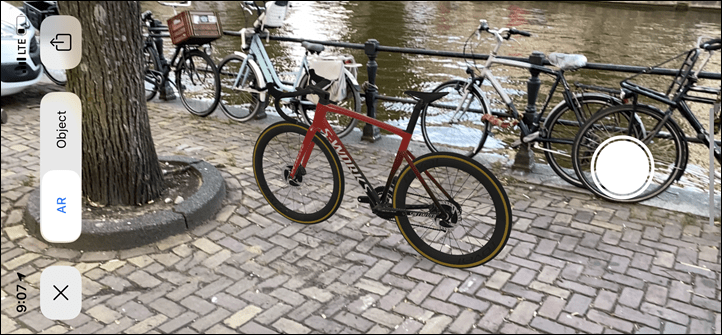 You can move around, and the bike stays put wherever you placed it, appropriately scaled to the surroundings. If you get closer to the bike hologram, it'll look like you're getting close.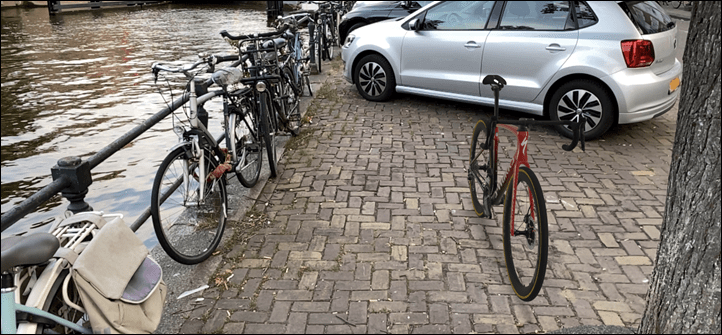 As a reminder, here's what's actually on this chunk of pavement, so very roughly what it looks like without the AR:
You can even zoom in on the power meter by just kneeling down next to the bike. This does admittedly look a bit strange when kneeling down in the grocery store next to an empty bit of nothingness. It also looks strange on a chunk of cobbles near the canal. But I can do that in my office: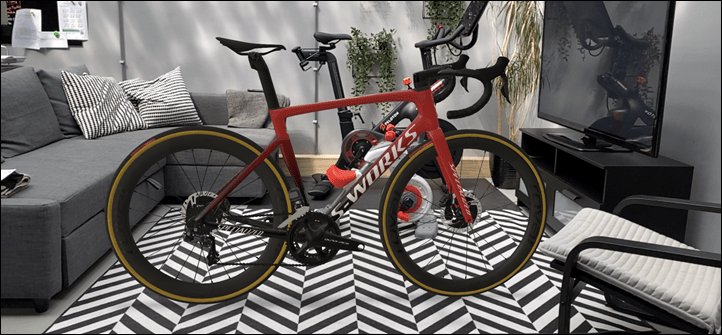 You can also skip the whole proper sizing thing and just look at the object and zoom around. In my case, I made it gigantic in the office. And with that I can clearly see this is using the 4iiii/Specialized blend atop a Shimano crankset. Though oddly, the rendered imagery isn't quite perfect, since it's missing the left-side power meter pod that should be there, it's is missing on the back/inside of the left crank arm:
Now, of course, Specialized hasn't technically "launched" this bike. This is all part of their preview program prior to "launching" it next week on the 28th on YouTube at 9AM US Pacific. So details like how much it weighs, costs, or whatever else isn't announced yet. So hopefully they offer the non-Shimano power meter cranksets as well, since the accuracy on that one is good.
Instead, you can just imagine the bike in your room, pain cave, or grocery store – even make it giant XXL sized like below. Whatever floats your boat.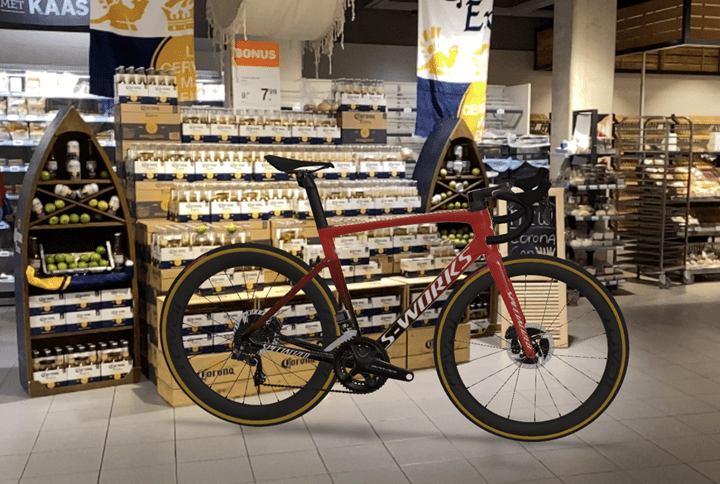 As you know, bike reviews aren't my jam. My bike review would roughly be 'Yup, it rolls'. However, power meter tech is always interesting. I'm doubting there's anything new here – but ya never know.
Until then, go forth and put the bike in awkward locations. That's really what this sorta app is designed for, right?
Thanks for reading!