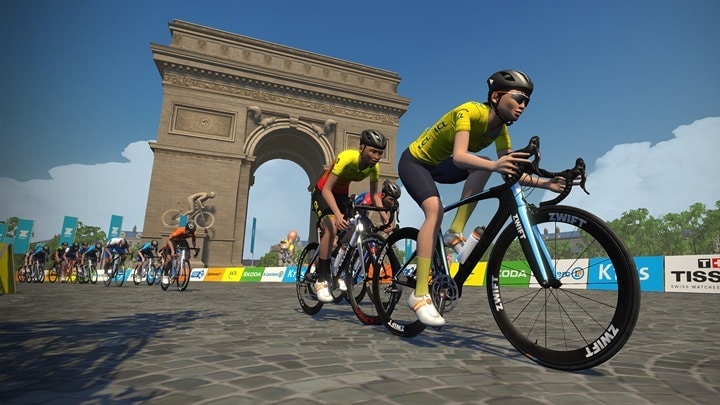 Today ASO and Zwift have announced a Virtual Tour de France, which will start taking place this weekend with 23 Men's UCI WorldTour teams, and 16 Women's UCI WorldTour teams racing. The truncated event won't quite mirror that of the real Tour de France. After all, it's only 6 hour-long stages over three weekends instead of the usual 21 stages that are usually 3-5 hours in length each. Plus, riders can only compete in a maximum of three (men) or four (women) stages – with the aim of it being more akin to a team event than an individual one.
Still, some of the biggest names in professional cycling will participate – including Chris Froome, Marianne Vos, Geraint Thomas, Anna Van der Breggen, and more. The Virtual Tour de France (that's the official name) stages will also be broadcast on regular TV in over 130 countries, complete with webcams showing the riders suffering away in their living rooms, or posh Mediterranean homes.
But the real winners here are probably regular Zwifters who get not one, but two new Zwift worlds worth of virtual roads to ride. These new roads 'reimagine' regional parts of the French countryside, while also replicating the famed Champs-Élysées and Mt. Ventoux. Oh, and there's a non-pro event, l'Étape du Tour, where you can ride some of those routes now. And then 'Discovery' rides where you'll be able to ride what the pros rode from the previous weekend.
Phew. All of these details are painstakingly outlined below. With that, let's dive in.
Virtual Tour de France: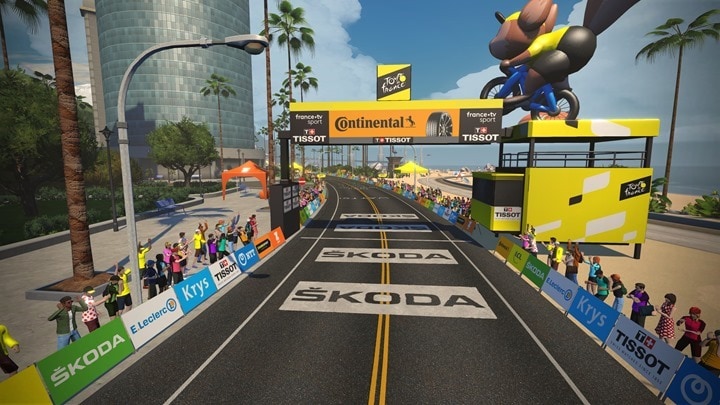 Now, I'm basically going to slice this section into two parts. First, is the super-quick Cliffs Notes version, and then second is all the nitty-gritty details. So, to begin, here's the bulleted 'give me the facts quickly section:
It's a 6 stage event: Stages 1 & 2 are in a dressed up variant of Watopia, whereas Stages 3, 4, 5, and 6 are in a new France virtual world
The Stages are semi-fictional: While it would have been nice to see all of the new French roads mirror some real-world counterpart, the reality is that with the exception of Paris and Mt. Ventoux the terrain doesn't actually align to a specific real-world locale
The race will take place over three weekends: Starting this weekend, one stage on Saturday, one on Sunday. Rinse/repeat for the next three weekends
There's both a men's and women's race: Parity, look at that!
There are 23 men's teams competing, and 16 women's teams competing: So in a nutshell, basically all the major UCI WorldTour teams that would normally be at the Tour de France (men), and at the Giro Rosa (women)
It's more of a team race than an individual one: A team can only have 4 riders per stage, and those individual riders can only compete in a maximum of three stages for the men, and four stages for the women
There are jersey/team/GC winner categories: Like the real TdF, you can pick up a KOM jersey or a new rider jersey. And by 'you', I mean those professionals. Heck, there's even a Twitter poll for "Most Combative" rider planned after each stage
The overall winner is points-based: While normally for the Tour de France the overall winner is time-based, in this case it's based upon points assignments from each stage
It's being broadcast on TV: In short, if there was a TV station broadcasting the Tour de France planned, it's likely now broadcasting the Virtual Tour de France
Ok, let's step back and start with with the Stages:
Stage 1: Saturday 4th July – Watopia's Hilly Route: 36.4 km (4 x 9.1 km, hilly stage)
Stage 2: Sunday 5th July – Watopia's Mountain Route, 29.5 km (682 m of ascent, mountain stage)
Stage 3: Saturday 11th July, – Representing North-East France, 48 km (flat stage)
Stage 4: Sunday 12th July – Representing South-West France, 45.8 km (2 x 22.9 km laps, hilly stage)
Stage 5: Saturday 18th July – Replication of Mont Ventoux, 22.9 km (finish at Chalet-Reynard, mountain
stage)
Stage 6: Sunday 19th July – Replication of Paris Champs-Élysées loop, 42.8 km (6 laps of the circuit)
So, as you can see, the first two stages are within the existing Watopia world, albeit dressed up in Tour de France banners and such. After that, the event moves to Zwift's new French world and Paris world. They're separate worlds, but more on that later.
These routes/roads are designed to represent given regions of France, rather than replicate a specific road or Stage. The exception to that though is the finale in Paris on the Champs-Élysées, and then the climb of Mt. Ventoux. However, note that for Stage 5 of the Virtual Tour de France, the riders will not ride to the top of Mont Ventoux. Instead, they will finish at Chalet-Reynard, which is roughly 2/3rds the way up.
Here is a nifty mini-gallery are the elevation profiles of each of the Stages. Once I have the actual VeloViewer links (I just have imagery right now), I'll link to those.
Ok, next, to the riders. Well, actually, let's start with the teams. That part is a bit easier. Here's the men's:
– AG2R La Mondiale
– Arkea Samsic
– Alpecin-Fenix
– Astana Pro Team
– B&B Hotels – Vital Concept p/b KTM
– Bahrain McLaren
– Bora Hansgrohe
– CCC
– Cofidis
– Circus – Wanty Gobert
– Deceuninck-Quick-Step
– EF Pro Cycling
– Groupama FDJ
– Israel Start-Up Nation
– INEOS
– Jumba Visma
– Lotto-Soudal
– Mitchelton-SCOTT
– NTT Pro Cycling Team
– Rally Cycling
– Sunweb
– Total Direct Energie
– Trek-Segafredo
And here's the women's teams:
– Ale BTC Ljubljana
– Arkea
– Boels Dolmans
– CANYON/SRAM Racing
– CCC-Liv
– Ceratizit-WNT
– Drops
– FDJ – Nouvelle Aquitaine – Futuroscope
– Lotto Soudal Ladies
– Mitchelton-SCOTT
– Parkhotel Valkenburg
– Rally Cycling
– TIBCO-SILICON Valley Bank
– Trek-Segafredo
– TWENTY20
– Sunweb
– Valcar-Travel & Service
Ok, that huge list of teams complete, what about the actual riders?
Well…this is where it gets a bit messy. See, the riders aren't competing for themselves. Instead, they're competing for their team. Zwift and ASO have mandated the following two things:
Rule #1: No more than four riders per team per stage
Rule #2: No male rider can race more than 3 stages total, and no female rider more than 4 stages total
As such, this is more of a team PR event (and honestly, in my mind, a hugely disappointing aspect). There are however still various jerseys that can be won, and then the team decides which rider will wear that jersey the following day (after winning it).
When it comes to jerseys, the points scoring varies with each jersey/awards:
GC Winner (Yellow Jersey): First 25 riders receive points at finish
King/Queen of the Mountain (Polka Dot Jersey): First 10 riders on Stage 5 Ventoux finish, first 5 riders on Stage 2 Epic KOM finish, and first 3 riders on any other Category 3 climbs
Sprint Jersey (Green Jersey): First 10 riders on intermediate and final finishes
Young Rider (White Jersey): First 10 riders born after Jan 1st, 1995. This category is not combinable within a team, only the highest 'winner' gets the points
Most Combative (No jersey): This is a daily Twitter poll where the three most combative riders are offered, and points are given based on the Twitter poll placement
The amount of points varies widely within each jersey for each 'win'. For example for the Yellow Jersey the points for a stage win start at 50 points, then 40 points for 2nd place, 35 for 3rd place, all the way down to 1 point for 25th place. Whereas for the green jersey, it's simply 10 points for the sprint winner, 9 points for 2nd, and so on down to 1 point for 10th.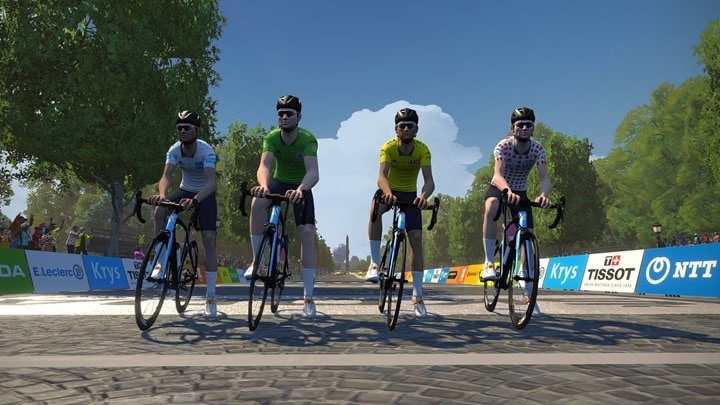 Of course, that's all just collecting points. The actual awarding of those jerseys is an incredibly complicated affair. However, the main thing you'll want to know is how tie-breakers are handled within points for a given jersey (including the GC). And in that case, if two teams have the same number of points, then for the GC it'll defer to the highest place rider of that finishing stage.
For the sprint jersey it'll first defer to most stage wins, then most intermediate wins, and then best GC ranking. For the KOM/QOM jersey it'll defer to most 1st place CAT 1 finishes, then CAT 2 finishes, then CAT 3 finishes, and finally failing everything else best GC ranking. For the young rider jersey it'll tie-break to the highest U25 rider in Paris. Same goes for overall team win tie-breaker if required, which will be highest place team rider to determine the win between the ties.
Last but not least, here's the rough broadcast dates/times, the women always go first, and the men follow basically an hour later:
Stage 1: July 4th @ ~15:00 CET / 06:00 US Pacific / 23:00 Australia AEST
Stage 2: July 5th @ ~15:00 CET / 06:00 US Pacific / 23:00 Australia AEST
Stage 3: July 11th @ ~14:45 CET / 05:45 US Pacific / 22:45 Australia AEST
Stage 4: July 12th @ ~14:45 CET / 05:45 US Pacific / 22:45 Australia AEST
Stage 5: July 18th @ ~14:50 CET / 05:50 US Pacific / 22:50 Australia AEST
Stage 6: July 19th @ ~14:45 CET / 05:45 US Pacific / 22:45 Australia AEST
These will also be broadcast on Zwift.com too, as well as the following broadcasters:
Worldwide:
GCN App
Zwift.com
Europe:
Pan-Europe (incl UK): Eurosport & GCN
Denmark: TV2 Sport
Norway: TV2 Sport/TV2 Sumo
France: FranceTVSport
Belgium Walloon: RTBF
Belgium Flemish: VRT
Netherlands: NOS
Portugal: RTP2
Spain: Teledeporte
Sub-Saharan Africa: Supersport
Americas:
USA: NBCSN
Canada: FloBikes
Asia Pacific:
Australia: SBS
Japan: J Sports
China: Zhibo.tv
New Zealand: SKY Sport
Pan-Asia-Pacific: EurosportAsia & GCN
Also of random note, is that if you're a professional rider in these races you must be in the starting pen 30 minutes prior to the start of the race (though are allowed off your bike), and the riders must stay in the game on their bikes until the Team DS is alerted by officials they can get off their bikes.
And as far as cheating and accuracy? Well…let's be honest, people are doing this from their homes with what is little secondary validation. Also, it's largely a PR event. Meaning that unlike some of the provisions that would be in place for an in-person Zwift event (such as validated rider weigh-ins or disallowing access to the trainers/power meters), those won't apply here.
Still, Zwift is taking some precautions here. Riders must submit video weigh-ins in advance of the race, and Zwift says that each team is doing a specific equipment and validation check with a Zwift individual responsible for that team. There aren't however going to be any post-race verifications with ZADA for this, nor is there any prize money on the line. Instead, all the events are in support of Le Tour United, which is raising money by ASO for Emmaüs, Secours populaire français, Jeugdfonds Sport & Cultuur, BiJeWa, and Qhubeka.
L'Étape du Tour & Discovery Rides: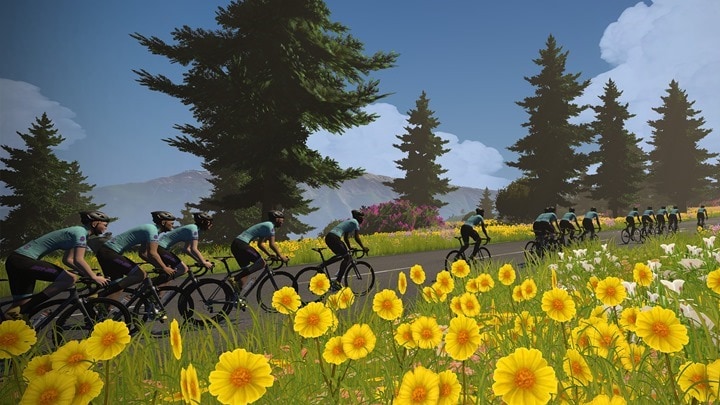 Now, unless you're one of the pros riding, then you'll instead want to be riding within the Virtual l'Étape du Tour de France. Now, normally l'Étape is a physical event with around 15,000 riders that can ride a real Tour de France stage each July from that year's Tour de France. This is typically a mountain stage in the Alps or Pyrenees, and is a one-day affair.
However, with that postponed for now, a virtual version of that will take place in Zwift (literally dubbed Virtual L'Étape du Tour de France). While still considerably shorter than the real thing, it'll run over three different weekends. So while the pros will race two stages each weekend, you'll race one stage each weekend. There are 16 different race sessions per weekend to choose from to get that Stage finished. Here's the event details:
Stage 1: July 4th/5th – Zwift Watopia's Mountain Route: 29.5km with 682m of ascent
Stage 2: July 11th/12th – Zwift France's Casse-Pattes Route x2 laps: 45.8km with 155m of ascent (emulates South-West France)
Stage 3: July 18th/19th – Zwift France's Mont Ventoux Route: 22.9km with 1,539m of ascent (finishes at top of Mont Ventoux)
In addition to that, you'll be able to ride the same routes as the pros for the week following each pro race. So basically:
Week of July 6th: Just the Watopia routes you've already got access to
Week of July 13th: The France World routes
Week of July 20th: The France & Paris world routes
These will be accessible via group 'Discovery' rides, that include the specific routes from the weekend prior. These rides will be scheduled every 2 hours all week long. Of course, knowing how Zwift typically works, this means you'd be able to likely finish the group ride and keep on going to explore other aspects of the France map. In the case of Paris, that's a separate map, so you wouldn't be able to connect from the first map to the 2nd map.
Speaking of which, let's talk new Zwift Worlds.
The New French Worlds: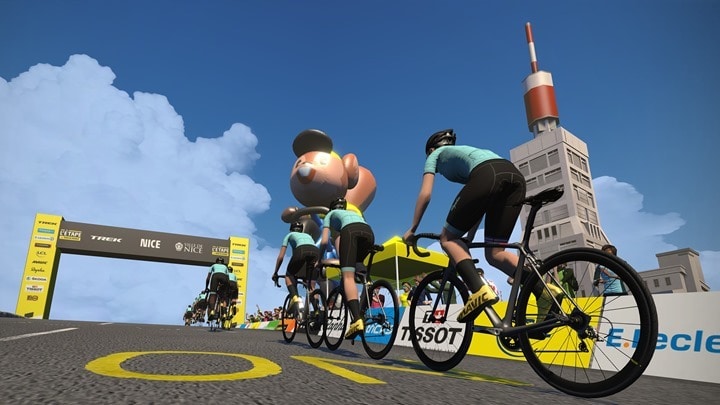 The best bit of news here is all the new pavement for Zwifters. And that actually comes in two worlds, not one. There's the France Zwift World, and then there's the Paris one. I know, it's confusing – Paris isn't part of France. Don't worry, as much of the rest of France would tell you, they don't see Parisians as from their world either.
In any case, BOTH of these worlds will become part of the standard Zwift guest world rotation starting after the Virtual Tour de France. Zwift's head of PR Communications, Chris Snook, confirmed this earlier today saying "these worlds will join the regular guest world rotation soon after the Tour de France".
However, you'll actually be able to ride these new routes earlier than that. Each week after the pros race, Zwift will host so-called 'Discovery Rides' every two hours on Zwift, which will feature the routes from the previous weekend of racing. More on that in the previous section.
Ok, so details about these new worlds are still somewhat thin. But to begin, the new 'France' map is fully interconnected between the routes, so if we remember back to the Virtual TdF Section, we've got the following portions:
Stage 3: Representing North-East France, 48 km (flat stage)
Stage 4: Representing South-West France, 45.8 km (2 x 22.9 km laps, hilly stage)
Stage 5: Replication of Mont Ventoux, 22.9 km (finish at Chalet-Reynard, mountain
stage)
Stage 6: Replication of Paris Champs-Élysées loop, 42.8 km (6 laps of the circuit)
However, this divides up into the two new worlds:
A) France World: Including Stages 3, 4, 5
B) Paris World: Just the Paris Champs-Élysées loop of Stage 6
Within the French world, that's a single cohesive map that you can ride 8 different Zwift Routes, though that includes going over certain roads both directions and loops and such. Essentially there are two loops, and then one out/back to Mont Ventoux.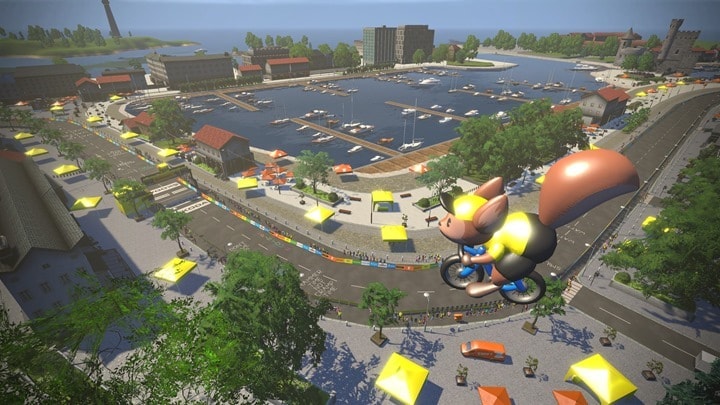 The France routes are as follows:
Casse-Pattes: 14.2mi /22.9km with 508ft/155m
Douce France: 14.9mi /24.0km with 436ft/ 133m
Petite Boucle: 37.8mi / 60.8km with 1,584ft / 483m
La Reine: 14.0mi / 22.5km with 3,953ft / 1,205m (finishes at Mont Ventoux midpoint, Chalet-Reynard)
R.G.V.: 14.9mi / 24.0km with 436ft /133m (Douce France in reverse)
Roule Ma Poule: 14.2mi /22.9km with 508ft / 155m (Casse-Patte in reverse)
Tire-Bouchon: 37.8mi / 60.8km with 1,584ft / 483m (Petite Boucle in reverse)
Ven-Top: 12.9mi / 20.8km with 5,049ft / 1,539m (Mt. Ventoux replica)
Notable: There's also a road that connects from couple-mile/km long road that connects from the upper loops to the start of the Ven-Top route. It doesn't have a specific name on the maps, but is included on La Reine.
Phew, got all that? Good. Here's a few more screenshots of those routes:
Oh, and then there's the Paris routes. There's just two of those, simply going forwards and backwards the same loop:
Champs-Élysées: 4.1mi / 6.6km with 127ft / 39m
Lutece Express: 4.1mi / 6.6km with 127ft / 39m (Champs-Élysées in reverse)
The route profile is pretty straight-forward: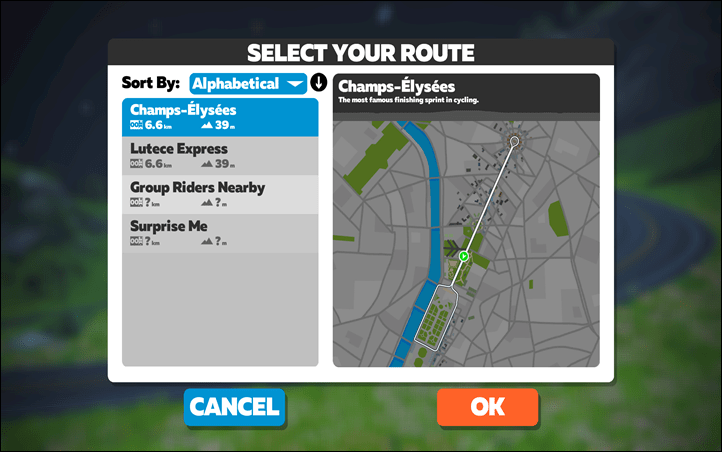 And here's a gallery of images from it:
Again, these routes will become available as regular guest worlds in the normal Zwift calendar following the conclusion of the Virtual Tour de France, which of course ends later in July. Zwift doesn't have an exact date, but did note it's not waiting until the real Tour de France to release these. Also, you'll be able to ride the specified routes following each pro weekend, as well as within the l'Étape du Tour.
When you ride the France World routes however, it's notable that your completed workouts will appear overlaid on Strava in New Caledonia, sorta like Watopia appears overlaid on a Pacific Ocean island. However, the Paris Champs-Élysées route will actually overlay atop Paris (like how Richmond does).
Oh, one last thing, Zwift's Chris Snook did make one final comment about the France map specifically, staying that "For launch, there will be eight routes, but there's a heap of expansion room in France.". Just to leave that nugget there…
Wrap-Up: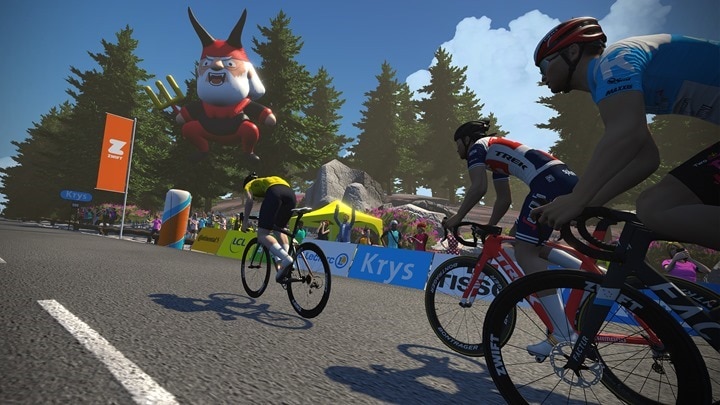 Undoubtedly this will dramatically increase visibility for Zwift as a platform, making it more visible via broadcasting to the numerous partner broadcast networks in 130 countries. As a result, it will undoubtedly increase Zwift subscriber numbers. I don't however think it'll do much (if anything) for ASO or the Tour de France, except all but the smallest amount of publicity. It will however raise a slight bit of awareness for some of the teams and their sponsors (ideal at a time where many teams are struggling to stay afloat).
But I think the real value here for Zwifters is simply more virtual pavement. While a Tokyo addition was reportedly planned for this summer (tied to the Olympics), that got pushed back till a later date. Instead, now we've got two new worlds, one of which sounds like it'll be expanded upon going further. Though I do think this does probably re-ring the bell on so-called Guest World choice paradigm a bit. Previously you didn't really have that many overall locales – so having 2 guest worlds + Watopia was fine. But as the number of worlds expands, so does the desire for people to have more flexibility in where they ride. With Zwift numbers dramatically up from where they were earlier this year or 18 months ago when Guest Worlds were announced, it's probably time to re-visit that.
There's also the reality that, based largely on self-inflicted communications stumbles this past weekend, a lot of Zwifters are still asking for more focus on current aspects of the game. Teams have been promised for nearly a year, and it's been three months since the team beta rolled out with no visible expansion beyond a single beta team. And while the new worlds do benefit regular Zwifters, the Tour de France race partnership has brought up questions again on whether Zwift is a software company that services its paying end users, or a media company for occasional race sponsorships. Sometimes those two overlap well, whereas other times their goals appear at odds with each other.
Still, I'm interested in seeing where this goes beyond this year. Will this be a one-off due to COVID-19, or will Zwift and ASO find a way to bring a Tour de France 2021 that still includes pros? Ideally, by that timeframe, the pros are spending their time riding real-world races. Speaking of which, I'd like to see where this can shift next year towards having riders actually race the entire event, so as to make it more similar to the real world Tour de France that ultimately features a single rider standing atop the podium for their efforts over the entire event. Until then though, there's no doubt this is the biggest event in sports tech, and will likely even take the cake for the biggest esports event as well in terms of global viewership.
With that – thanks for reading!