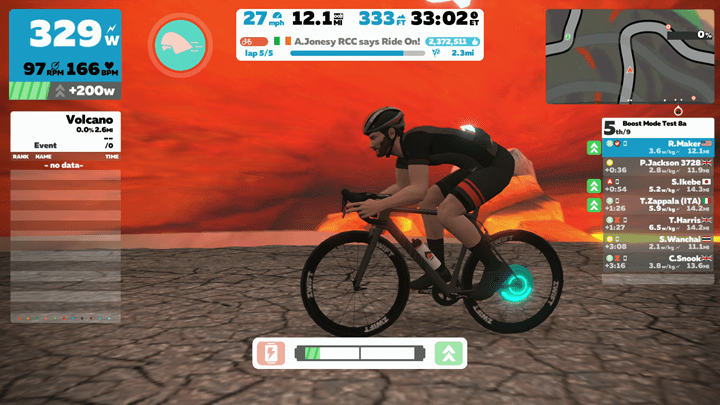 No, your Zwift bike doesn't now have a new hub standard option. But for a select number of people as part of the Club Jarvis test group, there are now events with a new Boost capability that allows you to get upwards of a 500w bump in power each time you use it. Of course, there's no such thing as a free lunch, and getting the boost requires first taking a hit of upwards of 150w…while in the middle of the race.
Zwift first announced this new feature a few weeks back, and they've been testing it out with various events as a FutureWorks feature. That's Zwift's branding for beta features that may or may not cross-over into the rest of Zwift. For example, last summer Zwift rolled out the mountain bike steering under the FutureWorks banner. Also recently they've shown off the new Sights & Sounds Mode there too.
In any case, I had a test ride for the Stages Bike scheduled on my to-do list a few days ago, and figured I'd jump in on a test ride to see what it was all about.  Certainly, there's been bigger rides, but I was choosing a day-time (European) ride over my lunch, so I had to make do with the smaller group. The dynamics of the feature would undoubtedly change depending on the size of the group (due to drafting), but I got the gist of it here.
Oh – and nobody at Zwift has said this will become a defacto way races will work. In fact, they've been clear that existing Zwift racing formats will continue. Wes Salmon, who is in charge of the feature, says:
"Boost Mode is just one type of racing. More "traditional" Zwift racing is not going away simply because of new modes we are working on."
Instead, this would be an option that a race organizer could enable for a specific event. Just to be clear on that.
Note: This feature is only available in beta right now for 'Club Jarvis' people, which are basically a group of folks that joined Zwift very early in the company's history. Like most Zwift beta features, there's no timeline on when or if it'll exit beta.
How it works:
So when you first join a race you'll get an overview screen explaining that you need to choose from one of three boost modes, and that each boost mode has different charging costs, and differing boost powers. In other words, each of the three modes are different – but whichever mode you choose is the one you get for the entire race. Like an airplane, you can't change your engine model mid-flight.
So, the above page gives you some initial ponderings, but it's not till this next page that the rubber hits the road and you've gotta make some tough race-influencing choices.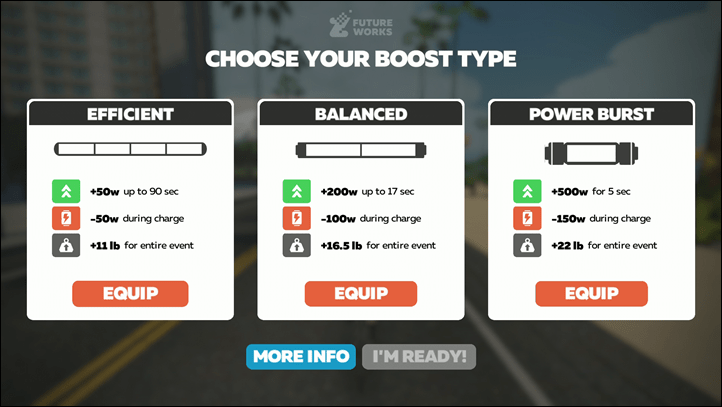 The first thing to notice is that the three modes actually have different battery 'capacities'. See the little blocks in each battery type (four blocks for efficient, two for balanced, and one for power burst?) – that's how many uses you can store at any one point in time. So basically, you can store up to two of the 'Balanced' type, but only one 'Power Burst', while the Toyota Prius of Boosts – the 'Efficient' option lets you store up to four.
Next, the three boost types each have different weight impacts. Meaning, it'll tack on X pounds of body weight to your avatar. Thus, no matter which one you choose (and you have to choose one), you'll be slowed down the entire event.
The three boosts are as follows (again, this might change by the time beta is over):
Efficient Boost: 50w boost for up to 90 seconds, but a 50w charging penalty. Adds 11lbs during event, up to four charge capacity.
Balanced Boost: 200w boost for up to 17 seconds, but a 100w charging penalty. Adds 16.5lbs during event, up to two charge capacity.
Power Burst Boost: 500w for up to 5 seconds, but a 150w charging penalty. Adds 22lbs for entire event, up to single charge capacity.
Once you choose one, you'll be off and cooking. Due to an unrelated bug, I couldn't actually choose one until after the race had started, so I got dropped instantly since I couldn't see what was going on (the boost info screen covered it). No biggie, such is beta life. And it actually gave me an opportunity to see another side of boosts: What happens if you're off the back and with a smaller group.
It didn't take me long to get my first one charged. I'd later realize my choice of charging locale was stupid, but more about that later. You can see at upper left that there's a –100w penalty during charging, and at the bottom the icon shows the same red charging pattern. Charging took 17 seconds. At left you can see charging, and at right you can see when I'm just pedaling along with a single charge (of two), ready to be used.
The way you trigger charging (or usage) is via the companion app. Here there's two new options down in the dashboard. If you've topped out your battery capacity, it'll grey out the charge-up icon. And the opposite is true if you've used all your boosts.
My singular bit of feedback here, would simply be to actually change the Boost icon to be oriented forward, rather than up. Why? Because about half the time I pressed the wrong icon on the app when trying to charge. I'd press the 'use' button, and then stupidly use the boost when I meant to charge the other one.
Also, mentally, when you're short on brain-power during a hard effort, and short on dexterity skills to press two tiny buttons on your phone – it would also be slightly helpful to perhaps reposition those two buttons. Being small and side by side with sweaty fingers it can be tricky to hit the right one. I'd almost rather remove some of the data metrics above it and make those two buttons giant. Realistically, I never look at my data on the companion app – that's what the screen is for anyway.
Now, when you use a boost (intentionally or otherwise), you'll see it shows +200w in the upper left with the green dashed line, as well as down below for which boost you've used. And, on the leaderboard at the side, it'll show which people are using boosts at the time (but not show who is charging).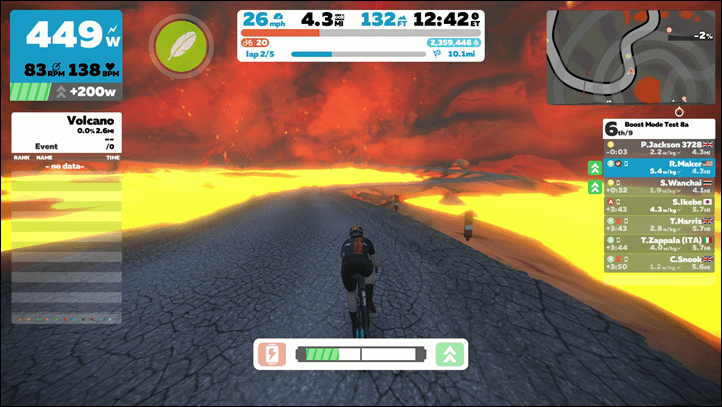 It's important to note that the actual power recorded to your file and uploaded to sites like TrainingPeaks, Strava, etc… is all the underlying power you've put out. The boosted power isn't written to the files, it's only used to speed up your avatar.
Also – it should be noted that the power displayed in the upper left corner is your actual output power, not your boosted power (that's not shown anywhere to my knowledge). How did I learn this you ask? Because I totally mis-shifted on the Stages Bike I was testing, putting me in way too easy a gear while also unrelatedly triggering a boost charge, which in turn put me below the 100w threshold for charging.
You know what happens then? You stop.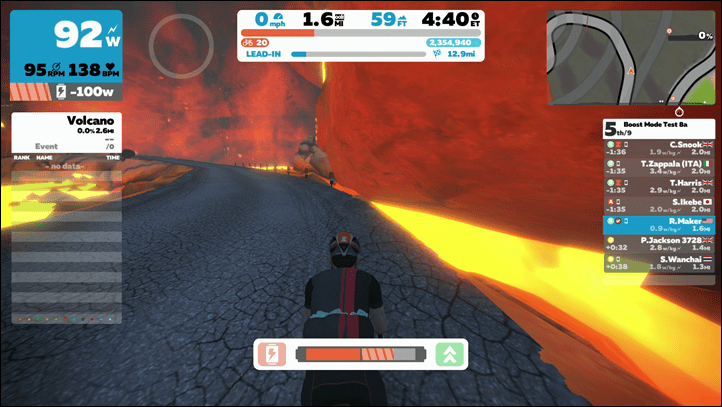 Though, you do keep charging! Free power for the win! This only lasted a few seconds before I got back in the right gears, but in case anyone was ever curious, if your actual power output is below the charging output, your avatar takes an unscheduled aide station break.
Now, as I said earlier, I never got to see the (small) group leave the corral. So I was mostly alone and with a person named P.Jackson 3728 for a fair chunk of it. And it seemed clear we had both selected the same boost type (there's no way to know). When you use a boost, it'll show that person is using a boost. But it won't show charging. However, you can kinda figure out what other people are doing charge-wise, and charge at the same time, if in a small 1-2 person group. Or, if in a larger group, most folks that have tried the feature say they can basically hang in the back and re-charge with little effort, due to the draft.
But when you're racing solo (or with one other person), my strategy became simple:
– Charge on the downhills
– Use the boosts on the uphills
On this volcano loop, there wasn't a huge amount of either, but I'd use the free speed of the downhills to charge, like this 4% decline below. Mind you, I'm not super clear the math works out 100% perfect here, but I didn't take much of a hit on speed, and the wattage didn't matter going downhill.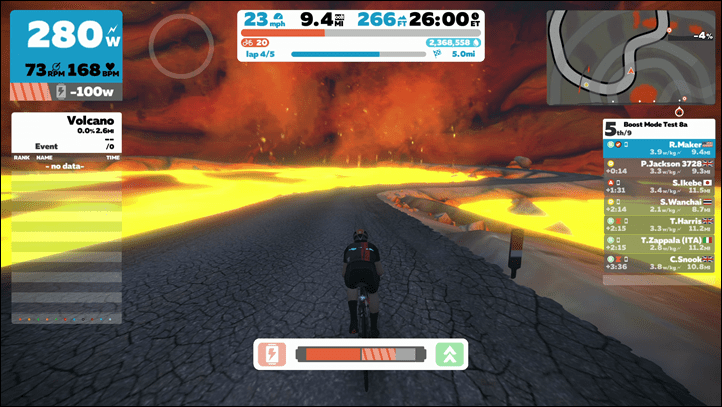 Once I dropped Mr. Jackson permanently, I didn't tend to use the Boosts as often after I got them filled up. I kinda kept them in reserve. Since the course wasn't super hilly, it wasn't a huge impact either way. Whereas a more hilly course I could have likely really leveraged the boosts to try and catch back up to the group (had the group not been many minutes ahead).
Going Forward: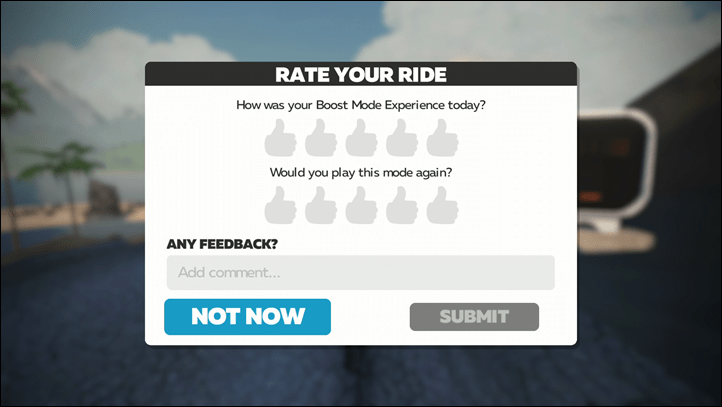 Obviously as noted, Zwift has no intention of making this standard on all events. Instead, it'd be something that a given event could enable. So again, keep that in mind – nobody's taking away your anything.
On one hand, it adds more gamification to it. It adds another element to mentally track while racing indoors. In a sense, it replaces something like being mindful of crashing outdoors, with now being mindful of charging and utilizing your boosts (sorta). Despite being dropped at the start because of a bug, it actually showed how even in a smaller event it can be just as engaging. I went back and forth with that dude for the entire event, carefully calculating how to use and re-charge my boost battery based on what he was doing. Ultimately, I either calculated better, or he gave up on caring.
It unquestionably adds *something* to the game. But so would any bit of gamification. I'm undecided on whether or not I actually like it, or would specifically sign-up for races with it. At times it felt a bit like I spent more time thinking about that than other race tactics. In a race with a larger group/peloton, you'd be able to more easily charge in the pack, and inversely the impact of using those boosts might be more impactful – especially the +500w one.
The aspect of choosing, charging, and utilizing the boosts would ultimately become a bit of a decision tree based on the race, course/elevation profile, and your race strategy.
So – if you're a Club Jarvis member and you've tried the Boosts, I would be curious to hear your feedback below. Enjoy and have a good weekend ahead!