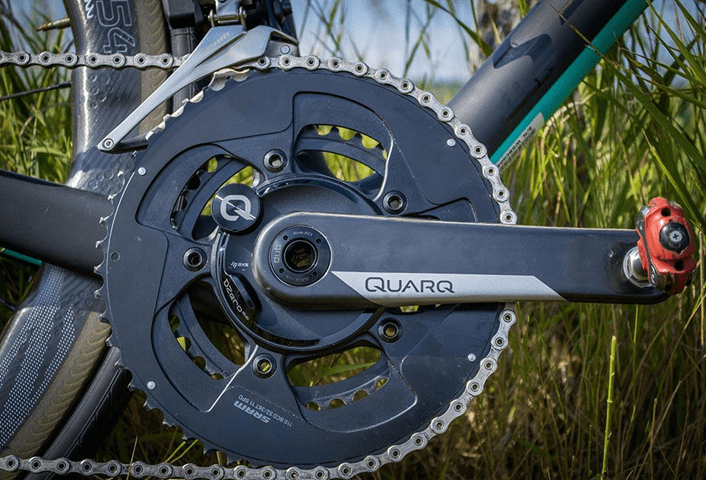 Not one to be outdone, one day after 4iiii lowered their power meter prices substantially, Quarq has joined the fray. Of course, in reality with a company like SRAM behind Quarq – these are hardly last second moves. These permanent price drops have undoubtedly been calculated and re-calculated for months. Still, no matter the case, the savings are substantial.
Quarq Pricing Shifts:
Getting right into things, Quarq has cut prices on three power meter groups – all of which are under the DZero series umbrella, they are as follows:
•    DZero DUB/ DFour DUB Power Meter Spiders: Now $399  (previously $599)
•    DZero DUB/ DFour DUB Power Meter Crank Arms: Now $196 (previously $381)
•    DZero for Specialized Power Meter Spiders: Now $399 (previously $779)
That's a pretty massive drop – $200 less for the DUB power meters, and a $380 drop for the Specialized DZero units.
Now, for those folks not using Americana dollars, no problem, here's all the final prices for those three groups, plus the chainring/bottom bracket costs in USD/EUR/GBP. Note that the bottom bracket & chainring costs haven't changed any on this go around.
•    DZero DUB/ DFour DUB Power Meter Spiders: $399/ €399*/ £355*
•    DZero DUB/ DFour DUB Power Meter Crank Arms: $196/ €218*/ £199*
•    DZero for Specialized Power Meter Spiders : $399/ €399*/ £355*
•    SRAM DUB bottom brackets for DZero DUB/ DFour DUB: $38-$50/ €38-€52*/ £34-£46*
•    Chainrings compatible with DZero DUB Power Meters: $41-$147/ €43-€150*/ £39-£139*
*Prices are inclusive of VAT, boom!
Now, keep in mind, this isn't actually impacting all of Quarq's power meters. So while the DUB/DFour variants dropped prices, as did the Shimano ones – the rest of the lineup didn't decrease. Meaning, if you were looking to pick up a SRAM-based crankset for road or mountain, no luck there. Those are still at their original prices.
And some of that might be due to demand there. For example, I've got an existing backorder in-place now for about a month for one of the SRAM Eagle DUB (BOOST) power meters for the XX1 crankset. That's due back in stock on April 24th according to Quarq. And there are probably others. Quarq says, in that case, it's more of a supply/demand situation than anything else.
Finally, for fun and perspective – I found my old receipt for the first Quarq power meter I bought some 11 years ago – the Quarq CinQo. For a mere $1,495 for the spider itself, and another $330 for the crankset and bottom bracket.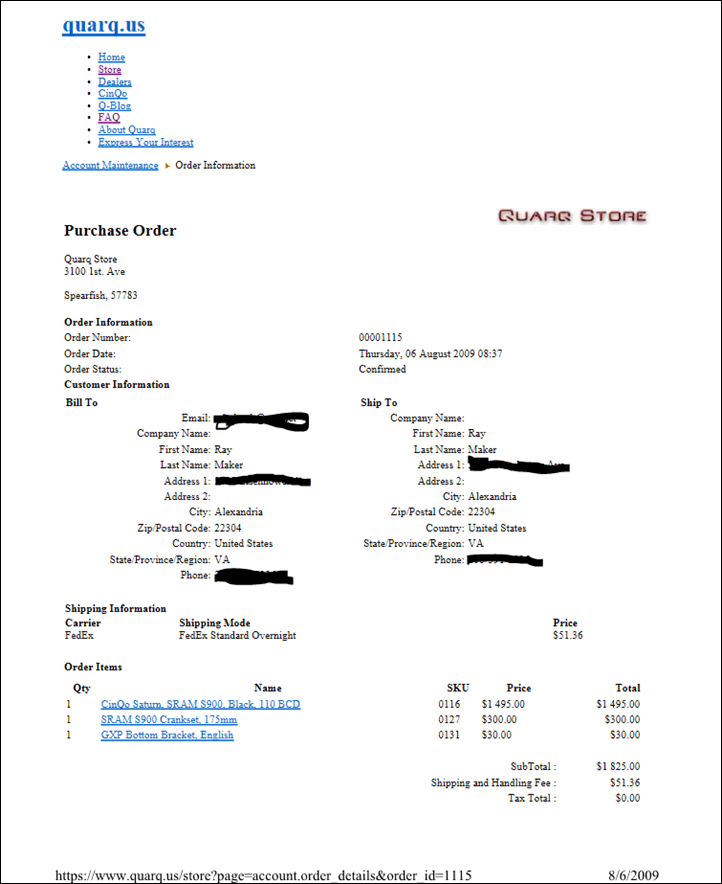 Another tidbit – that's also back in the days when Quarq co-founder Jim Meyer used to send out marketing e-mails simply as himself (see below). Not from Quarq or any other generic mailbox.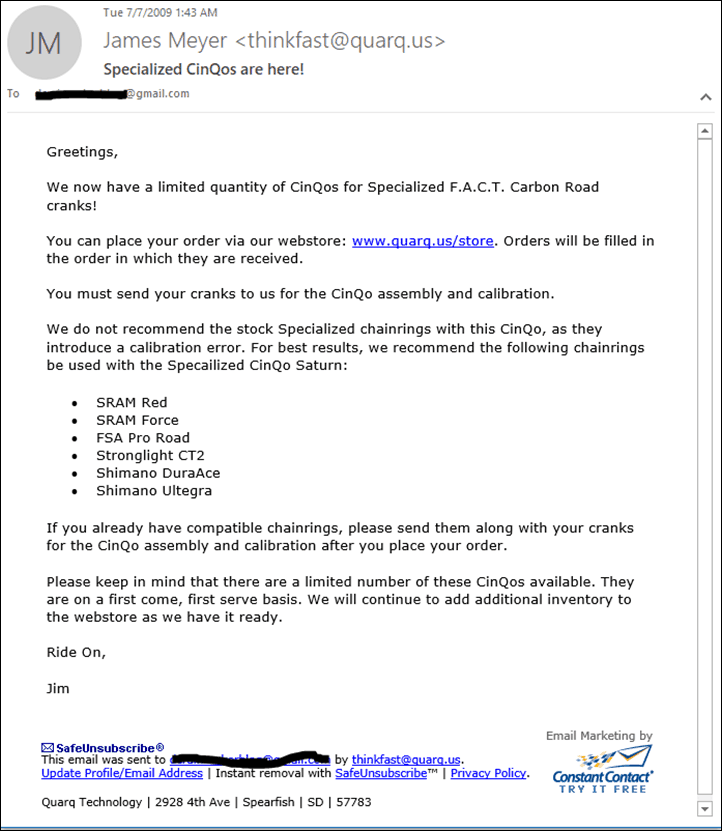 And it's when co-founder Mieke answered all your customer service e-mails (or Kai). I could play way-back machine in my mailbox all day long…
Price Trendlines:
Now for once in the last month you'll get to see a chart where the trendlines go down, not up. I've been maintaining this Excel sheet for years now, doing roughly yearly checks on power meter pricing across the board.
I track brands that have global distribution in some manner (meaning, some smaller brands have only US or only European distribution). I also haven't tried to track yet all the super cheap power meters out of China (some are OK, some less so). Maybe eventually. Also, I track the 'cheapest' power meter option from that company. Almost all companies have varying purchase options like with crank arms or not, or with spiders or not, or so on. The exception to this being single vs dual-sided. Oh, one more thing: You actually have to ship to consumers, and still be in business. No points awarded for products announced but not yet shipping, nor are points awarded for going out of business.
Phew. Got all that?
Good. Here's the chart: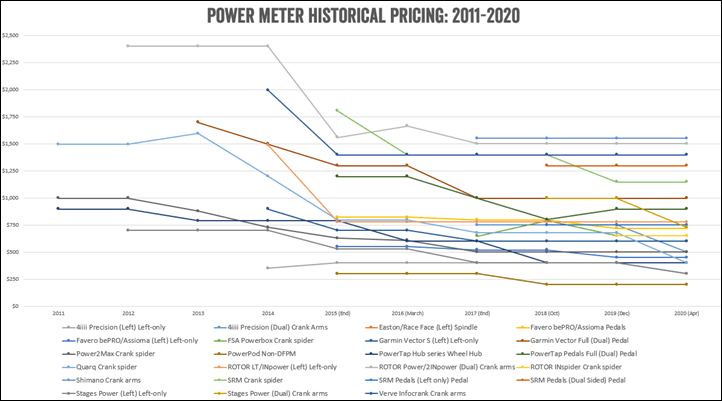 Frankly, that chart is a bit of a hot mess. So instead I actually like the raw data, but using Excel's conditional formatting. Green is cheaper, red is most expensive – relative across the entire data set: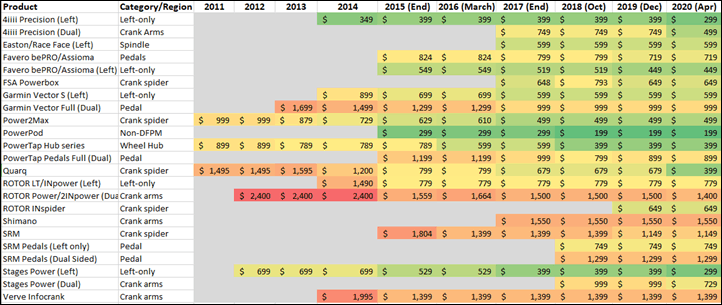 In any case – you can clearly see the direction things are going. And remember, this excludes some of the below discontinued product lines or players in the market:

Ultimately, I think we're seeing the trend settle towards that $399 sweet spot that Quarq targeted here. We see the single-sided crank arm makers down at $299 for name brands, and roughly half that for smaller regional brands. I've got one on my desk I'll be digging into, and may do more over the next few months to see whether the trade-off is worth it (both in terms of accuracy, but also things like the app/support/etc…).
Until then – if you're looking for something sorta related yet completely different, here's my 'Behind the Scenes' factory tour of Quarq HQ from a few years back. All sorts of gadget goodness there!
Thanks for reading, and have a good remainder of your weekend!