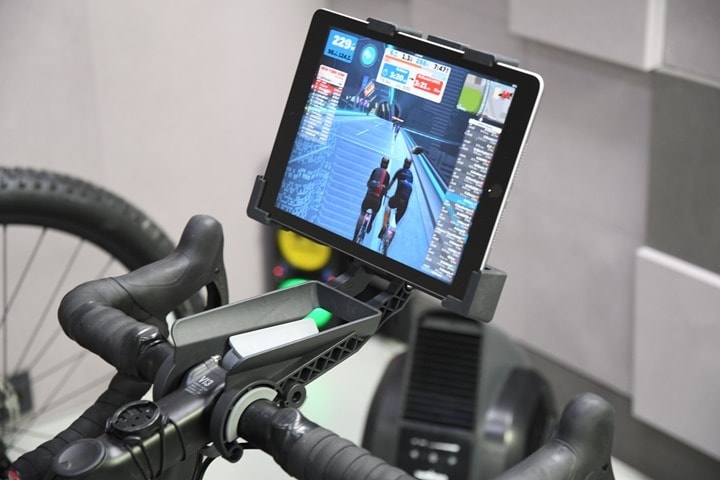 You know when you start a review 3-4 years ago, and then realize you never quite finished it? Oh, that's just me? Well, here ya go – all it took was a worldwide pandemic for me to finish it.
As I'll explain later, this is one of those things I actually have used for years on and off, but just sorta forgot to ever write a proper post on it. The $39 Tacx handlebar tablet holder does exactly what its name implies: It allows you to mount a tablet to your handlebars. Obviously, mostly for indoor usage. But fear not, I'm 'that guy' who's willing to try it outdoors. More on that later.
Of course, if you've got a big screen TV pain cave setup and a proper trainer desk (or music stand) to put lots of accessories on, then this probably isn't needed. But some of us also have smaller indoor training setups that need to have the tablet to run our favorite training apps close by. And for that, this is by far the best solution I've found. It's definitely a lot better than a stack of leftover Amazon boxes.
Now, this is definitely one you're gonna wanna watch the video. Don't worry, I kept it exciting. Namely, I tested to see what happened when I took the whole setup outdoors…off-road.
With that, let's dive into all the details.
What's in the box: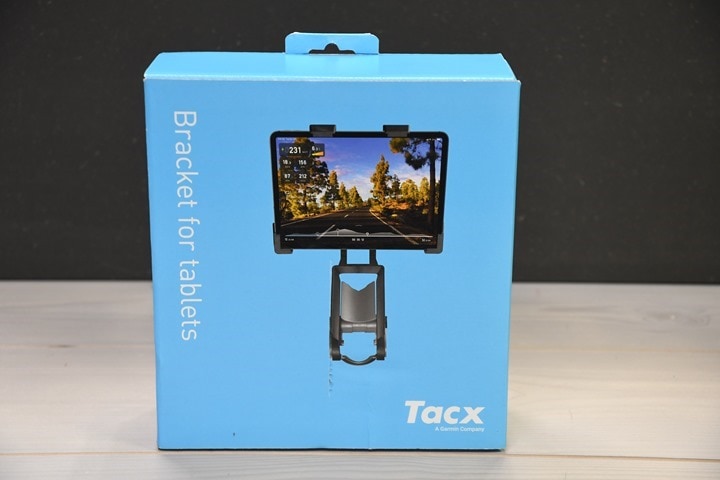 So somewhere in my vast 40+ terabytes of network attached file storage I've got the unboxing photos from years ago. Possibly even edited too. But alas, I can't find it at the moment. Probably because I called the folder something like 'To Sort' (which, is what I call almost every folder). And probably because I never got around to sorting it.
Also, somewhere in those last few years I lost some of the small parts. I have no idea what happened to those in the move from Paris to Amsterdam. Sorry.
So, I went out and bought another one, mostly so I can unbox it. And mostly so it'll be more compatible with the rest of my bikes. So, fresh off the DHL truck (and heavily sanitized) is the unboxing shots. In case you're wondering, nothing that I can see has changed in all these years. Which is probably a testament that it 'just works'.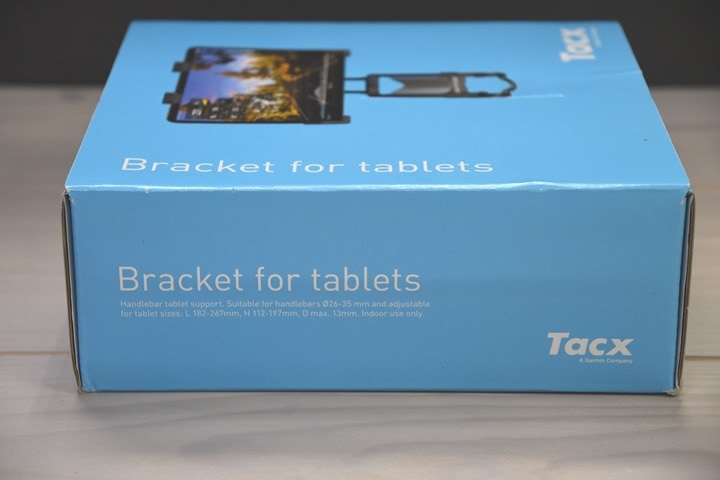 Inside on top is the main tablet piece, separated from handlebar attachment piece: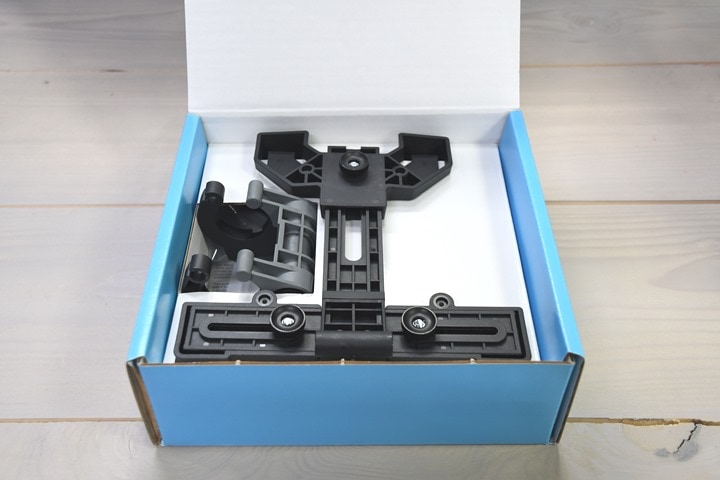 Below the cardboard piece you'll find the spring-loaded handlebar bit that attaches to your handlebars. And then a bag of adapters for different handlebars sizes. Plus, a manual.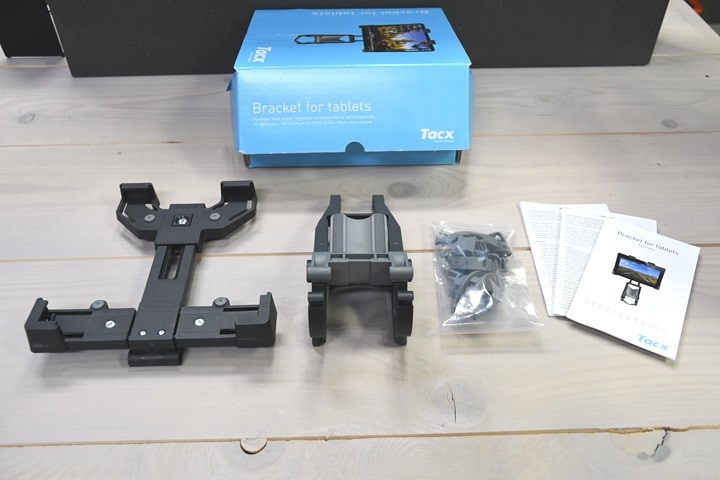 Here's a closer look at the bracket bit: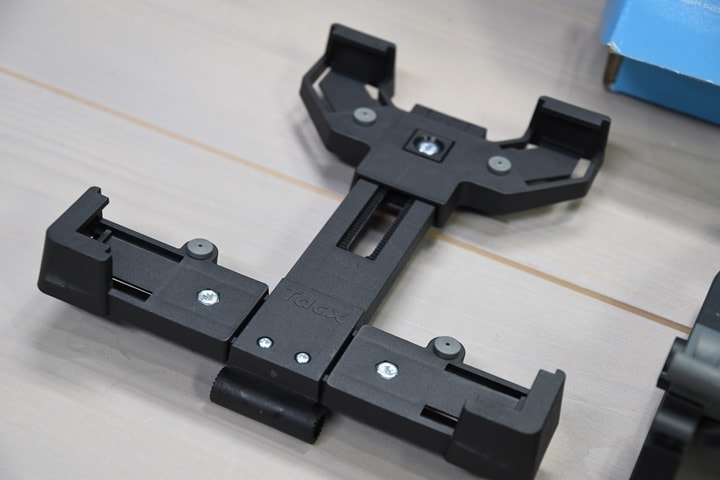 And then the handlebar bit: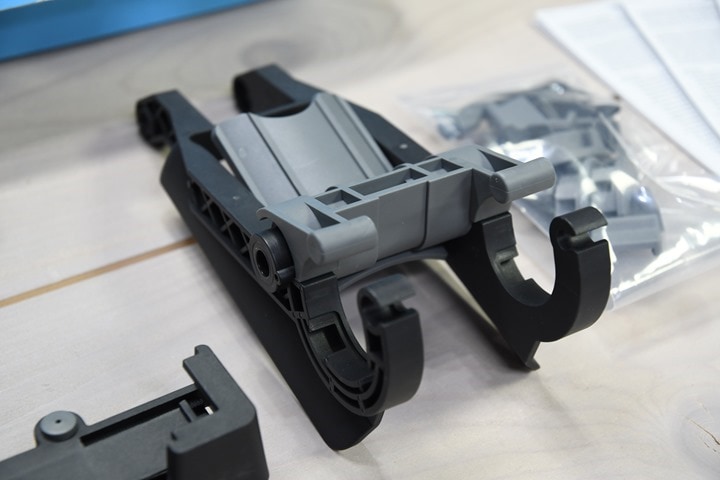 And finally, the adapters and small parts: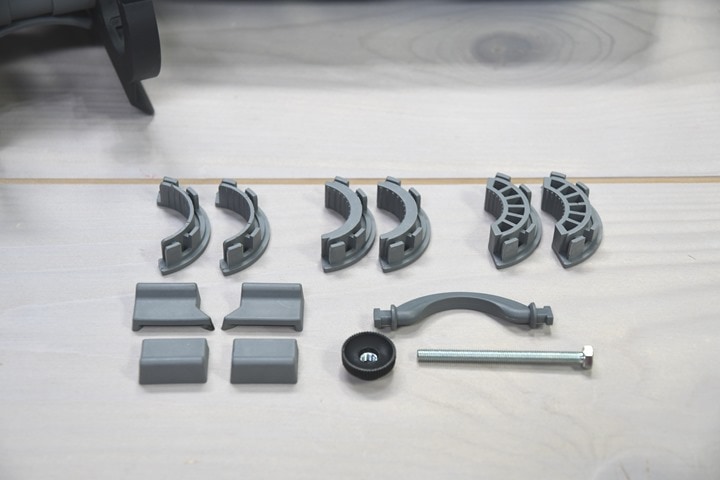 Oh – and yes, the manual too: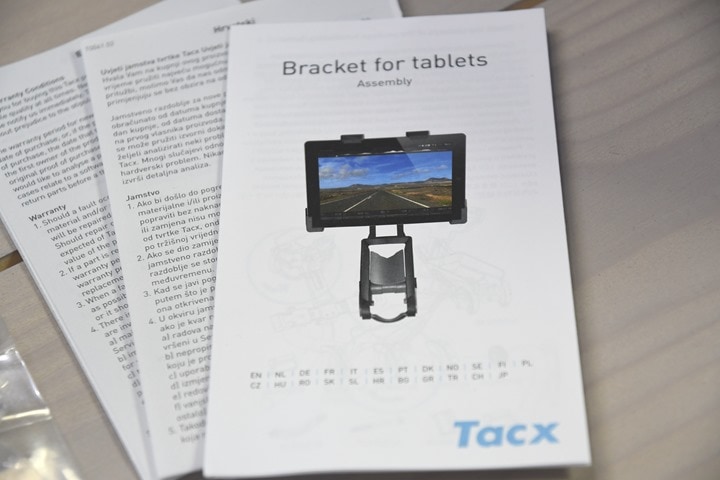 There we go, now let's attach it to your bike.
Setup & Bike Compatibility:
Officially, it supports only 26-35mm round handlebars. Unofficially, depending on how creative you want to get, and how much sketch you're willing to put up with, you can get away with more.
First though, we'll need to connect the handlebar clamp piece to the tablet mount piece. You'll slide the top tablet bit into the bottom handlebar piece by slightly pulling it apart a tiny bit, and then slide the bolt and nut into it. Quick and easy: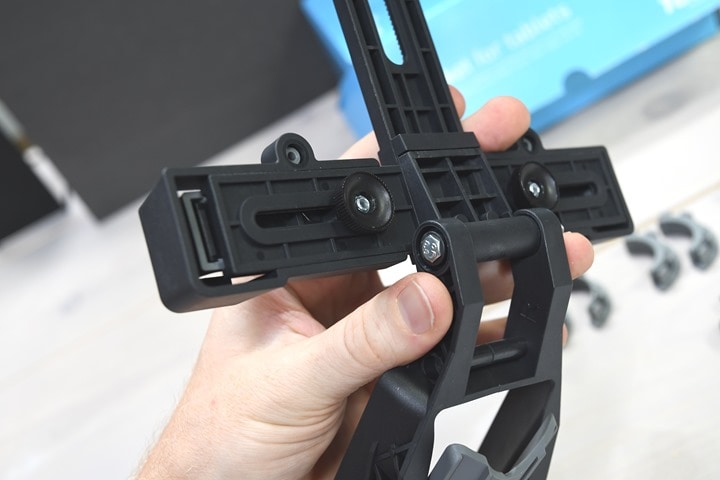 Next, we'll stick in the small rubber bits that helps lock the tablet in a bit better into the arms. There's four of these in there:
After that, we'll go ahead and put in the inserts of our choice there. There are three of them for differing bar sizes.
In my case, I found I used the thinnest set of inserts for my road bike, as using the middle or thickest ones wouldn't work with the little bar that goes under the stem (more on that in a second):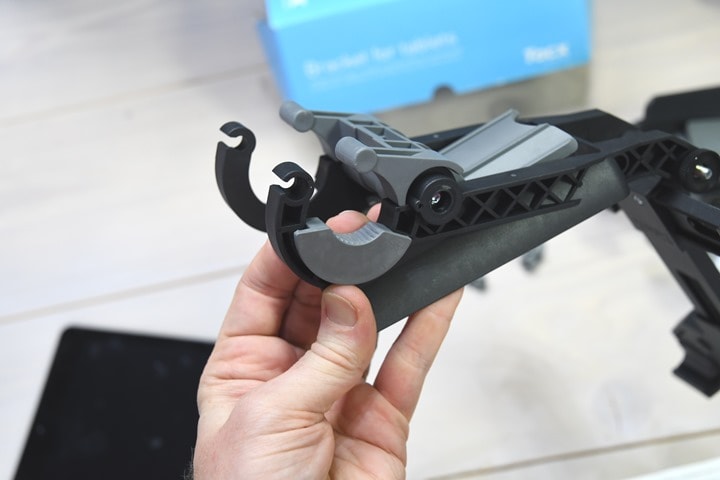 And…we're done with assembly. It probably took you under a minute start to finish.
To get it on your bike you're just going to open the clamp up by pressing it, and then sliding it over the handlebars:
Then you'll add this little piece under it, which serves as a secondary lock as well as minimizes the weight: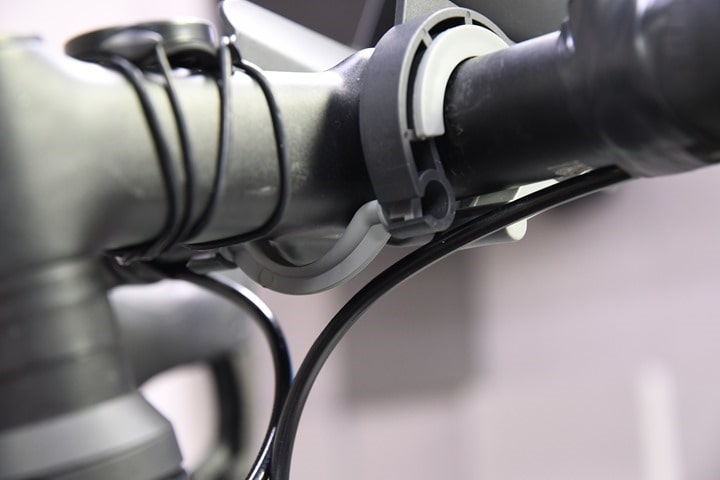 And…we're done. Again.
Oh, in case you were wondering, here's how looks on a mountain bike: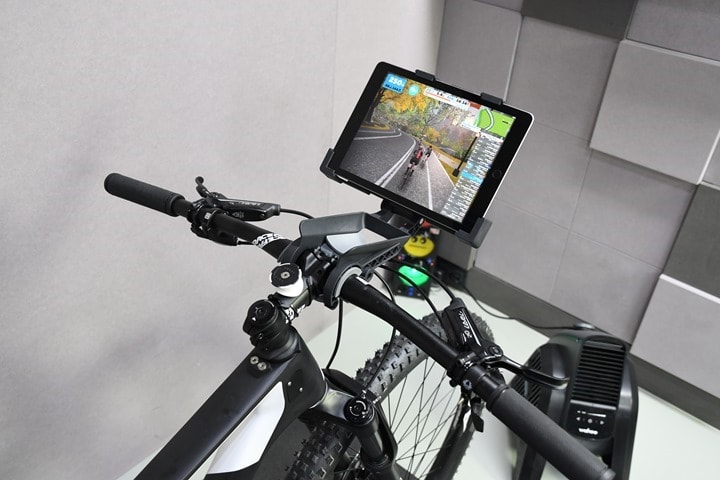 You'll simply use whatever inserts work best for your bike. Of course, this won't work well on triathlon bikes, or any bike with aero-style handlebars that are flat. I mean, at least not without making a trip to Sketchville: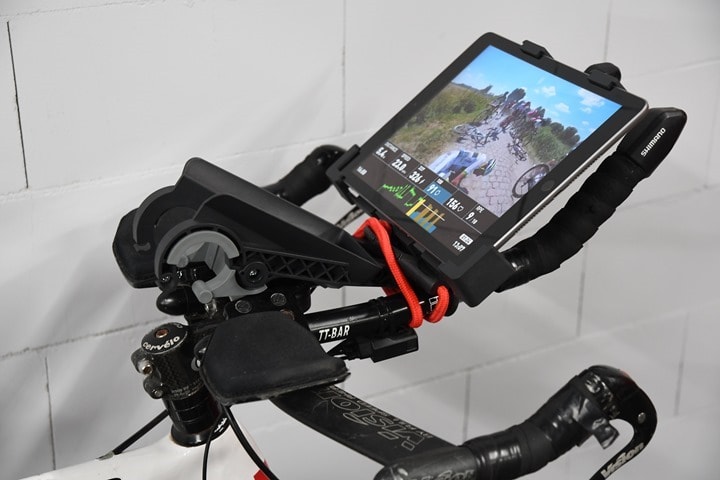 Nor will it work on any bikes that just simply have some sort of totally funky front-end near the stem.
Using it: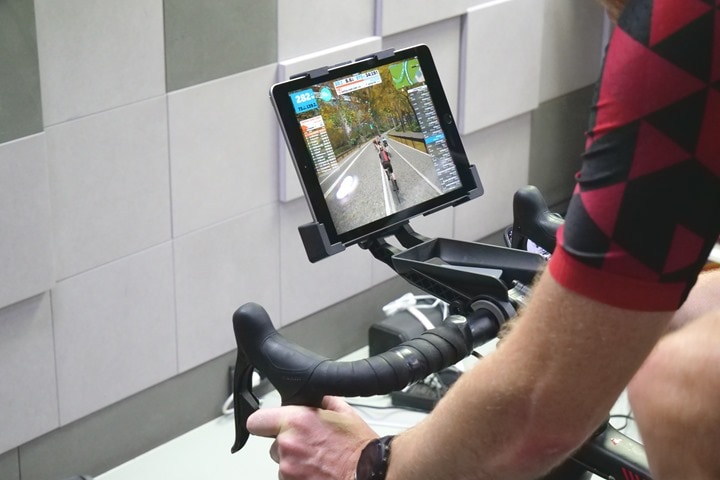 What's funny here is that despite using this on and off for years, you probably haven't seen too many photos of it in posts. The reason is that I tend to do most daytime riding down at the DCR Cave. It's here that I usually use a dual-screen Apple TV setup, as well as a KICKR Desk to hold any iPads or other tablet-like things (such as Haribo). It's also where I tend to take 99% of photos for the site here.
However, like most people here, I ride an indoor trainer at night or on the weekends at home. And at home my setup is usually stuffed into the corner of the baby's room, or out in a shed-like thing we have. No big screen TV's, no Apple TV's, no swank. It's not pretty, and usually the lighting is horrendous – with only Instagram filters salvaging it. But it's there that I primarily ride with the Tacx tablet holder on an older bike.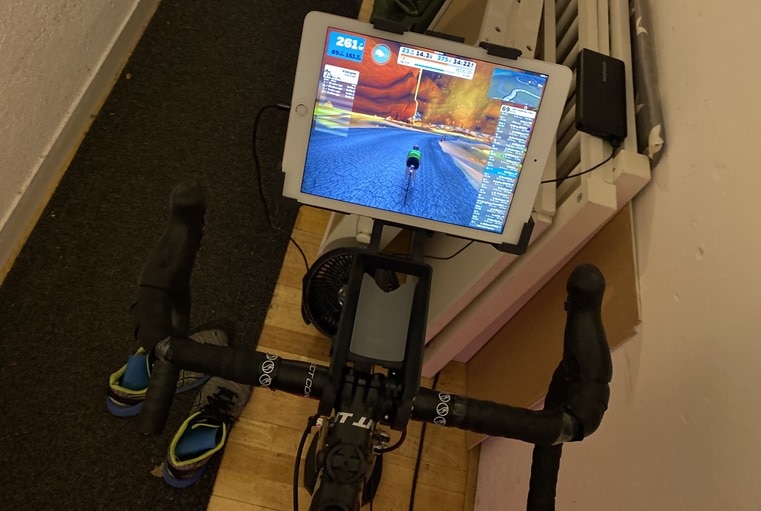 But, to preserve your eyeballs from witnessing numerous photos of that situation, I re-shot everything in the pretty color-balanced light of the DCR Cave today. Don't ever say I don't love ya.
Once attached to your bike, you'll simply slide the tablet in. In my case I'm exclusively using iPads. Not iPad Pros or anything else, just regular iPads. For that, it works just great.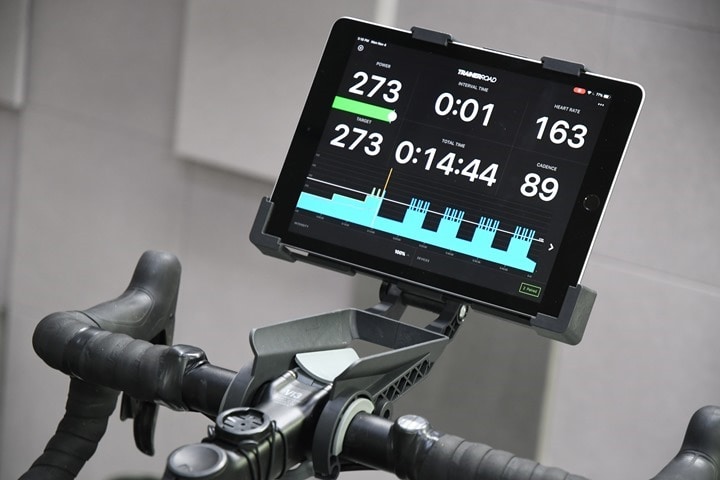 Obviously, the fit is pretty easy to figure out. The min/max dimensions are as follows:
Min/Max Width: 182mm-267mm
Min/Max Height: 112-197mm
Max Thickness: 13mm
Looking at these specs, it does not appear an iPad Pro would fit it, as it has a width of 305mm, and thus would be too wide. Then again, I'm not sure I'd want to put an expensive iPad Pro that close anyway. Which, gets to the next point – it might get a bit sweaty. Not overly so, but like a CSI episode, you'll probably find some splatter post-ride.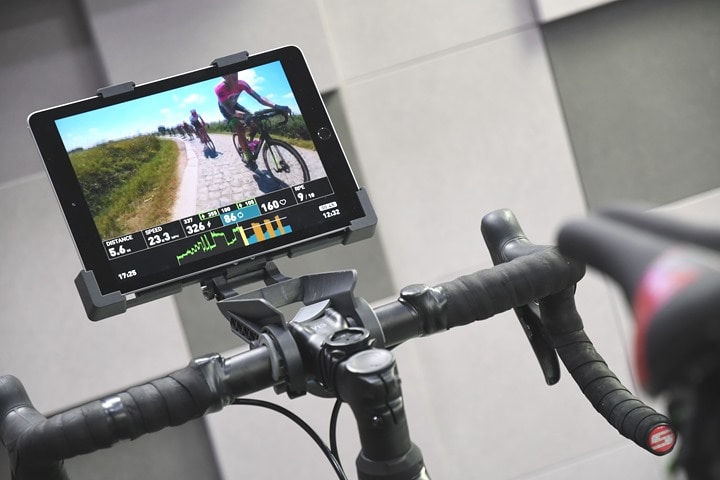 That's usually fine for your device, just wipe it off. Then sanitize it twelve times…just to be sure.
You can orient the tablet part in numerous ways, either more upwards or more flat. It's up to you, and probably depends on where you prefer to look. Obviously, some people prefer looking up to a big-screen TV. But if you're like me – you may simply not have that kind of space in your mini-Cave.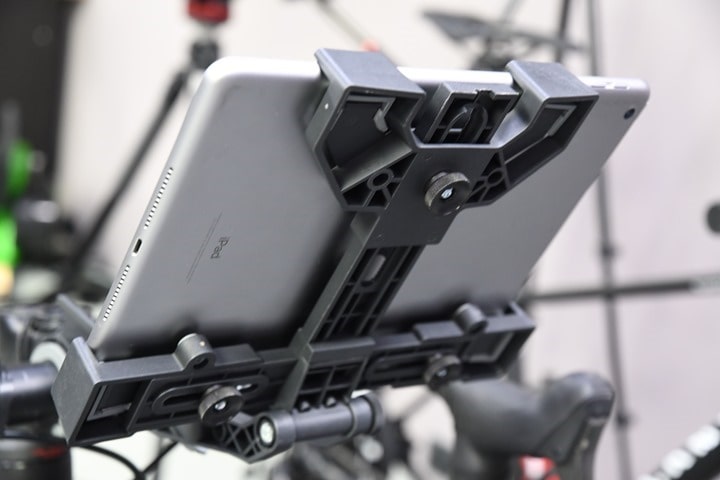 Oh, and it fits a water bottle in there too, which is kinda handy. Nothing better than placing water next to electronics: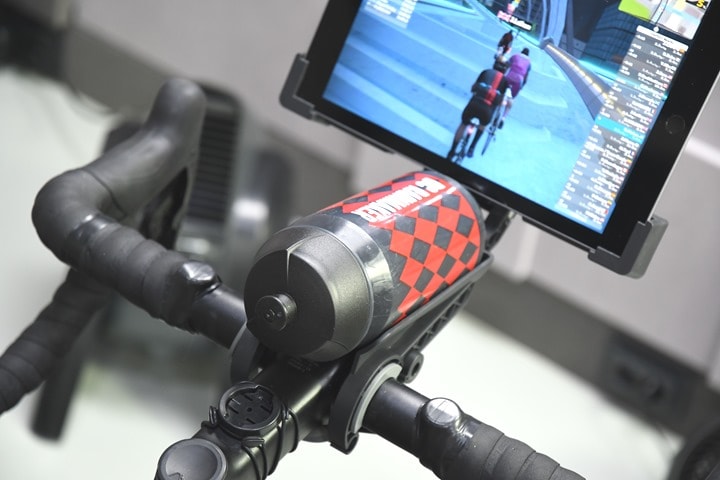 I've had exactly zero issues with sprinting with it. It never goes anywhere. I don't frankly see how it would go anywhere, assuming you've installed it correctly (which is silly simple). The spring bracket that connects onto the bike has incredible force (there's no way my toddlers could open it up). And the tablet nuts perform as tight a lock on the tablet as any iPad case would. Seriously, it's not going to come out.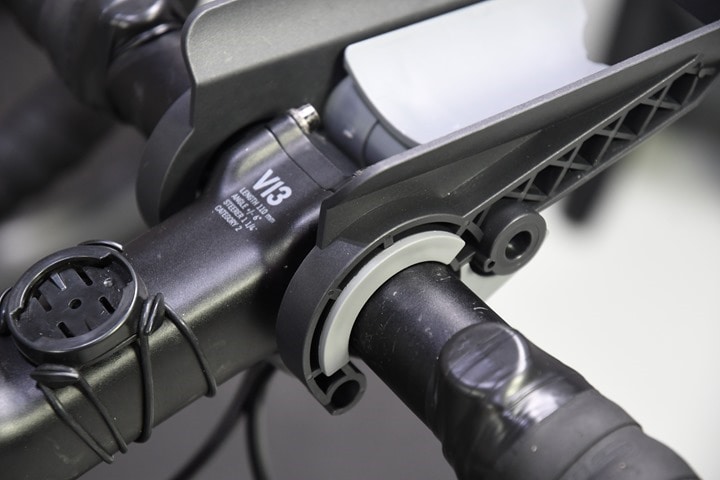 It might wobble a little bit during an out of the saddle sprint, after all, despite being mostly hard plastic there's still some give there. But nothing that's a big deal. Plus, most people aren't doing out of the saddle sprints every 5 minutes. Hopefully. You can see some sprint action in the video up above.
Just to demonstrate how this definitely isn't going to fall off, I went riding outdoors with it…on trails. Now, I wouldn't really recommend this. So, in support of me nearly killing my iPad and the tablet holder, be sure to hit up the links at the bottom or on the sidebar – even if it's just to try and buy more toilet paper via Amazon.
If you want to see the video of that, feel free to hit it up at the top. And with that, I'm not sure what else to tell you. It's solidly in my 'just works' category. I like things that both 'just work', and are easy to use, and last year's, and don't cost too much (in comparison to $1,200 trainer platforms anyway).
Wrap-Up: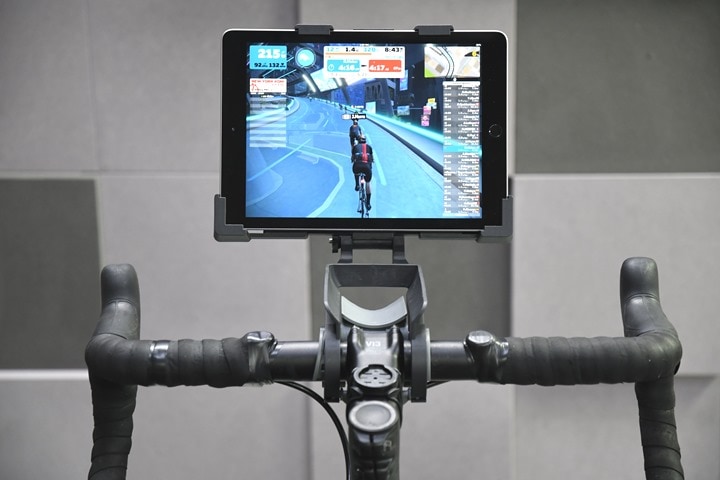 It's nice to see a product that's both affordable, and does what it says it's supposed to do. For $39/39EUR, it's relatively inexpensive in the world of indoor training gadgets. It works with my iPad just fine, and as I showed, it's very clearly not going to come off anytime soon, no matter where you might bring it. Even if that locale is against the box's instructions.
About the only two things I could complain about are compatibility and lack of Haribo holding capacity. On compatibility, there will undoubtedly be some bikes this isn't compatible with. For example, it doesn't work well at all with my tri bike. And if you've got a fancier bike with an aero handlebar, it's probably not gonna work well there either. Though, I did use it on my tri bike for a while a few years ago. It just wasn't ideal, and definitely Sketchville. But as you've probably surmised by now, I'm totally good with my bike setups sometimes being passport holders of Sketchville. However, there's still no viable place to easily store Haribo on it. So points lost there.
Ultimately, either you want a tablet holder or you don't. This is a good one. I've also tested, though never quite finished, the review on the Sea Sucker tablet mount. And that one I actually took down the Champs-Élysées cobbles. For realz. Twice. At full speed. In traffic. No joke. Maybe I'll send that video out to DCR Supporters as a thank-you. Actually, I definitely will – I just found all the footage. It's hilarious. But it's also crazy way more expensive. And for normal indoors use, I prefer the Tacx one logistically speaking as I can pop it on and off in 2 seconds, whereas that one takes an Allen key.
With that – hope ya found this review interesting…or at least entertaining. Thanks for reading!

Found This Post Useful? Support The Site!
Hopefully you found this review useful. At the end of the day, I'm an athlete just like you looking for the most detail possible on a new purchase – so my review is written from the standpoint of how I used the device. The reviews generally take a lot of hours to put together, so it's a fair bit of work (and labor of love). As you probably noticed by looking below, I also take time to answer all the questions posted in the comments – and there's quite a bit of detail in there as well.
If you're shopping for the Tacx Tablet Bike Mount or any other accessory items, please consider using the affiliate links below! As an Amazon Associate I earn from qualifying purchases. It doesn't cost you anything extra, but your purchases help support this website a lot. Even more, if you shop with TPC (The Pro's Closet), you'll save $40 on purchases over $200 with coupon code DCRAIN40! The Pro's Closet has been a long-time partner of the site here - including sponsoring videos like my cargo bike race, as well as just being an awesome Colorado-based company full of good humans. Check them out with the links below and the DCRAIN40 coupon!
And of course – you can always sign-up to be a DCR Supporter! That gets you an ad-free DCR, access to the DCR Quarantine Corner video series packed with behind the scenes tidbits...and it also makes you awesome. And being awesome is what it's all about!
Thanks for reading! And as always, feel free to post comments or questions in the comments section below, I'll be happy to try and answer them as quickly as possible. And lastly, if you felt this review was useful – I always appreciate feedback in the comments below. Thanks!