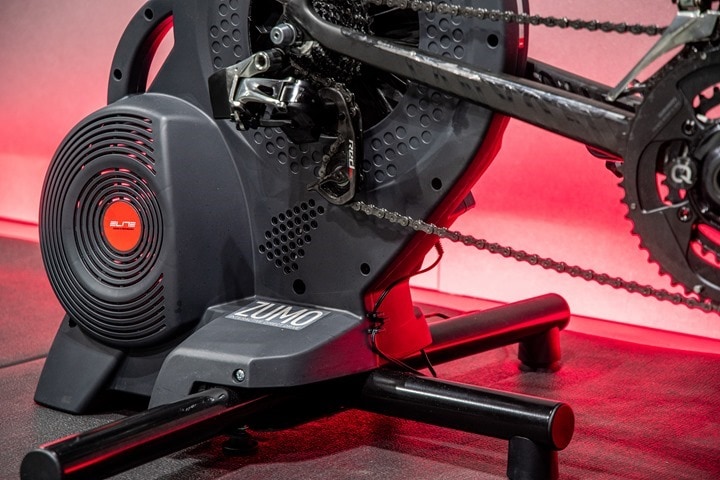 One. Year. Later.
Some trainers arrive on the scene happy as a clam (though virtually none in 2019). Others take a few weeks to mature. Some take months. The Zumo though – it decided to take its time like an Italian wine . But nearly a year after I first wrote about it, it's finally unlocked the 'Happy Clam' achievement level. Of course, I'll explain that history more later. Ultimately, that's all historical water under the trainer bridge.
What you've got today is a $699 (599EUR, 450GBP…but down to 399GBP in some places, $799AUD) direct drive trainer that's a pretty darn good value for the money. It's the least expensive direct drive trainer on the market, and it happily works with any app you can throw at it on both ANT+ & Bluetooth Smart. Zwift, TrainerRoad, Rouvy, Sufferfest, Kinomap, you name it – it's happy to Tinder with it. It's a great option to consider if you want to get into the smart trainer game, but you aren't entirely sure you want to spend the money for a higher-end unit. It doesn't have the highest specs for things like gradient simulation or road-feel, but it's also not $1,200.
Finally, this test unit is a media loaner. In fact, two different units. One from last year that they kept tinkering with on new firmware, and then a brand new unit from about a month ago – so I could ensure that whatever is going out these days matches what the review is. Once this is published I'll be getting both of them wrapped up and sent back to them – freeing up a few cubic meters in the cave for other things (like ~800 bottles of beer for the Open House next weekend).  If you find the review useful you can hit up the links at the bottom to help support the blog.
With that – let's dig into it!
What's in the box:
The unit arrives in a slightly different looking box than most of the other Elite trainers. I actually like the styling, as I think it feels more modern than some of the other boxes. Reminds me a lot of the Saris H3 box.
Inside you'll find the main portion of the trainer in a plastic bag, with the legs inside boxes that act as padding & support: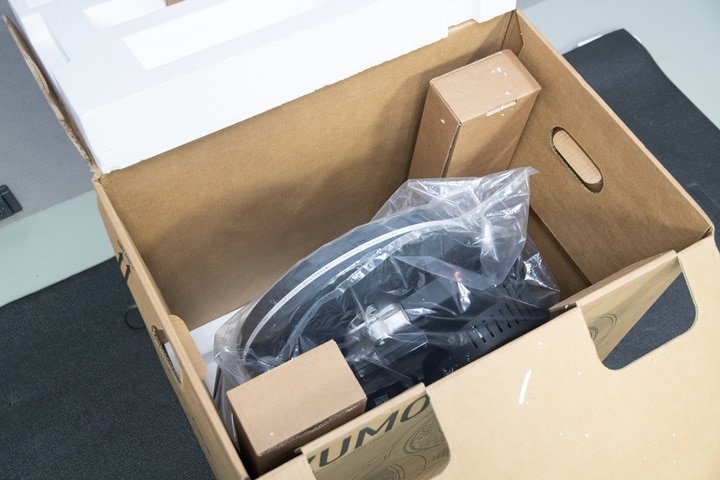 Here's those parts once removed from the main box: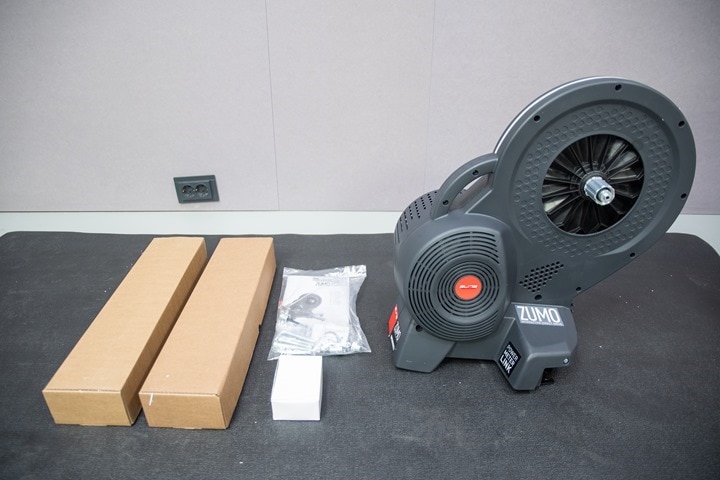 And again, once fully deboxed.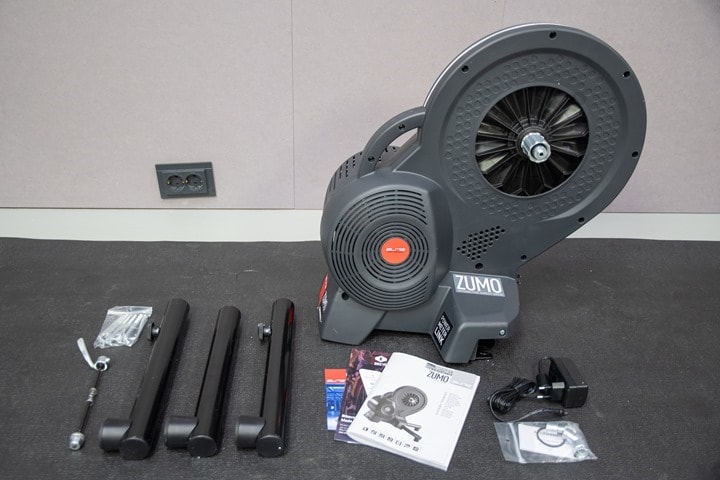 A quick run-through of the parts, we've got the manuals and paper stuffs – including some discount coupons: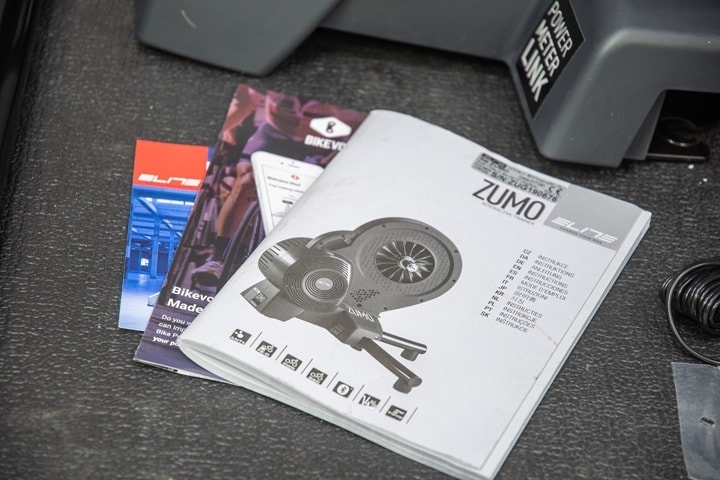 Then there's the power cord and thru-axle/quick release adapters: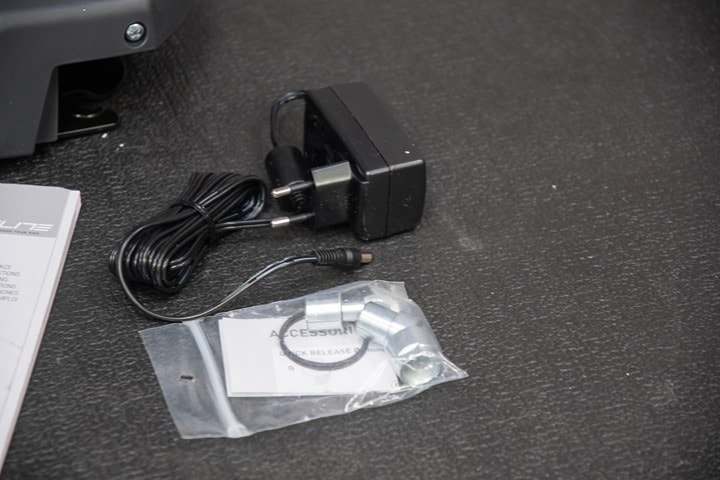 After that you'll find the legs, leg bolts, and quick release skewer: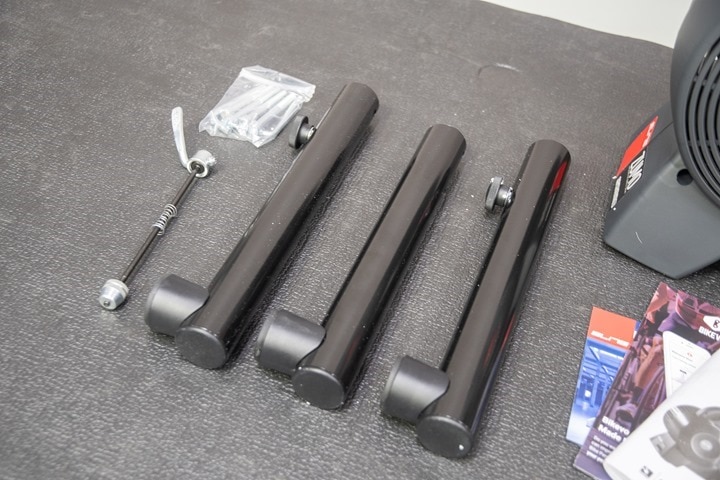 And then there's the unit itself of course. But you'll see plenty of photos of that throughout this post (plus the ones already above), so let's get right into setup.
The Basics & Setup:
Getting the Zumo setup is pretty easy. First, you'll need to attach the three legs. This doesn't take more than 2-3 minutes, depending on your current leg attachment skill proficiency level. Some people are just leg guys and gals, others aren't.
Once that's done, it's time to attach the cassette. Unlike the Suito trainer, this one doesn't come with one, so you'll need to get your own.
I typically buy Shimano Ultegra cassettes for my trainers (mostly for sound-testing consistency across videos), but I've also done a few SRAM ones and whatever else happens to be on sale from the bike shop. It generally doesn't matter, except sometimes you'll find some of the lower-end cassettes (like a Shimano 105) don't quite sound as quiet as mid to higher-end ones.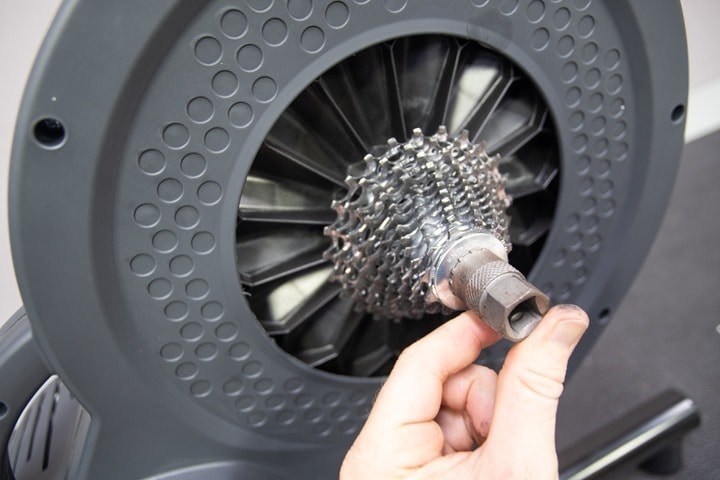 In any case, with a cassette, you'll need two tools. A lockring tool (or lockring + a wrench, in my case), and a chain whip. In this case, you need the chainwhip since you can't get a good grasp on the flywheel.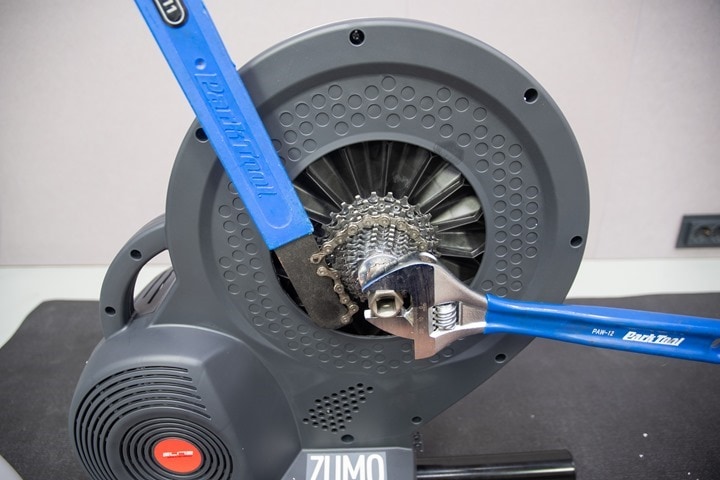 After the cassette is installed, go ahead and plop in the little skewer/axle adapters on both sides, and then stick on your quick release skewer (if not a thru-axle bike).
This is as good a time as any to quickly recap what may not be obvious, mathematically. The Elite Zumo in the US sells for $699USD, whereas the Elite Suito sells for $799USD (with the cassette pre-installed). The cost of a cassette is normally $50 or so, and the tools $10-$20 if you don't have them. So all in, it'll cost you ~$770 vs $799. For that added $29 on the Suito you'd get the cassette pre-installed, and the Suito is actually fully assembled out of the box. Also, it's more powerful.
On the flip side, the Suito (still) seems to be working its way through some occasional manufacturing issues. Whereas the Zumo dealt with those last year, so it's largely smooth sailing manufacturing-wise. Accuracy-wise, they're probably a wash. But again, capability-wise the Suito is on paper a better trainer.
Of course, it's rarely as simple as that. In your country the prices may be different, or, you might have an old cassette lying around and your friend has the tools to install it. I suspect if we fast-forward to 2020 sometime, the decision will be easier once we get past any lingering Suito manufacturing teething issues.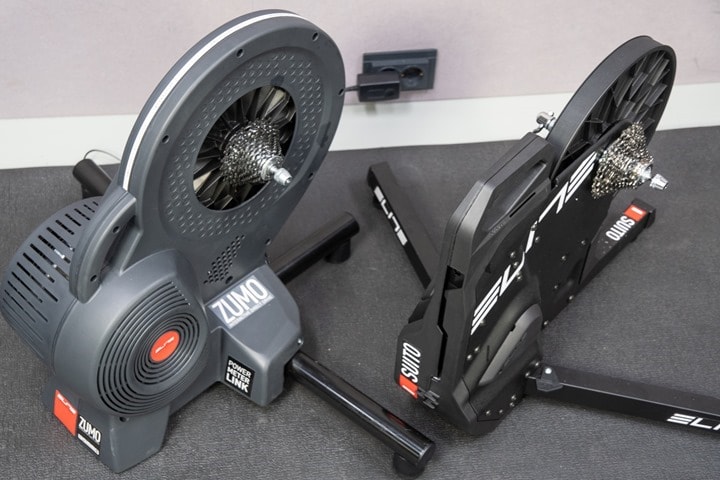 Ok, with that diversion noted, simply plug it in, and you're good to go. The power adapter/cord is 120/240v, so you can use it anywhere in the world if you happen to travel with it. It has a little triple-catch system to prevent you from ripping it out of the trainer. Though, I think this basically just means you'll take your entire bike with it instead if you trip over the cable. Or decapitate the cord. Not sure, not gonna try it.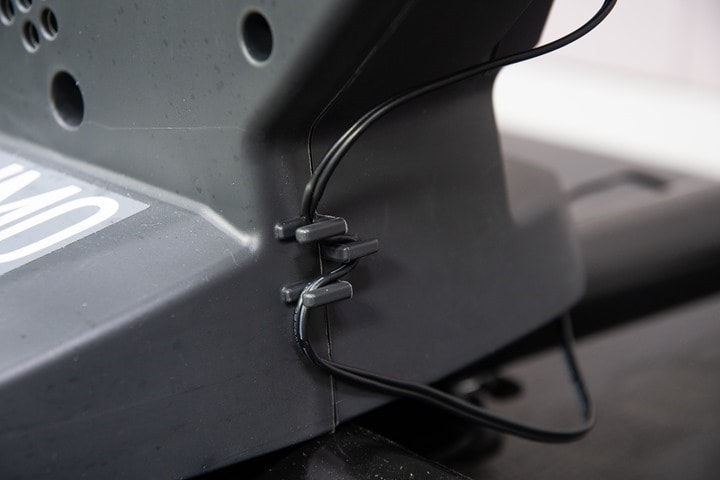 Somewhat annoyingly, the Zumo I have is still using a shorter power cord (as compared to the Suito). Which is only 1ish meter long, versus the 2-something meter long cable that comes with most other trainers. Hardly a deal-breaker of course – that's why they invented extension cords. But still, an extra half a meter would be great.
On the side of the trainer are the status lights. These tell you the (wait for it) status of the trainer. More specifically whether it's powered, as well as the ANT+ & Bluetooth Smart communication and control of the unit.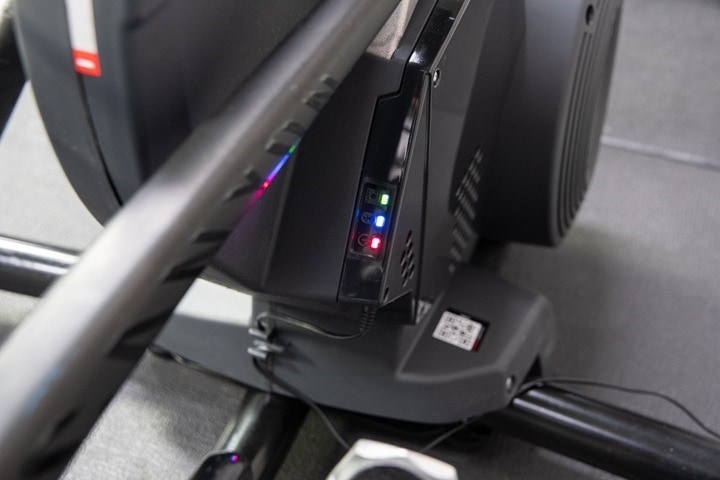 Oh, and before we mount the bike you'll need to either put in the quick release skewer adapters, or the thru-axle adapters, here's what's in the box on that front: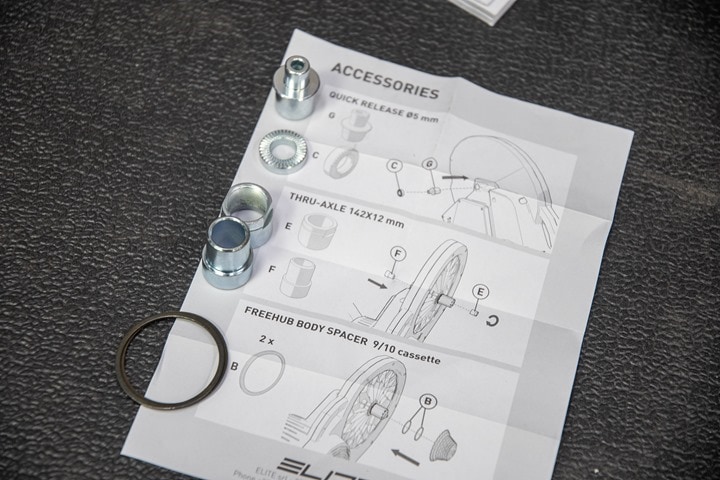 With that, we're ready to get the bike mounted. The Zumo doesn't come with a front wheel block, but you can find one on Amazon for $5-$10. I personally like riding with a front wheel block just to keep my handlebars pointed forward all the time (even on higher-end trainers that supposedly don't require one). But to each their own.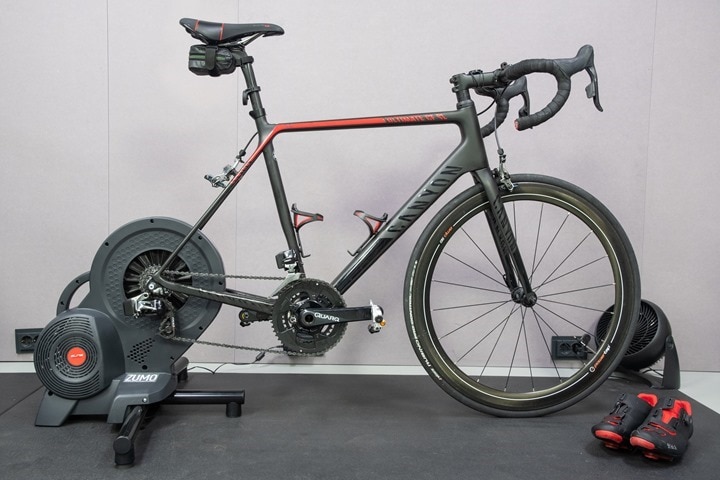 Now, we'll get to app compatibility in a moment, but first let's start with the road feel. Like I always say – for me personally, it's hard to separate the fact that I'm riding indoors from outdoors. It's still a trainer, and I'm still looking at a wall in front of me.  My brain can only turn off so much of that.  Still, much of the road-like feel is driven by the flywheel, and be it physical or virtual, flywheel sizes tend to be measured in weight.  This impacts inertia and how it feels – primarily when you accelerate or otherwise change acceleration (such as briefly coasting).
All that prefacing done, I'd say this is….ok.
Like…shrug.
It's not a $1,000 trainer – so it is what it is. I think it's better than anything else cheaper than it though, and at a $699 price point some sacrifices had to be made. If you've never ridden a trainer before (or a higher-end trainer), you'll probably think it's perfectly fine. If you've ridden a KICKR or even Elite's Drivo series a lot, you'll find it feels just a bit empty. The inertia isn't quite there. Again – it's *not bad*, it's just not fantastic. Technically it has the same flywheel weight as the Elite Direto/Direto X trainer, though for some reason it feels different.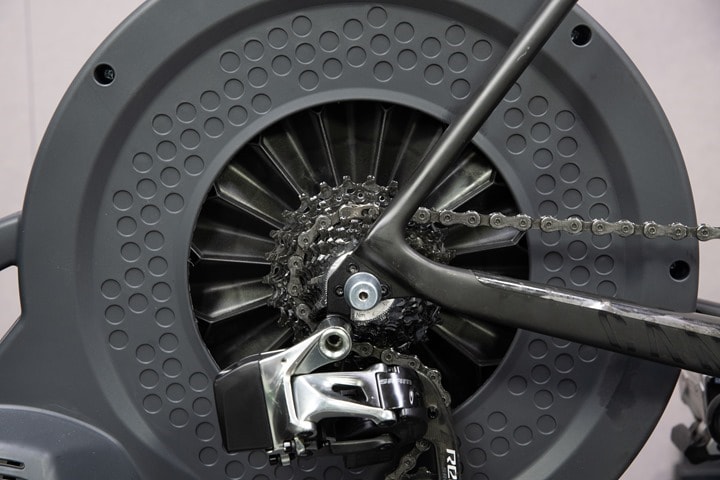 Now given the Zumo is a smart trainer, it'll change resistance automatically in a few different ways, primarily driven by different applications/methods.  But most of this all boils down to two core methods:
ERG Mode: Setting a specific power level – i.e., 235w.  In this mode, no matter what gearing you use, the trainer will simply stay at 235w (or whatever you set it to).
Simulation Mode: Simulating a specific outdoor grade – i.e., 7% incline. In this mode, it's just like outdoors in that you can change your gearing to make it easier or harder.  Wattage is not hard-set, only incline levels.
In the case of simulation (aka slope) mode, the Zumo can simulate from 0% to 12% incline – which is above the competitors in this price point. The Elite Direto X goes to 18%, the Suito to 15% the Wahoo KICKR CORE simulates up to 16%, while the Tacx Flux S is down at 10%. Honestly, there's little reason most of this matters if you use the defaults in Zwift, because it automatically halves the values anyway. A 10% grade feels like a 5% grade. You need to change the 'Trainer Difficulty' level to 100% in order to feel it (and most people don't bother to). Where it can matter though is at low-speed high wattage climbs up those 12% or beyond ascents.
The second mode the trainer has is ERG mode.  In that case, the company claims up to 1,150w of resistance at 40KPH. Although, realistically, you don't care about that. I can only barely (maybe) break 1,000w for a second or two, and even most front of the non-pro pack cyclists aren't going to top 1,800w.  The pros would only be just a bit beyond that.  Said differently: Peak numbers don't matter.  Instead, what matters is actually a harder metric to make clear – which is the ability to simulate high grades and lower speeds (especially if you're a heavier cyclist).
One core test I do with all trainers though is responsiveness: How quickly does it respond to ERG mode changes? I typically do that with my 30×30 test via TrainerRoad, though it doesn't really matter what method you use as long as you're looking at big shifts in wattage:

Note above the super hard to read green-line was actually the target, not the blue line. This is because TrainerRoad, after the workout, only shows the original workout specification, and not the adjusted target value. What you see though is that it's occasionally a bit wobbly towards the end of each set, but overall about the norm during the sets.

It takes roughly 4 seconds for it to adjust from 150w to 410w during each interval. That's a little bit slower than the usual 2-3 seconds or so that most higher-end trainers hit it in. But it's pretty close for a not-high-end trainer.
We'll talk more about accuracy later on in the accuracy section. So instead, let's wrap up on one last thing – which is the folding legs. The two outer legs fold into the center of the trainer, making it a bit easier to store/move. It doesn't go as thin though as the Suito, but still, at least it folds (unlike the Tacx Flux series).
With that, let's talk something super sexy: App protocols and compatibility.
App Compatibility: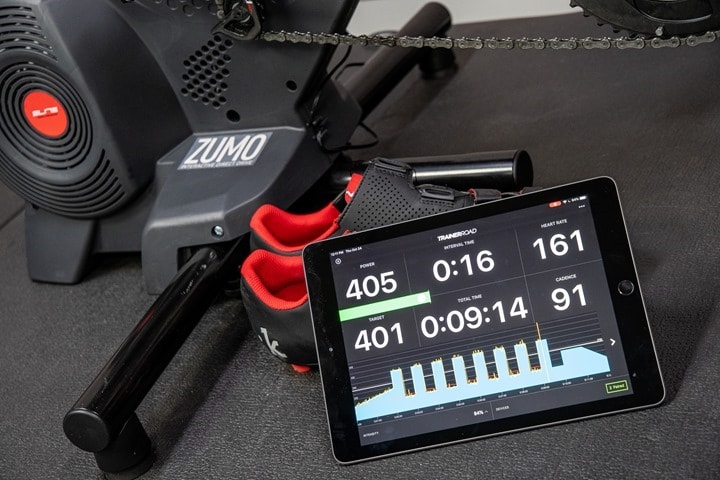 The Zumo follows the same app compatibility standards as previous Elite products, and essentially follows the industry norms as you'd expect from a high-end trainer.  As you probably know, apps like Zwift, TrainerRoad, SufferFest, Rouvy, Kinomap and many more all support most of these industry standards, making it easy to use whatever app you'd like.  If trainers or apps don't support these standards, then it makes it far more difficult for you as the end user.
Thankfully, that's not the case here.  The Zumo transmits data on both ANT+ & Bluetooth Smart, as well as allowing interactive resistance control across both ANT+ & Bluetooth Smart.  By applying resistance control, apps can simulate climbs as well as set specific wattage targets.
The unit supports the following protocols and transmission standards:
ANT+ FE-C (Trainer Control): This is for controlling the trainer via ANT+ from apps and head units (with cadence/power data). Read tons about it here.
ANT+ Power Meter Profile: This broadcasts as a standard ANT+ power meter, with cadence data
ANT+ Speed/Cadence Profile: This broadcasts your speed and cadence as a standard ANT+ Speed/Cadence combo sensor
Bluetooth Smart Power Meter Profile: This broadcasts as a standard BLE power meter, with cadence data
Bluetooth Smart Speed/Cadence Profile: This broadcasts your speed and cadence as a standard BLE combo Speed/Cadence sensor
Bluetooth Smart FTMS (Trainer Control): This allows apps to control the Zumo over Bluetooth Smart (with cadence/power data)
Between all these standards you can basically connect to anything and everything you'd ever want to. Be it a bike computer or watch, or an app – it'll be supported. In fact, Elite's really been one of the leaders in supporting the various standards – including FTMS.
In the above, you'll note there's cadence data baked into the various streams. That's handy if you're connecting to Zwift on an Apple TV, due to Apple TV's two concurrent Bluetooth Smart sensor limitation (plus the Apple TV remote).  This means you can pair the trainer and get power/cadence/control, while also pairing up a heart rate strap.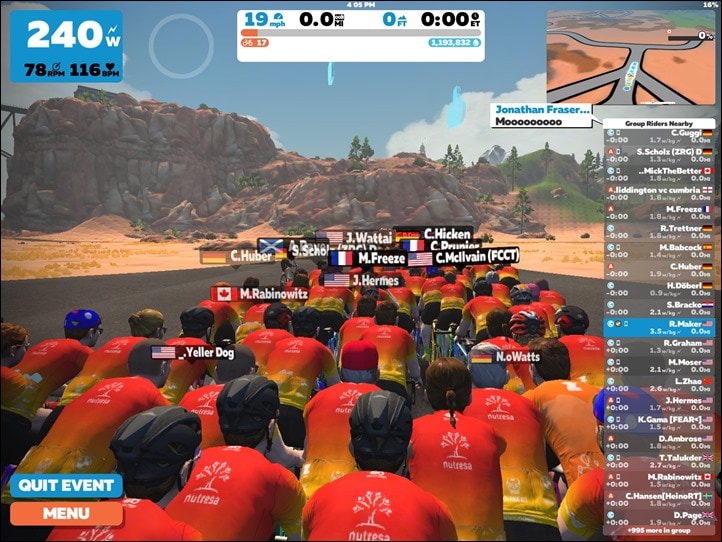 For me, in my testing, I used Zwift and TrainerRoad as my two main apps (which are the two main apps I use personally).  In the case of Zwift, I used it in regular riding mode (non-workout mode, aka SIM mode) as well as ERG mode (workout mode). Whereas in the case of TrainerRoad I used it in a structured workout mode (ERG mode). I dig into the nuances of these both within the power accuracy section.
Starting with Zwift, you can see the Zumo listed as not just a controllable trainer, but also within the regular power meter and cadence section. You'll want to pair it up as a controllable trainer (which will also pair it as a power meter):
You'll see the trainer enumerated in a fairly similar manner on TrainerRoad as well:
Also, TrainerRoad's tips page on using smart trainers in ERG mode: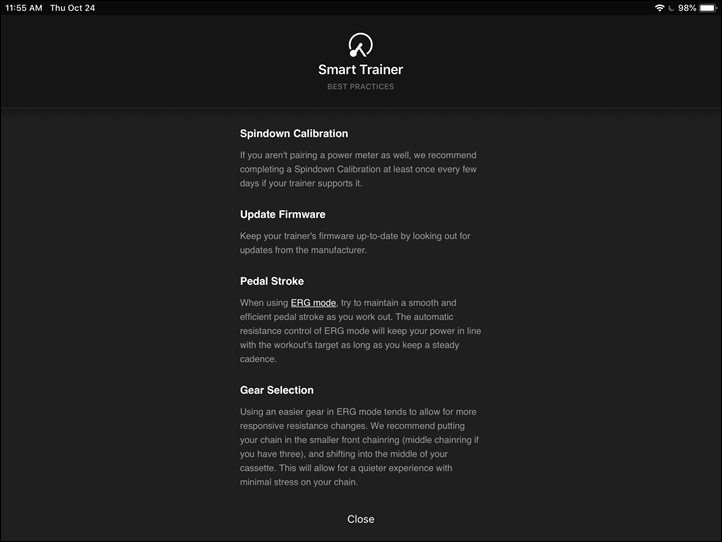 I'd *strongly* recommend you either read that page, or just simply do two things:
A) Calibrate the Zumo: I found it did make a significant difference to do the roll-down, it only takes a few seconds
B) Ensure you're using the small ring up front: This is for ERG mode specifically, shift into the small ring to get better control
As far as calibration goes, you can complete it easily from most apps – including TrainerRoad and Zwift. You'll see either a calibration prompt in the app (like TrainerRoad), or a small wrench or such in the settings (like Zwift).  For example, here it is doing the spin-down within Zwift: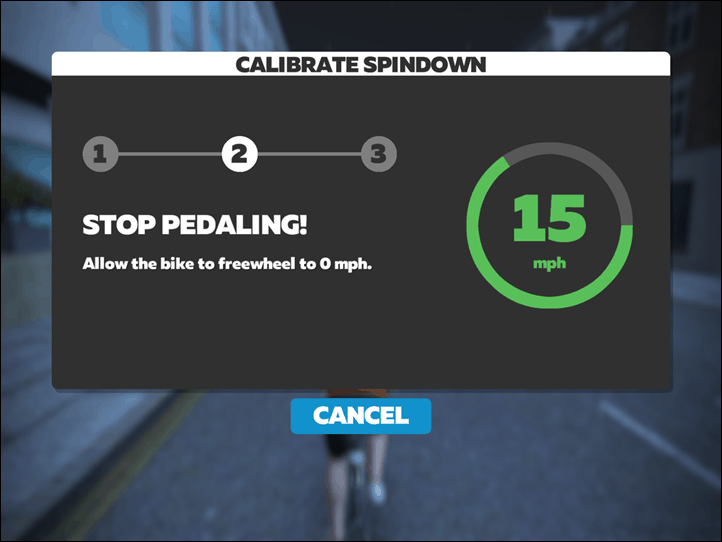 It's super easy to do, you just pedal a bit fast for a moment until it reaches a given threshold speed, and then you stop pedaling. It's going to measure how long it takes to coast to a stop. Super easy.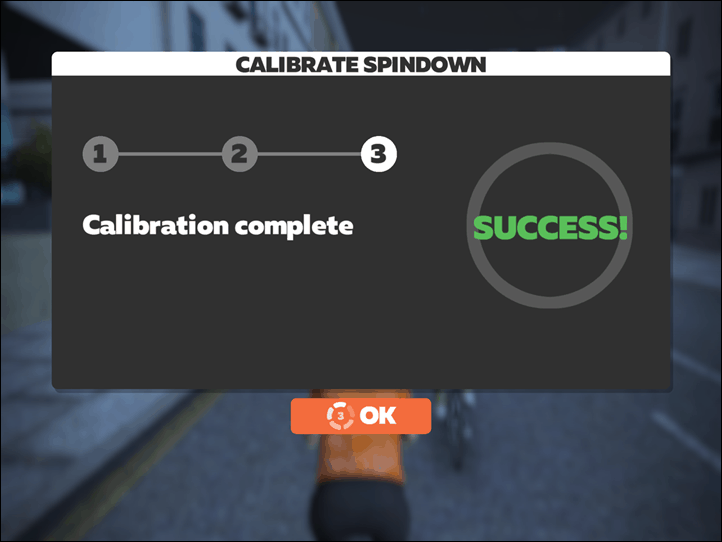 In general, you should calibrate every once in a while (perhaps every few weeks), or anytime you've moved the trainer some distance (like to a new home/etc…). Additionally, you should calibrate if you've had a major temp swing (such as if it lives in your garage and now the sweat puddle on the floor is frozen). In my testing – I found it legit did make a difference in temp shifts (about 20w difference on 220w from my ride on Saturday).
Again, you can also do these calibrations within Zwift, TrainerRoad, or most any other app. Easy stuff.
Finally, Elite does have their own app that you can use for a handful of functions, but I had no use for it here at any point in the testing cycle. And technically, there are two apps here. The first is their Elite MyETraining app, which you can do calibrations from within:
The MyETraining App also supports Elite's Power Meter Link (PML), something you'll see all over the Elite Zumo. This means it can match up to an external power meter to provide more finite control of the trainer. Personally, I'm not a big fan of power meter matching/linking type technology from any company, as I often find it does weird things around delays in power. I'd rather the darn trainer be accurate to begin with. So I don't use it.
And then there's the Elite Upgrado app, which allows you to do firmware updates, with the Zumo one of the units that's supported today:
It's great that Elite finally has a smartphone app for firmware updates (it was just rolled out last month). And even better that the Zumo was one of the first units to get included.
Power Accuracy Analysis: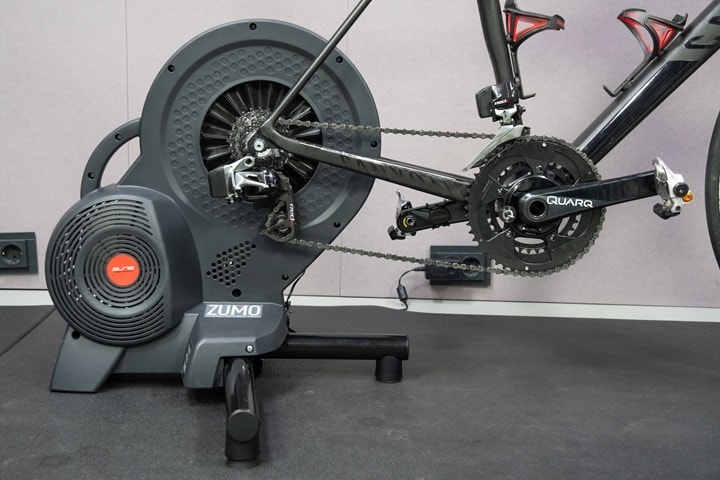 As usual, I put the trainer up against a number of power meters to see how well it handled everything from resistance control accuracy, to speed of change, to any other weird quirks along the way.
In my case I used one primary bike setup as follows in two configurations:
Canyon Bike Setup: PowerTap P2 pedals (dual-sided), Quarq DZero
Giant Bike Setup: Garmin Vector 3 pedals (dual-sided), Stages LR (dual-sided)
This is all in addition to the trainer itself.  Note that because you remove the rear wheel I can't use something like a PowerTap hub to compare as well (which I would use in power meter testing normally).
In my case, I was looking to see how it reacted in two core apps: Zwift and TrainerRoad (Bluetooth Smart on Apple TV and iPad). The actual apps don't typically much matter, but rather the use cases are different.  In Zwift you get variability by having the road incline change and by being able to instantly sprint.  This reaction time and accuracy are both tested here.  Whereas in TrainerRoad I'm looking at its ability to hold a specific wattage very precisely, and to then change wattages instantly in a repeatable way.  There's no better test of that than 30×30 repeats (30-seconds at a high resistance, followed by 30-seconds at an easy resistance).
There's two ways to look at this.  First is how quickly it responds to the commands of the application.  So for that, we need to actually look at the overlay from TrainerRoad showing when it sent the command followed by when the Zumo achieved that level.  Here's the levels being sent (the blue blocks)) by TrainerRoad (in this case via Bluetooth Smart on iPad) and how quickly the Zumo responded to it: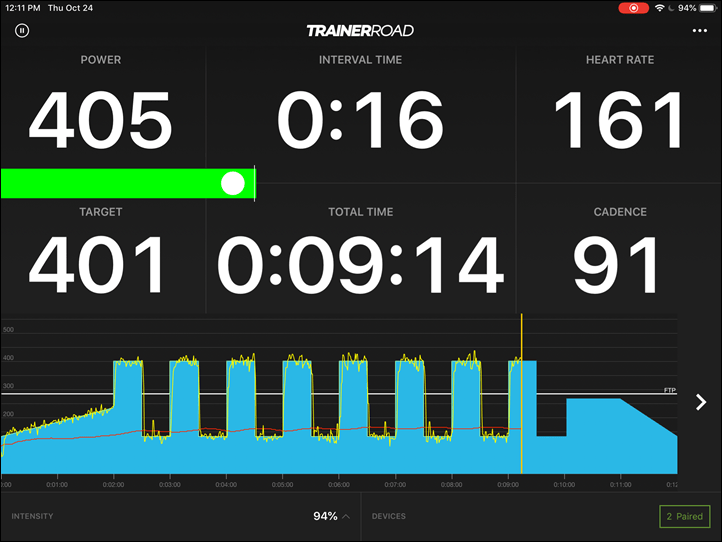 As we discussed earlier on in the overall basics section, the Zumo takes about 4 seconds to respond to these shifts, which I think is OK for this price point (I'd consider it slightly slow for higher price points). But it mostly was in the ballpark for the actual set-point. Meaning, it didn't overshoot the set-point by some crazy amount and be 50w high or anything.
Next though is the question is whether the power itself accurate? In other words, it may have been stable, but was it actually accurate. The Zumo claims +/- 3% So for that we'll compare it against the Quarq DZero and PowerTap P2 pedals. Here's that data set:

Now, I'll first note that the PowerTap P2 pedals seemed to be reading a bit low on this day. Interestingly, when I dug into it (and you can too if you look at the set link above), the left pedal seemed to be oddly low – pulling down the average power there considerably. Or, at least considerably by my usual testing standards. In any case, that's why I also have the trusty Quarq DZero on there.
The Quarq and Elite Zumo agree fairly closely here, though the Elite Zumo is reading what I believe to be a bit high. It shouldn't be higher than the Quarq, but given the +/-3 %, if we look at 3% on 400w, we're basically talking a +/- 12w variance (in addition to variance of the Quarq too).

In other words, it's within spec. And actually, doing better than some of the higher-end trainers I've tested this fall of 2019.

However, cadence needs some work. I saw repeated 'drops' in the cadence for a second or two. You probably wouldn't actually notice it during a ride unless you were watching your cadence like a hawk, but it's super visible in charts afterwards:

Let's switch things up – this time to a Zwift workout, specifically an ERG workout. This time against a set of Vector 3 pedals and a Stages LR unit (actually, it turns out it was just a Stages R unit, the left-battery died). What's notable here is I wanted to show the shift that occurs with doing a calibration mid-ride. Albeit a bit later than I usually do – this one at the 26-minute marker rather than the 10-15 minute marker. I did it then because initially things looked fine, but as I got to around the 20ish minute mark I noticed the Zumo was a bit out of alignment. So I decided to rectify that.
Here that data set:

Let's zoom in a bit post-calibration. What you see here is that it tracks rather nicely with the Vector 3, though the Stages R is a bit off, likely for two reasons. First, it lost its buddy Stages L, and second – it's a Shimano R8000 series right-sided unit, which is more prone to variances. Again, that's fine – that's why Vector 3 is there anyway. One of these days I'll put my other extra Quarq back on this backup bike.

However, you'll notice towards that last portion of the set (which was a 15-second long interval at 550w), it has some issues nailing that wattage. Zumo undercuts that by quite a bit. But hey, on the bright side Stages R didn't lose the plot here. So that's positive.

The Zumo undercut these sprint efforts for all iterations of this repeat interval throughout this workout. Interestingly though, I've actually seen this pattern before on other Elite trainers and struggles with these sorts of more subtle power surges.
As for cadence, it was actually better here. Ignore the huge spike at 26-minutes, that's me doing the calibration of the trainer and oftentimes I find ANT+ power signals sent during calibrations show funky things. Still, there were a few other blips I've highlighted in yellow (the others you see appear to be more drop-related and seem to impact everyone, likely due to some transient WiFi interference).

Finally, let's look at a regular Zwift ride, this one in SIM mode through Titans Grove, which has become my 2019 trainer testing grounds. This is an exceptionally difficult course for trainers to execute due to the rolling nature of the terrain.
This data set is against a Quarq DZero and a PowerTap P2 pedal set:

Sure, at a high level it looks fairly close. But let's zoom in on a few random sections. Here's a point solidly in the rollers section, as you can probably see by the significant quantity of ups and downs. The Zumo is about 10w below the Quarq DZero (on about 250w) – or just a touch above the 3% marker. However, that does assume the Quarq DZero is spot-on. It too can be a few percent off and thus would pull the two into closer alignment. The PowerTap P2 pedals were still reading slightly skewed (low) on this day. Or, it's plausible the Quarq was reading high that day. Welcome to the real world of power meter testing.

So what about a short sprint? Let's look at it two different ways. First is with 3-second smoothing enabled. Here you can see the Zumo is slightly delayed compared to the Quarq & PowerTap P2 pedals – and also quite a bit lower (in green).

However, if I remove the smoothing you'll see that it actually wasn't as delayed as you might think. Delayed yes, but not horrifically so. It was still undercutting the power though. I probably wouldn't want this trainer for serious Zwift Racing.

You can see these same undercuts a bit later on as well:

Though, on the bright side cadence was near perfect. I saw three dropouts recorded to the Garmin via ANT+, but none to Zwift via Bluetooth Smart. Meaning, the trainer itself wasn't having cadence tracking issues on this ride (which is surprising given how complex the flywheel aspects of the rollers are). Not too shabby:

So where do we stand? Well, it's kinda what I expect for a more affordable direct drive trainer. It's mostly pretty good, but does undercut the sprints or power surges pretty consistently. Whereas steady-state and ERG work is pretty close to spot-on. Cadence is going to be acceptable for the vast majority of people, though, if you're doing a lot of cadence work/drills, you might want to pick up a dedicated cadence sensor.
(Note: All of the charts in these accuracy portions were created using the DCR Analyzer tool.  It allows you to compare power meters/trainers, heart rate, cadence, speed/pace, GPS tracks and plenty more. You can use it as well for your own gadget comparisons, more details here.)
Trainer Comparisons: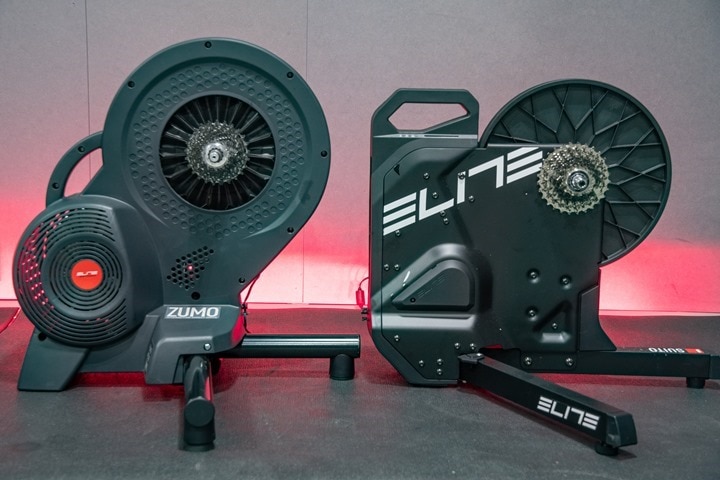 I've added the Elite Zumo into the product comparison database, where you can compare it to any trainer that I've reviewed or have in the DCR Cave. For the purposes of below, I've slated it up against the Elite Suito, Wahoo KICKR CORE, and Tacx Flux S. Or basically, the least expensive direct drive options for each of the brands. Of course, you can mix and match and create your own product comparison chart in the product comparison tables here. And of course, my complete Winter 2019-2020 Trainer Recommendations Guide as well.
And again, don't forget you can make your own charts in the product comparison tables here.
Summary: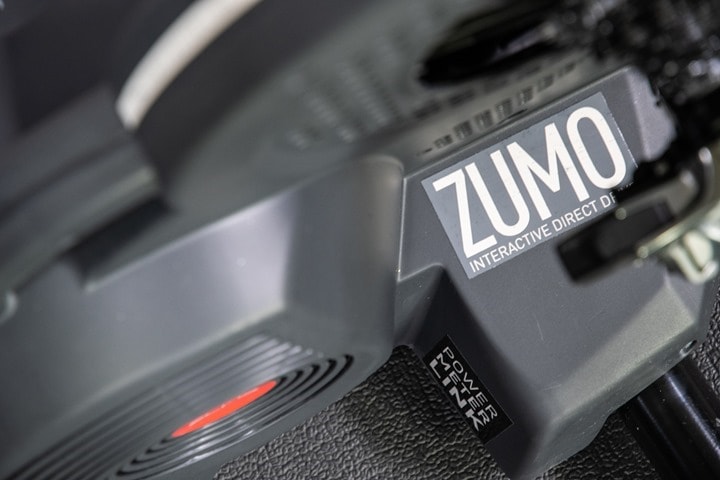 It was only a matter of time before a company introduced a more affordable direct drive trainer. While it took a year for Elite's vision last year to fully mature, it does seem to be here today in the form of the Zumo. $699 is some $50 below the Tacx Flux S (with the Zumo having slightly better specs on paper). And while that might not sound like a lot of money, it actually is from a production/margin standpoint. This trainer pushes the boundaries of what companies can make price-wise right now in 2019 (or, even back in 2018).
In fact, that's why it's harder to find the Zumo than most other Elite trainers. Not all retailers are willing to carry it, due to the slightly different margins needed in order to achieve the $699 price point. And some retailers that did initially carry it last year backed away after the early teething/accuracy troubles – fearing they'd be stuck with lemons. So much so that it seemed in doubt it'd be a trainer that lasted on Elite's product road map. But Elite kept at it over the winter, tweaking the firmware.  And with the accuracy update over the summer I think it's got a viable place back up in the lineup – at least for now. I suspect longer-term the Suito will eventually gobble it up price-wise. But that's another problem for another day.
Ultimately, for the money it's not a bad option at all. I like seeing more affordable options, even if they do have small caveats. Not everyone will be racing on Zwift, and not everyone cares that cadence is perfect 100% of the time. For things like ERG mode, this holds its own perfectly fine. And the same is true for even just regular Zwift riding or most events. Not to mention that people have been buying this trainer for quite some time now, and are by and large pretty happy with the value prop.
With that – hope you found this useful! And don't forget about my full Winter 2019-2020 Trainer Recommendations guide here.
And finally, here's a handy list of accessories that most folks getting a trainer for the first time might not have already:
| | Product | Amazon | Note |
| --- | --- | --- | --- |
| | Apple TV 4K (2021 Edition) | Amazon | There's no better bang for your buck in getting Zwift (or FulGaz/etc) on your big screen TV than Apple TV - it's the primary way I Zwift. Even if you don't have a 4K TV, the 4K version has more powerful graphics than the base, worth the extra $30. |
| | Basic Trainer Mat | Amazon | This is a super basic trainer mat, which is exactly what you'll see me use. All it does is stop sweat for getting places it shouldn't (it also helps with vibrations too). |
| | Cassette Installation/Removal Tools | Amazon | There are *many* variations of cassette removal tools, this is the best bang for your buck. Don't overthink this. You'll likely only use this tool once every 2-3 years. |
| | Front Wheel Riser Block | Amazon | Here's the thing, some people like front wheel blocks, some don't. I'm one of the ones that do. I like my front wheel to stay put and not aimlessly wiggle around. For $8, this solves that problem. Note some trainers do come with them. Also note, I use a riser block with *every* trainer. |
| | Honeywell HT-900 Fan | Amazon | I've got three of these $12 fans floating around the DCR Cave, and I frequently use them on rides. They work just fine. Sure, they're not as powerful as a Wahoo Headwind, but I could literally buy 20 of them for the same price. |
| | Indoor Cycle Trainer Desk (RAD/Lifeline/Vinsetto/Conquer/etc...) | Amazon | This desk is both a knock-off of the original KICKR Desk, but yet also better than it. First, it's got wheel locks (so the darn thing stays put), and second, it has two water bottle holders (also useful for putting other things like remotes). I've been using it as my main trainer desk for a long time now and love it. Cheaper is better apparently. Note: Branding varies by country, exact same desk. |
| | KOM Cycling Trainer Desk | Amazon | This is by far the best value in trainer desks, at only $59, but with most of the features of the higher end features. It's got multi-tier tablet slots, water bottle holders, non-stick surface, adjustable height and more. I'm loving it! |
| | Lasko High Velocity Pro-Performance Fan (U15617) | Amazon | One of the most popular trainer fans out there, rivaling the Wahoo Headwind fan in strength but at a fraction of the price. It doesn't have smartphone/ANT+/Bluetooth integration, but it does have secondary outlets. I've been using it, and a similiar European version lately with great success (exact EU variant I use is automatically linked at left). |
| | Shimano R7000 105 Cassette (11-speed) | Amazon | This is a Shimano 105 cassette (thus, slightly more budget compared to the Ultegra), in most cases, you probably won't notice the difference. Ensure that the number of speeds matches your bike (e.g. 11-speed, 10-speed, 9-speed, etc...). |
| | Shimano R8000 Ultegra Cassette (11-speed) | Amazon | This is a Ultegra cassette, you can save about $10-$15 by picking up a Shimano 105 instead. Ensure that the number of speeds matches your bike (e.g. 11-speed, 10-speed, 9-speed, etc...). |
| | Tacx Tablet Bike Mount | Amazon | I've had this for years, and use it in places where I don't have a big screen or desk, but just an iPad or tablet on my road bike bars. |
Thanks for reading!