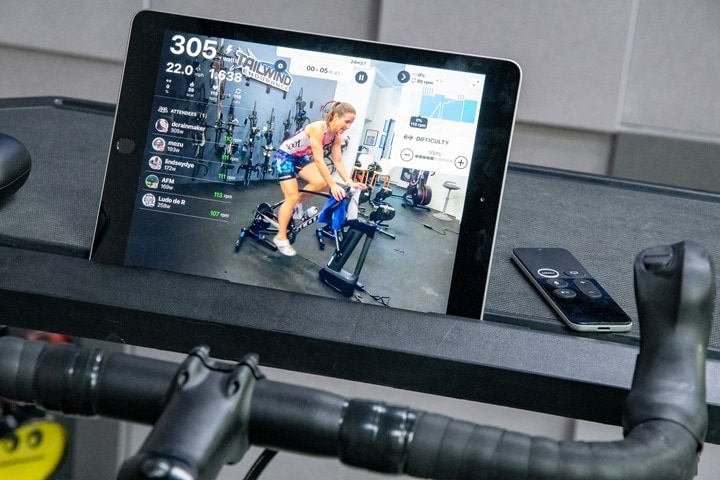 Kinomap has launched their slate of Winter 2019-2020 platform updates, which include not just a revamped and refreshed user interface, but also a new capability that allows coaches to upload their own videos to the platform and have users/athletes iterate through, even showing you in real-time how you've compared against your friends in those workouts.
In addition, they've rolled out a connected Apple TV app. I say 'connected', because it requires you still run the main app on another device (like a phone), while the Apple TV app is used for the pretty stuff on a big screen, while the companion app is used for the app user interface bits. Somewhat akin to what Road Grand Tours does. But more on that later.
Before we get too far into things, it's probably worthwhile noting that over time Kinomap as a company has somewhat shifted in their core audience. While the company has historically targeted cyclists on indoor trainers (via ANT+ & Bluetooth Smart), the reality is that makes up only about 30.8% of their total customer base. The biggest portion of their base is connected exercise bikes, like you'd see in gyms. With rowing machines and treadmills also in the mix. So in some ways, while these features are definitely targeting the individual consumer, the coaching sessions as you'll see has far greater potential reach when they look to gyms and a Peloton-style model that they've done some trial runs with.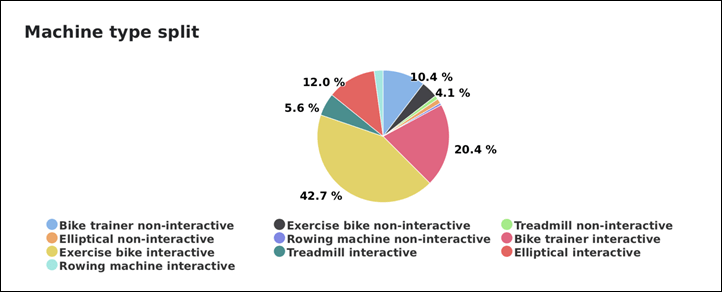 Also, as noted they have revamped the user interface a bit – a trend we've seen across the board over the past year with different apps. As I've said countless times, I think it's one of the most important pieces of the indoor trainer app side of things. It's the make or break element between whether a user loves an app or puts up with an app, even if they don't realize it.
I'm not going to cover every UI detail in this post within a separate section – instead, you'll just see it as I try out the other new standalone features. Oh, and all of this is now live on the production apps, which started from Monday afternoon.
Coached Sessions:
This next bit is probably one of the more unique offerings on the market, which enables coaches to create video sessions with specific coached workouts…and the ability to have multiple athletes in the session at the same time. So think Peloton instructors meets Sufferfest structured workouts but with a video of the coach instead of scenic rides like currently in Sufferfest.
When you crack open the app you'll see the browse tab, which allows you to go into the three core areas: Videos (of outside rides), Coaching (coached sessions), and Intervals (pain).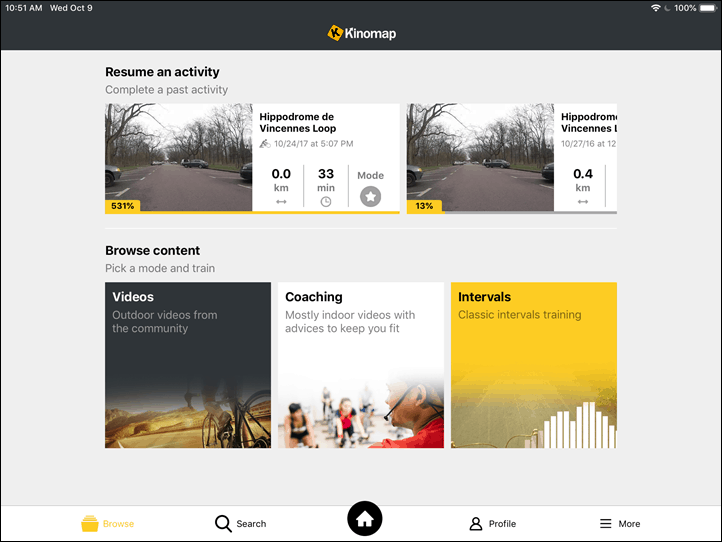 For quick reference, the videos have mostly made up the core of Kinomap's fame historically. You can even upload/create your own videos, as I've done a number of years ago. These allow you to re-ride outdoor rides on your smart trainer, with the gradient changing. There's thousands upon thousands of videos. To be precise, there's more than 100,000 videos from 90 countries. Seriously, lots of places.
But, if you click on the above screenshots to a usably large size, you'll notice it's not just rides. Remember that chart at the front? Yup – you'll see rowing videos in there, allowing you to connect up a rowing machine and re-row that indoors. Same goes for running, which they did as part of a big partnership last year with the NHS for a Couch to 5K program.
However, none of that has to do with the new coaching functionality, so we'll get off our distraction train and back into the coached sections. Once you tap 'Coaching' from the main menu, you're taken here. In this case I've applied a filter to only show me cycling-related workouts, but in reality there are also rowing ones and others too.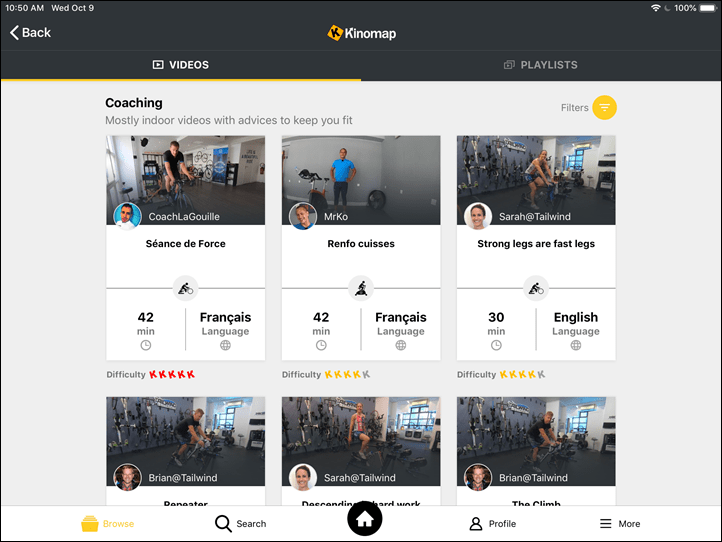 You'll see there's a blend of English and French ones, given that Kinomap is based in France – it makes sense to see this mixture. I tapped on one of the ones in English from Tailwind Endurance. I've heard the name, and Google tells me they're an endurance sports studio out of NYC that also does in-person studio rides too (probably why there's a flotilla of KICKR's floating around in the background).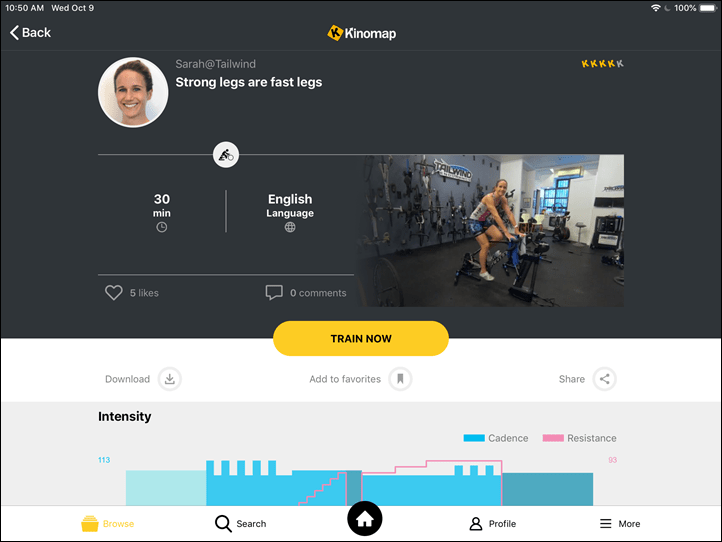 You'll see above there's the workout structure, including both power and cadence targets. Right now the power targets are % based (on a difficulty scale), however, Kinomap says that wattage-specific targets are in the plans.
On the next screen you'll confirm any equipment settings. In my case I was using the Wahoo KICKR Bike with a Wahoo TICKR X heart rate strap. I didn't need any extra cadence sensors since the KICKR Bike sends that over. I selected 'Full HD' for the video quality, and then whacked the start button.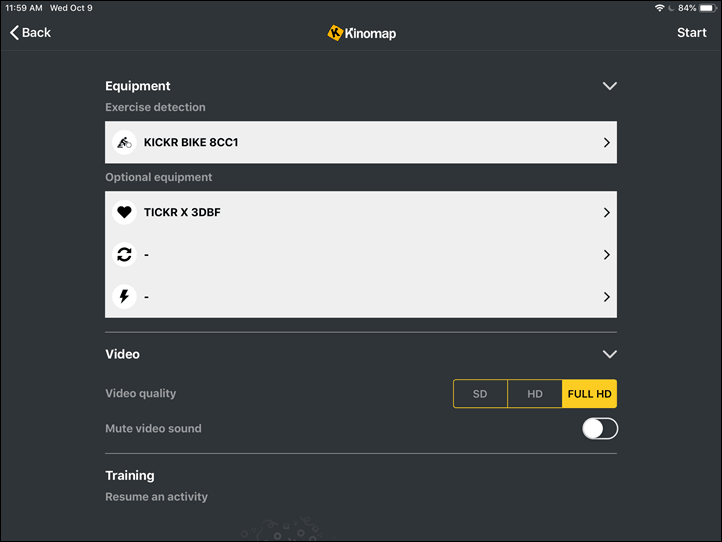 The first portion of this workout is a warm-up, as expected. The camera angles change automatically as the instructor (Sarah) explains the workout, just like would happen in a fitness studio. Her microphone quality was good, and the lighting was good as well – both super important qualities on video workouts. Of course, this wasn't a Peloton studio either. There was no fancy robotic camera on an arced track above the instructor, nor audio and lighting professionals shifting through moods.
But it was perfectly functional. Plus, the stack of TT bikes in the background on the wall probably cost more than a Peloton studio anyway. You can watch another video snippet from Tailwind here on YouTube on Kinomap's channel. It won't have the overlays seen below of course, but shows you what's underneath.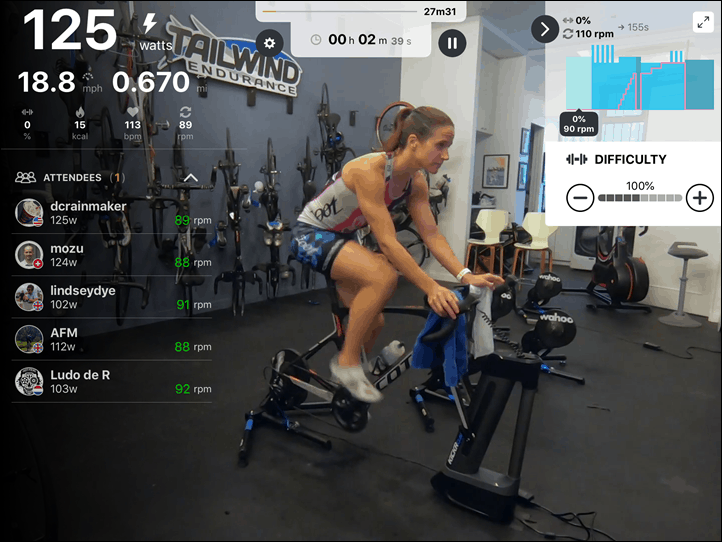 On the left side of the screen you see other athletes. These aren't live, but rather are other people you follow. Live workouts aren't yet in the platform, though Kinomap has some tests planned for this winter. In the upper left corner is your current wattage/speed/distance/calories/HR/cadence, depending on the sensors you've used of course.
Now as you get into the workout you'll see in the upper right corner an overview of the workout. The blue portions are actually the cadence targets, whereas the pink line is the wattage targets. After the warm-up the first portion of this workout was actually some higher cadence work, so no specific wattage target was assigned (common for cadence drills in workouts), and then from there you see the pink line go up in steps.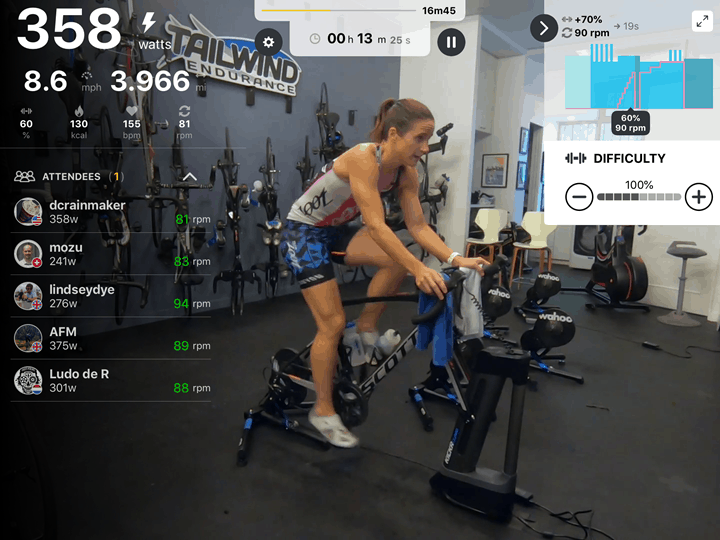 Below that it says '60% 90 RPM', which is my current target, whereas above the blue graph chunks is the next structured workout target and the time remaining (19 seconds) until that target.
Finally, you'll have noticed the difficulty is set to 100%. The challenge here is this seems somewhat nebulous. Obviously, you can see that I'm still working my way through these steps and this particular segment is coming in at a cool 358w. There's no wattage-specific targets for these displayed yet, though Kinomap says that's coming. They didn't do so initially due to the diversity of equipment that people end up on (again, remember that first device pie chart at the start of the post). Still, it made it challenging to complete the workout as-is.
Ultimately, I'd end up reducing the difficulty level down in order to get through these sets, as the next step had me clearing 400w+, for what I think were 1-minute chunks and increasing. Still, that's a technical thing that can be resolved, especially with being able to tie in some sort of target limiter, like using FTP or such.
Once your workout is complete you'll get a summary screen displayed, as well as the data transmitted to all the usual sites like Strava, TrainingPeaks, and so on.
And you can also get a bit more detailed analytics too:
So here's my thinking: Kinomap is close here. It's not perfect, but it's one of the best endurance-sports specific attempts I've seen at this. Sure, we've had coached videos before, but what we don't get is the ability to do it in pseudo real-time with others (or eventually live), and to see those other's metrics. Just like with the massively popular Peloton, there's a motivational factor to seeing those other names on the left side of the screen and ensuring your target cadence/power/etc is on-point: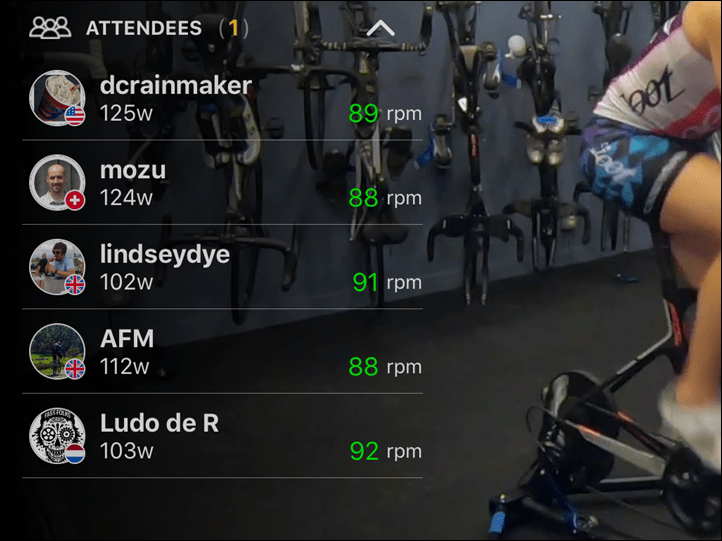 (Before I continue, yes, I know this post is about Kinomap, but when I see other opportunities for the technology, I'm going to talk about it. That's the inner geek in me.)
And, as I've argued for quite some time – it's exactly this sort of execution that I think competitor app TrainerRoad is missing out on (and to a lesser extent, Sufferfest). Taking TrainerRoad as an example, they have a celebrity style personality with Coach Chad via their highly popular podcast. People would undoubtedly be happy to join in on workouts with him, live or otherwise (or various guests they bring onboard). The bones of what Kinomap has here is exactly what TrainerRoad should be doing. And after all, it's largely his workouts that people are executing, and his written text people are following mid-workout.
Further, it would also potentially give TrainerRoad additional revenue because they could plausibly charge slightly more for a 'Pro' or 'Premium' tier that has live video coached workouts in it. Or, they could just keep prices the same and reach out to a new market portion that doesn't want to just stare at numbers. In other words, just like Kinomap has done here. They're not just adding coached videos for the fun of it, nor because Peloton is doing it (ok, maybe a bit because Peloton is doing it). No, they're adding it because it's a way to diversify their app a bit, and reach new user bases.
In any case – it's worth noting that Kinomap also has the ability to do playlists and other groupings of coached videos from within the app. And in the case of some of the French ones, they've teamed up with a few different groups to do some far higher production-values type videos too. So the potential is certainly there to see this get kicked up a notch.
Finally of note is that there is a revenue sharing model available for coaches, and there's also a pretty extensive how-to guide (PDF) available for coaches. It goes through everything from creating the workouts, to production tips. Kinomap says they're talking with other coaches, as well as even various fitness YouTuber's about getting on the platform. And lastly, for coaches they have an agreement with a music service for legal usage of any music within their videos, thus avoiding a Peloton-style lawsuit situation.
Apple TV & Remote Display:
Finally, there's both the new Apple TV app as well as the 'Remote Display' capability. In some ways, they're one and the same. First, there's an Apple TV app: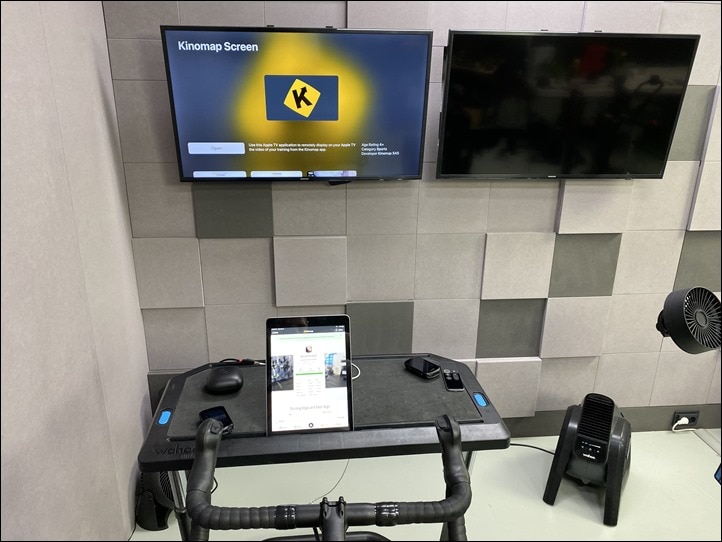 You can install it on any Apple TV that supports apps, just like the Zwift, FulGaz, Rouvy, or Road Grand Tours apps. However, unlike Zwift/FulGaz/Rouvy, you can't operate this app standalone. So that makes it more like Road Grand Tours. Instead, you'll need to run the new Kinomap app on your smartphone or tablet, which as of right now is the Android version only. But it allows you to then pair it to any screen you can find with a compatible web browser pointing it to this URL. Or, you can use the Apple TV app as that big screen. Ultimately, this means that all the big-screen content ends up on the main screen, while your phone is used mainly as a controller and for additional data metrics.
In my case, I forgot my Android phone this morning, so I was out of luck on iOS as that app isn't going to release until Nov 17th. But, I got to see a bit of a demonstration video on how it works, and you can see how the phone is used as a more detailed controller while the TV is showing the bulk of the content: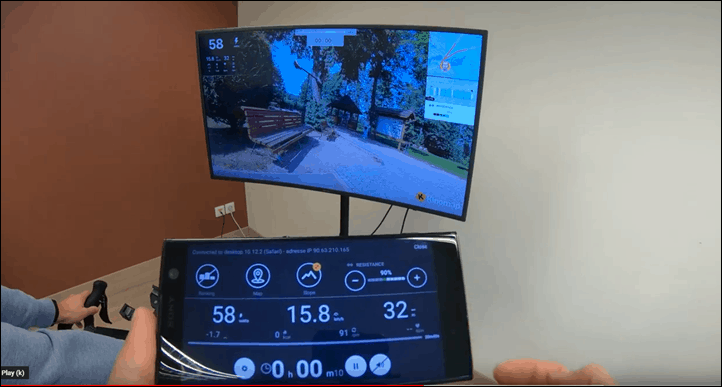 This is good stuff and has its use cases, though ultimately I really just want to be able to use a single Apple TV app and not be required to mirror items across devices. Of course, for a company like Kinomap it may be hard to justify the added development cost for that, especially given so much of their device base is diversified into the gym space (where Apple TVs would be less prevalent).
Ultimately though – all of these changes are good for Kinomap, and I think the user interface bits will help considerably. While the coaching aspect is still early days, it seems to be on the right path for increased appeal to athletes – especially if they can hook a few more influential coaches. As Peloton has oft talked about, the secret to their long term retention rate success isn't the bike, or the fancy studios, or even the questionably obtained music. Rather: It's the draw of the coaches and the desire for people to be willing to jump on a bike at 6AM sharp to not be late for a session with a given/specific coach.
Of course, this shouldn't really be a surprise for anyone: Spin studios have followed this model for decades to great success.
With that- thanks for reading!