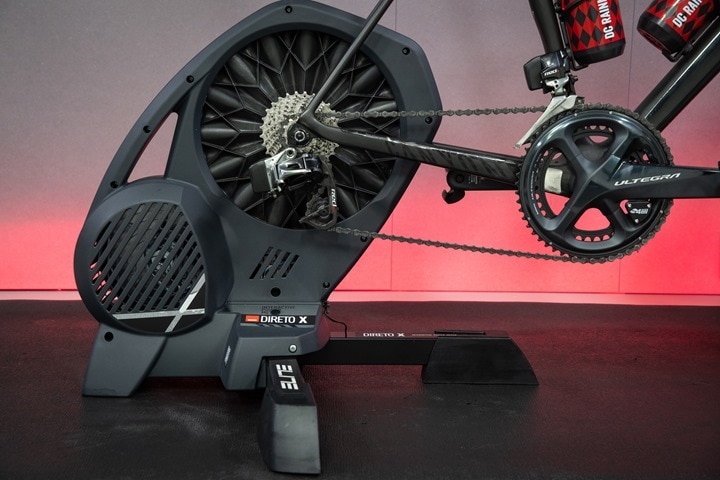 While Eurobike doesn't officially start for another 15 hours, Elite is joining Saris in getting a jumpstart on things, this time on Eurobike Eve. Elite has just announced three new products – the Elite Direto X (this post), the Elite Steering Thingy (post on that coming tomorrow morning at show open), and the Elite Tuo wheel on trainer (also more on that tomorrow). As the title indicates I'll be focused on their updated Direto series trainer for this post, which I have had for quite some time.
The Direto X takes the existing (and super popular) trainer and gives it a modest spec bump. Essentially it makes it compete more strongly in the mid-upper range of trainers against things like the Wahoo KICKR CORE. They've increased the incline simulation to 18% (from 14%), added longer rear derailleur cage support, and increased the accuracy of the onboard power meter to +/- 1.5% (from 2%), all while also making it a bit quieter. Minor changes for sure, but that's often how Eurobike goes – evolutionary updates rather than revolutionary.
In any case, I dig into all the changes – including the accuracy shifts in this full in-depth review. As I said, I've had a media loaner for a while, and that will head back to them once I've wrapped up with it here soon.  If you find the review useful you can hit up the links at the bottom to help support the blog.
With that – let's dig into it!
What's in the box: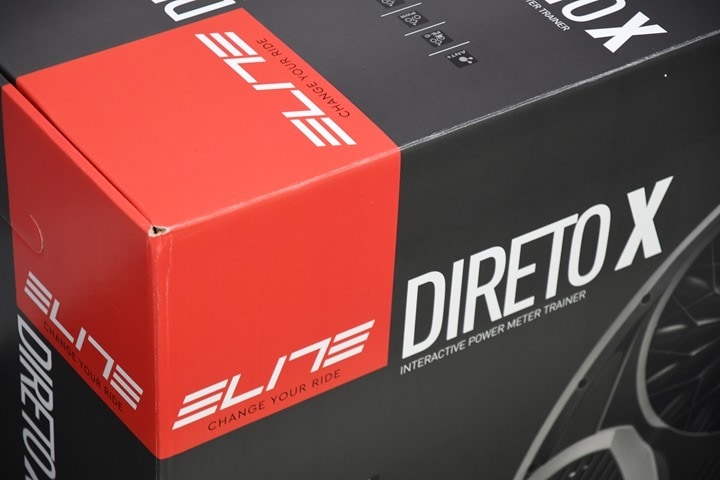 Perhaps the biggest thing they've changed physically is the box and the name – it's now clear this is a Direto X. Previously with the Direto there were technically two iterations. The first year (2017) there was just the Direto. But then the second year (last summer), they quietly rolled out a near identical version called the Direto 2018, which hardware-wise was the same, but did include an extra riser block. They also increased the official accuracy specs from +/- 2.5% down to +/- 2.0%. This year with the Direto X it's down to +/- 1.5%.
In any case – the box: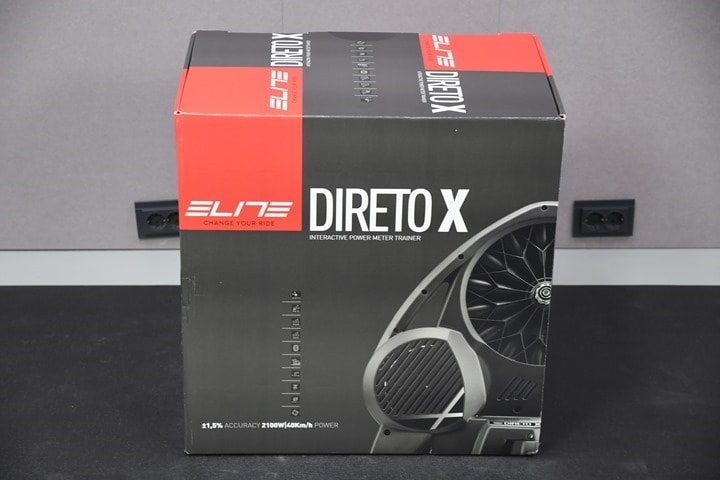 Once you remove all the cardboard you'll have yourself a small pile of parts. More specifically: Three legs, a trainer, a front wheel block, and a power adapter. Also, a small baggy of paper and metal bits.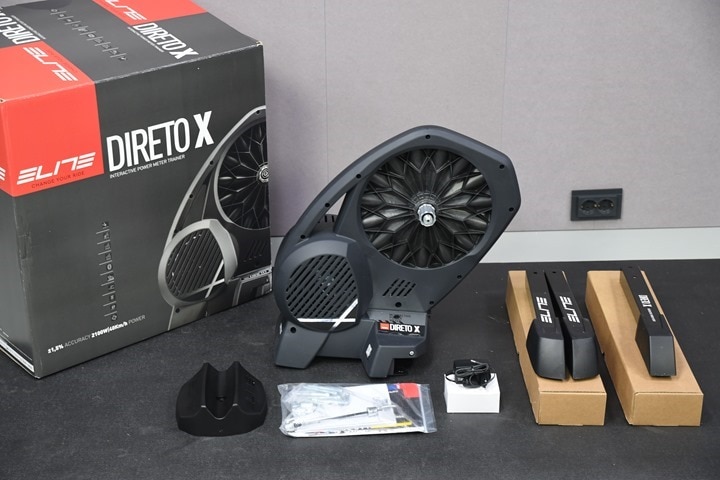 Here's a closer look at all those bits. Starting with the trainer itself. It doesn't include a cassette, a somewhat curious move since the less expensive Elite Suito ($799) does. Though, that trainer lacks the power of the Direto X, and doesn't include a power meter.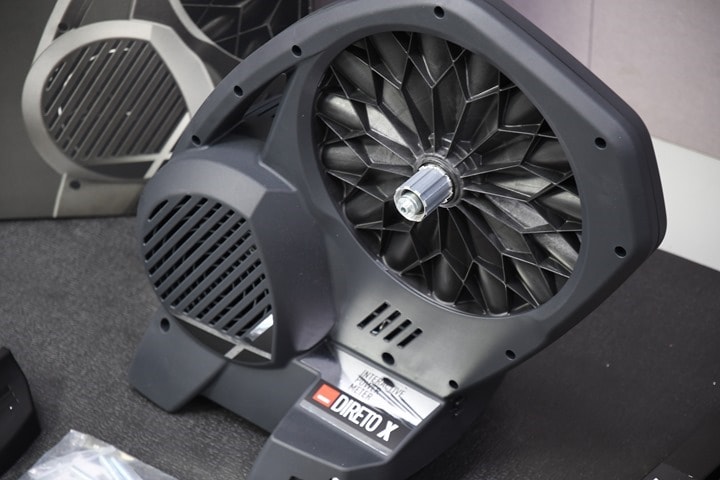 Then there's the three legs. The front one sticks out permanently, whereas the two side legs are able to fold up to reduce the footprint. You'll be attaching these in the next section.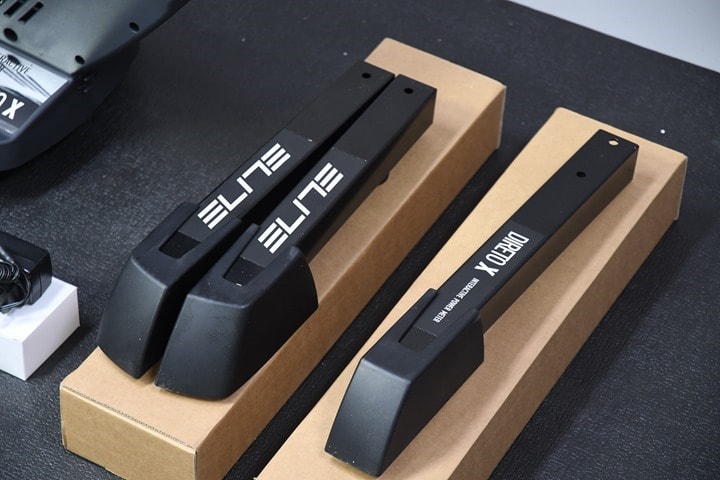 There's the power supply, which…well…supplies power.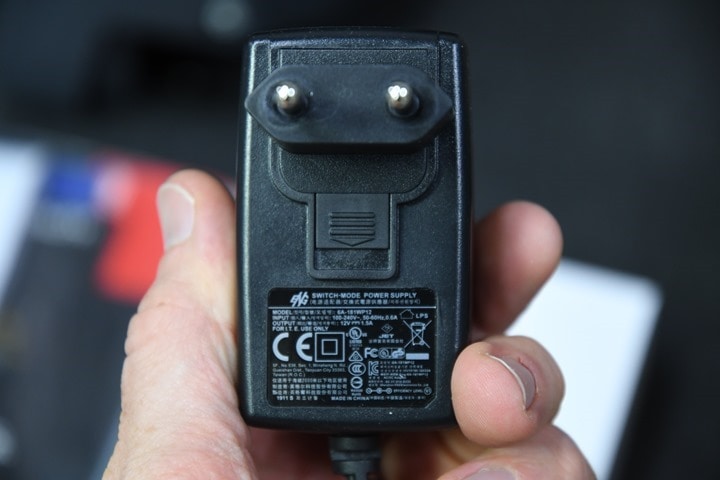 And there's also a plastic baggie of parts:
Inside this grab bag you'll find:
A) Screws for the legs
B) Thru-axle adapters (130 & 135 x 5mm, 142 x 12mm)
C) A quick-release skewer
D) A boatload of papers
Here's a closer look at that boatload of papers: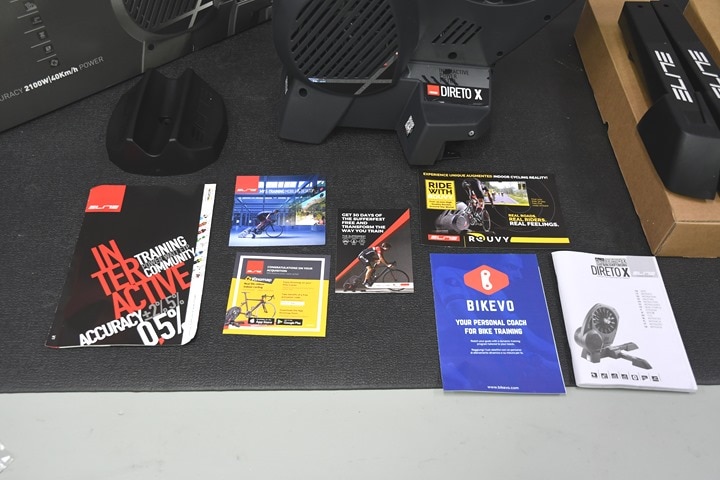 And finally, we've got the front wheel block: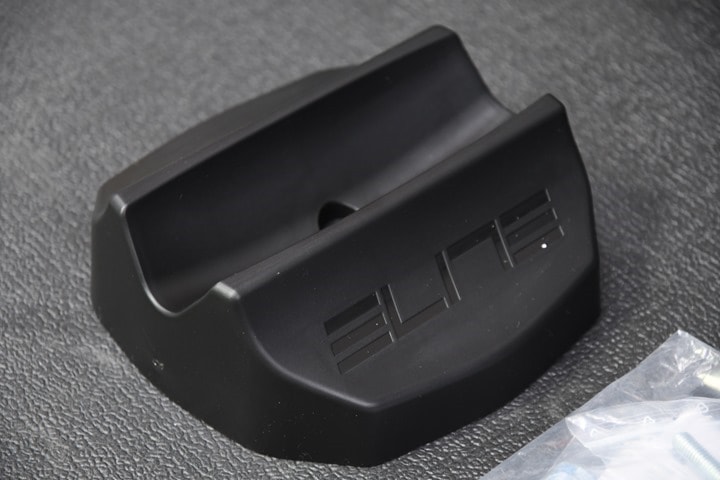 The wheel block is simply to keep your front wheel at roughly the correct height since the trainer increases the back height of the bike slightly. Also, some people (mainly, myself) like the fact that it keeps the front wheel from rotating around willy-nilly.
With that, let's get this thing all put together.
The Basics & Setup: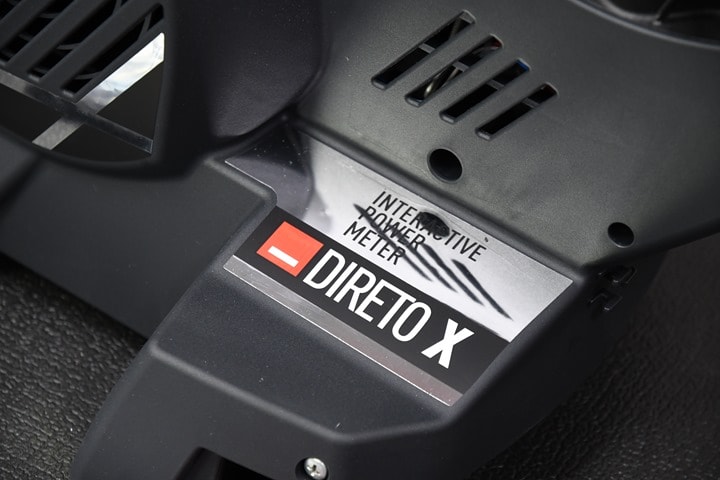 First up on the assembly front is adding ourselves a cassette. Unlike the Suito trainer, this one doesn't come with one, so you'll need to get your own.
I typically buy Shimano Ultegra cassettes for my trainers (mostly for sound-testing consistency across videos), but I've also done a few SRAM ones and whatever else happens to be on sale from the bike shop. It generally doesn't matter, except sometimes you'll find some of the lower end cassettes (like a Shimano 105) don't quite sound as quiet as mid to higher-end ones.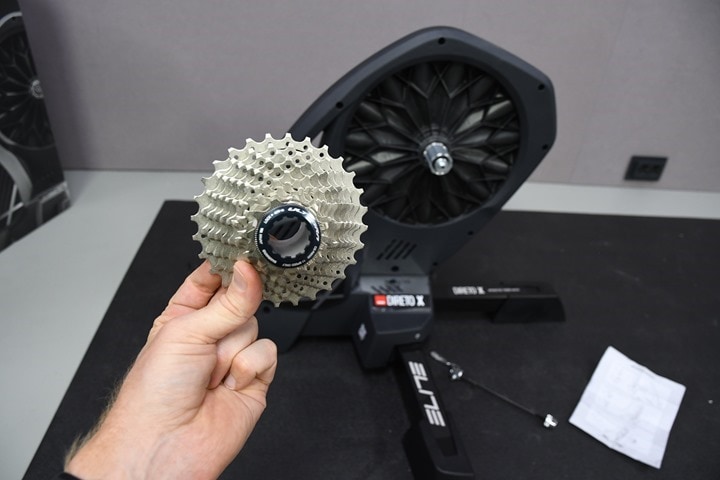 In any case, with a cassette, you'll need two tools. A lockring tool (or lockring + a wrench, in my case), and a chain whip. In this case, you need the chainwhip since you can't get a good grasp on the flywheel.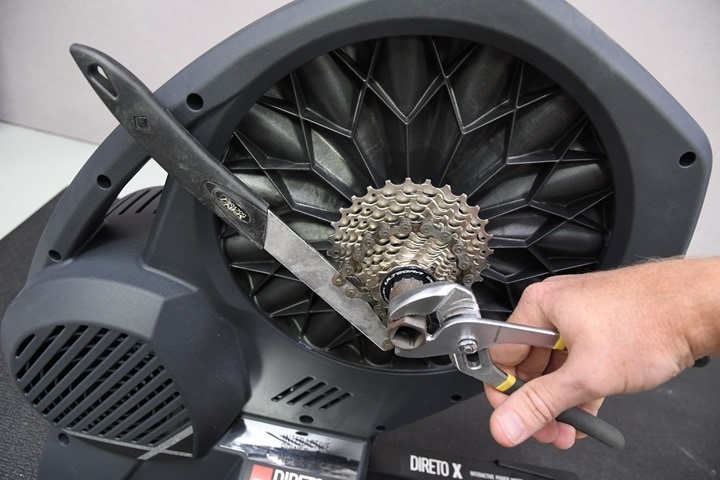 After the cassette is installed, go ahead and plop in the little skewer/axle adapters on both sides, and then stick on your quick release skewer (if not a thru-axle bike).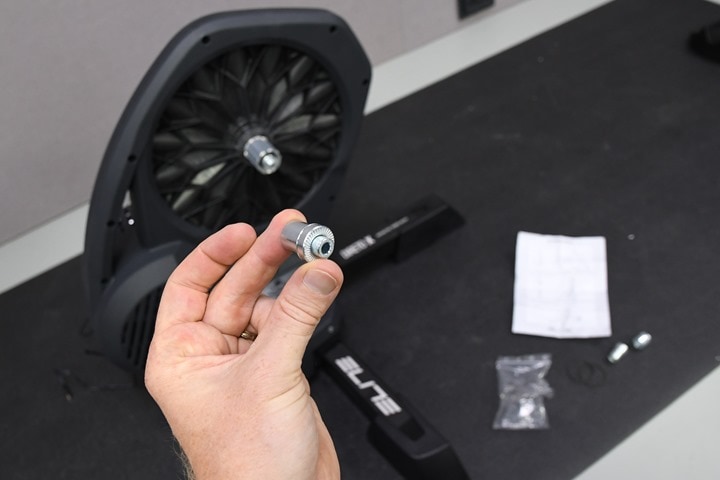 Then simply plug it in, and you're good to go. The power adapter/cord is 120/240v, so you can use it anywhere in the world if you happen to travel with it. It has a little triple-catch system to prevent you from ripping it out of the trainer. Though, I think this basically just means you'll take your entire bike with it instead if you trip over the cable. Or decapitate the cord. Not sure, not gonna try it.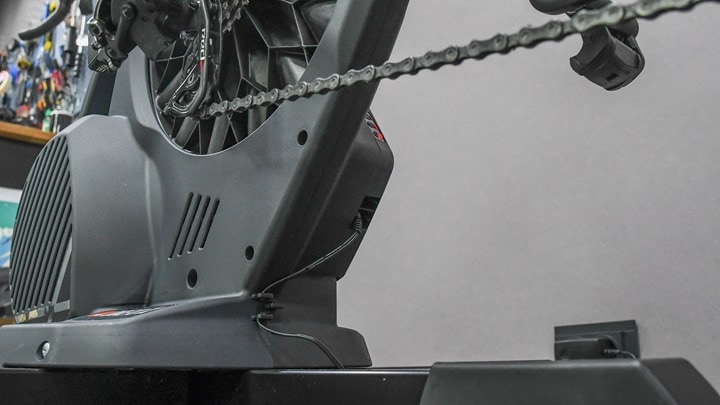 You'll notice it's got status lights down below; these indicate power as well as ANT+ & Bluetooth Smart communications and control.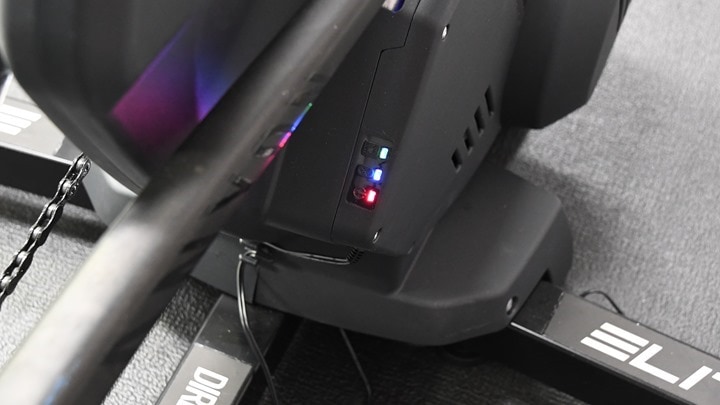 After you've mounted your bike, you can also slide that front wheel-block under there as well.
With that, we're ready to roll. Now, we'll get to app compatibility in a moment, but first let's start with the road feel. Like I always say – for me personally, it's hard to separate the fact that I'm riding indoors from outdoors. It's still a trainer, and I'm still looking at a wall in front of me.  My brain can only turn off so much of that.  Still, much of the road-like feel is driven by the flywheel, and be it physical or virtual, flywheel sizes tend to be measured in weight.  This impacts inertia and how it feels – primarily when you accelerate or otherwise change acceleration (such as briefly coasting).
All that prefacing done, I'd say this is slightly better than the Direto 2018, but still not quite to the same level as the equally priced Wahoo KICKR CORE, which has a far greater sized flywheel and better inertia. Remember that the KICKR CORE is basically just the KICKR 2017 with new legs. So, everyone was pretty darn happy with the KICKR 2017 from a road-feel/etc standpoint.
There's nothing 'wrong' with the Direto X's flywheel, it's just not designed as a high-end trainer from a road-feel standpoint. And, unlike the KICKR CORE, Elite didn't have the boatloads of various manufacturing issues (which, to be fair, seem to be behind us these days).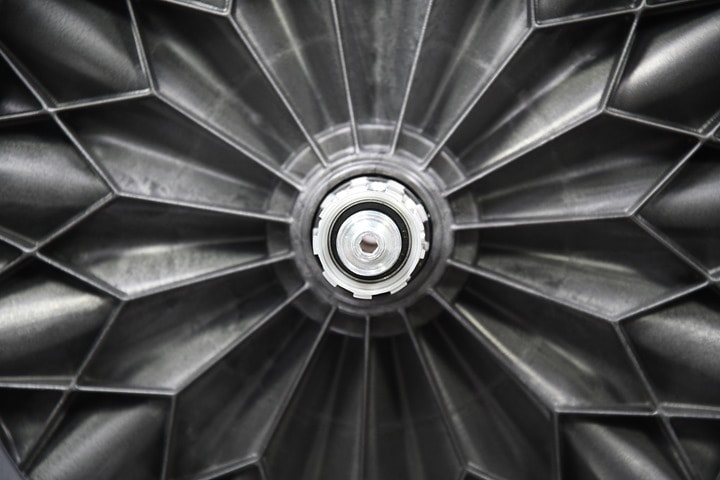 Now given the Direto X is a smart trainer, it'll change resistance automatically in a few different ways, primarily driven by different applications/methods.  But most of this all boils down to two core methods:
ERG Mode: Setting a specific power level – i.e., 215w.  In this mode, no matter what gearing you use, the trainer will simply stay at 215w (or whatever you set it to).
Simulation Mode: Simulating a specific outdoor grade – i.e., 7% incline. In this mode, it's just like outdoors in that you can change your gearing to make it easier or harder.  Wattage is not hard-set, only incline levels.
In the case of simulation (aka slope) mode, the Direto X can simulate from 0% to 18% incline – which is above the competitors in this price point. The Wahoo KICKR CORE simulates up to 16%, while the Tacx Flux 2 matches that as well at 16%.
The second mode the trainer has is ERG mode.  In that case, the company claims up to 2,100w of resistance at 40KPH. Although, realistically, you don't care about that. I can only barely (maybe) break 1,000w for a second or two, and even most front of the non-pro pack cyclists aren't going to top 1,800w.  The pros would only be just a bit beyond that.  Said differently: Peak numbers don't matter.  Instead, what matters is actually a harder metric to make clear – which is the ability to simulate high grades and lower speeds (especially if you're a heavier cyclist).
One core test I do with all trainers though is responsiveness: How quickly does it respond to ERG mode changes? I typically do that with my 30×30 test via TrainerRoad, though it doesn't really matter what method you use as long as you're looking at big shifts in wattage:

In this case, the Direto X initially responded quickly, but couldn't stabilize very well to the big shifts (this was done in the small ring in front, which should increase stability of situations like this). But it wobbled too much, for 30×30 workouts, this wouldn't be an acceptable trainer for me, since I'm constantly chasing watts that are significantly above/below the target threshold. This means I've effectively missed the point of this workout because it was either far too difficult, or far too easy. I highlighted above a few examples, though it realistically happens on most intervals.
In looking into things, Elite says that they're going to dig into the firmware and they're suspicions that the newer stronger magnets may be overpowering in certain scenarios, causing the overshoot. And if I look back at my initial Elite Direto ERG mode responsiveness, it was something that it also struggled with a little bit.
App Compatibility: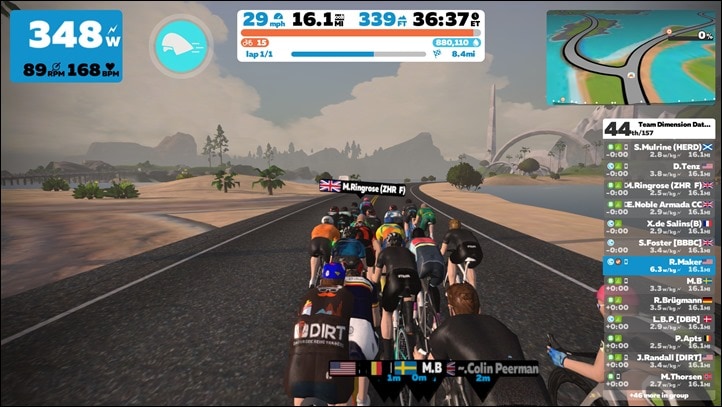 The Direto X follows the same app compatibility standards as previous Elite products, and essentially follows the industry norms as you'd expect from a high-end trainer.  As you probably know, apps like Zwift, TrainerRoad, SufferFest, Rouvy, Kinomap and many more all support most of these industry standards, making it easy to use whatever app you'd like.  If trainers or apps don't support these standards, then it makes it far more difficult for you as the end user.
Thankfully, that's not the case here.  The Direto X transmits data on both ANT+ & Bluetooth Smart, as well as allowing interactive resistance control across both ANT+ & Bluetooth Smart.  By applying resistance control apps can simulate climbs as well as set specific wattage targets.
The unit supports the following protocols and transmission standards:
ANT+ FE-C Control: This is for controlling the trainer via ANT+ from apps and head units (with cadence/power data). Read tons about it here.
ANT+ Power Meter Profile: This broadcasts as a standard ANT+ power meter, with cadence data
ANT+ Speed/Cadence Profile: This broadcasts your speed and cadence as a standard ANT+ Speed/Cadence combo sensor
Bluetooth Smart Power Meter Profile: This broadcasts as a standard BLE power meter, with cadence data
Bluetooth Smart Speed/Cadence Profile: This broadcasts your speed and cadence as a standard BLE combo Speed/Cadence sensor
Between all these standards you can basically connect to anything and everything you'd ever want to. Be it a bike computer or watch, or an app – it'll be supported. In fact, Elite's really been one of the leaders in supporting the various standards – including most recently FTMS.
In the above, you'll note there's cadence data baked into the various streams. That's handy if you're connecting to Zwift on an Apple TV, due to Apple TV's two concurrent Bluetooth Smart sensor limitation (plus the Apple TV remote).  This means you can pair the trainer and get power/cadence/control, while also pairing up a heart rate strap.
For me, in my testing, I used Zwift and TrainerRoad as my two main apps (which are the two main apps I use personally).  In the case of Zwift, I used it in regular riding mode (non-workout mode, aka SIM mode), whereas in the case of TrainerRoad I used it in a structured workout mode (ERG mode). I dig into the nuances of these both within the power accuracy section.
Starting with Zwift, you can see the Direto X listed as not just a controllable trainer, but also within the regular power meter and cadence section. You'll want to pair it up as a controllable trainer (which will also pair it as a power meter):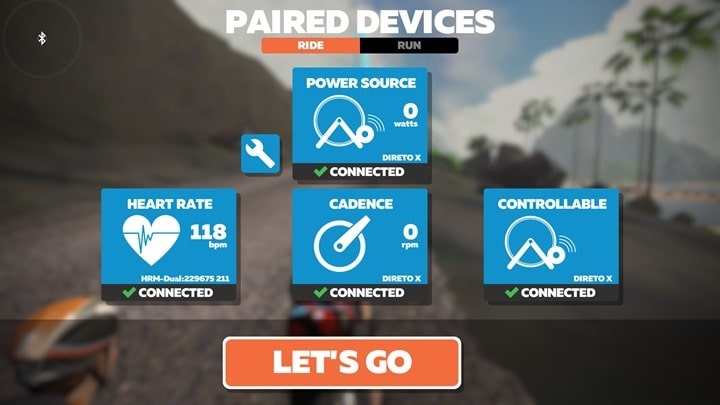 And then you can manually select the cadence signal. I've never understood why Zwift isn't smart enough to simply look for the same named cadence one too, given it does exactly that when looking at the generic power source. Things I'll have to ask them at some point.
You'll see the trainer enumerated in a fairly similar manner on TrainerRoad as well:
Also, TrainerRoad's tips page on using smart trainers in ERG mode: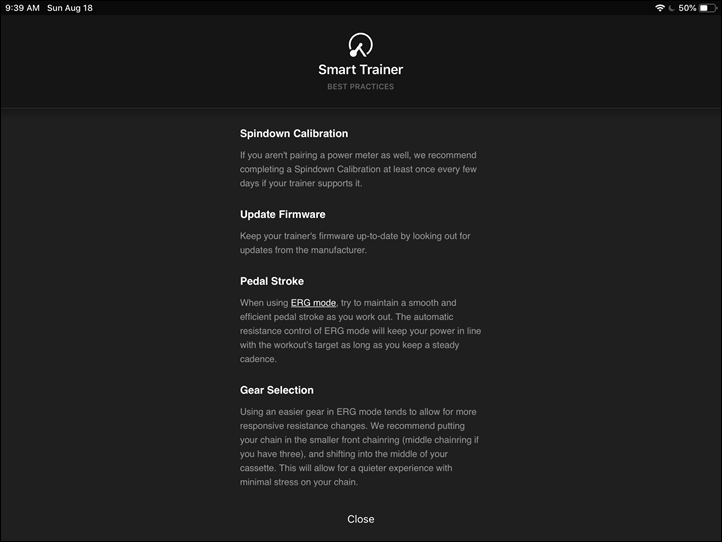 I'd *strongly* recommend you either read that page, or just simply do two things:
A) Calibrate the Direto X: I found it did make a significant difference to do the roll-down, it only takes a few seconds
B) Ensure you're using the small ring up front: This is for ERG mode specifically, shift into the small ring to get better control
As far as calibration goes, you can complete it easily from most apps – including TrainerRoad and Zwift. You'll see either a calibration prompt in the app (like TrainerRoad), or a small wrench or such in the settings (like Zwift).  For example, here it is doing the spin-down within TrainerRoad: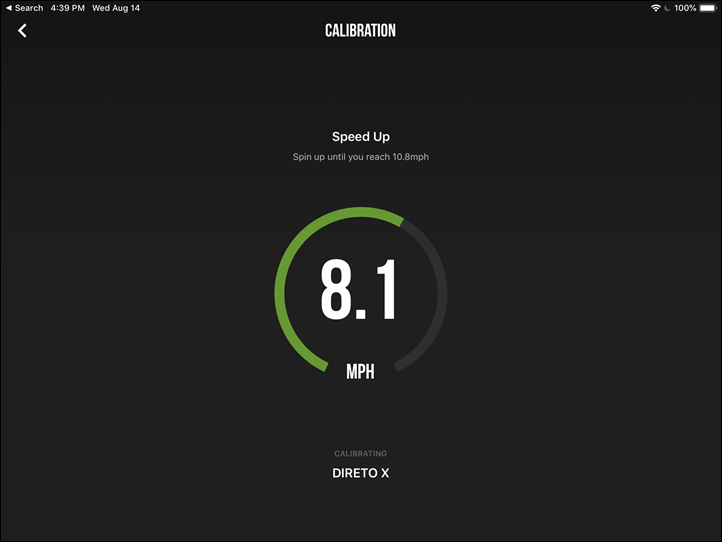 It's super easy to do, you just pedal a bit fast for a moment until it reaches a given threshold speed, and then you stop pedaling. It's going to measure how long it takes to coast to a stop. Super easy.
In general you should calibrate every once in a while (perhaps every few weeks), or anytime you've moved the trainer some distance (like to a new home/etc…). Additionally, you should calibrate if you've had a major temp swing (such as if it lives in your garage and now the sweat puddle on the floor is frozen). In my testing – I found it legit did make a difference in temp shifts (about 2-5% in fact). In fact I threw out a few tests from this review cycle where I had used it outdoors on a nice summer day but didn't calibrate it, that data was inaccurate as the temp has shifted considerably from the indoor tests.
Again, you can also do these calibrations within Zwift or most any other app. Easy stuff.
Finally, Elite does have their own app that you can use for a handful of functions, but I had no use for it here at any point in the testing cycle. Apparently a new app is coming this fall that will make firmware updates easier, as right now it's a bit of a mess. Once that app is out, I'll look to add some notes to this review about it.
Power Accuracy Analysis:
As usual, I put the trainer up against a number of power meters to see how well it handled everything from resistance control accuracy, to speed of change, to any other weird quirks along the way.
In my case I used one primary bike setup as follows in two configurations:
Canyon Bike Setup #1: Garmin Vector 3 pedals (dual-sided), 4iiii Precision Podium (dual-sided)
Canyon Bike Setup #2: Garmin Vector 3 pedals (dual-sided), Quarq DZero
This is all in addition to the trainer itself.  Note that because you remove the rear wheel I can't use something like a PowerTap hub to compare as well (which I would use in power meter testing normally).
In my case, I was looking to see how it reacted in two core apps: Zwift and TrainerRoad (Bluetooth Smart on Apple TV and iPad), but I also did some work on Rouvy in beta on Apple TV – so there's that for you. The actual apps don't typically much matter, but rather the use cases are different.  In Zwift you get variability by having the road incline change and by being able to instantly sprint.  This reaction time and accuracy are both tested here.  Whereas in TrainerRoad I'm looking at its ability to hold a specific wattage very precisely, and to then change wattages instantly in a repeatable way.  There's no better test of that than 30×30 repeats (30-seconds at a high resistance, followed by 30-seconds at an easy resistance).
There's two ways to look at this.  First is how quickly it responds to the commands of the application.  So for that, we need to actually look at the overlay from TrainerRoad showing when it sent the command followed by when the Direto X achieved that level.  Here's the levels being sent (the blue blocks)) by TrainerRoad (in this case via Bluetooth Smart on iPad) and how quickly the Direto X responded to it: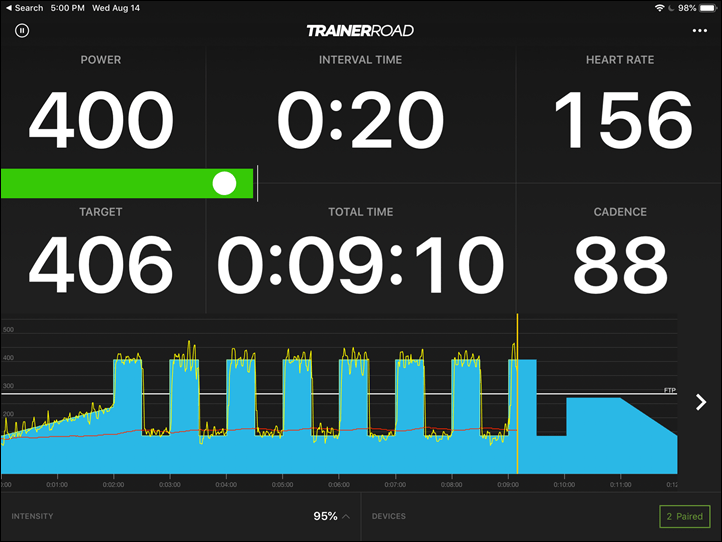 As we discussed earlier on in the overall basics section, the Direto X doesn't respond super well to fast and significant shifts in ERG mode. It's fine for more 'normal' ERG mode shifts (like say from 230w to 250w or to 275w). But the massive shifts in ERG mode from ~150w to ~402w were just too much for it and the stepper motor system, and it just kept on hunting for the power.
But, let's set that aside for a second (the inability to quickly lock a given target power), and instead ask – was the power itself accurate? In other words, it may have been unstable, but was at least accurately unstable? And for that the answer is a very clear 'Yes'. Here's that data set:

You can see above that compared to the Garmin Vector 3 and 4iiii Precision power meters it's almost always within a few watts. There's a brief moment where you see the green line of Vector dip out, but that was just a general ANT+ interference thing for that head unit.
Here's a closer look at a few of those intervals:

You can see that it's within a few watts on all those intervals – super tight and good. Happy times there.
But what about the cadence channel? Well…yeah.

You can see there are some spikes there on the Direto X. They appear to be tied to coming off the interval, as I shift back from 400w down to 150w. Here, if I show you that chart again of the power below, you can see the two align to those points.

This isn't ideal, and I've brought it up to Elite to investigate. Mind you, cadence on these units are 'estimated', and like with the recent Saris Hammer 3 (H3) trainer, there are sometimes a few gaps there.
In any case, let's shift away from ERG mode. In general – accuracy of power is spot-on there, but accuracy of cadence isn't amazing, but not horrible either. Kinda blah.
So, SIM mode – aka normal Zwift mode. On this course I used my new favorite testing ground of the Zwift Road to Titans route: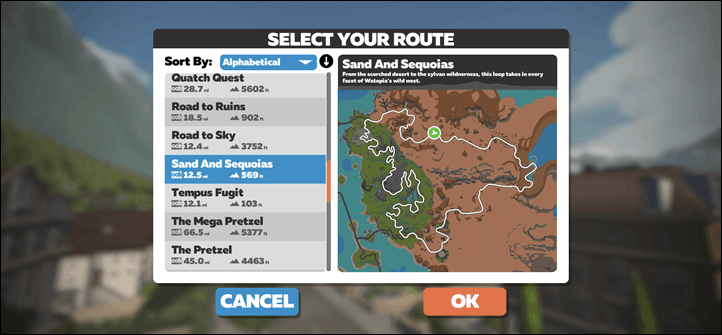 This route starts off on the flats, and then climbs up into Titans Grove for a slew of rollers before coming back down again. It's amazing for testing trainers, responsiveness, and how they deal with quick shifts in gradient, pace, and power. It's like this course was designed for punishing trainers. In any case, here's that data set:

As you can see at a high level, pretty solid. But let's zoom into three specific sections: The first sprint, the middle rollers, and then the last sprint. Here's my first warm-up sprint (just a few minutes into the ride):

I'm not sure there's really any question in the above graph. That's astonishingly close for a sprint, no matter how you slice it. Very well done.
So, let's move onto what is turning out to be the most tricky item for trainers this year: The rollers of the Titans Grove route. Again, this course has been slaughtering some trainers this year. But for the Direto, it actually handled it surprisingly well:

In terms of responsiveness during this section, it was pretty good. Perhaps in some cases a 1-1.5 second delay, but I'm not sure if I'd blame that as much on Elite as on the combination of the underlying way that apps send trainers gradient information such that by time that all happens, it may be slightly behind reality. Perhaps there's more of an industry way to handle complex courses like this.
In any case, that final sprint. I've included a bunch of the flat-lands as well in here, just for fun. But you can see the sprint sticking out like a giant…monument…in the middle of it all.

Here I escalate quickly up to 900w (the graphs above are smoothed at 3-seconds, so it's actually a bit higher), and the trainer and power meters stay locked on together. Speaking of which, no power matching was used in any of this. I'm not a fan of such things.
So, while the power accuracy was awesome on this route, what about cadence accuracy? Ask and you shall receive:

Basically flawless.
In other words, any of the cadence accuracy issues I saw appear to be limited to the ERG mode realm, rather than SIM mode. Note that Zwift can also use ERG mode (and does) for 'Workout Mode', so it's not as if this is a Zwift versus TrainerRoad sorta thing. Just a case of which modes the trainer uses, and really more specifically, likely the huge jumps in power that my 30×30 workout is designed to stress.
So, overall from a power accuracy standpoint I really can't find any faults at all in the Elite Direto X. Not saying there aren't scenarios that someone may stumble into, but in my tests, they were good. From a cadence accuracy standpoint, it seems a bit more variable – but depends on the scenarios.
Finally note that I've shown the last two data sets I've done on this trainer. As I noted earlier in the review, I threw away a pile of data sets that didn't match where I hadn't done a calibration when I used the trainer outdoors. In those sets there was a clear offset in the data, but once I did the calibrations, things were happy panda from there on out.
(Note: All of the charts in these accuracy portions were created using the DCR Analyzer tool.  It allows you to compare power meters/trainers, heart rate, cadence, speed/pace, GPS tracks and plenty more. You can use it as well for your own gadget comparisons, more details here.)
Trainer Comparisons:
I've added the Direto X into the product comparison database.  This allows you to compare it against other trainers I've reviewed.  For today I've compared it against the Tacx Flux 2, the Elite Direto (2018), the Wahoo KICKR CORE, and the new (CycleOps) Saris H3. Keep in mind Eurobike starts tomorrow and there could be additional trainers announced. However, by 9AM Germany time on Sept 4th, 2019 – we'll know everything that's planned for this year.
Function/Feature

Elite Direto X
Elite Direto (2018)
Saris H3
Tacx Flux 2
Wahoo Fitness KICKR CORE
Copyright DC Rainmaker - Updated November 27th, 2020 @ 7:55 am New Window
Price for trainer
$899
$849 ($799 for 2017 models)
$999
$899USD/€799
$899
Trainer Type
Direct Drive (No Wheel)
Direct Drive (No Wheel)
Direct Drive (no wheel)
Direct Drive (no wheel)
Direct Drive (No Wheel)
Available today (for sale)
Yes
Yes
Yes
YEs
Yes
Availability regions
Global
Global
Global
Global
Global
Wired or Wireless data transmission/control
Wireless
Wireless
Wireless
Wireless
Wireless
Power cord required
Yes (no control w/o)
Yes (no control w/o)
Yes
Yes
Yes
Flywheel weight
4.2KG/9.2LBS
4.2KG/9.2LBS
20lb/9kg
7.6kg (simulated 32.1kg)
12.0lbs/5.44kgs
Includes cassette
No
No
No
No
No

Resistance

Elite Direto X
Elite Direto (2018)
Saris H3
Tacx Flux 2
Wahoo Fitness KICKR CORE
Can electronically control resistance (i.e. 200w)
Yes
Yes
Yes
Yes
Yes
Includes motor to drive speed (simulate downhill)
No
No
No
No
No
Maximum wattage capability
2,100w @ 40KPH / 3,250w @ 60KPH
1,400w @ 40KPH / 2,200w @ 60KPH
2,000w
2,000w @ 40KPH
1800w
Maximum simulated hill incline
18%
14%
20%
16%
16%

Features

Elite Direto X
Elite Direto (2018)
Saris H3
Tacx Flux 2
Wahoo Fitness KICKR CORE
Ability to update unit firmware
Yes
Yes
Yes
Yes
Yes
Measures/Estimates Left/Right Power
9EUR one-time fee
9EUR one-time fee
No
No
No
Can rise/lower bike or portion thereof
No
No
No
No
With KICKR CLIMB accessory
Can directionally steer trainer (left/right)
With steering accessory & compatible app
No
No
No
No
Can rock side to side (significantly)
No
No
No
No
No
Can simulate road patterns/shaking (i.e. cobblestones)
No
No
No
No
No

Accuracy

Elite Direto X
Elite Direto (2018)
Saris H3
Tacx Flux 2
Wahoo Fitness KICKR CORE
Includes temperature compensation
N/A
N/A
Yes
Yes
Yes
Support rolldown procedure (for wheel based)
Yes
Yes
Yes
Yes
Yes
Supported accuracy level
+/- 1.5%
+/- 2% (Sept 2018 models, +/- 2.5% for earlier models)
+/- 2%
+/-2.5%
+/- 2%

Trainer Control

Elite Direto X
Elite Direto (2018)
Saris H3
Tacx Flux 2
Wahoo Fitness KICKR CORE
Allows 3rd party trainer control
Yes
Yes
Yes
Yes
Yes
Supports ANT+ FE-C (Trainer Control Standard)
Yes
Yes
Yes
Yes
YEs
Supports Bluetooth Smart FTMS (Trainer Control Standard)
Yes
Yes
Yes
Yes
YEs

Data Broadcast

Elite Direto X
Elite Direto (2018)
Saris H3
Tacx Flux 2
Wahoo Fitness KICKR CORE
Transmits power via ANT+
Yes
Yes
Yes
Yes
Yes
Transmits power via Bluetooth Smart
Yes
Yes
Yes
Yes
Yes
Supports Multiple Concurrent Bluetooth connections
No, just one
No, just one
No, just one
No, just one
Yes, 3 Concurrent
Transmits cadence data
Yes
Yes
Yes
Yes
Yes (with Sept 2019 firmware update)

Purchase

Elite Direto X
Elite Direto (2018)
Saris H3
Tacx Flux 2
Wahoo Fitness KICKR CORE
Amazon
Link
Link
Link
Link
Backcountry.com
Link
Link
Link
Clever Training - Save with the VIP program
Link
Link
Competitive Cyclist
Link
Link
Link
REI
Link
Wiggle
Link
Link
Link
Link
Link

DCRainmaker

Elite Direto X
Elite Direto (2018)
Saris H3
Tacx Flux 2
Wahoo Fitness KICKR CORE
Review Link
Link
Link
Link
Link
Link
Don't forget you can mix and match your own trainer product comparison tables using the database here.
Summary: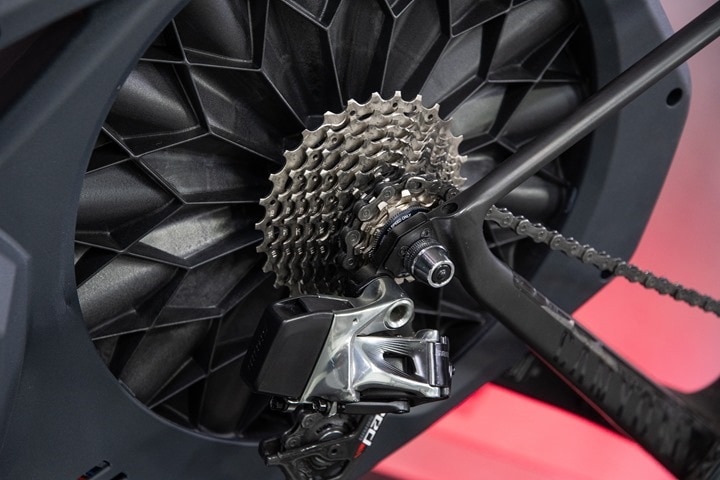 The Direto X builds upon the existing Elite Direto brand, with its increased incline simulation and increased accuracy claims. Additionally with the frame of the Direto X redesigned slightly it'll accommodate the longer derailleur cage bike setups. Plus of course, it's quieter than before – all pluses. I don't think I can overstate the accuracy here. In many ways, the existing Elite Direto was probably already this accurate on paper, just not in marketing claims. However, the main difference here is the stronger magnets to give it more power for the climbs.
The challenge I think Elite has though is probably their own products. With the Elite Suito being $100 less (and including a cassette), it's going to take a lot of wind out of the sails for many buyers. Now the Suito firmware isn't yet to the level I want it to be in terms of accuracy, so that remains an outstanding item (trainers haven't yet hit peoples' hands, so the firmware is still being finalized). And the Suito doesn't have a power meter inside it like the Direto X, though as I've said countless times before: Having a power meter inside a trainer is meaningless. What matters is whether the power is accurate. Neither the KICKR or Tacx NEO have power meters and are just fine accuracy-wise. Again – the end result matters here, not how companies achieve it.
The other challenge Elite has is ERG mode responsiveness. One of the things they improved in the Suito but not the Direto X is the faster ERG mode responsiveness – some 3x faster in fact. And it's very likely that when all is said and done, the Suito will be a better ERG-mode trainer than that of the Direto X. Again, for less money.  Of course, on the flip side – the Direto X is more powerful, though, I'd guess that 95% of people will never need that added power.
In any event, Elite's offerings this year are largely within the 'minor tweaks and better price points' realm, and the Direto X seems to fit the first part of that bill. There's no reason why every trainer company has to launch a major new trainer every year. Though, come to think of it – Elite's launched two addition new trainers this year (Suito and as of today, Tuo), plus also a new steering accessory. So, maybe they're innovating more than people are giving credit for. With that – thanks for reading!

Found This Post Useful? Support The Site!
Hopefully you found this review useful. At the end of the day, I'm an athlete just like you looking for the most detail possible on a new purchase – so my review is written from the standpoint of how I used the device. The reviews generally take a lot of hours to put together, so it's a fair bit of work (and labor of love). As you probably noticed by looking below, I also take time to answer all the questions posted in the comments – and there's quite a bit of detail in there as well.
If you're shopping for the Elite Direto X or any other accessory items, please consider using the affiliate links below! As an Amazon Associate I earn from qualifying purchases. It doesn't cost you anything extra, but your purchases help support this website a lot. Thanks!
And finally, here's a handy list of trainer accessories that most folks getting a smart trainer for the first time might not have already:
And of course – you can always sign-up to be a DCR Supporter! That gets you an ad-free DCR, and also makes you awesome. And being awesome is what it's all about!
Thanks for reading! And as always, feel free to post comments or questions in the comments section below, I'll be happy to try and answer them as quickly as possible. And lastly, if you felt this review was useful – I always appreciate feedback in the comments below. Thanks!