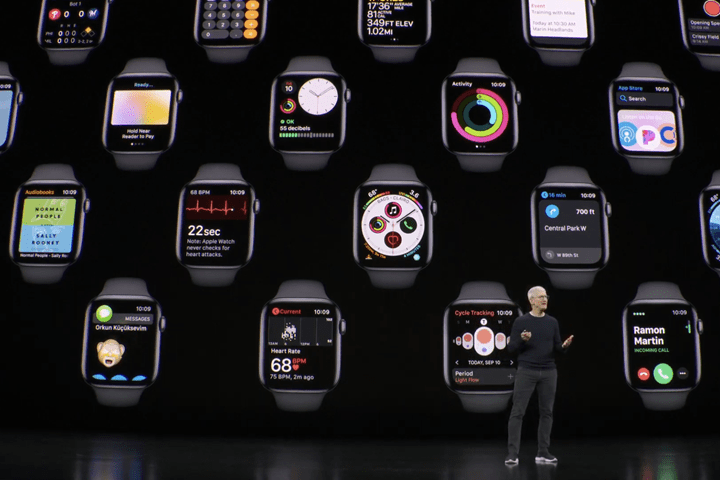 Like clockwork, today Apple announced the new Apple Watch Series 5, which includes one substantial change, and only a handful of other modest updates. However, perhaps far more important than that is Apple's official pricing shift on the Series 3 units (with GPS & music)  to $199. Previously these units floated in the $279+ range, with only occasional sales to $199.
This shift in pricing is a massive blow to Fitbit and the new Versa 2, as well as a solid blow to Garmin's new Venu watch (priced at $399), and even the Vivoactive 4 at $349. Plus others like Samsung's Galaxy Watch Active 2 coming in at $279.  While each of Apple's competitors compete on more than just price, the reality is that for the average consumer at a Best Buy display counter, those watches at their current respective price points will likely end up with an Apple Watch purchase. At least as long as you're not an Android user (where Apple still isn't quite yet compatible, though the gears are clearly turning there too).
First though, let's do a quick recap of the Series 5 changes. I'll have a review out later this month, but for now this post will serve as a bit of a placeholder and also as a gathering spot for questions. Also note that all imagery in this post is from Apple's keynote or website. With Eurobike last week and a new Peanut due any day now, flying to California was not in my list of viable events.
Apple Watch Series 5: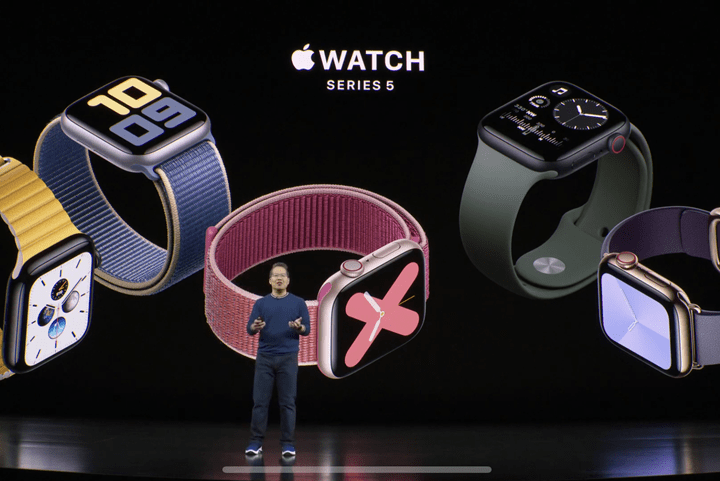 The Series 5 keeps the same general form factor as the previous Apple Watch units, going with that smoothed rectangular look, shunning some rumors of a round Apple Watch. It's offered in more or less the usual Apple materials/finishes (with a few new finishes as well), but the big change this year is the always-on display. One of the catches of an Apple Watch up until now, as well as most higher-end smart watches with pretty displays, is that the display turned itself off when you weren't looking at it.
In order for the display to turn on, you had to turn your wrist or press a button. While that was mostly fine for day to day usage, it has always presented itself as a bit of a challenge for sports. In cycling where your wrist is on the handlebars, turning your wrist away from the handlebars was hardly ideal (especially on rougher roads or near traffic). Or in the gym, when doing pushups or any sort of activity where your arms are busy – meant that you couldn't see the sport-data on the screen unless you managed to trigger it.  With more and more gym & fitness apps giving guided workouts including things like animations for cardio or strength movements, keeping the screen on was important.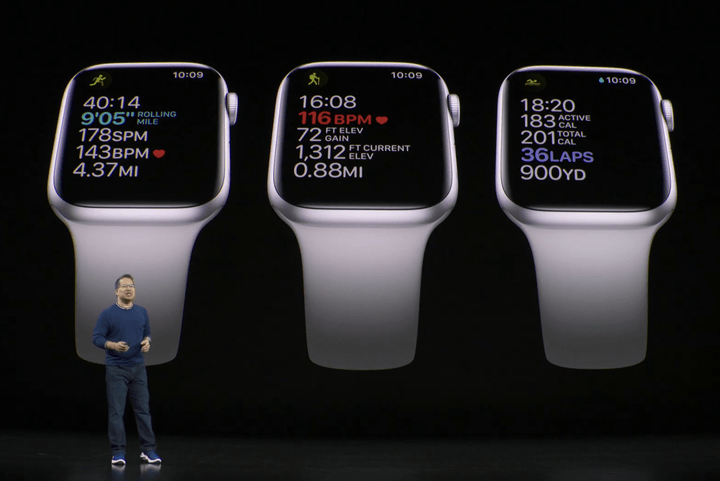 With the Series 5, Apple's going to manage the display automatically via ambient light sensor – just as they did in previous versions. In Apple's presentation today they also discussed a 'display driver' and 'power management integrated circuit', which are basically just fancy terms for things that every watch on the market already has.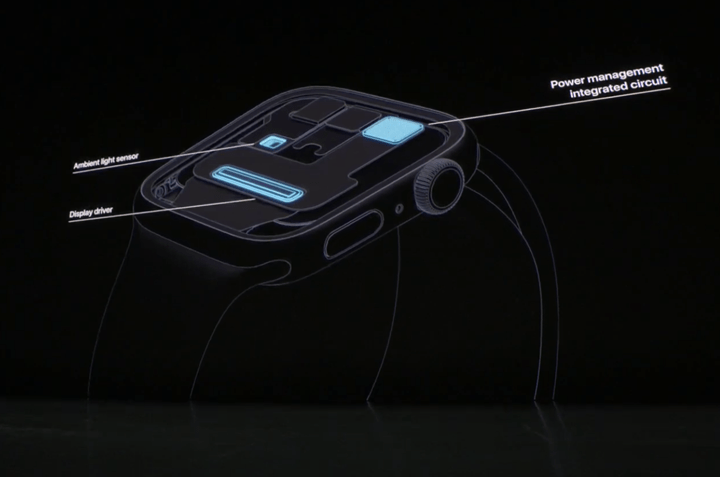 From a battery standpoint though things aren't quite as strong. Apple's claiming – specifically, "All day 18-hour battery life". That's far below their competitors in the always-on AMOLED space. On the flip-side, Apple does tend to be fairly conservative with their Watch battery life estimates historically, often only citing single-day battery life when in reality the units usually get about 2 days of battery life (without GPS activities).
For competitive context, Fitbit's new Versa 2 with always-on display gets roughly 2 days in that mode (with 24×7 HR tracking), while Garmin's new Venu gets just shy of three days. For example, I've been testing always-on display on Venu and started a test Saturday evening at 5PM with 100%, and just got to Tuesday at 9AM with 10% remaining (I needed to charge it before some longer activities today). That's not just always-on display, but also with live watch faces enabled (so every time I raise my wrist it shows me a colorful time-lapse of NYC). And finally, that's with an hour's GPS workout tossed in for good measure, and 24×7 HR at 1-second intervals.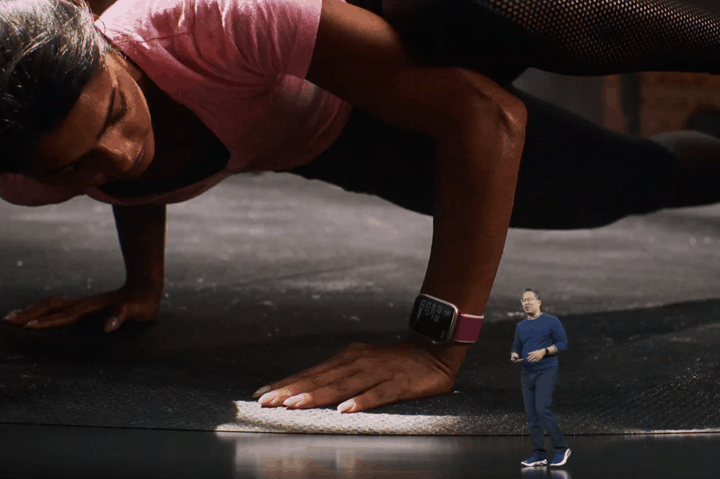 Both Fitbit and Garmin are further tracking sleep, which surprisingly Apple skipped on the Series 5.
Speaking of surprises, Apple added a magnetic compass. I didn't see this one coming on my list of expected features, though it does poke directly at Garmin. Apple has some native watch faces that take advantage of this compass, such as seen below in one of numerous views: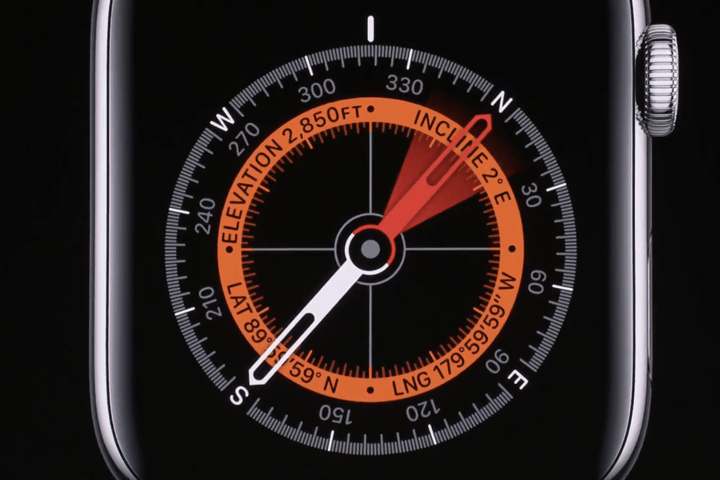 But far more important than that is opening up the compass to 3rd party apps. Out of the gate that'll include Wikiloc, GoSUP, and Night Sky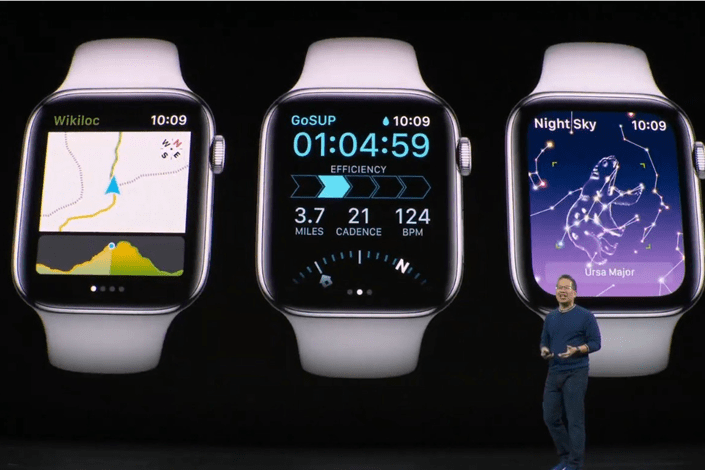 Now while I see the actual usage of native compass bearings pretty minimal, what's more useful is that Apple's maps on the watch will now show you the map oriented based on your wrist orientation.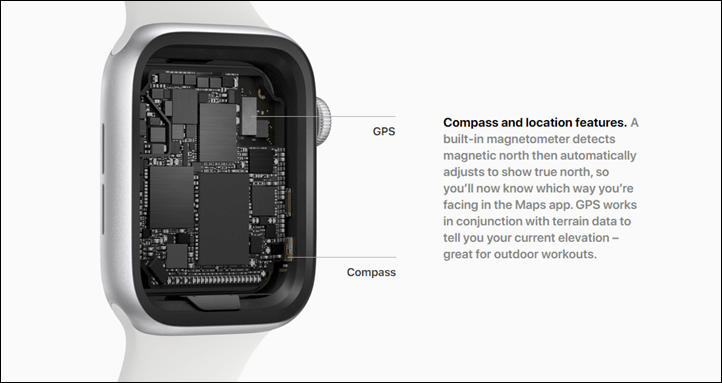 This is handy for those of us that are constantly swearing at the beloved blue dot, not knowing which way to go.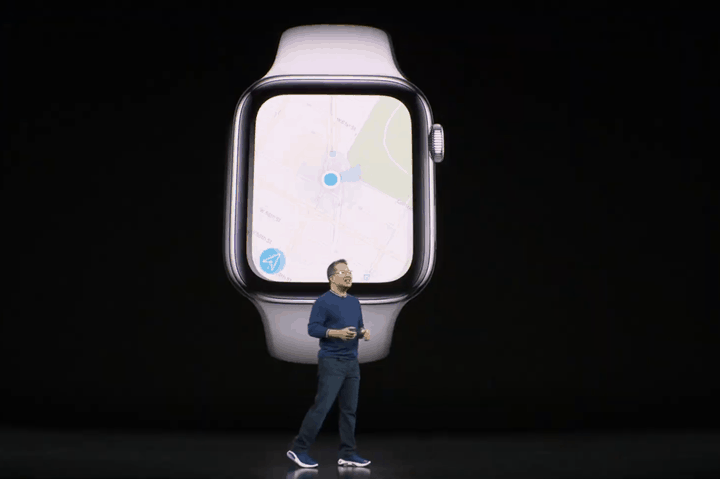 Last up on the new Series 5 features is international emergency calling for the LTE/cellular versions. This functionality is leveraged within the suite of emergency related functions that Apple has, such as fall detection. With the new international emergency calling it can automatically connect to the network in whatever country you're in and place that emergency call.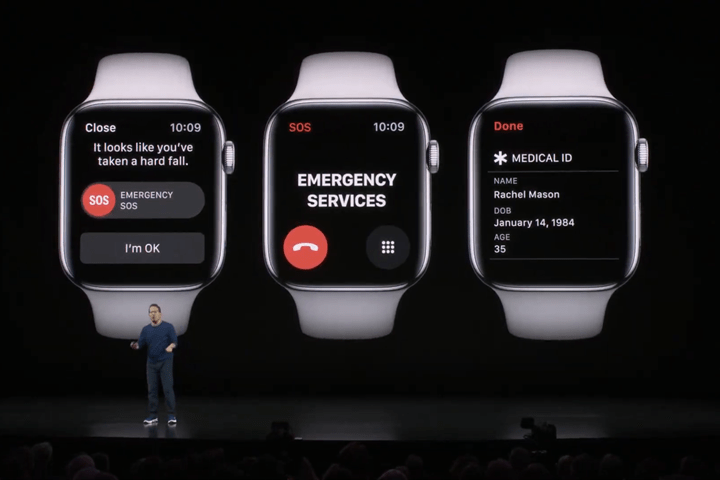 At first glance this might not seem significant in the grand scheme of things technologically (obviously it is medically). But in reality – this is a big deal. Up until this point when you travelled between regions of the Apple Watch, you weren't likely to get international services. For example, a US-based Apple Watch LTE/cellular edition was completely useless in Europe. This wasn't a carrier limitation, but a connectivity one. It simply didn't have the right hardware to roam in Europe. And vice versa was true.
So whatever capabilities Apple has quietly added into Series 5 may be setting the stage for future connectivity here. However, at present that's not yet the case for regular data/phone access on the LTE/cellular editions. However, if you compare the band support for both Series 5 and Series 3, you'll notice Series 5 has significantly more bands supported than Series 3 did (for the US models, and the same is true for other region models).
From a pricing and availability standpoint, Apple's top-end Series 5 remains the same price at a $399 starting point (bucking the recent trend of increasing the prices further). The cellular/LTE edition starts at $499. Availability for them is Sept 20th, and ordering starts today. The Series 4 units will be discontinued (Series 5 replaces them).
Finally, there's a few other tidbits that Apple noted during the keynote. First is the introduction of a new medical research and studies app.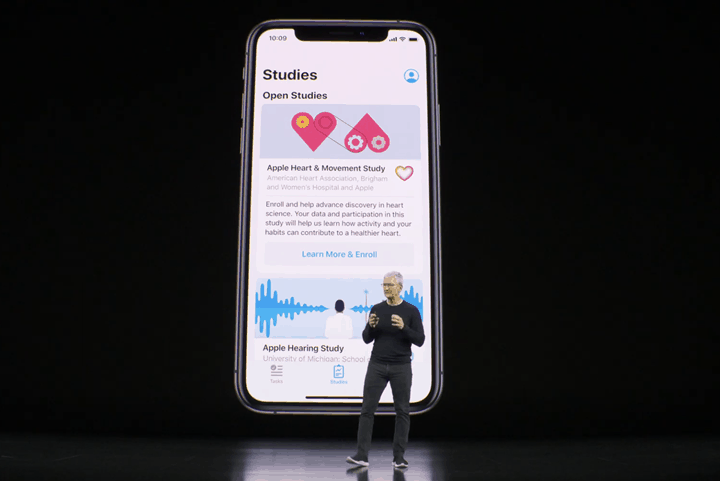 This allows you to enroll easily into various medical research studies that organizations are performing using the Apple Watch. Apple's previously done similar large-scale studies before, but this seems to be solidifying the entry process a bit. Within that framework there will be three new studies they're conducting this fall:
– Apple Hearing Study with the World Health Organization & the University of Michigan
– Women's Health with the National Institute of Environmental Health Sciences & Harvard School of Public Health
– Apple Heart & Movement Study with the American Heart Association & Brigham and Women's Hospital
I find these studies fascinating, not just from a topical standpoint but from just a scale standpoint. Never before in medical research (or really any research) can organizations get the kind of scale and data that's being provided via this entry point. As usual, the Apple mantra on privacy applies here in that you control your data and can end participation any time.
There's also the slew of WatchOS6 related features that come to all Apple Watches, including a redesigned Health App with highlights and summary sections, and also the new audio streaming API in WatchOS 6, you'll start to see more apps take advantage of live audio versus just recorded content. I covered all of this though back in June as part of my post then.
Lastly, it's worth noting that in some ways we may not know all the actual new stuff until units start shipping. Many things don't make the cut of the keynote, and other things further don't make the cut in media briefings. For example, when Apple revamped the optical HR sensor last year in the Series 4, it was noted the optical HR sensor was revamped – but it wasn't said just how much more accurate it was than years past (spoiler: crazy more accurate). So it's those sorts of things I'll be looking for in a full review of the Series 5. Top of my list? Will they have finally fixed the long famed Apple 'swooshing' of GPS tracks around corners to make them look prettier? Only time, and some runs, will tell.
Going Forward: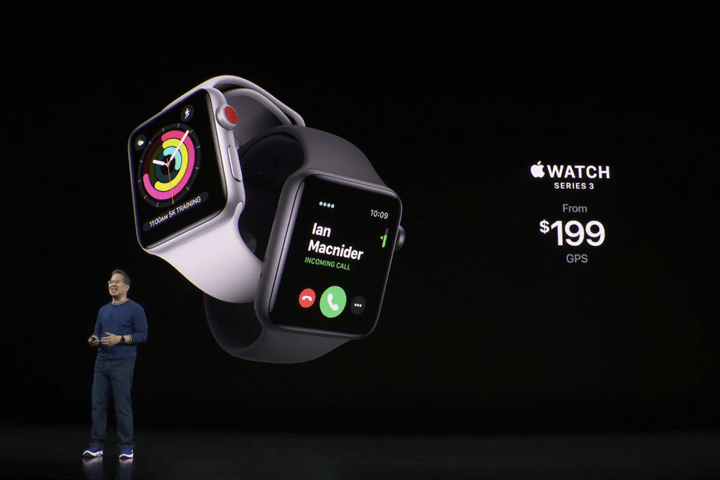 As I noted at the beginning, while the always-on display news of the Series 5 is a big deal for the Apple Watch in general – I think the headliner news here should really be the $199 price point for the Series 3. It's something I've been talking about as a likely scenario for months, and the impacts can't be overstated here. Undoubtedly companies like Fitbit and Garmin would counter that they have unique value props for their consumers that Apple doesn't have. And that's definitely true.
In the case of Fitbit, they've got the social/motivational aspects that are largely unbeaten in the segment, despite competitors (including Apple) adding in friend competition type features. Fitbit also has sleep analytics that Apple lacks entirely, something Fitbit is doubling down on this year. And finally, while I question how successful Fitbit's premium offerings will be, they are an option – whereas Apple simply doesn't have anything remotely like it from a sport/fitness standpoint.
Meanwhile, in the case of Garmin they've got all the sport-focused bits around training and recovery that Apple doesn't have unless you extend into 3rd party apps (of which there are many, but none at the base watch level). Garmin also has a significant edge with respect to music streaming services and offline capabilities, including Spotify and Amazon. While I suspect we'll see Spotify offline access come to Apple sometime this year, it's not yet there today. And like Fitbit, Garmin also has cross-phone compatibility – so the ability to use a Garmin watch with iOS or Android (or no phone at all if you really want). Apple is iOS only.
And this entirely ignores the challenge for Samsung with their just launched Galaxy Active Watch 2 priced at $279 (it was $199 last year, a great price point), or the slew of Fossil watches at a range of price points. It also ignores Polar with their recent Ignite series watch, which targets a slightly more sporty individual – but at a $229 price point (without an always-on display).
Still, while I can articulate all of those nuances back and forth – your average Best Buy counter employee or mainstream media review can't. They're going to highlight the Apple Watch with GPS & streaming music at $199 (plus the entire Apple app store ecosystem). And competitors equal and above that price point without a hugely significant and unique value prop aren't even going to be part of that conversation. It'll be interesting to see where things go from here for sure.
With that – thanks for reading, and stay tuned for a full review later this month!