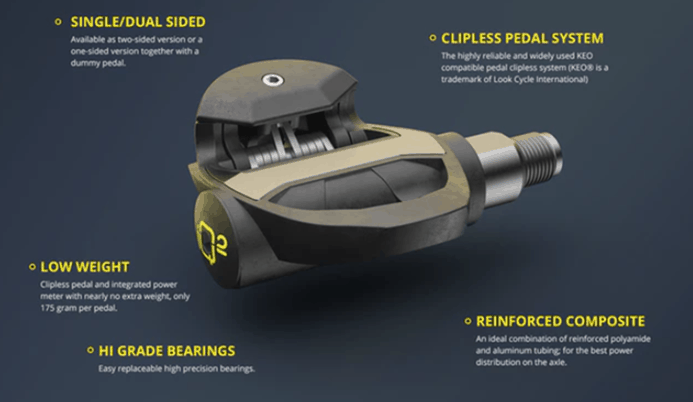 On the list of things coming down the pipeline this Friday, I didn't see the day wrapping up this way. IQ2 just announced that their belated power meter project (which was essentially a small spacer in between the pedals and crankset for 149EUR) is now shifting directions to being a power meter pedal instead.  The company noted that difficulties with accuracy in the spacer design required them to shift directions into an area that was more stable for measurements.
As a result, the company is now joining the handful of other organizations making power meter pedals, with backers set to receive their choice of road or mountain bike pedals instead of the once-promised spacers that was mostly pedal agnostic. In addition, as one might expect timelines have also shifted as well.
What's changing:
To summarize this the question outlined in this section's heading: Everything.
But first it's best to backup and discuss why they're making the changes they are (which they outline here in their update). The company says it wasn't until their first mass produced power meter batch in February that they started having troubles, noting the following:
"…when several cyclists tested the power meter on the same bike, minor random offset changes appeared.It was an unprepared-for situation that kept us occupied for a long time and caused a number of sleepless nights, much to your and our frustration. Our data analysis team and UK manufacturer SMD Sensors were equally surprised.

To localize the problem, we took the power meter apart and individually examined every component. Each part turned out fine. Eventually our attention was drawn to the screw and its thread. It turned out it had a bigger influence on the adapter surface tension than we and our partners assumed. Normally, a screw is fastened and the resulting tension is measured and calibrated. We worked under the assumption that this tension was a fixed value. Unfortunately, this assumption turned out to be wrong. The screw and its thread in reality had a continuous effect on tension, values we were unable to capture and standardize.

Remember, strain gauges are built to measure with extreme sensitivity, and thus pick up on the slightest bend in nanometers. Since every person has a different weight distribution and individual stance, the readings kept 'jumping' because of how a particular person affected the thread."
Of course, the problem outlined is hardly unexpected. Specifically – this part:
"Since every person has a different weight distribution and individual stance, the readings kept 'jumping' because of how a particular person affected the thread."
In fact, it's something I've outlined as issues in multiple power meter reviews. One can look back at my earlier 4iiii power meter reviews, as well as early attempts with Brim Brothers, LIMITS, even more recently Avio. Plus others I can't think of off the top of my head. The differences in how cyclists apply force onto the pedal is astounding, and in turn, presents challenges not just for strain gauges but even companies trying to measure differences applied to materials that aren't uniform in production. Pioneer recently noted this in their latest power meters.
The company goes on to say they tried numerous solutions, but weren't able to find a solution that met their requirements. Ultimately, they decided to abandon the spacer concept:
"Together with our partners we concluded that the only solution to this problem is relocating the strain gauge to the least influenceable spot. The least influenceable spot is in the center of the pedal. Since it was impossible to accommodate the strain gauge in the center of the pedal in our original design, we decided to design a pedal based power meter instead."
As a result, all backers are now receiving a pedal based power meter instead. The company is splitting their product into two core groups: Road pedals (Look-Keo Compatible), and mountain bike pedals (Shimano SPD).  At some point between now and delivery of the units, you'll be able to choose which exact variant you want. The company says there will be no further charges for this, they note they will absorb the cost of it.
Here's renderings from the company, starting with the road unit:
The road units looks more or less on par with other Look-KEO based road units. A bit of a chubbier spindle for the battery compartment, which is likely why the IQ2 logo is there. But the pedal body itself looks a bit cleaner/slimmer than the PowerTap P2 pedals.
Then there's the mountain bike Shimano SPD pedal:
This at first glance almost looks Speed-play round like, as you can see they've got an enlarged interior to fit all the gadgetry inside, with that spindle fulfilling the majority of that space.
The concern I would have is protection though. Having seen a lot of proposed pedal based power meters over the years (none of which made it to market), all of them shared one trait: Massive exterior protection. An aspect this design appears to lack. The reason, of course, is obvious to anyone who has mountain biked: Pedals get hit all the time on rocks and other hard non-rabbit-fuzzy things. Inversely, strain gauges inside spindles are generally somewhat sensitive to getting the snot knocked out of them.
Perhaps I'm wrong though. Perhaps in that chubby little interior is enough padding to keep the accuracy happy.
If you ordered a single-side unit, you'll get a single-sided pedal-based power meter (with a dummy pedal for the other side), and if you ordered a dual-sided unit, you'll get the dual-sided power meter. Further, IQ2 says they've partnered with an existing pedal company to re-utilize the pedal body, as to avoid re-engineering that wheel.
Beyond those details, there isn't much known about things like battery type/changes/duration [Update: CR2032 type], cornering angles, etc… Though, at least the extra q-factor goes away. Finally, the company says they'll start shipping in August 2019.
The Winners and Losers: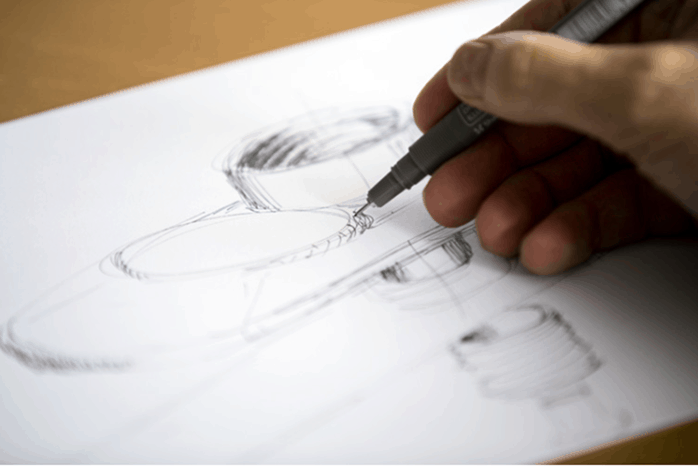 Undoubtedly, some (many?) of you will see yourselves as loser in this equation. Though, there are actually a few upsides – assuming you're a glass-half-full kinda person. I figured I'd run through them for the sake of this Friday evening mental exercise
The Good:
1) Mountain bike pedal-based power meter: This would actually be the first mountain bike pedal-based power meter on the market. In fact, it'd be the first one proposed, let alone potentially built. Obviously, if they can successfully execute on this, that'd be a substantial win for that segment of the market that I often hear questions from.
2) Incredibly low cost: Assuming they keep their costs anywhere near the ballpark of their existing solution (and thus far, their online store has them priced at 299EUR for the dual road, and 329EUR for the dual MTB)– this will easily be the least expensive pedal-based power meter on the market, handily upstaging the super accurate and reliable (yet least expensive) Favero Assioma pedals. Of course, there's a lot of implied if's in that statement.
3) You get pedals now: If you were planning on putting Look KEO or mountain bike SPD's on your bike, then now you get pedals for free. Oh, and there's no more Q-factor to boot!
The Bad:
1) Doesn't support Speedplay or SPD-SL: The most obvious impact here is the undoubtedly long line of Speedplay customers hoping for a non-crankset focused power meter solution, something semi-portable. Once again, Speedplay customers will leave the pedal based power meter parade disappointed. Same is true for SPD-SL, though, your disappointments aren't as long and hard fought as the Speedplay folks.
2) Basically a restart of the project: While there are specific software/hardware aspects that IQ2 will be able to re-use in their design (especially firmware and their app, communications stacks, etc…), the reality is this is a reset. It's just as much of a reset as when PowerTap or SRM decided to build a pedal-based power meter. In those cases those companies had vast sums of experience with all the other pieces, but pedal-based power meters are different beasts.
3) The timelines aren't realistic (again): There's not a chance in Holland they'll hit their August 2019 shipment timeframe. They're proposing a mere 3 months from now to produce and deliver a unit for which they don't appear to have any prototypes for yet (else, I'd hope they would have shown them in this update). Like, if I could give this a negative % chance of hitting August, I would. I don't know how to quantify that. Instead, a realistic minimal timeframe is Spring 2020.
And that's unfortunately the hard-cold reality of that here. I, like most consumers (or industry watchers), want IQ2 to succeed. I want more affordable power meter options, and I want those options in more formats (like mountain bike pedals). But…I also want accurate power meters. If you don't care about accuracy, there are plenty of other options on the market.  And, to IQ2's credit – they appear to care about accuracy else they wouldn't have made this move.
But I don't see any part of this update that's applying even the slightest hint of realism. Companies like SRM and PowerTap – with decades of experience building power meters – took years to get their pedal-based entrants right. Vector, partly under Metrigear and then post-acquisition under Garmin, took more than 4 years to get to the first units shipped (and that's only the public timeframes). Seriously, power meters are tough…but pedal based power meters are really damn tough.
An August timeframe doesn't allow for any meaningful testing. To put that in perspective – I myself tested Vector 3, PowerTap P1, and SRM EXAKT pedals for longer time periods between final production units and when they actually started shipping to consumers (3 months+ each). That's longer than the timeframe they propose for designing, producing, and shipping the unit – let alone testing. Most of the major power meter companies will test near-final versions of their units for 4-12 months before going to consumers.
Again – I'm happy to be wrong. I'm happy to have to take a short 23-minute train ride in August to pick up a pair from IQ2 to test and find them successful. I'd be thrilled to do that, and to shout to the tops of the mountains I was wrong on timelines. So…prove me wrong.
Going forward: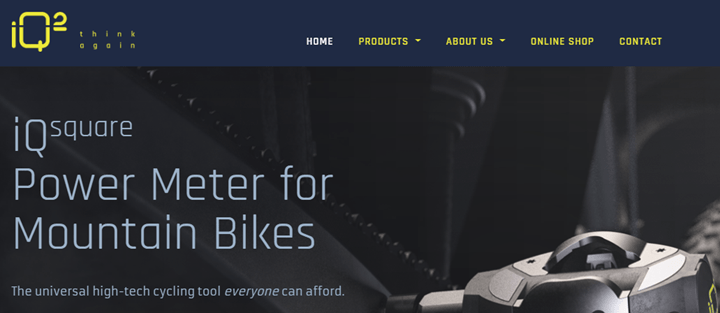 As I've said for more years than I can count – one must treat crowdfunded projects on Kickstarter and other platforms no different than money at a slot machine in Vegas. If you win something – great, but fully expect to walk away with nothing.  I noted previously in the case of IQ2 that I felt like they had the smarts to pull this off (eventually), but I was concerned about their timelines and didn't see any scenario where they would have hit their original timelines. Sure enough, that was the case.
I would not, however, have predicted that they would have changed direction though to just as difficult as a venture as their original goals.  Of course, if one compares the number of successful pedal-based power meter companies (~5), to the number of successful spacer-based power meters (*0*), I could see why the odds would be assumed to be in their favor.  Unfortunately, that doesn't account for the usually multi-year plights of these companies, nor the number of pre-production failed companies, and post-production troubled products. There's no harder place to build a power meter than the pedal.
But, if they can do this – even next spring or summer – and if they can maintain prices at/near those price points, then long term the company will still do exceedingly well. Heck, at this point it could do well if it just ditched the road idea and went straight towards mountain bike offerings. That's a 'niche' (used in the flexible sense here) that's not at all served today by any company in the market.
Still, I'll be watching to see how this plays out for sure. The sidelines are a good place to be.
With that – hope everyone can get out, go for a ride, and enjoy their weekend! Thanks for reading!
(All imagery in this post via IQ2 website/update)