Two weekends ago I managed to drop my GoPro while out mountain biking. Actually, technically I wasn't mountain biking anymore, but rather had hiked a hundred or so meters from the end of the mountain bike trail to the peak of a mountain. But when I came back down again my GoPro wasn't totally in my back pocket and apparently fell out into the bushes somewhere. Solid sad panda moment.
While I ended up finding it after a search, I figured I'd detail not just the way I found it – but three ways to find your GoPro. Like knowing how to swim, it's best to have these three ways in your memory bank before you get yourself in trouble.  Since these won't work beyond 8 hours after you lose your camera. Time is of the essence.
If video is your thing – here's all three methods in quick succession. Plus, some funny stuff at the end that has a solid Homer Simpson 'doh' moment.
And if text and photos are more your style, then read on. Oh, and because it's Friday I'm going to try and be brisk about it.
1) 'Locate Camera' option
Before we dive into all these options, there's one item that's common to every one of them: Your camera needs to have some battery left in it. And, you need to have lost it within the last 8 hours.
See, GoPro's latest cameras (from the Hero 5 onwards) will automatically leave on the Bluetooth Smart connection in the camera 8 hours after you last powered it off. So even if the camera appears off, Bluetooth Smart is still cookin' away.
Bluetooth Smart allows the GoPro app (or 3rd party apps) to turn on the camera's WiFi, which is where the magic happens in terms of being able to turn on the location features.
Got all that? Good.
This first #1 solution assumes you're roughly in the area where you lost it. Within range of both Bluetooth Smart and WiFi. In an open area, you're looking at about 100-150ft (30-50m). Again, you could get further than that or shorter than that, but that's a safe bet.  Go ahead and crack open the GoPro app and click where you'd manage your cameras from (upper left corner). You'll see the camera listed below, along with a blue signal icon to the right of the camera:
Next, tap on the camera icon button as if you were trying to start a preview of the camera. It'll take a second to connect, and then hopefully show you an image of something. Anything.
Then, go ahead into the settings of the camera (lower right corner), and scroll down to 'Locate Camera'. Simply toggle that on and boom: The camera starts beeping away.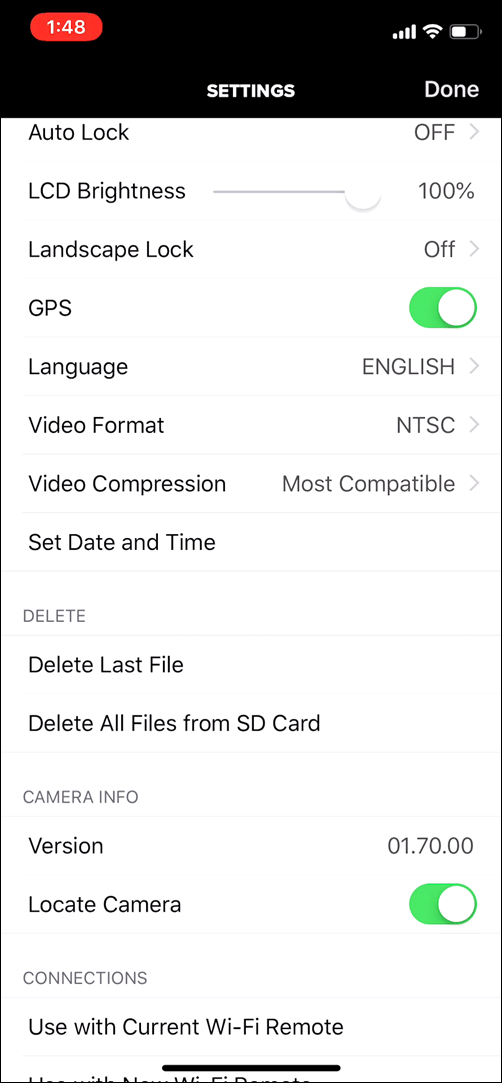 It's as simple as that – you can now use your ears to locate the camera's beeps.  Since you were within the 30-50 meters of the camera, it shouldn't be too hard – even if you need to break out your best US Coast Guard search and rescue grid skills.
2) Using the blue signal icon as a detector
So wait – what happens if you can't get it to connect? Well, in this case you need to find the thing. For most people, you're going to roughly know where you've been and where it's likely the camera is. So it's likely on a trail, a ski run, or some sort of logical path that you can re-trace your steps.  Unlike finding someone in a vast ocean with no knowledge of their route, you probably know where you've been.
As such, your next step is to use the GoPro app to narrow things down.  And in fact, that's exactly what I did.  When I first started walking away from my bike to find the camera, the GoPro app didn't show any blue icon signal. It looked like this: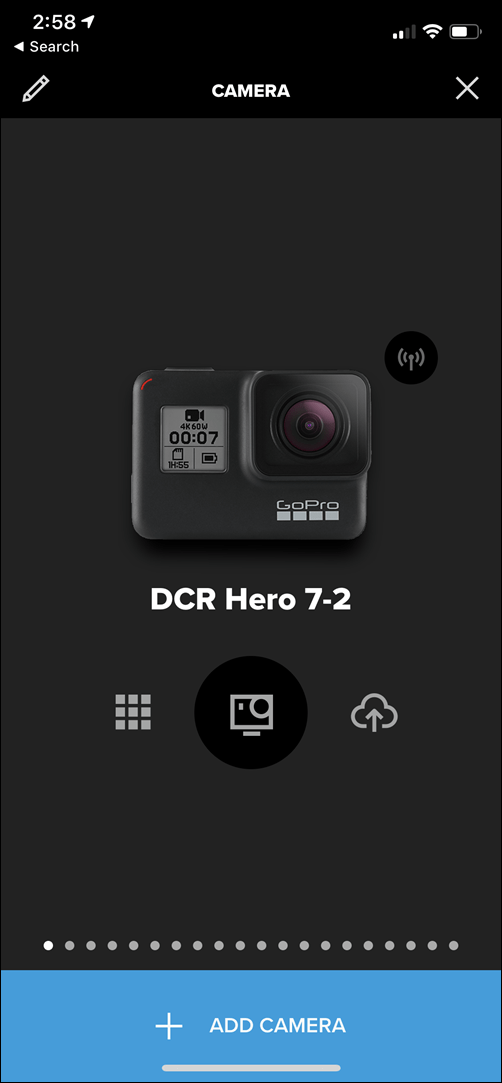 That means it's either out of range, or the battery is dead-dead.  But since I knew where I walked, I'd simply backtrack that trail until the blue signal indicator lit up. So walk I did. Eventually it lit up, but that actually wouldn't allow me to turn on WiFi yet. It kept failing.
Still, that told me I was going in the right direction. While typically WiFi signals are stronger than Bluetooth Smart ones, that's not always the case (as it was for me). But with the blue signal icon illuminated I was able to keep walking and pressing that camera icon until it finally offered a WiFi connection.
At which point I was able to turn on the camera and see what it saw: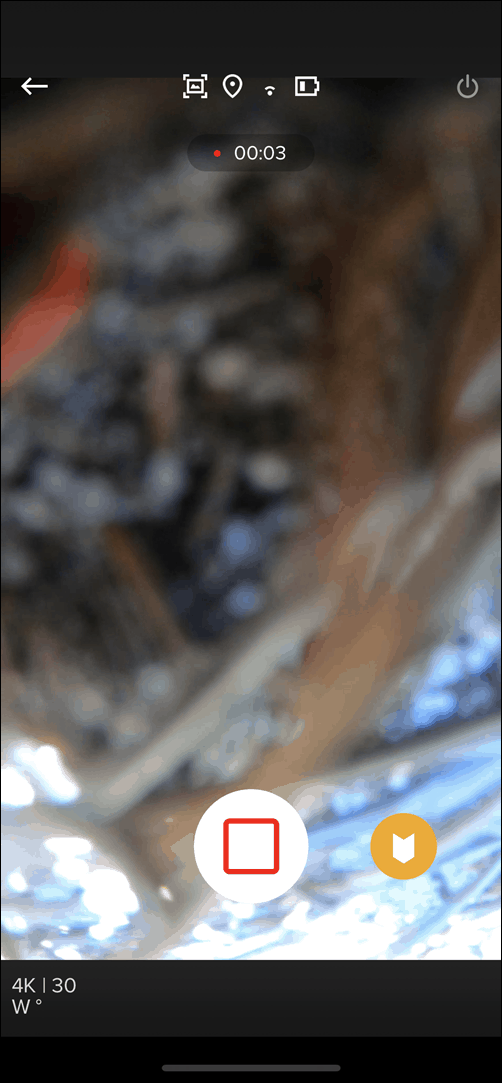 Yup, a bush. And some ground.
Well, thanks, that's not terribly helpful.
But at this point, a logical person would just use the 'Locate camera' option, and follow the beeps.  In my case, I actually just kept pressing the option to take a photo, since that made beeps too. Not logical, but functional. Eventually we got close enough and one of the guys grabbed it out of a bush: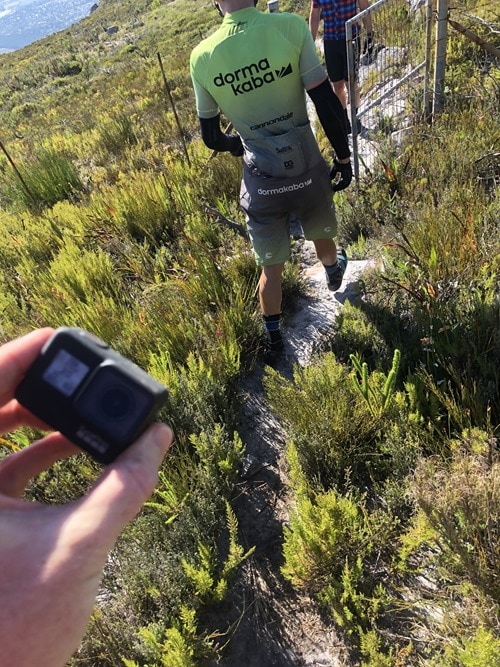 However, the camera view can be useful if the GoPro falls in just the right orientation to see your surroundings.  In fact, I've done that more than once with drones that have decided to go on an unapproved Tinder date with the forest. I'd use the camera to try and work out where the drone was, since many times a GPS location blue dot isn't super helpful in a forest.
What if you've got miles of trails to cover? Well, suck as it may be – the concept is identical here. Just keep your phone out on your handlebars (or your hands if walking) and don't ride too fast.  You want the app to have that moment where it sees the camera within range and can show that to you. Eventually you'll find it – again, assuming battery doesn't die first.
3) LightBlue Explorer app as a group
Now this last one is actually the coolest of them all. It requires no GoPro app, but allows you to add multiple people to your search party. Perhaps it's the last day of vacation and all your epic footage is still on the camera, you really want that camera back.
In this case, you can use one of many free Bluetooth Smart test apps to find *any* Bluetooth device nearby.  In my case, I used the free LightBlue Explorer app, which allows you to see anything nearby (there's lots of similar apps out there, but this one is pretty commonly used). If you did this at home you'd be blown away by all the connected devices in your house. TV's, watches, heck – even kitchen stuffs these days. Here's what it looks like at the DCR Cave right now (well, a small bit of it):
Yikes!
But in your case, it'll likely be easier since you're probably out in the middle of nowhere. After downloading the app just open it up – it's as simple as that. It'll show you devices nearby and the signal strength.  Here you can see the GoPro and whether you're getting closer or not.  In fact, if you click on it, it'll even turn on the camera for you and also show battery strength:
I have found the battery strength reported via this app doesn't seem super real-time, but it's a rough gauge.
So again – this method is super useful when you want to have a bunch of people help you out. They can quickly download the small app and get to work, whereas the GoPro app has to be already paired to the camera before the 'Locate Camera' option will work.
Make sense? Good.
With that – hopefully you'll never need to use these tips. But if you do find yourself in a pickle some day you might remember one of these, or at least how to find this post again so you can find your lost videos before the 8-hour clock strikes midnight.
Thanks for reading, and have a great weekend ahead!