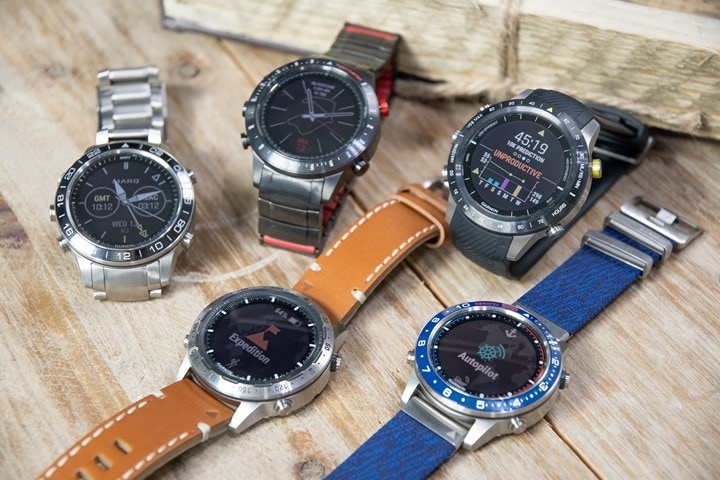 Today Garmin raised the stakes and announced their most expensive watch to date – the Garmin MARQ, at upwards of $2,500. Actually, it's five watches. Five different units that mirror Garmin's existing product lines across all of the company's divisions.
Each the five different watches targets a corresponding audience, as follows (EUR pricing matches USD pricing):
MARQ Athlete – $1500: As the name implies, athletes
MARQ Expedition – $1750: A blend of athlete + multi-day sport adventures
MARQ Captain – $1850: For boating/marine related adventures
MARQ Aviator – $1950: For aviation folks piloting an aircraft
MARQ Driver – $2500: Automotive racing focused
If you're familiar with other Garmin watches, you'll note that most of these align to existing watches Garmin makes. For example the MARQ Athlete follows in the footsteps of the Garmin Fenix 5 Plus series of watches. Whereas the Captain follows from the Quatix, and the Aviator from the D2 series.
But the Expedition and Driver editions are actually new ventures for Garmin, and include (in the case of the Expedition), some unique features that could very well be applicable to many fitness folks. Fear not, I'll dive into all of them.
However, if you want a quick dive into all the watches – including a complete look at the revamped user interface, check out my video on it:
Oh, and finally – as usual, these are all media loaners from Garmin. Yes, all $11,149 worth of watches sitting here. In fact, all but one of them will be picked up tomorrow morning. The last unit, an Athlete edition, I'll hold onto for a few more weeks so I can get a bit more test data for a full in-depth review. I include plenty of data in this post, but I didn't get the feeling the software was as final as I'd like it to be able to make accuracy/stability judgments as I would on a truly final product. It sounds like they're close, but not yet there. As such, this definitely isn't a review. Things could get better, or worse from here.
MARQ Editions Overview: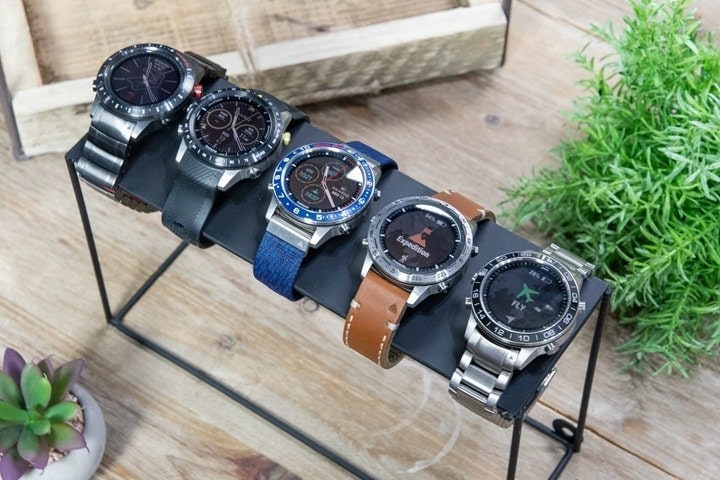 Now as noted above there's five versions, each targeting a different market. Effectively Garmin has taken the lower end variants of each of these watches and elevated them from a materials and user interface standpoint. For example, the Aviator watch is based on the D2, the Expedition and Athlete watches are based on the Fenix 5 Plus, and the Captain is based on the Quatix. So software-features wise these all carry over, though with some new hardware tweaks, like a different GPS chipset and different optical heart rate sensor, as well as more than double the storage space of the Fenix 5 Plus series.
I'm going to run through each version briefly below in terms of feature highlights, along with a bit of a gallery of shots to sip your coffee against.
Common features:
All watches include the same baseline, which is essentially the features of the Fenix 5 Plus series watches, with some twists. So that includes:
– Detailed maps for the region you bought it in (e.g. North America)
– Offline music playback/storage, including Spotify support
– Garmin Pay contactless payment support (load credit cards/etc onto it)
– PulseOx SpO2 measurement
– Swim/Bike/Run/Golf/Ski, and numerous other sports all included
– Full global database of ski resort runs/maps included
– Full global database of golf courses included
– Revamped user interface for the MARQ lineup
– Revamped Garmin ELEVATE optical HR sensor (officially 'Gen3')
– All watches have incident detection and safety alert features (similar to Vivoactive 3 Music LTE, except without the LTE)
Now, there are some interesting twists in here. For example, above you see the ski resort database, which is new to Garmin. They've had a ski mode, but not a ski map aligned to that while actually skiing. So that's cool. However, Garmin Connect Mobile (on your phone), lacks that map overlay – so things do fall apart a bit once you upload your ski day. Still, it's progress.
Side-stepping slightly, there are some hardware specific notables that are common to all variants:
– Smaller 46mm size (so basically same as the Fenix 5/Plus, not the S or X models)
– Battery life: 12 days in watch mode, 28hrs GPS-on, 48hrs UltraTrac GPS
– Ceramic Bezel: For the Aviator, Captain, and Driver editions
– New charging cable: Like a blend between the Fenix 5 cables and the Forerunner 645 cables
On the ceramic bezel, Garmin made note numerous times on multiple occasions on multiple continents that they went to extreme measures to try and find an ultra-scratch resistant material compared to any watch they've ever made. I haven't managed to scratch mine yet, but I also haven't dragged it along the concrete walls either. I'm clumsy, so at least so far so good.
From a service standpoint, all watches share the same level, no matter where they were bought:
– 2 years full warranty
– 5 years of parts serviceability from date of purchase (i.e. if bought June 2021, it'd go until June 2026)
– Battery replacement program through both Garmin and dealer
The slide to support battery replacement through the dealer is an interesting twist. Garmin previously required customers contact them directly via their support channels. So this battery replacement aligns more closely with higher-end watch shops.
Even more interesting are two core hardware choices Garmin has made:
1) They've switched to the Sony GPS chipsets
2) They've increased the storage up to 32GB – a huge upgrade over the typical 8-16GB Garmin has used in other units
The first one is however the biggest shift in direction we've seen Garmin make in years. Up until now all of their more recent watches have been using MediaTek GPS chipsets. In fact, Sony is a relatively new player in this space. But they've garnered significant attention due to their extremely low power profile. Suunto and Polar both switched to Sony GPS chipsets this past year for their top-end watches, however, that didn't go terribly well. COROS also introduced a watch with it too – and again, GPS accuracy was hardly stellar.
Both Polar and Suunto admitted (and continue to admit) GPS accuracy is still a work in progress on the Sony chipsets. In fact, even Garmin admitted as much during my meetings with them. It's a dangerous gamble for Garmin to make. They're effectively entrusting their ability to 'fix' Sony's GPS challenges, in order to save significant battery life.  Will it work? I've got more thoughts later in the post after doing some tests.
The second change related to storage space is also interesting, but also confusing. Garmin adopting a sprawling 32GB of space would set the stage for far more maps to be available on the device. But despite that, Garmin is only loading the local region maps, and not the full international detailed map set. So you're still stuck either paying for maps when you travel, or downloading them via clunky steps from 3rd parties. I fail to see how people spending $2,500 on a watch want to take those steps. It seems petty by Garmin.
Athlete Edition Differences:
This variant is as close to a Fenix 5 Plus as you can get from a feature standpoint. It's basically as close to a Fenix 5 Plus as any of these watches are, but with a few minor tweaks:
– They've improved the race predictor
– They've tweaked the daily training load metrics
– There are some unannounced fitness-features Garmin says will arrive in the coming months it'll support
All of these announced metrics above are driven by FirstBeat. Most of them aren't terribly different than before, but they manifest themselves in cleaner ways. I'm going to dive into that in the breakout Athlete section below. Note that the Athlete edition only comes with a silicone strap, which honestly, I find kinda disappointing. After all, there are Fenix 5 Plus variants for some $500 less that include both a silicone strap and a fancy strap.
Expedition Edition Differences:
This variant is like taking a Fenix 5 Plus, but then steering the direction towards longer range tracking and away from normal sport/fitness features. The two unique bits this has compared to a Fenix series unit are:
– Expedition App: This allows you to do 4 continuous weeks of GPS track at 1-hr intervals
– Orienting lock: Allows you to lock a heading from within the map view by holding the start button
And again, for these features, I'm going to cover them down below in the Athlete/Expedition detailed section.  The first one though related to a four-week GPS track is fascinating. Not just because of the watch side of the house, but also Garmin working on the backend platform to ensure it properly supports files uploaded from that. The Expedition includes an Italian Vacchetta leather strap. Without question, it's the prettiest strap out of all the editions in my eyes.
Aviator Edition Differences:
This watch is based upon the Garmin D2 PX Delta unit (which is in turn based upon the Fenix 5 Plus series). It's focused on piloting an aircraft, including integration with some of Garmin's flight management systems via the Flight Stream 510, and has pre-loaded aviation maps and airport databases.  [Updated] In addition, beyond all the features of the D2 PX Delta watch (which came out last July), there doesn't appear to be anything new. The below three features Garmin noted as new were added via firmware update to the D2 PX back in December.
I'm a bit of an aviation geek. One of these days I'll finish my pilot's license. But looking at both this and the D2 PX, there's so much cool stuff packed in here, especially around things like NEXRAD weather radar. One of these days I'll get to use it for its intended purpose. The strap is titanium with a "multi-link swept wing design" (their description, not mine).
Captain Edition Differences:
This watch follows after the Garmin Quatix series, and is actually a notable upgrade from the Quatix 5, since that unit as based on the Fenix 5 and not 5 Plus series. So this variant gains all the music/contactless payment/maps bits that one lacked. The main focus here is connecting to Garmin's marine units to actually control your boat from your wrist. For example, when connected to the GHC 20 you can control autopilot. It also supports hotkeys for actions like man overboard plotting and automatic navigation to it, as well as functions like anchor alarms and tack assist modes.
With the Captain edition they're adding the following:
– Current weather watch face, including at specified home port
– Regatta Timer with GPS and dedicated bezel markings using start/stop hotkey
And again, the big update here is also the mapping compared to the previous Quatix 5, which didn't contain mapping. The strap is Jacquard Weave and is pretty stunning in real-life. If it wasn't so costly, I'd definitely consider it for my Fenix 5 Plus unit.
Driver Edition Differences:
Ok, 'differences' is the wrong word here. Because Garmin has never created a watch in this category before. So this is a first for Garmin. Still, these are new features above/beyond what a Garmin Fenix provides today, and they're all aimed at driving versus sporting.  They are:
– 260+ pre-loaded race tracks (full list here)
– Race App
– Track Timer
– Live Delta Time
– Auto Lap Splits based on position
– Lap Time Repeatability Score (LTR)
– Last Race Summary
– Virtual Pit Wall
Unfortunately this particular item isn't one I can readily test, and since there's no past context to base features on, my ability to discuss it in depth is somewhat slim. Still, I went ahead and tried to find these features and apps on the watch as best as possible for the gallery below.
Phew – got all that? Good, that's a lot of watch imagery goodness for you!  Now, to put some cold water on that, here's a nifty graphic from Garmin showing you how many clams you're going to need to shell out for each version:
Eeks! At least they're pretty.
Now interestingly, you won't find these in any of the Garmin retailers/stores you know today. Garmin will only be selling these watches through high-end watch shops (some of which sold the Garmin CHRONOS lineup previously, but most are new to Garmin). That's a big shift for Garmin, which won't offer the watches through retailers that are specific to each product group. Garmin says they expect customers looking at this range of watches to be going to dealers that sell TAG, Breitling and others – and thus, they'd likely already have a connection with that watch shop.
That may be true, but it's also questionable. As a runner, I'd never go to a high-end watch shop to find a running…err…Athlete watch. Similarly, if I was into Garmin's marine gear (where I'd probably have dropped over $10,000 to begin with), I'd likely go to my marine dealer. Same with aviation, and so on. I'm not terribly sure that I'm going to get someone that fully understands the nuances of all the tech features in a Garmin watch from a typical high-end watch dealer. And given Garmin's entire pitch is the tech, that seems questionable.
Other companies, including both Apple, have tried funneling customers into specific high-end stores and met with limited success before changing directions and offering them more broadly. Still, we'll see how it goes. I suspect by summer we'll know whether the strategy is working for the company.
What's in the box:
Not gonna lie, the Garmin MARQ officially takes the cake as the most beautiful box arrangement internally I've ever unboxed for a sports tech device. Though admittedly, the bar isn't terribly high. Still, it's impressive.
I've got all versions, though only the Aviator and Driver ones in fancy boxes. The others came in basically Ziploc baggies.
Since the boxes and contents aside from the watch itself are actually identical, I'm going to just unbox one of them for ya. Note that the $1,500 athlete does not include an extra strap, whereas the other editions do include a silicone strap, though you won't see it in the specific unboxing below as the Driver demo unit I had appears to be missing it.
Anyways, the outer shell of the box is a black cardboard sleeve, but once you slide it away you'll find a metal tin that contains the MARQ: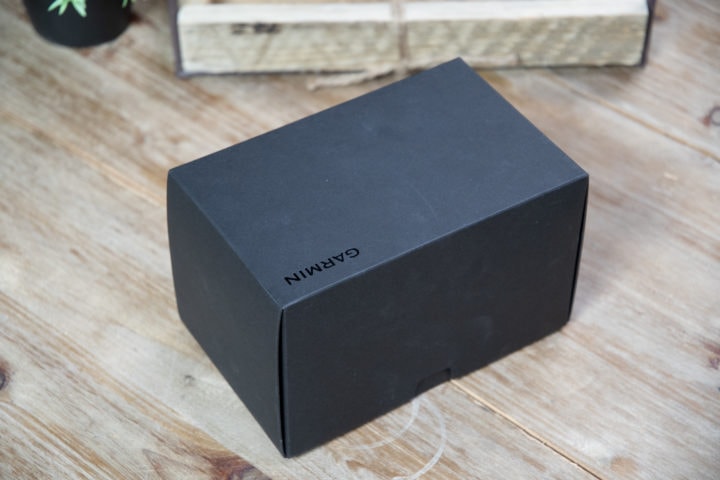 Open the lid and and the watch is sitting there looking at you.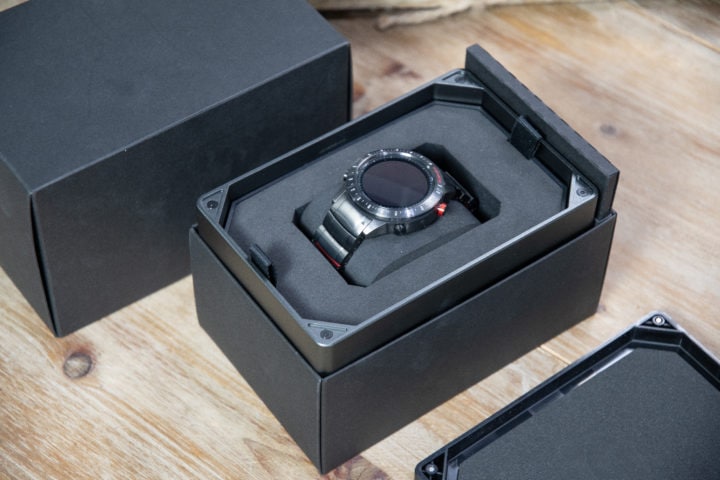 On the side there's a small box that includes some paper stuff, as well as a fancy warranty card. Not entirely sure why in 2019 for a fully connected watch you need a warranty card, but OK.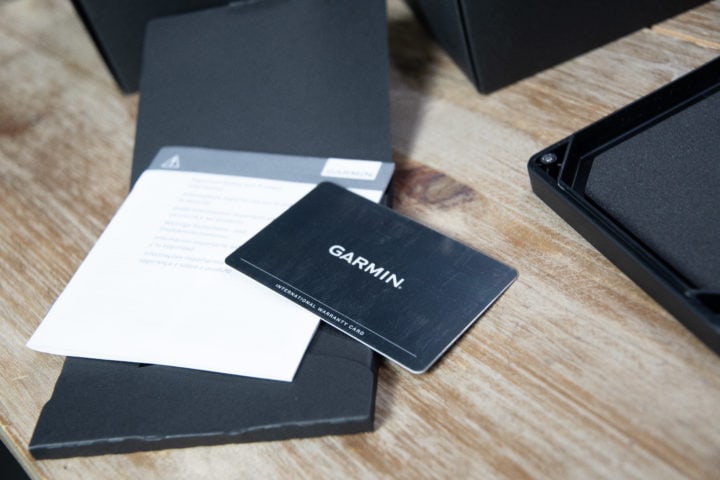 You can then pull out the inner tray of the box, under which you'll find more goods: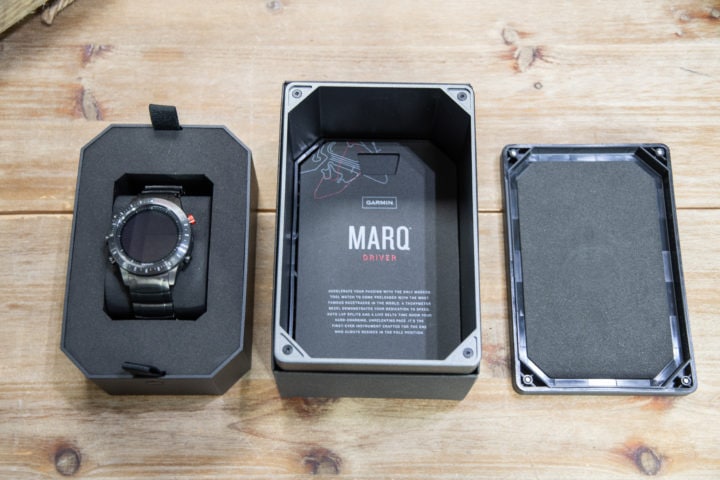 There's a card that gives a bit more detail about the specific version you have: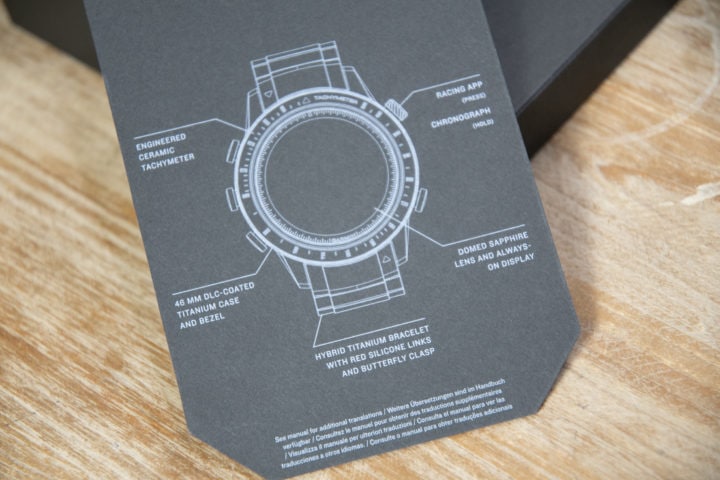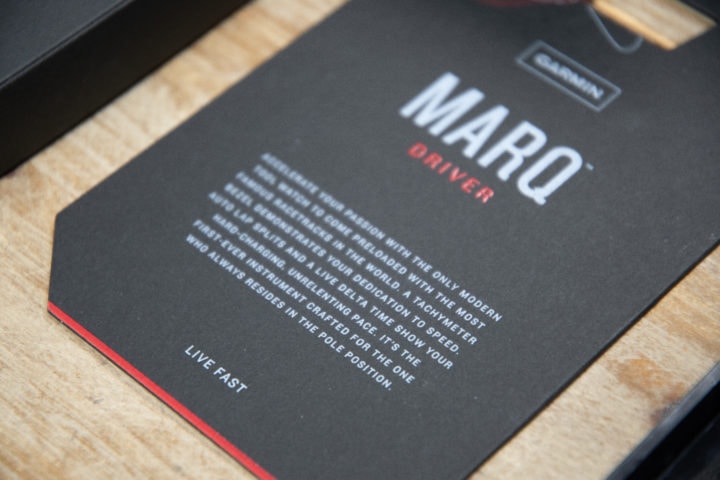 And finally, down below all that is one more box. That contains the charging cable as well as the secondary silicone strap. Again, in my case the demo box I had didn't have the extra strap. But you can see the charging cable.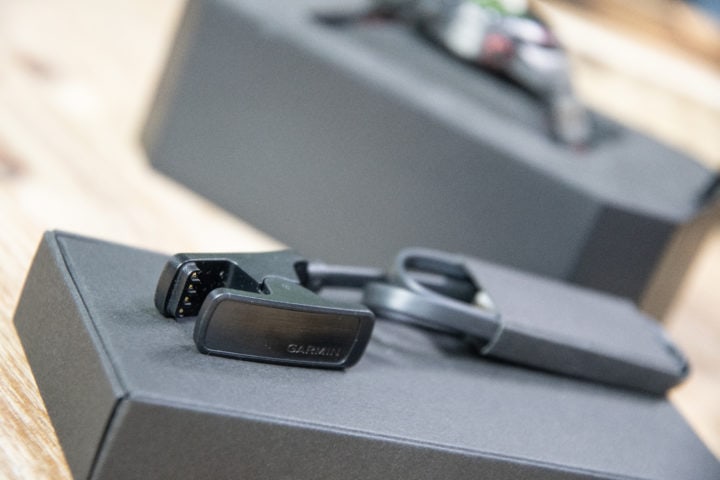 Of course, I'll show you plenty more close-ups of the watches themselves throughout the post.
The Basics: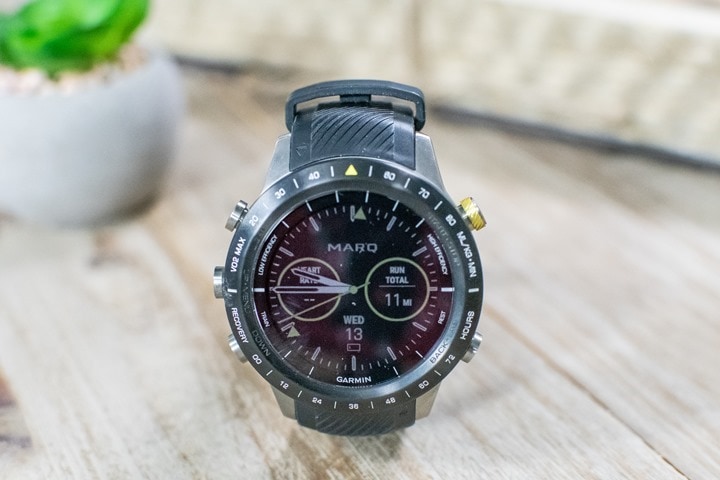 This section is essentially a walk-through of the basics of the watch and how it works with Garmin Connect Mobile. If you've been around the Garmin watch block a few times, then honestly none of this will be super new. What will differ though is the user interface, which is updated on the watch compared to a Fenix 5. Not drastically different, but different nonetheless.
However, if you're totally new to Garmin watches and reading this – then consider this section a bit of a primer.
First up is the watch face. Each of the MARQ watches have a unique watch face for that edition. Like almost all Garmin watches, these are customizable both with watch faces from the Connect IQ app store, but also just by tweaking virtually every bit of data you see on it.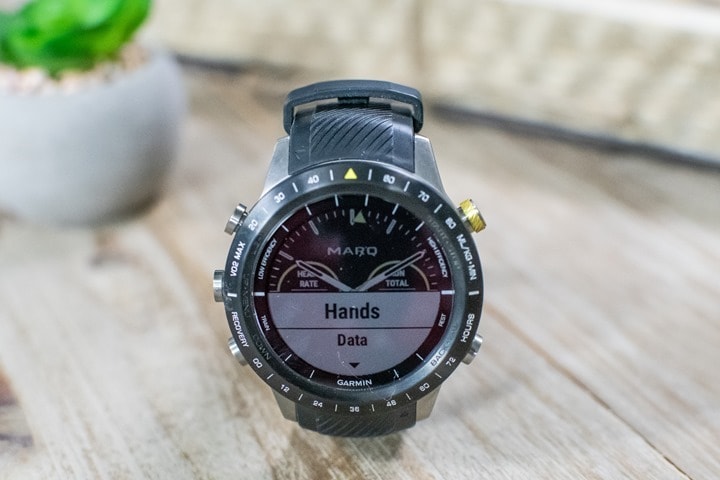 All of the watches have the same button layout, and this mirrors the Fenix series. The left up/down buttons iterate through the widgets. These include current weather (newly revamped widget), your last workout, training status, history, music, health stats, and plenty more. Here's a small gallery of what it looks like on the Athlete edition. Note that virtually all of these widgets have had the UI (user interface) tweaked compared to the Fenix series:
The middle button on the left side accesses the settings controls area. This is both for individual sports/apps, but also watch settings. This too starts off similar to the Fenix 5 series, but then takes a tweak to the user interface down lower in the menu. The settings options here are all the same best I can tell, just simply re-arranged.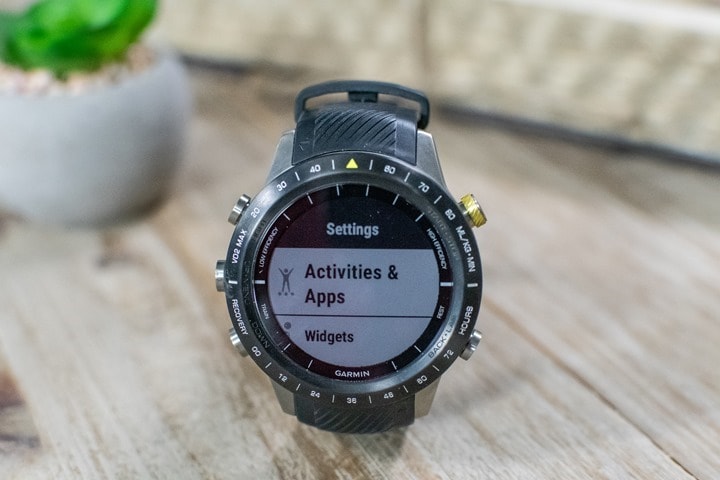 Next, you've got the upper right button. If you tap this once this takes you to the sport mode selection. It's also where you'll choose to start apps that you've downloaded. Again, this is updated. There's a continuously sliding view of the earth behind each sport/app. It's a clean never-ending animation in real-life that adds a nice touch to things (I'll try and create an animated GIF to show it).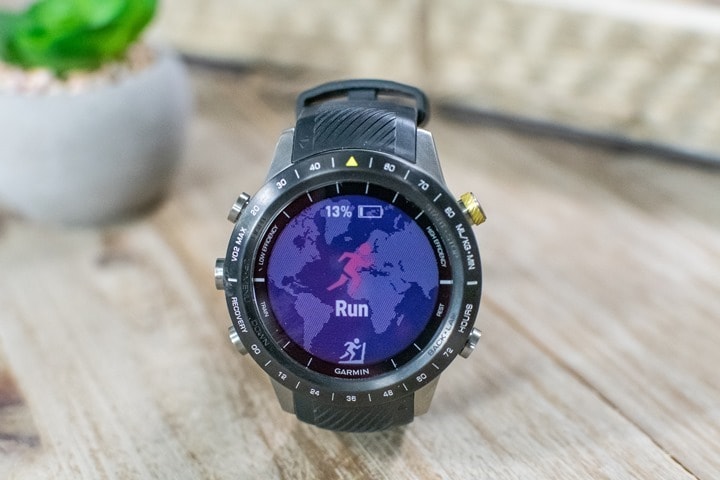 By selecting a sport or app it'll go off and start connecting to the relevant sensors, as well as acquiring GPS. So for the Athlete edition that means connecting to sport sensors like speed/cadence/power sensors (and plenty more). Whereas for the Aviator edition that would be to flight management systems, and with the Marine unit that'd be to Garmin's suite of control systems there.  If selecting an indoor sport (like Yoga), then it wouldn't enable GPS.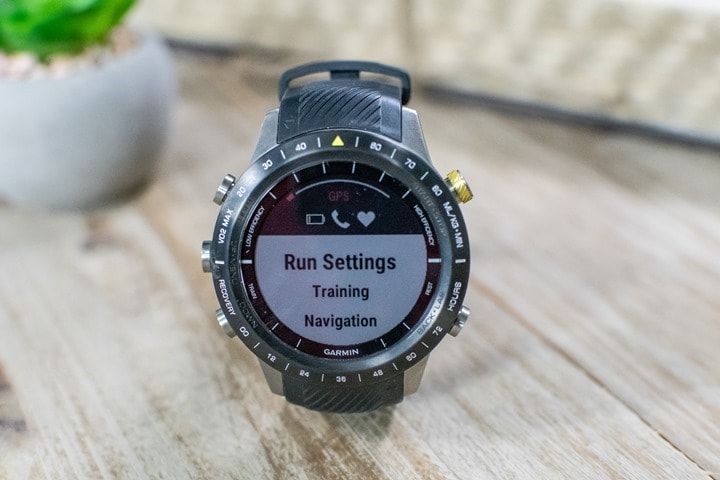 I dive into the sport modes specifically down a bit lower in the Athlete/Expedition unit details. So I'll save all of that for there.  Meanwhile, for the Aviator/Driver/Captain units, I've tried to include as many photos above in the galleries in the earlier sections, to cover some of those features. But given I lack a boat/plane/race track, that's a bit tricky.
In addition to having pressed that upper right button once, you can also long-hold it. Consider that the party-trick of each edition. For example on the Athlete edition if you long-hold the start/stop button it'll bring you to a new training metrics page unique to the MARQ Athlete. Whereas on the Aviator edition it'll bring you to the DIRECT-TO option for navigating to a given ident. On the Captain edition it pulls up the Regatta timer, and on Expedition it pulls up the heading lock on map screen. Essentially, for each edition it connects to the banner new feature not seen on other watches.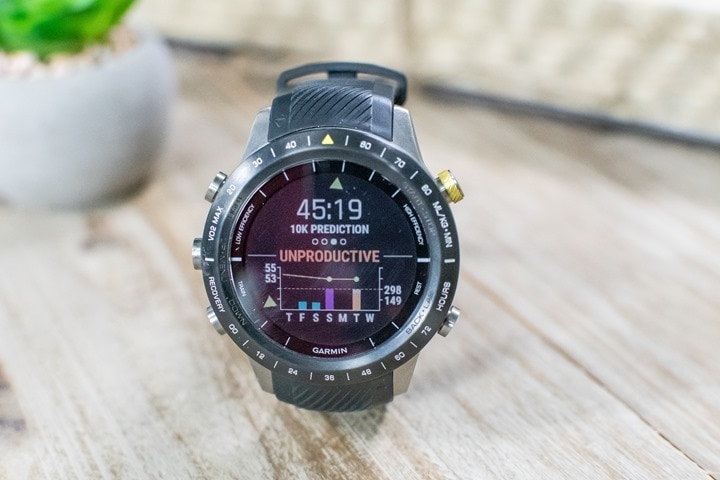 Meanwhile, on the back of the unit you've got the optical HR sensor. This is what Garmin calls their 3rd generation ELEVATE sensor, though in reality there's been many more minor editions in between. Still, this essentially takes the Garmin Fenix 5X Plus optical HR sensor and upgrades it yet again.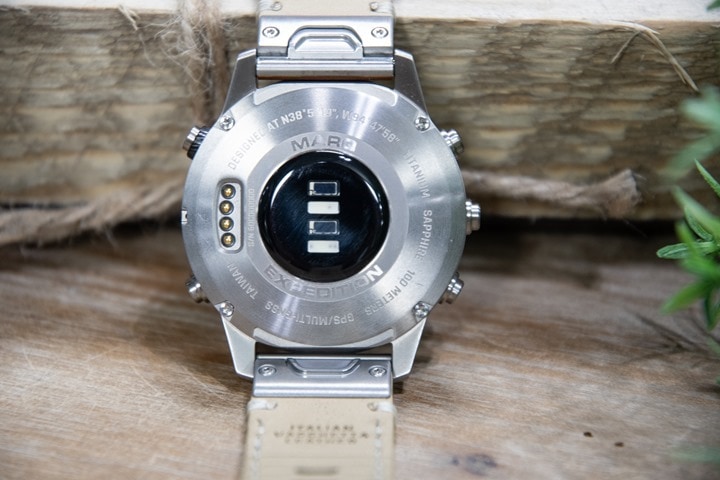 Also on the back you'll see the ability to utilize the QuickFit type straps that Garmin has. These lock onto the watch pretty securely, and are slightly updated with the MARQ series. All watches include a single strap on the watch itself in the box, but no secondary straps. If you want those, you'll need to shell out a boatload of cash.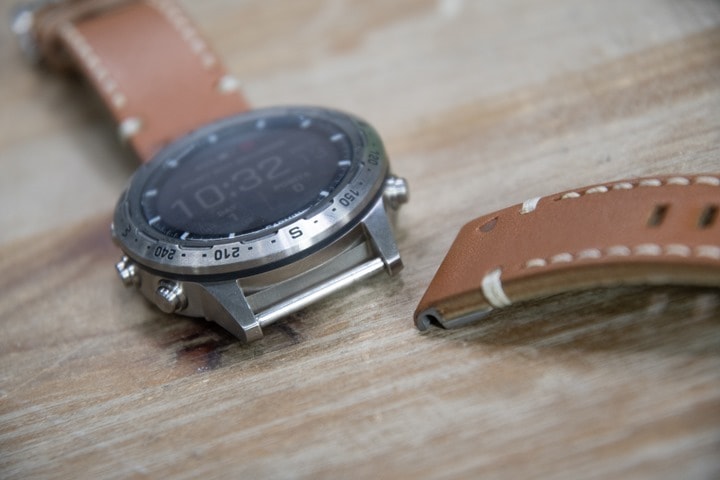 Meanwhile, virtually everything you do with the watch is being synchronized to Garmin Connect via their smartphone app (Garmin Connect Mobile).  For example, that optical HR sensor is constantly monitoring your heart rate 24×7 with its little green LED. That's uploaded alongside the more frequent SpO2 readings taken via the red LED on the back. That's also uploaded and charted on Garmin Connect Mobile:
In addition, all your daily activity stats like steps, stairs, distance walked, etc… is also present within the app as well as online on the website too:
Newer metrics found on the more recent Garmin devices are also seen there too – like Body Battery, which aims to quantify the blend of sleep, stress, and activity together.
The calendar app will show both manually started workouts, as well as automatically detected exercise. For example, my run yesterday was a manually started workout, whereas the numerous bike rides around town between office and home were automatically detected:
Next, changing topics entirely, all watches have storage for music, as well as for connecting to streaming platforms. The music is downloaded via WiFi, and then played back via Bluetooth headphones.  In fact, the Spotify app is actually pre-loaded on the watch, a slight change from other editions where you have to download it. I've talked at length about Spotify on the Fenix 5 Plus series, and it's identical here. So check out that post if you want more details.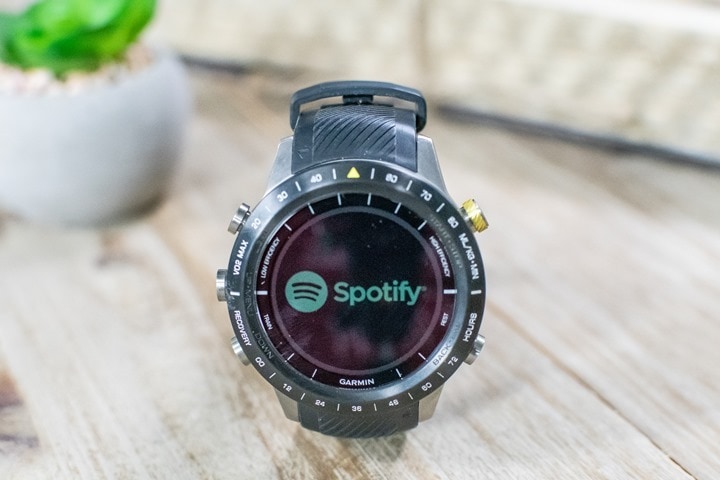 Similarly, Garmin Pay is also the same here as well. That allows you to load your credit or debit card in from various banks and then use contactless payments. So I added that in too, no issues.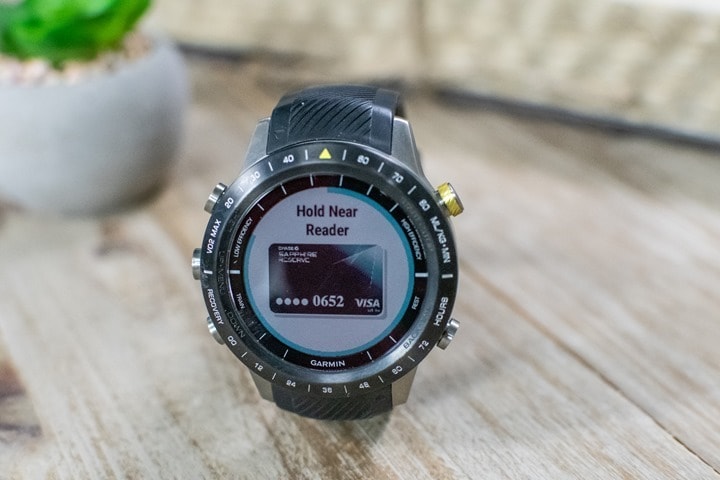 Finally – one last thing to briefly touch on is notifications. All watches will display smartphone notifications from both iOS and Android. You can control these via the notification centers on both platforms. The notifications are simplistic, and not on the same level as the Apple Watch in terms of things like pictures or such (but emoji do show up):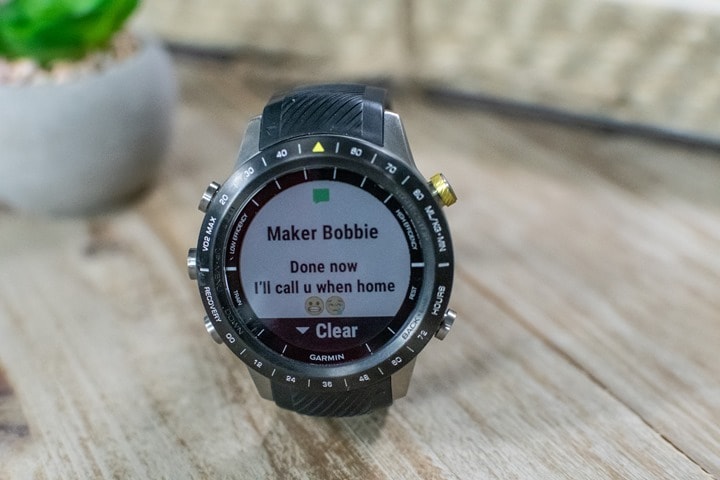 Ok, with that I think we've covered all the basics. When in doubt, refer to my Fenix 5 Plus In-Depth Review, since all the details there carry-over to here as well.  Unless noted otherwise in the differences section above, the overriding answer is 'Yes, it's the same'.
Athlete & Expedition Edition Details:
For this post I'm heavily focusing on the Athlete and Expedition variants. The reason? It's my dish. While I'm a bit of an aviation nut, I don't have my pilot's license completed – nor my own plane or helicopter to have fun with this stuff. Same goes for boating and driving. I wish I had a fancy sports car, a boat, and plane. But y'all need to hit the refresh button or Amazon links way more times to make that happen.
Unfortunately, I was in Africa and missed the Garmin MARQ media launch event in Barcelona, where I understood the journalists got to have the Aviator watch fly a helicopter for them, the Captain edition control a legit yacht, and the Driver edition…well…go around a track and capture splits. Figures the one cool media launch event Garmin has ever held (ok, they've only held one other launch, years ago for the initial Vector debut), and I managed to miss it. You can however read about parts of it here in French. Or just look at the swanky pictures.
So again, this section is mostly focused on Athlete/Expedition editions, and within that, the fitness/sports side of the house.
Where we left off above was on the sports side. With the basics covered, there's some interesting nuance to the bezels on all editions, but I'm going to focus on the Athlete first. If you look carefully you'll see there are two sets of numbers along the top half and bottom half. The top-half is displaying your current VO2Max value. Whereas the bottom half is displaying your recovery hours.
So looking at the above, you'll see the little yellow arrow on the recovery hours has me at 0 hours apparently, whereas VO2Max has me at 53. Interestingly, this still doesn't seem to do a good job of Physio True-Up, whereby it's supposed to combine VO2Max values from different Garmin devices together properly. But that's a different problem for a different day. Ignoring that bug, I actually really like the recovery hours at a glance idea, it's smart.
Speaking of unique things, if you hold that upper right start/stop button for a few seconds, it'll bring open the new physiological metrics dashboard. This is new to MARQ and is supposed to blend both your race prediction times and training load metrics into one cohesive chart. Sorta vaguely like what Polar is doing on their Vantage series (very vaguely).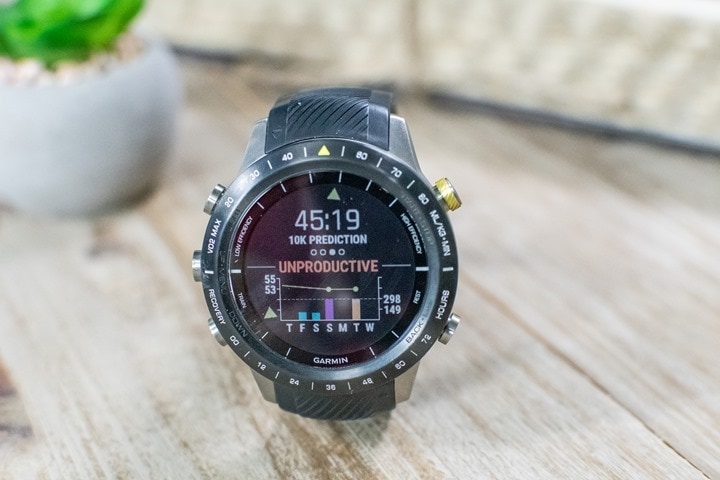 That said, I think something is amiss currently on the race prediction algorithm on this unit. For example, it predicts a 10KM time of 45:19, which seems to be silly-simple math of my most recent 10KM training run time prorated for the last half a mile. Given that was an interval run with walking/recovery breaks included in that time, that's a wonky way of looking at things. Again, I've had good luck with every other Garmin device in the last 5 years on race prediction and the algorithm being roughly correct/inline, so I think this may just be a small bug here. Realistically it should be giving me 10KM times in the 38-39 minute range right now.
Additionally, within the widgets page you'll see revamped pages showing training load over the past 7 days and 4 weeks:
Both of which when clicked on will give you a little text descriptor of whether your training load is helpful or not. Again, very much on the same wavelength with what Polar is doing on giving prescriptive guidance for training load with their Vantage V.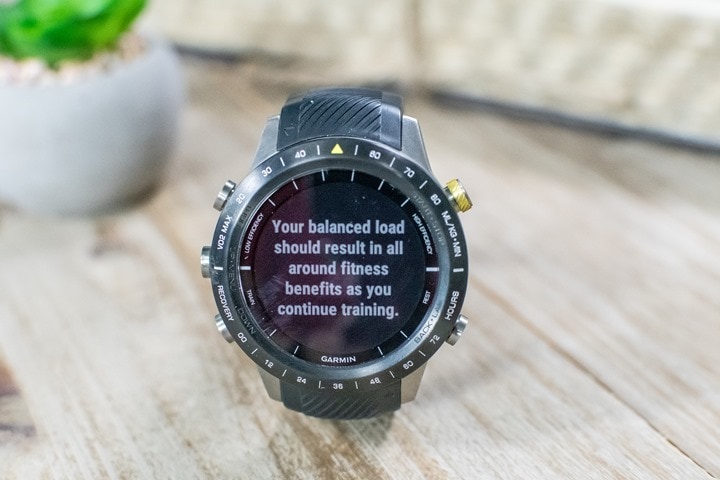 As for an actual workout, almost everything is identical here compared to a Fenix 5 Plus series watch. As noted earlier, we'll go in and select a sport to do. For this example, I'll use running: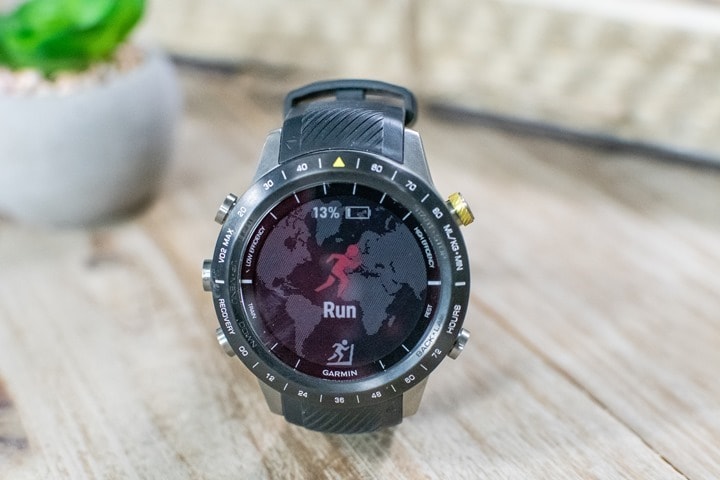 At the same time it finds GPS it'll find any extra sensors you've got, including heart rate straps. The reduced GPS satellite UI is slightly tweaked here in terms of the GPS signal graph. I'm not sure it's as obvious as the complete circle around the bezel, but it gets the job done once you understand it.
From here you can also select any courses you want to follow or structured workouts you may have downloaded or created. After which, you'll press start to get going. At this point it'll be recording your run (or other workout) and displaying the metrics.
All of this works just fine as expected. No real tangible change here from the Fenix 5 Plus series. Once done, you can end your run. This is where you'll see another change in the user interface. Gone is the dumbed down summary status, and now you'll find a much cleaner overview. The first page gives you a little drawing of your run: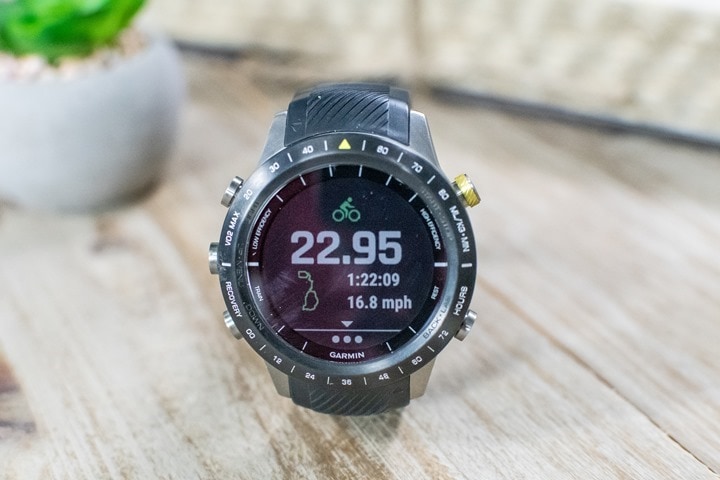 While down below you'll find categories you can dive into for more details. These include all stats, training effect, heart rate, laps, and more.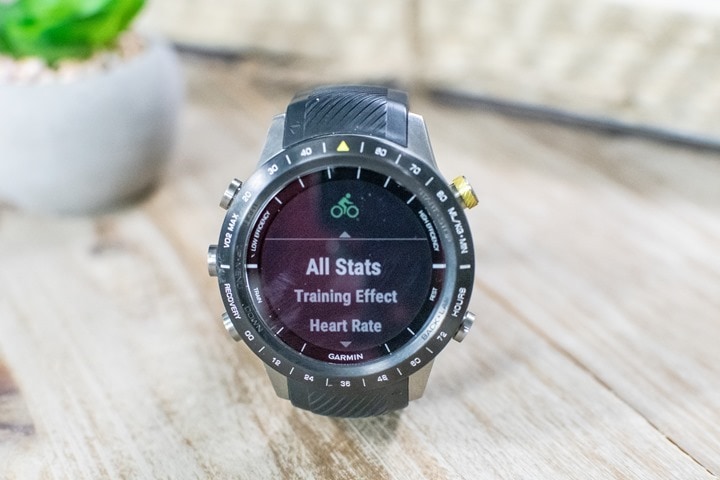 In fact, if you hover over a given category it'll rotate the text back and forth over the average. For example, scroll down to heart rate but do not tap enter, and it'll iterate back and forth and show your average HR. Elevation plot shows total elevation gain for example.
Afterwards, it'll sync your workouts over to Garmin Connect via either Bluetooth Smart or WiFi (or, USB cable if you want), and then onwards to any 3rd party services you may have connected, like Strava. Again, basically the norm for Garmin watches made in the last few years.
So, let's shift gears briefly over to the Expedition edition watch. That's the one with the fancy Italian Vacchetta Leather band.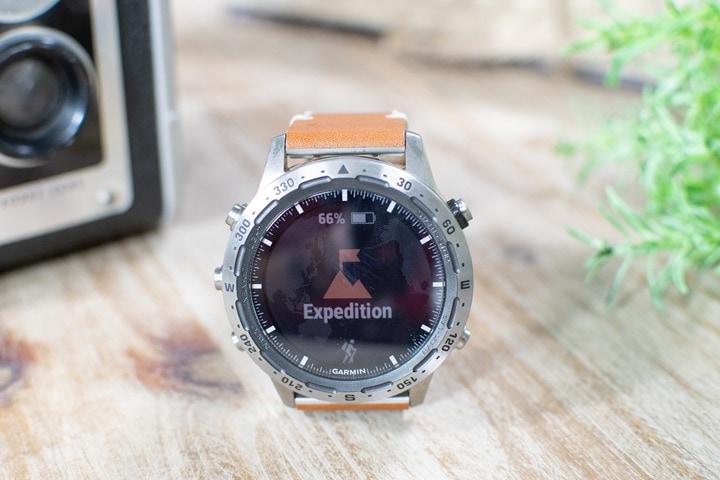 As you might remember, its party trick is doing multi-day expedition activities on a reduced charge. In this mode the unit will turn off all sensors and accessories, including the optical HR sensor and phone connectivity. In return, it'll get a month's worth of battery life and take GPS plots every hour. It details this in a quick three-step program:
Once that's setup, off you go, with occasional GPS plots. Now I haven't had the chance to dig into this for more than a few hours. But it's potentially something super interesting.  Of course, this is likely one of those features that's heavily tied to the new Sony GPS chipset. At least that's my guess, as Suunto hinted at these types of things with the same chipset.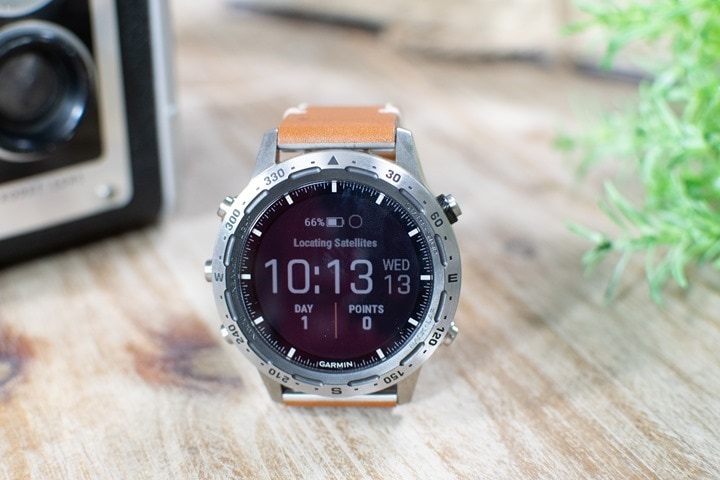 The other party trick on the Expedition is the new map-locking compass. This is a bit of a multi-part app that you access via long-hold of the start/stop button. Once you've set a specific heading it'll show you deviation from that heading using a ride line around the bezel that grows. You can unlock/lock the set heading at any point in time.
With that, I've covered basically all of the unique bits on the new Athlete and Expedition editions. So let's take a deeper dive into some accuracy portions.
Initial Workout Accuracy: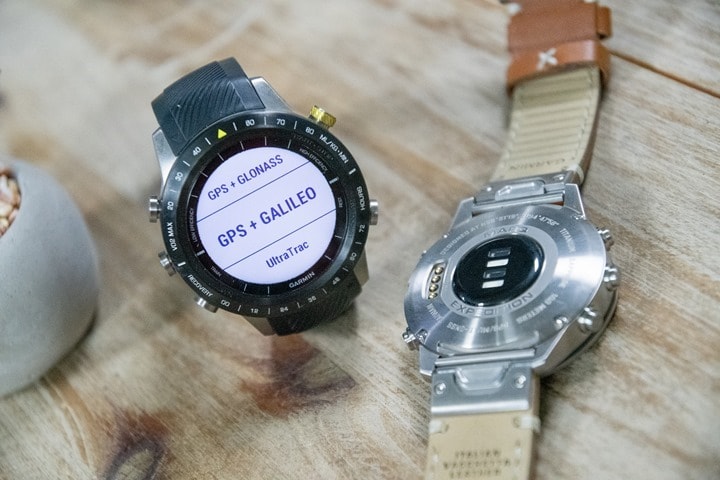 Normally in a full review I'd breakout elevation, GPS, and heart rate accuracy into standalone sections. But this isn't a review. It's like a review that's not done yet. It's still cooking, because the firmware is still cooking. As such, I wouldn't assume anything in this section is final. Things may get better, they may get worse.  In fact, things got better between a run on Sunday night and a run yesterday afternoon, based on Garmin doing some digging into my Sunday run. Inversely, I had a reasonably good run last week in NYC before things were less ideal on Sunday. So it goes both ways. Again, it's still beta.
So I'm not going to go super-deep on each chart like I would on a normal review. There's links if you want to dig in deeper though.
Getting elevation out of the way quickly, I haven't been anywhere of altitude interest in the last two weeks. Last week in NYC I was simply along the waterfront at sea level. And here in Amsterdam I'm also at (or below) sea level. Still, I've got mountains coming shortly, possibly this weekend into the Alps. Or at worst in two weeks into some other big mountains. So plenty of time to test that.
What I can focus on for now is heart rate accuracy and GPS accuracy, both of which are changed in the MARQ series. The units got a new optical HR sensor that ultimately aims to produce more accurate results. However, at first glance I'm not sure that's the case. Looking at the pile of workouts I have so far, the general trend is that it's fine for steady-state, but seems to be struggling more than I've seen for the Fenix 5 Plus series at interval workouts. For example, this workout yesterday with some intervals showing the ups and downs and the MARQ Athlete bobbling some of the intervals momentarily, but not horribly (the green line is the Fitbit that totally missed the boat, the purple line is the MARQ):

My Sunday interval workout was similar, it had a few stumbles on some portions of the intervals, but wasn't exactly horrid either.

However, my NYC run was fine, but it was also mostly steady-state:

An outdoor ride I did was OK in the middle at steady-state, but a mess outside that (the blue line is MARQ) when I was in the city and reversing sections with stop and go bits. Though, this is pretty much the norm for Garmin's optical HR sensors on watches while riding, in my experience.

So my interim assessment on optical HR accuracy of MARQ is 'work in progress'. I'd say I was getting better performance out of the Fenix 5 Plus series, but most of my time there was in warmer weather. No doubt the chillier weather of both NYC last week and Amsterdam this week is impacting accuracy (as it does for all optical HR sensors in cold weather). As I've often joked, those who release fitness watches in winter get the short end of the stick with HR accuracy testing.
So switching over GPS accuracy testing, things are evolving quickly. I've had multiple firmware versions in just the last week alone.  So for example, last Tuesday in NYC I went out for a run along the waterfront and the GPS was mostly OK. Not fantastic, but on-par with the Garmin FR935 and Apple Watch. They all struggled in one particular spot up against a warehouse, but otherwise I'd say were acceptable for most purposes.
Upon returning back to Amsterdam I got in a ride, and things looked great there too (you can click on that set name and then zoom in/out as you see fit):
However, two days later I went out for an interval run around Vondelpark and got exceedingly poor GPS+GALILEO performance initially, as seen below: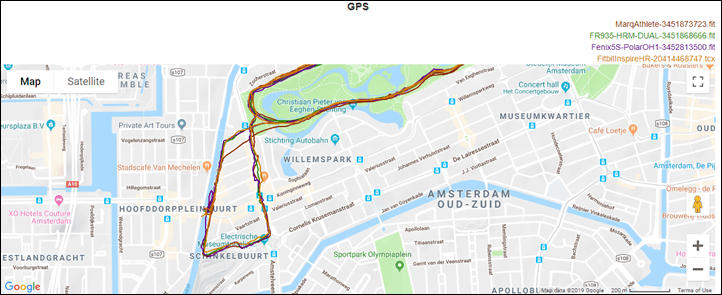 Garmin dug into it a bit and believes it was the combination of having updated the firmware mere seconds before I started the run (literally, I was standing outside waiting for it to finish), and thus it not having time to do a GPS 'soak'. Additionally, they recommend for this route to go to GPS+GLONASS instead of GPS+GALILEO.
So I did that for my run yesterday, and things seemed far better. Only one minor blip near a tall building – but all watches on me during that run did some odd stuff near that building:

So at the moment, the jury is out. As I noted earlier, Garmin's made a massive gamble with going with the Sony GPS chipset. I don't know exactly which of the two Sony available chipsets they've selected, but given only one supports Galileo (which Garmin offers), it's likely the CXD5603GF. Unless of course Garmin is leveraging some unannounced chipset from Sony. Likewise, we don't know exactly which GPS chipset Suunto and Polar are using, though neither offer GPS+GALILEO. Whereas COROS does offer GPS+GALILEO, and The5KRunner confirmed with COROS that they are using the CXD5603GF for their APEX units.
Ultimately, all these companies have confirmed in private the reason to switch is simple: Battery life, and only battery life
It's a dramatic difference. For example, it's presumed the Fenix 5 Plus series uses the MediaTek MT3333 chipset, which has a battery draw of 5-19mA depending on the mode. Compare that with Sony's chipset at 6mA. That, in turn, allows Garmin to put a smaller battery in the unit and retain similar battery life. Alternatively, maintain the size of the watch and increase battery life.
We've seen Suunto and Polar really struggle with these chipsets, even through to this month. Whether Garmin is using precisely the same chipset as these two, we don't know. But as I noted early on, Garmin did acknowledge there are areas that are still being worked on here. And anytime Garmin makes a GPS chipset change, it's never for just one unit. It'd undoubtedly be the chipset they move to for future products across all price points.
Of course – now that I just finished writing 4 paragraphs on GPS chipsets, I do need to be clear that GPS chipsets are just one part of the equation. And frankly, not as important as antenna design. GPS watches live and die based on good or bad antenna design. Many people will chalk up poor GPS inaccuracy to a specific GPS chipset, when 9 out of 10 times, it's just due to crappy antenna design. Garmin did note in their discussions with me that they spent a significant amount of time specifically on antenna design in MARQ and trying to really nail it. Again, we'll see how that shakes out over time.
On the bright side here – owners of Polar, Suunto, and COROS products will likely benefit from this change. The reality is that Garmin sells millions more units annually than those companies combined. As such, they can place enormous pressure on Sony's GPS chipset division for changes, which likely would be made available to all these companies. And hopefully, that results in better accuracy for everyone.
(Note: All of the charts in these accuracy sections were created using the DCR Analyzer tool.  It allows you to compare power meters/trainers, heart rate, cadence, speed/pace, GPS tracks and plenty more. You can use it as well for your own gadget comparisons, more details here.)
Wrap Up: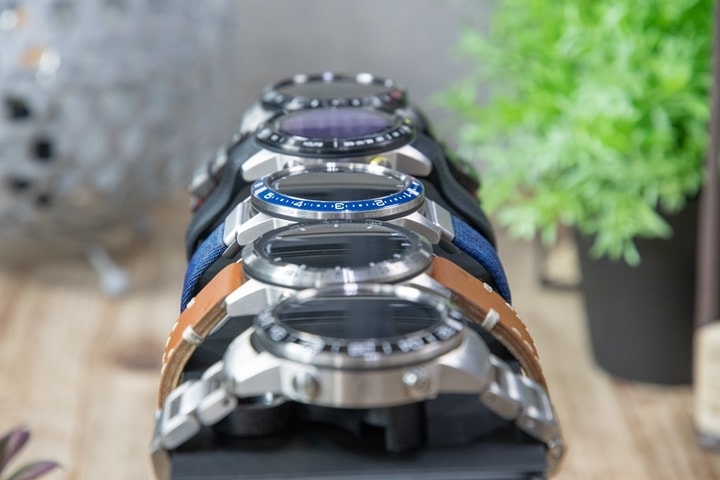 When Garmin first introduced their $1,500 Chronos watches a few years back, the reaction from myself and others was 'Why would you waste that much money on a device that's going to be technologically out of date in 3-4 years?'  And when it comes to watches itself, my view there is largely the same.  But over the last few weeks I got to thinking about other products in the same price point that I use just as much as a watch but also have a limited lifespan. For example, my DSLR camera is in that ballpark, and realistically after 3-4 years I'll have moved onto something else. Technology-wise, it's no longer keeping up with the Joneses.  And with mainstream cell phones being introduced at $2,000, those too would rarely be kept beyond 3-4 years.
Which isn't to say that one needs to buy a $2,500 watch – hardly so. But instead, that perhaps I've just been looking at it the wrong way.  With Garmin trying to get into the luxury watch realm, the normal response thinking is that the people buying those watches are doing so to last 50 years and hand down to their children. But I think in actuality the twist here isn't to get a classical timepiece that outlasts your home. Rather, it's to get a high-end watch that fills a specific need for a limited duration. It's a luxury item, but just not in the same way as the other brands in the category. It's more utilitarian than artistic.
Of course – the bigger question is will Garmin succeed here? Certainly, they know what's worked for them with the Chronos lineup, and this appears to be them going all-in on it, across every business unit within Garmin. But I'm also hesitant that Garmin really understands how to sell to customers in this category, including the dealers. A Garmin watch is very different than a TAG, Breitling, or Rolex. Even with those companies selling connected watches, they have but 1% of the features to understand compared to the Garmin MARQ. That's a big leap for traditional high-end watch dealers, the only location Garmin will sell the MARQ series.
Still, it's an interesting play. And for the rest of us, I hope/expect we'll see some of these added software features trickle down into the offerings at prices the remainder can afford (or, want to afford).
With that – thanks for reading!
–
Note: If you found this review interesting, you can pickup the MARQ Expedition (now called Adventurer) at REI, which helps support the site!