Here's what I was up to this past weekend in surprisingly sunny Amsterdam. Apparently a lot of gadget shopping now that I look at the list. Enjoy!
1) Samsung Galaxy Active Unboxing: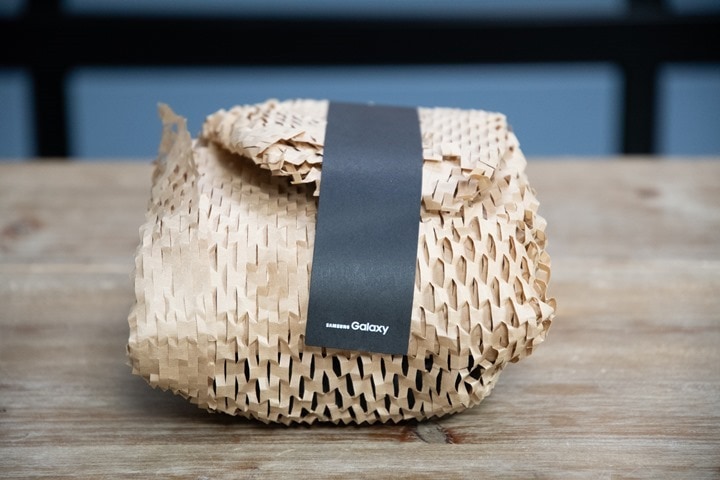 Friday afternoon I got busy unboxing the Samsung Galaxy Active GPS watch that finally came in. I ordered it back in February from Samsung, who had stated at March 15th arrival date. That came and went without any shipment info, and then on Wednesday it shipped out quietly, arriving the next evening.
I will note that I felt like I was unpacking a special edition box of bath soaps with all the fancy wrapping paper it came in.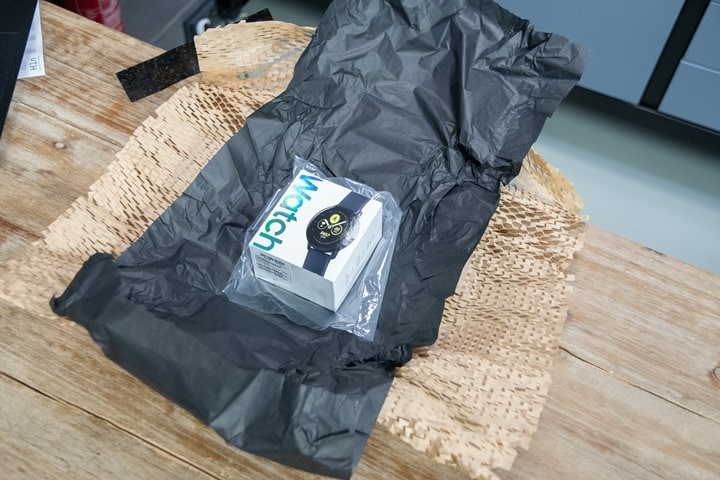 I'm actually fairly interested in this one. I've bought/tried most of Samsung's fitness-focused watches over the last few years, and have found them dismal when it comes to HR and GPS accuracy. Like, horribly bad. Best of breed bad.
But early signs are pointing to improvements with the Samsung Galaxy Active.
Before we get there though, know that this has some incredible specs for the price point:
– $200 price point
– Onboard music storage and playback, including Spotify
– GPS onboard
– Optical HR sensor on the back of it
– Apps via Samsung's app store (many are blah fitness-wise, but some goodies in there)
– Roughly 36-hour battery life (smartwatch mode)
My plan here is simple. The last few watches I got so caught up in trying to make the darn thing work that I'd wait for new firmware updates and go back and forth and eventually just get so sick of the thing I'd give up on a review.  This time though I'm setting a 14-day timeline. That is to say, that 14 days from last Friday I will publish my review. Hell or high water. So by Friday, April 5th. Hang tight, gonna be a wild ride!
Still, if Samsung can pull this off – then the folks at Garmin and Fitbit will definitely need to re-address either their pricing or feature sets, since their on-board music+GPS offerings are far higher in price point. Albeit with far lower battery life – but that'll also give the Apple Watch's lower price points a run too.
2) More audio gear came in
Last week at about midnight Tuesday night (going into Wednesday), I pulled up the audio files for my Polar OH1 Plus review video. It was a super easy video, so would probably only take me 45 minutes to edit. Except, when I played back the audio file I had a variation of static. 18 minutes of static.
@#$@#4 me again
Of course, this is hardly the first time this happened. I seem to have unusually horrible luck with audio files. Which is different than just acoustics issues in general. That's an entirely different challenge I'm slowly chipping away with at the DCR Cave (since it's basically a concrete box). Shotgun mics just pick up too much ambient echo to be useful in my experience.
For the most part with the lav mics I use and some audio echo reduction plug-in software I use, I can make the sound pretty decent. Mostly.
Except, when it's static, or if a file corrupts, or whatever, then there's not much you can do with it.
So in that midnight moment of @#$#@ I went on a self-medicating shopping spree.
I bought new mics, new audio recorders, boatloads of cables and a connector…and a plan.  In a nutshell that plan is:
A) Anytime I'm not at a table indoors, I'll be recording lav mics (these ones) to a Zoom H1N audio recorder. While there are obviously more expensive options, this one met my needs since I'm almost exclusively solo-recording for my own videos.
B) When I'm at tables I'll be using the Rodecaster Pro. Yes, it's overkill. But, it'll also allow me to use it for livestreams and occasionally not just podcasting recording but also multi-person audio setups. Additionally, I like that I can monitor everything in real-time and also pipe it all into a computer in multichannel live too. Plus, as a certified gadget geek I'm allowed to splurge on non-sports tech things occasionally. It's part of the deal.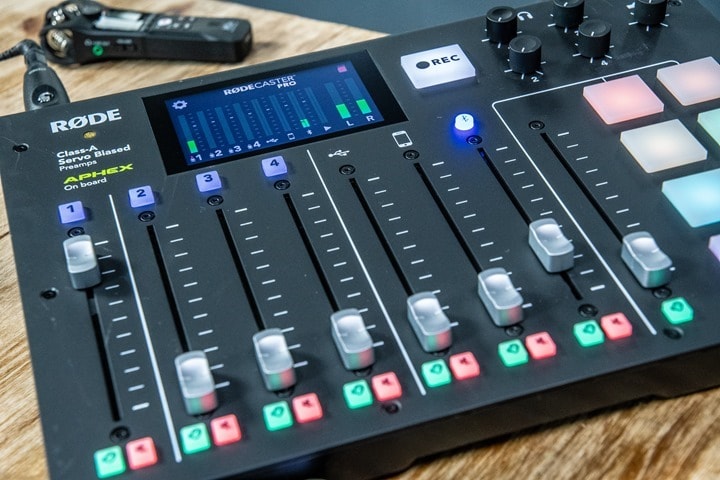 Atop that, I've been scouting acoustic foam options for the DCR Cave, mostly via Amazon Germany (since that's the cheapest I'm finding it). If anyone knows of any other EU sources that are inexpensive and still good, let me know down below. Note that I need a crapton of it. My current plan is to do most of the ceiling in the main shooting area, plus portions of the walls where I can. Then add bass traps in the corners, primarily up above.  Additionally, looking to add bits of carpet where it makes sense to reduce that too. That's trickier due to sweat/bike gunk/etc… but most of the floor is just general space that's easy to do that to.
3) I won a table
Less you think I'm only capable of buying sports tech, see, I can buy home furnishings as well.
Except, it's more like DCR Cave Furnishings.
See, I've been having this minor problem that my Ikea tables wobble a bit. All of them. Mostly because they're just too light and the legs are kinda cheap (look, I think the tables were less than $30 each or something). And while that's fine for many things – like my desk, it's not at all ideal when trying to shoot video, especially top-down video.
For that, I need a big beefy table that just stays @#$# put.
So I turned to an auction site to get a beast of a table – some 2.4 meters long (~8ft). I don't actually know how heavy it is, but frankly it looks beefy enough that it won't be going anywhere.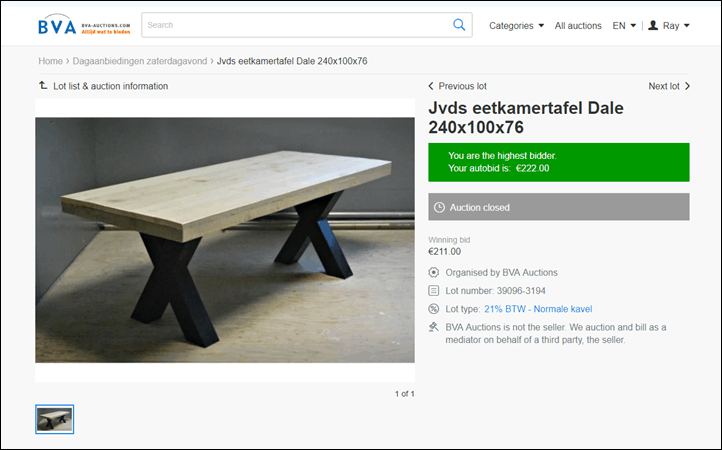 Anyway, this is a Dutch auction site where you can get amazing deals on all sorts of things – if you're willing to pick it up, or pay a delivery fee. The fee this time was quite reasonable – 25EUR – so I just did that. I've picked up other things. For example – Shane, Des, and I squished into a car sharing car back in December to pick up a pallet mover that I won. Actually, technically I won two of them. But that's another story for another time.
Also, we made a multi-hour road trip today to pickup a used pallet jack. Didn't entirely fit well in our rental car…but we got the job done. Also, we learned some valuable lessons in how electric cars work. pic.twitter.com/efejozqbeo

— Ray Maker (@dcrainmakerblog) December 4, 2018
Also, we almost ran out of juice in our electric car after we couldn't figure out how to get it charging properly. You can read through that tweet string for more hilarity.
In any case, soon I'll have my beastly table. This one will largely be used for mounting an overhead camera to/above it, as well as other shots. It won't actually be the one you see in front of my tool bench I currently use. I'm scouting the auction site for a smaller table for that. I'm specifically looking for lighter color woods, since they tend to shoot better than darker woods.
4) A Sunny Sunday Ride
I headed out just prior to noon for a nice loop around the Ringvaart. This 60KM ride follows a canal on one side virtually the entire time, which means there's only a handful of stop signs/lights. It's near perfect uninterrupted quiet roads, albeit packed full of cyclists.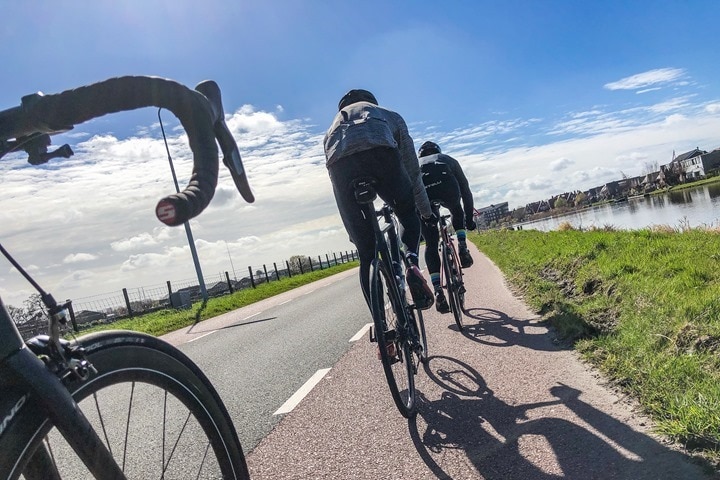 For the first while I was solo-cup, but then I joined up with a few guys for a short while into some headwinds. That worked well enough, until I realized my pulls on the front were 400w+, and the drafting sections were still coming in at 300w. I had planned an easy ride.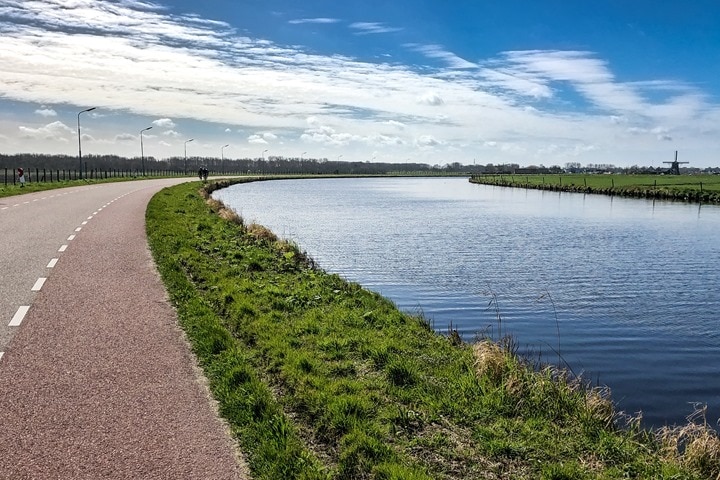 So I went back to just riding along and looking at windmills: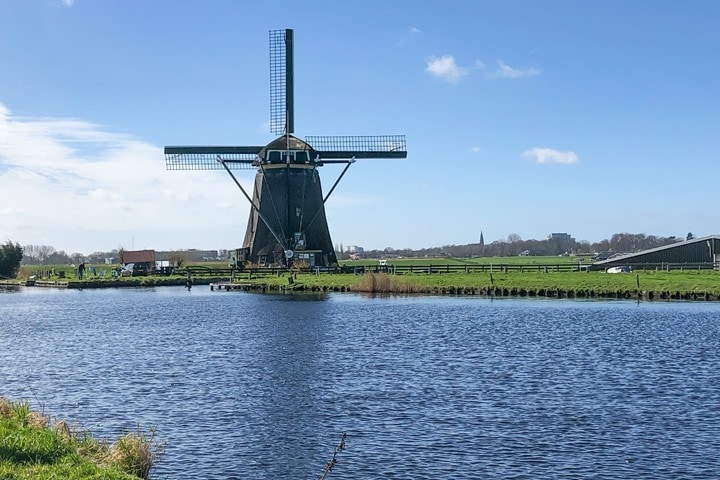 I was mostly collecting data on a crapton of devices for this ride, including that Samsung Galaxy Active watch.  Overall, the ride was quite nice though, zero complaints!
5) Hardware store and waffles
Finally, on the agenda I had to pick up a lightbulb at the hardware store for the studio/cave. The downstairs bathroom in the main warehouse space has a funky one, and died…well…a few months ago. We just almost never use that bathroom, so it's not been high on my list.  But I grabbed the kiddos for an adventure to the hardware store. First, we went to the studio to take pictures of the lightbulb, then over to the hardware store to pick it up.
Of course, P1 had other shopping ideas: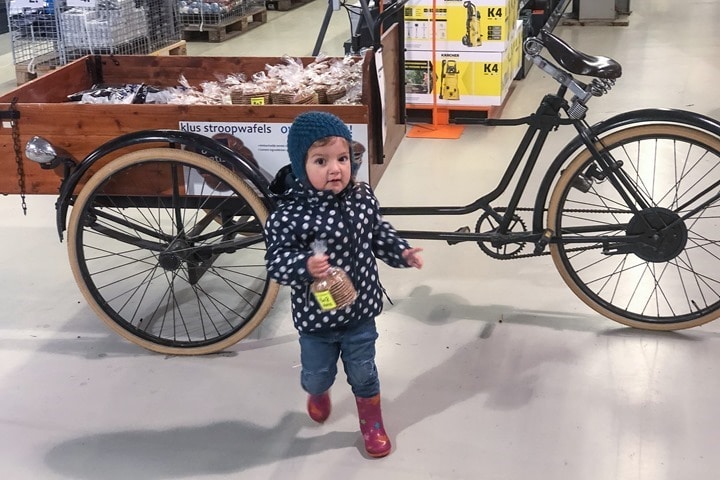 Yes, that's a cargo bike full of waffles. It's always there…and she knows it.
We got the lightbulb. And the waffles: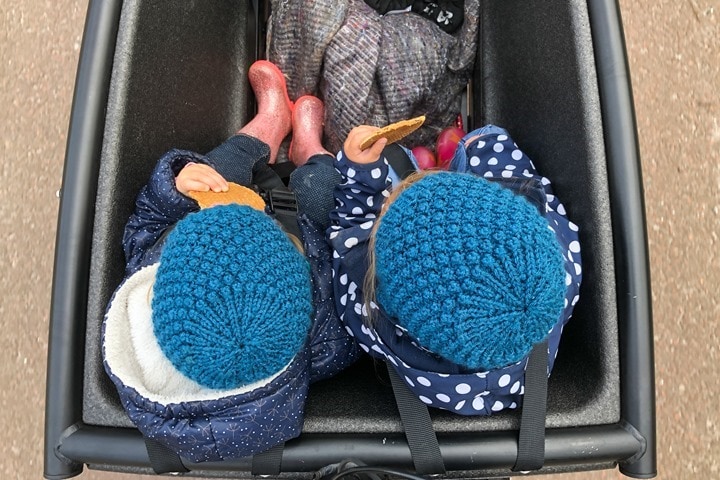 And life was good again.
Thanks for reading – and have a great week ahead! I'll be down in Mallorca the majority of the week testing out all sorts of upcoming goodness. April and May should be fun!